« Quick Hits
|
Main
|
Dancing Days Cafe »
June 09, 2023
Quick Hits: We're In the Endgame Now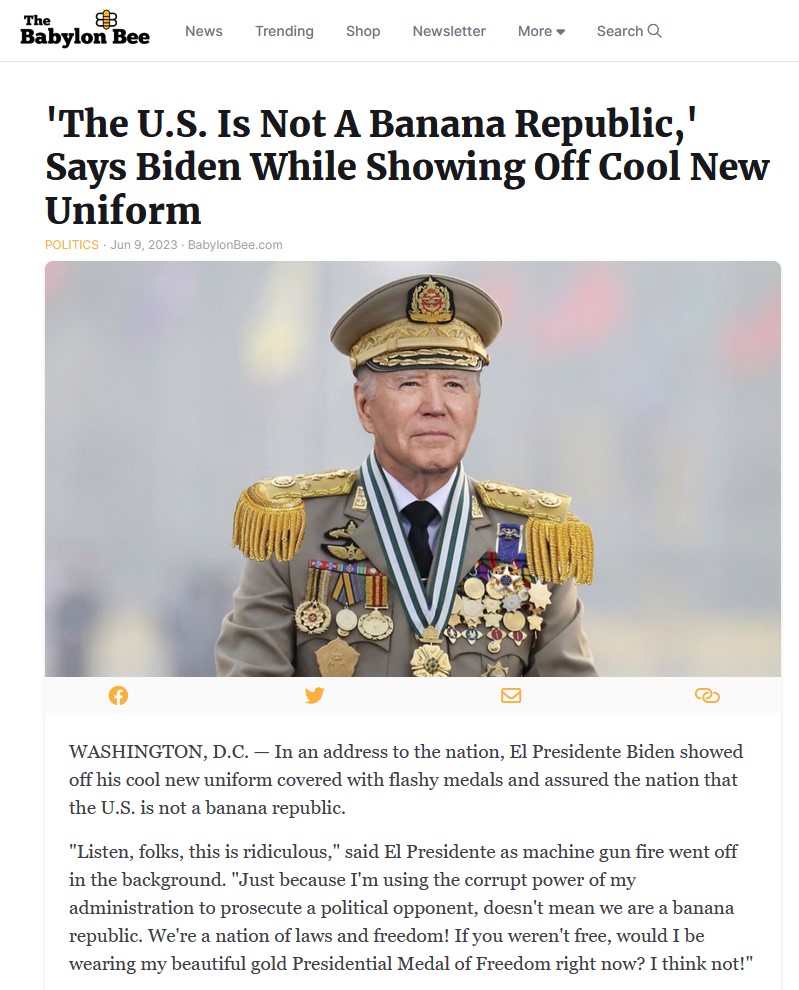 Ron DeSantis @RonDeSantis

The weaponization of federal law enforcement represents a mortal threat to a free society.

We have for years witnessed an uneven application of the law depending upon political affiliation.

Why so zealous in pursuing Trump yet so passive about Hillary or Hunter?

The DeSantis administration will bring accountability to the DOJ, excise political bias and end weaponization once and for all.
Via Twitchy, Jim Jordan wants to know where the indictments of Hillary Clinton and Joe Biden are.
Dear Attorney General Garland:

The Biden Department of Justice is reportedly about to indict a former president and President Biden's chief rival in the upcoming presidential election.1 According to reports, the Department will indict President Donald Trump, despite declining to indict former Secretary of State Hillary Clinton for her mishandling of classified information and failing to indict President Biden for his mishandling of classified information. The indictment creates, at the minimum, a serious appearance of a double standard and a miscarriage of justice--an impression that is only
strengthened by allegations that a Biden Justice Department lawyer "inappropriately sought to pressure" a Trump-affiliated lawyer with the prospect of a judgeship.

Additional information recently obtained by the Committee about the Department's execution of a search warrant on President Trump's residence only reinforces our grave concerns that your reported actions are nothing more than a politically motivated prosecution.

On June 7, 2023--days before the reported indictment of former President Trump--the Committee conducted a transcribed interview of Steven D'Antuono. Mr. D'Antuono served as the former Assistant Director in Charge of the FBI's Washington Field Office (WFO) and one of the most senior FBI officials in charge of effectuating the unprecedented raid of President Trump's residence at Mar-a-Lago. During his testimony, Mr. D'Antuono expressed strong concerns with the Department's pursuit of the raid and noted several unusual features in the Department's handling of the case. Mr. D'Antuono, who had over two decades of FBI experience, noted his frustration that the FBI was going to be "left holding the bag again" with respect to the search of President Trump's residence.

During his transcribed interview, Mr. D'Antuono detailed how he disagreed with the Justice Department's approach to the raid and described several abnormalities about the Department's actions in pursuing its investigation of President Trump...
Full letter at the link.

Biden's campaign is demanding, get this, more censorship by social media about his 2020 election "fortification."
President Joe Biden's re-election campaign said YouTube should reverse its decision to stop removing claims about fraud during the 2020 election over concerns it could lead to "violence."

"YouTube's reckless and irresponsible decision will invite further democratic decay and potential violence, and we urge them to reconsider this policy," Biden campaign spokesperson Kevin Munoz said, Reuters reported Tuesday.

YouTube said last week it "will stop removing content that advances false claims that widespread fraud, errors, or glitches occurred in the 2020 and other past US Presidential elections."

Explaining the policy change, the video platform said: "In the current environment, we find that while removing this content does curb some misinformation, it could also have the unintended effect of curtailing political speech without meaningfully reducing the risk of violence or other real-world harm."

Mark Levin rants righteously:

posted by Ace at
06:15 PM
|
Access Comments