« Quick Hits: We're In the Endgame Now
|
Main
|
If People Don't Want To Come Out To The ONT, Nobody's Going To Stop Them »
June 09, 2023
Dancing Days Cafe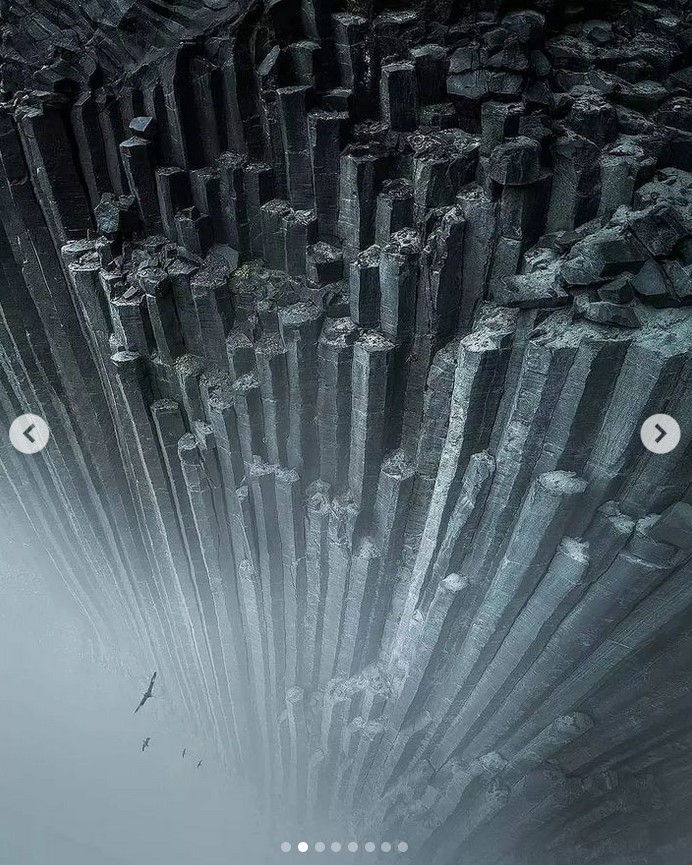 Studlagil Canyon, Iceland
@simona_br_photography

Looks like a steeper version the Giant's Causeway in Northern Ireland.
"A bubble in the swamp" explains the rock formations:
This is called "columnar jointing". The "facets" are shrinkage cracks as the molten lava slowly cools. The columns are straight if the surface of the molten lava is a plane, but can be bent if the lava erupts in the form of a dome, or encounters some solid obstacle that is cool.

It's not crystals, because the gross pattern is not repeated at an atomic scale inside the columns. The process is more akin to the formation of mud cracks in a drying pond. The columns are not regular hexagons; they are a hodge-podge of shapes that averages out to hexagons, but no two columns are identical in size and shape.
A little apartment for a cat.
Traffic cones dancing in the rain. Or Daleks. It might be Daleks.
A blind dog has his own seeing-eye dog.
Dog doing tricep extensions. GAINZZZZ.
Cat doing sit-ups. CATZZZ GAINZZZ.
Dog is very choosy about how to properly lay in the rain-soaked puddle.
Elephant giving birth -- but a warning. Nature is beautiful, and by "beautiful," we mean totally gross.
Little boost for a baby elephant.
Little boost for a polar bear cub.
Man rescues a wolf from a trap, despite the wolf trying to chomp on him the whole time.
Dancing swans. I think it's "The Forbidden Dance."

Some Steve Inman videos. The theme is "violence." Content warning.
Drunk guy on street gets put to bed.
Some soyboys getting one-shotted by old guys.
Street bandits bring knives to a truck fight. It's a good one.
Another violent guy with a knife gets blindsided.
SICK street fight, total destruction.

I kinda wonder what the guy with the camera was doing during that last vid, TBH....

posted by Ace at
07:25 PM
|
Access Comments