« Psychotic Bitch at Daily Beast Brands Casey DeSantis a "Walmart Melania Trump"
|
Main
|
Elon Musk: Target Should Expect Class-Action Suits from Shareholders Whose Money They've Burned Away For the Sake of Advancing the Corporate Officers' Personal Divisive Leftwing Politics »
June 07, 2023
What Is a Woman? Gets Over 170 Million Views
It should be noted that most of these views came after Elon Musk retweeted it and declared that it was a must-watch for any parent.
Elon Musk @elonmusk

Every parent should watch this

His rogue employees' determination to censor the video and make it impossible to find were undone when a guy with 100 million followers tweeted the link himself.
His company is clearly still pushing censorship, but he's trying to push back.
More than 170 million people watched at least some of the documentary.
One year after its original release, The Daily Wire's "What Is A Woman?" documentary soared to new heights prompted by a Twitter premiere that featured a dramatic triumph over social media censorship.

The tweet of the 90-minute film, which features Daily Wire host Matt Walsh asking tough questions underlying the gender ideology movement, has amassed more than 170 million views since being posted by The Daily Wire's Twitter account Thursday -- the first day of Pride Month -- making it one of the most successful documentaries of all time.

For comparison, an estimated 19.3 million viewers watched the final episode of HBO's "Game of Thrones" when it premiered in 2019, President Joe Biden's most recent State of the Union drew 27.3 million people.

Such a milestone initially seemed impossible.

When "What Is A Woman?" was posted for Twitter users to view for free on Thursday, Twitter labeled the documentary as "hateful conduct" and restricted its visibility because of two instances of supposed "misgendering." In response to a viral thread by Daily Wire co-CEO Jeremy Boreing about the ordeal, Twitter owner Elon Musk insisted the penalties were a mistake by "many people" at Twitter. Still, users were restrained in their ability to retweet, "like," or even comment on the post throughout the night.

Backlash to the censorship was fierce, led by small accounts and prominent figures alike who questioned whether "Twitter 2.0" under Musk was truly the free speech platform they were promised. Outrage grew until the restrictions were lifted by early Friday morning when Musk himself promoted the film by retweeting the post.

"Every parent should watch this," Musk said in the tweet, which he subsequently pinned to the top of his page.

Three Twitter employees involved in censorship quit over the exhibition of the movie. They were back at their desks at the FBI within hours.
Kidding about that, but also... not kidding.
One of the UPenn female swimmers who was destroyed by Will Thomas was interviewed in that movie, but with her face obscured and her voice altered.
Now she's taken heart and is speaking out openly:
Apparently transgenderism is being sold as a cure for autism. A huge number of autistic kids are the new recruits for the Trans Army.
But don't ask any questions about that!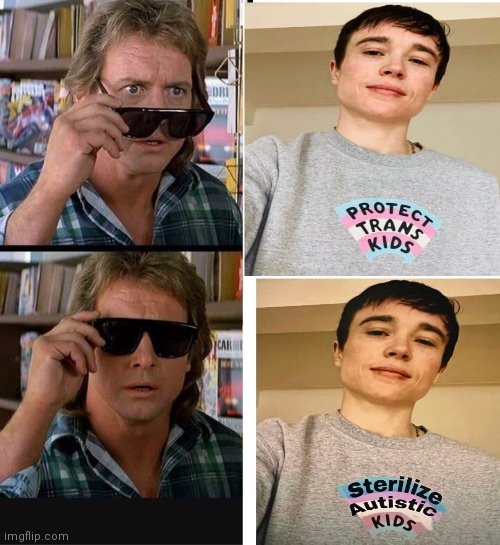 How "transgender surgery" is done. The video uses simple computer graphics to show the chopping and cutting, but it's still difficult to watch.

posted by Ace at
03:20 PM
|
Access Comments