« Nike's "Pride:" Woke Company Goes All-In on Transgender Surgery for Minors
|
Main
|
What Is a Woman? Gets Over 170 Million Views »
June 07, 2023
Psychotic Bitch at Daily Beast Brands Casey DeSantis a "Walmart Melania Trump"
Casey DeSantis wore a jacket bragging that Florida is "Where Woke Goes to Die."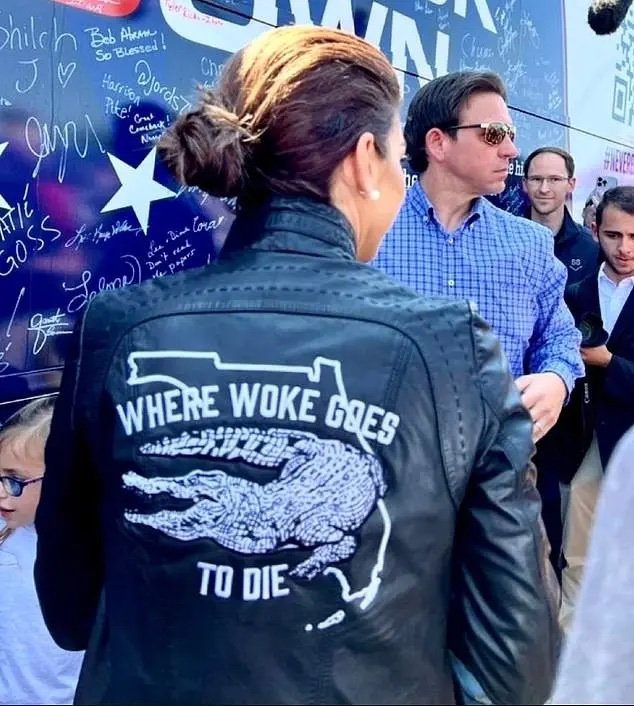 In May, Ron DeSantis accurately foretold the future:
Ron DeSantis just had a tumultuous launch of his presidential campaign, to say the least. But the Florida governor appears more concerned with the fact that the liberal elites are trying to keep his wife, Casey, off magazine covers. "If she were a Democrat, she'd be on every fashion magazine," DeSantis said on The Mark Levin Show on Wednesday.
Indeed, she's an easy eight. I would say a Cracker Barrel nine.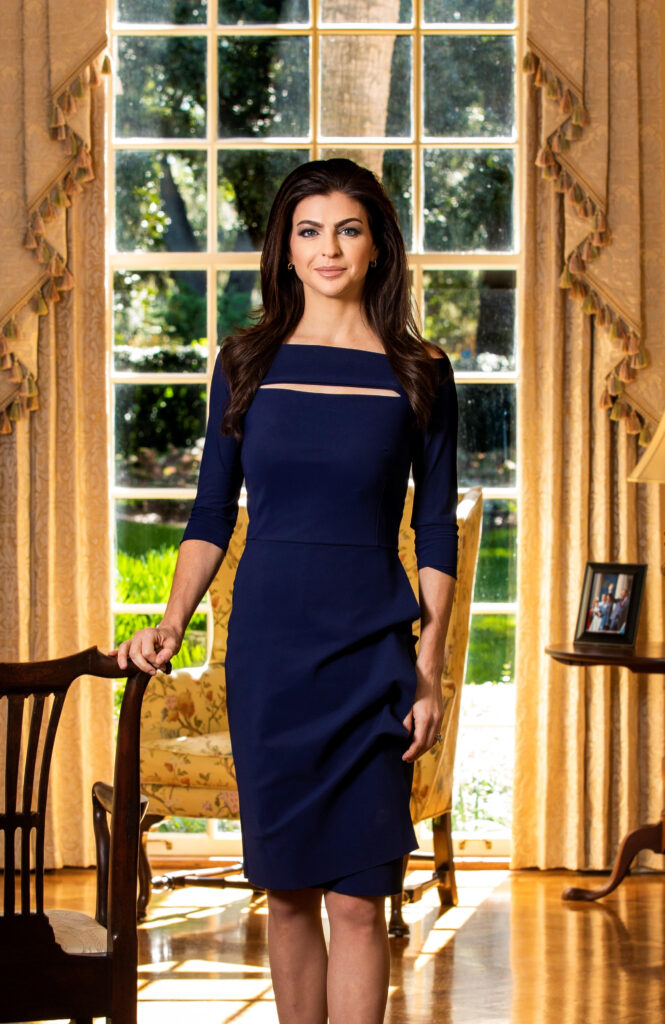 "But because we're conservative, we know that that's not what happens. In reality, it will be the opposite, where they try to really attack."
A psychotic unmedicated AWFL bitch at the Daily Beast decided to prove Ron DeSantis right.
Enjoy this contemptuous sneering by an ugly, aging woman who herself is probably like most leftists -- lowborn herself, but possessed of the belief that her nasty belief in the Cult of Leftist Elites makes her some kind of aristo.
The First Lady of Florida showed up on the campaign trail in Iowa this weekend wearing a ghastly black leather jacket--American flag on front, an alligator and the silhouette of her state on the back, with the sneering words, "Where Woke Goes to Die"--that brought to mind nothing so much as the racks of a Red State big-bin store where it would be retailing for $24.99.

To be fair, Casey DeSantis wore the bomber to a charity biker rally and I'm sure the campaign intended it to be a viral moment, like Melania Trump's infamous "I Really Don't Care" coat that the former First Lady donned to check out the border crisis.

The message on Melania's coat, like the one-time model herself, was sphinxlike. Was it a sign to the outside that Melania dreamed of escaping her boorish husband, the stuff of a thousand Resistance Twitter fever memes? Was it the physical manifestation of the Trumps' casual cruelty? After all, Melania was flying down to where the administration locked up little kids in cages and tore them from the arms of their desperate parents. Did it mean nothing at all, like her spox insisted--maybe like Melania herself, a cipher whose eyes seem to betray an inner emptiness, like the infinite refraction of mirrored light off of all those gold-plated Trump Tower bathroom fixtures?

By contrast, Casey DeSantis' coat is just like her husband Ron DeSantis' campaign: Crude. Grasping. Saying the ugly part out loud. Whereas Trump would wink-wink at the fascists--who can forget his dog whistle to the "very fine people on both sides" at Charlottesville--DeSantis wants to peel off Trump's base by being even more explicit about who he intends to target. You can see it right there on his wife's jacket: DeSantis' Florida is where the woke go to die--and a lot of other people die as well.
Note the almost-comical and brazen message: DeSantis is worse than Trump, and Casey DeSantis is worse than the woman we demonized for seven years, Melania.
They're not even embarrassed of this crude propaganda, or that literally everyone in the world predicted it.
They don't mind being predictable in service of the Marxist-Maoist cause.
Florida under DeSantis has had one of the highest COVID death rates in the nation, even as he's exulted in his anti-mask policies. And as the governor whips up anti-LGBT sentiment and bans books on race, Casey's jacket and its message of death also bring to mind the horrific Pulse nightclub mass shooting in Orlando, not to mention the state's shameful history of Jim Crow-era lynch mobs and the Rosewood massacre.
Jim Crow and the Rosewood Massacre. My God.
But of course, DeSantis and his cronies want to prevent kids from learning about any of that by censoring their library books and AP curricula.

The jacket, then, is a warning: Watch out, America.

It's hard to say one is reading too much into a coat that's so explicit--and anyways, as The New York Times noted in a fawning profile, Casey DeSantis is definitely trying to make a political statement with what she wears, with her aspirations of "Camelot-meets-Mar-a-Lago." But while Casey may be trying to position herself after Jackie Kennedy (good luck) and even Melania, if this weekend is any indication, she's falling far short. It doesn't matter how many times she wears that ice-blue Badgley Mischka cape-dress. The DeSantis' will never be Camelot. Jackie and JFK symbolized the opposite of vulgar pettiness--they embodied youth, energy, a commitment to moral progress in the struggle for Civil Rights, a country fresh with idealism. Not an America that was obsessed with banning books about male seahorses and rainbows, or nuking the latest Disney movie.

Further unfavorable comparisons to the Trumps:
Ron and Casey will also never be the Trumps. For one thing, the Trumps have all that wealth to retreat into, not bothering themselves with the lives they wrecked along the way. Like Tom and Daisy Buchanan, just over in West Egg, not East Egg.
Jesus take the wheel.
For another, Trump manages to command attention naturally, whereas the governor's attempts to make headlines always feel forced. Whereas Donald Trump is terrifyingly, inexorably himself, the DeSantis' are more like poseurs. Fake Birkins. Mar-a-Lago imitators. They rail against the elites but Ron went to Harvard. They wear black leather jackets to a biker rally--regular folks!--but they really prefer to be mingling with Elon's tech bros and wearing those designer duds. They want it way too much and it shows. Why else would Ron whine so bitterly about his wife being jilted by Vogue?
I dunno, why do you and other ugly white women white so bitterly when men are forbidden to participate in women's sports? I would say that most people are bothered by what they perceive to be unfairness. Except in DeSantis' case, he's got a point.
Still, as they appear on the campaign trail, we are seeing clues to who the DeSantis' are at heart. We've got a Sunshine State Lady Macbeth, in her green cape and white gloves, with her middling husband and her thirst for the crown--and we've got a guy who wants to be sitting in a corner, mumbling about the Federalist Papers and gobbling pudding off his fingers.

Trump would never eat pudding with anything other than a gold spoon--while pressing the button for his 20th Diet Coke of the day and trying to bomb Iran on a whim. Put another way, Trump is the danger of raw, chaotic id. DeSantis, meanwhile, is the little jerk who's going to make all of us pay for how he had no friends in third grade, or whatever his particular villain origin story is.

Whether the GOP's base will respond to DeSantis and his wife trying to imitate Donald and Melania--whether they'll be happy buying the knock-offs--is an open question. I'm sure many MAGA-types love a jacket that so blatantly sticks it to the libs. Still, we're told that the average GOP voter doesn't like feeling that elites are talking down to them (like someone nerding out about the Federalist Papers?), even though one suspects that they actually want to be the rich guy eating off the golden spoon. Will Red State primary voters see more of themselves in strivers like Ron and Casey--or in their old, brash, filthy-rich 'God Emperor' and his supermodel spouse?

Okay, so if you've been bored so far, you should read this next part.
Of course, neither Melania Trump nor Casey DeSantis could ever embody the class and effortless elegance of Michelle Obama or Dr. Jill Biden.
LOL, Michelle Obama in her A-Box-of-Crayolas-Threw-Up prints? Jill Biden in her... fishnet stockings and yellow trainers?
Oh, sheer elegance, those two!
And so much more beautiful than this dog Casey DeSantis, too!
Many ugly women, like this one, fancy themselves connoisseurs of fashion, because they buy into the Fashion Industry's lie that if you follow their trends and read the magazines they advertise in, you can turn yourself into a beautiful women.
Those First Ladies have used fashion not as a punitive tool to stick it to political enemies--nor as a bored, nihilistic shrug--but as something generous and welcoming. Think the pure sweetness of Michelle's Jason Wu floral gown for the Obamas' first inaugural ball, or Jill's pastel blue coat that echoed the colors of Ukraine's flag when Volodymyr Zelensky visited the White House. In those moments, we remembered that fashion is not only a way to look and feel great, but a way to be inspired to help other people feel great about themselves, too. We remembered that fashion is a joyous extension of who you are and a symbol of what you want the world to know about you and about what you stand for. Think Bernie Sanders in his woolen Inauguration mittens. Think poet Amanda Gorman in her radiantly cheerful yellow coat that day, the color of sunshine and hope.

So what does Casey DeSantis want us to know about her? What does she stand for? Well, we know she's a woman who has high ambitions for her awkward husband. We know she's a woman who understands the power of the image.
For the next part, keep in mind that the newest attack on Casey DeSantis is... how do we even know she had breast cancer? Maybe she's lying!
We know she's a woman who has overcome the great trials of a breast cancer diagnosis. Anyone going through that must have strength and grit. Still, we've all met people who have stared death in the face and came out the other side incandescently glowing with life and with love.


Perhaps that is the case in Casey DeSantis' private and personal life, but on the public stage, with that black leather jacket, she's telling us she stands for something else. She's telling us she is cheering on a spouse who gets his kicks off targeting his fellow Americans. She's telling us she's down with his message of division and dehumanization. She's telling us they are ready for far more power. She's incandescent in her black leather jacket, at her husband's side--both of them seething with hate.
I'm glad there was no hate in this article.

Here's a picture of this hag here.
On Fox, this woman correctly divined that this is yet another attack on the working and middle classes from people who are themselves "commoners" as well -- just commoners that really, really believe in the prerogatives of the nobility.
Megyn Kelly rips on the piece along with Jesse Kelly:
Jesse Kelly makes the point -- which you would think no longer needed being made -- that conservatives should never attempt to "moderate" their positions to please the communists, because the communists will never be pleased or appeased.
National Review is incapable of learning this lesson. They will continue defending "Pride" onesies for children, as editor Phil Klein does here, saying that it shouldn't bother "conservative," until the day this amateurish grifter blog goes bankrupt. Which I pray will be soon.
DeSantis visited the border today, where he announced, "We will shut it down, build the wall, and end mass migration."

posted by Ace at
02:20 PM
|
Access Comments