« Food Thread: Rubber Bands And Shrimp; One SHouldn't Be Like The Other
|
Main
|
Sunday Overnight Open Thread (6/4/23) »
June 04, 2023
Gun Thread: First June Edition!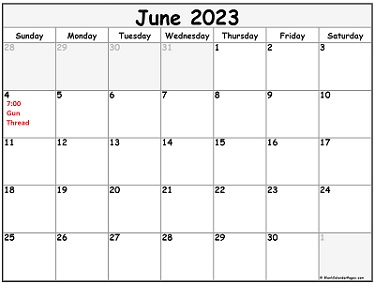 Yay! The calendar is back!!!
Howdy, Y'all! Welcome to the wondrously fabulous Gun Thread! As always, I want to thank all of our regulars for being here week in and week out, and also offer a bigly Gun Thread welcome to any newcomers who may be joining us tonight. Howdy and thank you for stopping by! I hope you find our wacky conversation on the subject of guns 'n shooting both enjoyable and informative. You are always welcome to lurk in the shadows of shame, but I'd like to invite you to jump into the conversation, say howdy, and tell us what kind of shooting you like to do!
Holy Shitballs! How in the ever-loving Hell did it get to be June? The year is practically half over! Not much going on in WeaselWorld, just making last minute preparations for the 2023 NoVAMoMe. Are you planning to attend? I hope so, and if you are, bluebell and I are looking forward to welcoming you! See you in less than a week!
With that, step into the dojo and let's get to the gun stuff below, shall we?
******
First up, we have a bigly range report from our pal
Washington Nearsider
who recently attended a long-range rifle clinic. You tell me if you think he had fun!
I completed the two-day BangSteel long-range rifle clinic in Wythville, VA over Memorial Day weekend. It was amazing, and I encourage every single Moron living East of the Mississippi to attend. For those of you out West, I encourage you to make an excuse to get to the East side of the Mississippi and go to the BangSteel course. It's worth far, far more than I paid, and I'll be retaking it multiple times. The underlying principle which guides the course is this: "Nine out of ten rifle owners never attempt to shoot at long ranges because they believe a very expensive rig is required. It's not."

They teach normal people with normal gear to engage targets past 1000m. There is no reliance on technology, no laser range finders, no Kestrel wind calls, no barometric pressure measurements. Bring your rifle and a desire to learn - they'll teach you. When I went through the course, there were no custom builds, and no chassis rifles. They were normal people, men and women, with off-the-shelf rifles, all of which fell into what I'd call the middle to upper-middle class of weapons. My gear list is below, and I had one of the more expensive setups in the group.

Weapon - Tikka T3X CTR, 24" barrel, 6.5 Creedmoor
Optic - Vortex Viper PST II 5-25x50
Mount - Nightforce X-Treme Duty Ultralite, 20 moa
Bipod - Harris S-LM 9-13"
Ammo - Hornady Precision Hunter ELD-X 143 grain
Suppressor - ThunderBeast Ultra 9 in 308

Day One: All the shooters (9 of us) rallied at a Subway in Bland, Va. The instructors showed up, we all grabbed sandwiches from the store, and then caravanned out to the range, which was on top of a large hill firing into the mountain range. Instructor 2, we'll call him Forrest, took the ATV downrange to put fresh coats of paint on the steel targets at various ranges. Instructor 1, we'll call him Dan Newberry, held court, explaining the basics of long-range rifle fire and wind calls in particular.

Once class was over (about 40 minutes), Forrest took our rifles, one at a time, and verified our zeroes. He fired at 100m and 600m, punched that data into a handy calculator, and generated - for each individual - a DOPE chart, which he emailed to each shooter. Within about 10 minutes, I had my own personal DOPE chart for my rifle/round, and moved to the firing line where three spotters awaited us.

The first target was an 18" wide torso at (consults notes*) 600m. Dan provided wind calls, which at that point required a left hold of about 6 MOA. My second round impacted dead nuts in the x ring, as did my third and fourth. Dan instructed me to place a round in the head, which I did, and then immediately followed it up with a second round which impacted less than an inch from the first. We continued to engage different targets at different ranges hiding at various points in the mountains, closer and farther, ending the day at 720m.

Day Two: Cold bore shots at 720m. Dan explained that to earn a B+ in the course, a shooter had to accurately engage the 720m target on their first shot. To earn an A+, a shooter had to narrowly miss the 720m target on their first shot, add the data from the impact to their shooting solution, and accurately engage the target with a quick follow-up shot. I had the wisdom to shoot second in the morning and was behind my scope while the first shooter fired. She got good hits on shots two and three, as did I. Great success, and a note - use all the data you can when compiling a shooting solution against a target.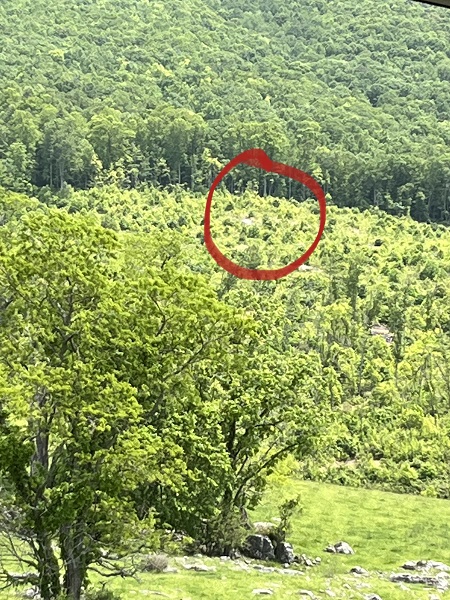 840 meters
We naturally split into several groups, each spotting for others while letting our barrels cool. At 840m, there was a torso nestled behind several large boulders, leaving only the head and shoulders exposed. Pic one shows an actual (target) sniper! Go find it, Morons! All of us made good hits on the sniper, and on the random pink steel pig hiding in the rocks at 780m.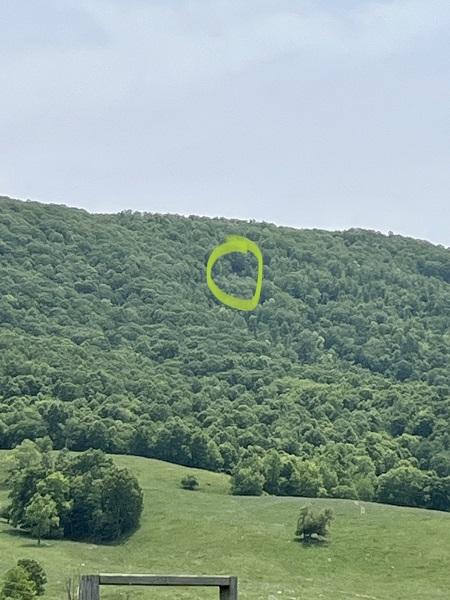 1.25 Miles (or a long way)
I received a call about an emergency regarding one of my kiddos so had to leave about an hour early - I'm not sure if they engaged the target at 1.25 miles, but I guarantee I'll be back to take a shot at it.

I can now, with some degree of reliability, make wind calls out to 1200m. I have a known DOPE chart to dial my vertical, and can, within a shot or two, engage targets well past half a mile. Suppressed. This course was probably the greatest 'bang for your buck' training I've ever taken. If I didn't know how much it cost, and Dan asked for three times the listed amount, I wouldn't have hesitated to pay him, and I'd have considered it worth every dollar.

If you have the slightest interest in being able to shoot at distance, take the course. It's worth your time, they're all our people, and the instructors know what time it is.

* Take notes when you shoot at distance, and more than just round counts. There were more than a dozen times through the two-day course when I - as the lone note-taking weirdo - looked back through the notes I'd taken regarding a particular target with a particular wind value, and was able to re-engage that target rather than having to rely on a spotter's call to talk me back in. Even now, looking through my notes, I find value in them. When I got home, I re-wrote them in a neat and organized manner, rather than the scattershot scribbles I made whilst behind my rifle. Provided I fire the same round through the same rifle, I'm compiling information that will only help me later. It would be nice if there was a name for it. "Data on Previous Engagements" has a nice ring to it...
Great report, Washington Nearsider! Thank you. Hope your kiddo was OK. I can tell you had a good time! Fun, isn't it?
One teeensy-weensy comment though, regarding incorporating atmospheric data into your long-range firing solution data. Don't underestimate it's value. It's important, especially if you want to maximize your chances of a first round hit on target the next time you go out. What I suspect your instructor was doing when he 'checked' the zero on your rifle was determining a baseline against the current atmospheric conditions. The next time you go to the same range, your elevation data will almost certainly have changed. If you have faithfully recorded elevation data based on range and Density Altitude, you will already have data for current conditions.
Certain models of the Kestrel Weather Meter will calculate Density Altitude which is a combination of barometric pressure, air temperature, elevation and relative humidity compared to a standard atmosphere, all of which will affect the ballistic trajectory of a bullet in flight. The influence of these factors is not evident at close range, say under a few hundred yards, but become a significant factor the further out you go, and it's very handy to have reference elevation data based on these variables.
******
Guns of the Horde
Not sure if it is his, but our pal
WTM
shares a photo of the
Flintlock Volley Gun
.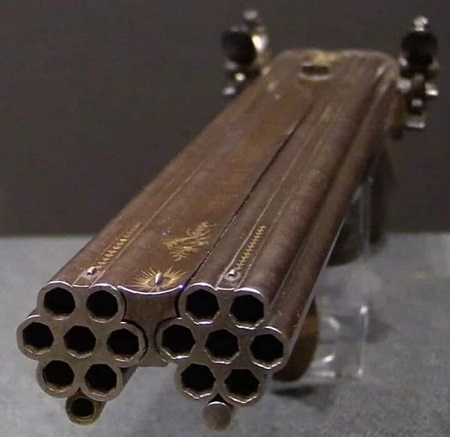 AR15 of the 18th Century?
Nice find, WTM! Thanks!
***
Bottle Top Spin Challenge
Why make it easy shooting at large targets? Our pal
RI Red
raises the bar by spinning the top off of a water bottle.

10 shots in 30 seconds. 2d place!
Nicely done, RI Red! Very nicely done. But what was the range? 100yds? 700 yds?
******
Lapua .22 LR Long Range and Super Long Range
I have been seeing a lot of reviews for Lapua .22LR Long Range and Super Long Range ammo recently, and here are a couple. Anyone tried it yet?
***
Not using Lapua ammo, but rather Federal Gold Medal Ultra Match. A 700 yd shot .22LR shot.
I have always maintained that just about any shot is possible if you send enough bullets down range. I mean, eventually you're going to hit something, right? I remember watching a video of an extreme long-range rifle shot, something on the order of 2+ miles, and was kind of impressed until the shooter mentioned it taking 60+ shots to get the hit. Still cool? Sure. Is it effective fire? Well, you be the judge. I always suggest to people the first shot on target is great, but it's the second shot on top of the first that is impressive.
******
1860's P&W Rifling Machine
I thought this was pretty nifty.
******
DIY Corner
Here is a fun and informative guide on how an atomic bomb works.
******
Musical Interlude
Here is The Allman Brothers Band and
Ramblin Man'
******
Gun Basics 101
No new video from the She Equips Herself gal, so into the archives we go. This week's video is on some things to buy after you buy a gun.
***
Armed Attorneys
Good shoot? You make the call.
******
Cigar of the Week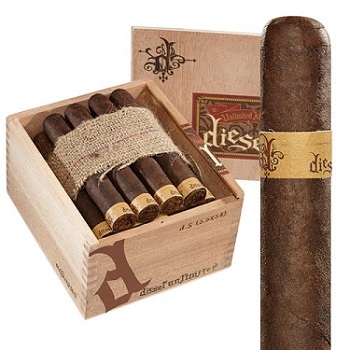 OK, it's not a $2 cigar, but rather more of a $6 cigar. The Diesel Unlimited Maduro is a Nicaraguan worth a look. A great choice to enjoy while reading the Gun Thread!
******
Here are some different online cigar vendors. You will find they not only carry different brands and different lines from those brands, but also varying selections of vitolas (sizes/shapes) of given lines. It's good to have options, especially if you're looking for a specific cigar.
Cigarsinternational.com
Cigarpage.com
Famous-smoke.com
Cigarsdaily.com
Neptunecigar.com
Smallbatchcigar.com
Bobalu Cigar Company
Cigarbid.com
A note about sources. The brick & mortar/online divide exists with cigars, as with guns, and most consumer products, with respect to price. As with guns - since both are "persecuted industries", basically - I make a conscious effort to source at least some of my cigars from my local store(s). It's a small thing, but the brick & mortar segment for both guns and tobacco are precious, and worth supporting where you can. And if you're lucky enough to have a good cigar store/lounge available, they're often a good social event with many dangerous people of the sort who own scary gunz, or read smart military blogs like this one. -rhomboid
Anyone have others to include? Perhaps a small local roller who makes a cigar you like? Send me your recommendation and a link to the site!
******
Ammo Link-O-Rama
I'm really very seriously not kidding around anymore. Buy Ammo
AmmoSeek - online ammo search tool
GunBot - online ammo search tool
SG Ammo
Palmetto State Armory
Georgia Arms
AmmoMan
Target Sports USA
Bud's Gun Shop
American Elite Ammo
***Mail Bag***
This week's mailbag entry is from our pal WTM. Great one!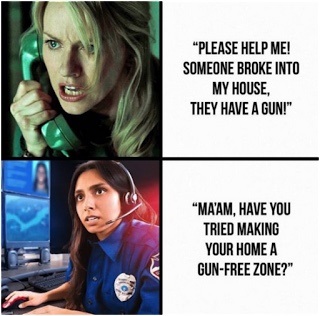 ******
Please note the new and improved protonmail account gunthread at protonmail dot com. An informal Gun Thread archive can be found HERE. Future expansion plans are in the works for the site Weasel Gun Thread. If you have a question you would like to ask Gun Thread Staff offline, just send us a note and we'll do our best to answer. If you care to share the story of your favorite firearm, send a picture with your nic and tell us what you sadly lost in the tragic canoe accident. If you would like to remain completely anonymous, just say so. Lurkers are always welcome!
That's it for this week - have you been to the range?


posted by Weasel at
07:00 PM
|
Access Comments