« Food Thread: Are Crawfish Actually Aliens?
|
Main
|
Sunday Overnight Open Thread (4/30/23) »
April 30, 2023
Gun Thread: End of April and 2023 NoVAMoMe Registration Edition!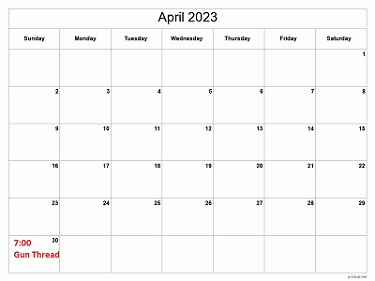 Howdy, Y'all! Welcome to the wondrously fabulous Gun Thread! As always, I want to thank all of our regulars for being here week in and week out, and also offer a bigly Gun Thread welcome to any newcomers who may be joining us tonight. Howdy and thank you for stopping by! I hope you find our wacky conversation on the subject of guns 'n shooting both enjoyable and informative. You are always welcome to lurk in the shadows of shame, but I'd like to invite you to jump into the conversation, say howdy, and tell us what kind of shooting you like to do!
Holy Shitballs! How in the ever-loving Hell did it get to be the end of April? Before you know it, it'll be March!!
Bigly update on the 2023 NoVAMoMe below, so if you're interested in attending, have a look.
With that, step into the dojo and let's get to the gun stuff below, shall we?
******
2023 NoVAMoMe Update!
Alright, guys and gals, the long awaited and highly anticipated
opening of 2023 NoVAMoMe registration
is upon us! That's right, registration for the event of the season is now open, which means
you
can register to attend! You see, in order to attend, you must first register, and then wait for June 10th, and
then
you attend! To be honest, it's really more of an application to attend with approval based on whether we like you or not, but what have you got to lose?!
Q: Weasel, your world frightens and confuses us. How do we, how do you say, register for the NoVAMoMe?
A: Welp, it's pretty darn easy!
First, check your calendars for June 10th, 2023. Good so far? Then simply send an email to WeaselBell Productions (novamome@protonmail.com) expressing your interest, then sit back and anxiously wait for a reply. Our pal and most delightful 'ette and MoMe Hostess Extraordinaire bluebell will review your application and relevant permanent record notations to decide if you're NoVAMoMe material. If you're one of the chosen, you'll get a reply with a link and secret password to the registration site containing all the pertinent details. Look these over and complete the simple registration form, remembering to follow the PayPal link provided at the end of the form to make your payment. Since we must guarantee a headcount to the caterer, all registrations must be made online by May 31st. We are not accepting payment for registration at the door. You do not need a PayPal account to register and can pay with any major credit card. I get it if you hate PayPal with the heat of a thousand suns, but it's really the simplest solution and saves us a bunch of work. Thanks for understanding, H8rs.
Seriously, just send an email, go to the site with the password provided, fill out the simple form, make your payment and you're done. If you forget, a link to the email is on the main page, left sidebar. Warning: if you do not sign up, bluebell will be disappointed. Weasel will be disappointed, too, but it's bluebell you need to worry about.
Q: Weasel, anything new for 2023?
A: Why I'm glad you asked! There are in fact TWO new things for 2023.
First, we are having a pre-party get-together the afternoon/evening before the main event. Details at the registration site.
Dos, we have an exciting new addition to the merchandise store, a 2023 NoVAMoMe commemorative mug available only to NoVAMoMe participants!
We sincerely hope you can join the festivities. I hope some of the past NoVAMoMe participants will jump in tonite and share their thoughts on the event to inspire any scairdy-cat lurkers out there to throw caution to the wind and sign up!
That's it, people. Email WeaselBell Productions today!
******
Guns of the Horde
You may recall our pal
Dr. Fred
reported receiving a spiffy new
Sig Sauer 716i TREAD
for Christmas, and today we have a follow-up range report!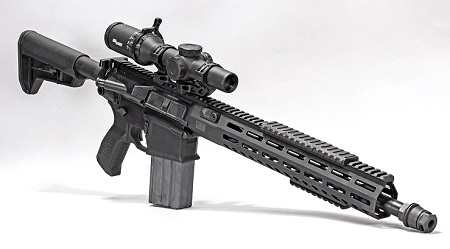 stock photo courtesy Sig Sauer
When Dr. Dumbass got this present at a gun show last winter, he neglected to bore sight it. Well, my first trip to the range, after setting up a spotting scope and the whole 9 yards, resulted in not even being able to hit a large target at 50 yards. Two shots, lots of cussing, pack it all up and go home. This here is the second attempt at sighting, the 5 shots in the center at 100 yards. It was a very windy day and my Lord, the factory trigger is awful. I have a Gieselle 2-stage on the way.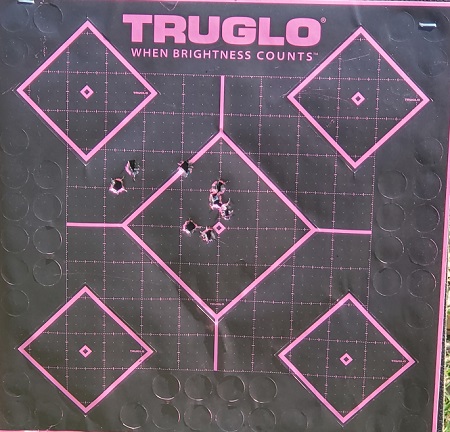 Thanks Dr. Fred and nice shooting! Please let us know how it acts when you install the new trigger!
Range Time
Well look who has been to the range with a revolver! And not just any revolver, but a gosh-danged WeaselFavorite, the S&W Model 686! Why, it's none other than our pal and delightful 'ette, Nurse Ratched!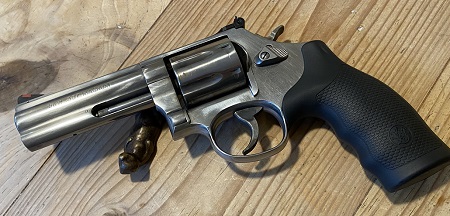 Just got home from the range. I've not shot my S&W .357 in about two years. I used to stink at double action. This is 14 shots at seven yards double action! I was so proud of myself! It was all focus and pulling the trigger straight back. What a difference training and focus and muscle memory make
.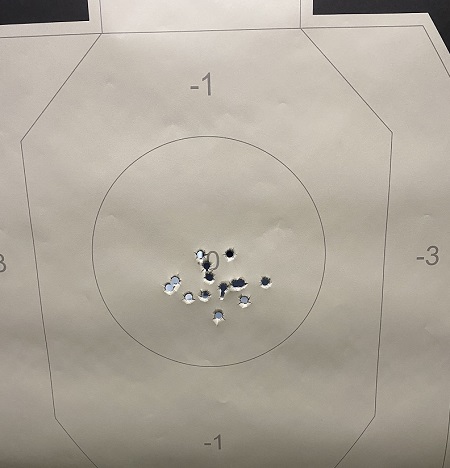 Will you people look at that? And while you're at it, please re-read Nurse's last two sentences.
"It was all focus and pulling the trigger straight back. What a difference training and focus and muscle memory make!"
So let's break this down. Nurse takes a weapon she has not fired in two years, a weapon which functions much differently than the pistols she regularly practices with and has results which anyone would be happy with. What gives?
Focus and range time is what gives. If I have said it once, I have said it a bazillion times. Focus on fundamentals, and practice your fundamentals. It really doesn't get much simpler than that. There is no weird trick or gadget that is going to replace these two things. If you want to shoot well, you need to focus and practice.
I will give you a WeaselTip which will make all that focusing and practicing more efficient. Practice with a purpose! Every time you go to the range, take a few notes in a little notebook you keep in your range bag. Items to include would be the weapon and ammo you're shooting, and how you performed. You should also take pictures of representative targets to study later. Jot down your overall performance and what you think went right and what went wrong and your thoughts on what caused it. That is what you concentrate on the next time. In each range session, take one clean target and fire 10 or so rounds before you pack up and leave, then score the results. Record the score in your notebook as a way to measure your progress.
OK - I'll shut up for now, but I hope you get the idea. Just shooting at targets to make holes in paper is fun but it also isn't accomplishing a whole lot, training-wise. If you want to improve, practice with a purpose! It's funner!!
******
Ax Weasel
Next, our pal GWB has a question for the group.
What is a precise description of "slam fire"? How should a trigger disconnect while the bolt is moving forward on a pump shotgun? I ask because I got my 12g Honcho back (finally!) and they seem to have fixed the feed problem though I still need to do a live fire function test. But I still feel the trigger clicking and the firing pin moving, maybe, if I hold it down while moving the bolt forward the last 1/2 inch or so. Lastly, do they make squib rounds for shotguns so I could test that?
Well, GWB axed Weasel, but it's up to YOU people to answer in the comments!
******
History of the Weaver Stance
Next up, our pal blake sends us a great article on the Weaver Stance from American Handgunner magazine.
Thanks Blake!
******
How To Department
Here's a good instructional video on field-stripping a 1911.
******
History of the Screwdriver. Very interesting!
******
NoVAMoMe 2023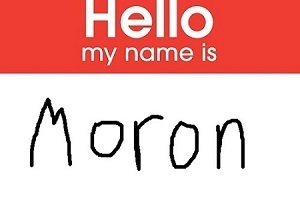 Not so fast on the gun stuff, buckaroos! We have a little bit more on the NoVAMoMe to discuss. In fact, this will be the first of a long and seemingly endless series of reminders to get yo' big butt off the couch and come out and meet some of your online friends. Let's kick things off with a few NoVAMoMe FAQ.
Q: Is it fun?
A: Yes. Just ask anyone who has been to one. You will have fun, or else.
Q: When is it again? Did you say June?
A: Yes. A thousand times yes! June 10th, from 1pm til 6pm or so.
Q: I'm sort of a dork. Can I just slink-in, watch for a bit and then slink out without having to actually speak with anyone?
A: Yes. In fact, we have strategically placed large potted ferns for lurkers to hide behind.
Q: Will bluebell be there? I really want to meet bluebell.
A: Of course! Well, assuming things go well at the parole hearing.
Q: Is there food and drink?
A: Yes! $30 for a bigly buffet, and a cash bar. We had to bump up the food price a bit to cover costs this year.
Q: Can I make references, even veiled references to the secret MoMe location on the blog?
A: NO! Seriously, please don't.
Q: Sounds great, Weasel! How do I sign up?
A: Easy Peasy! Simply email WeaselBell Productions (novamome@protonmail.com) and look for instructions by return email. Operators are standing by!
OK, I'm talking to YOU Mr. or Ms. I'll Go Next Time. Guess what? The next time is here. It's a really fun event and we would love to have you join us. Hopefully some NoVAMoMe veterans will speak up in the comments and encourage the introverts to stop being big baby chickens and make this the year to come out of the shadows!
******
Musical Interlude
Eric Clapton and J.J. Cale with
Call Me the Breeze
Live at the 2004 Crossroads Guitar Festival.
******
Gun Basics 101
New video from the She Equips Herself gal! This week is the Part 2 video on embarrassing gun questions.
******
Cigar of the Week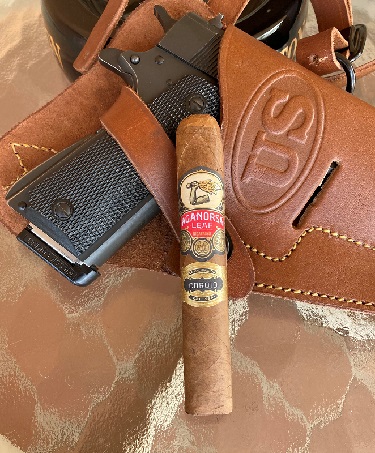 This week our pal rhomboid scores again with this excellent review of the Aganorsa Leaf La Validacion Corojo
Recently I reviewed Aganorsa Leaf's La Validacion Connecticut here. This time I look at its fuller-bodied brother, the Corojo. Like the entire line, a Nicaraguan puro (leaf all sourced from that country), with a nice "colorado claro", or medium brown with a bare hint of red, wrapper. It's a softly box-pressed stick, which makes it roughly rectangular in shape, with rounded edges. Pre-light aromas are of damp rich earth. When lit the draw is just right, and it produces clouds of smoke. This one is definitely towards the high end of my strength preference, so for those who like a stronger stick, it will not disappoint. Flavors for me were mostly wood and tobacco, with definite intermittent notes of spice, for which Nicaraguan tobacco and corojo in particular are known. At $6 and up online, a solid choice in a cigar towards the full end of "medium to full". Aganorsa is a purveyor of quality leaf to many premium cigar makers, and I expect as time goes along I'll complete the set and try their Habano and Maduro versions of the La Validacion line.
Excellent as always, rhomboid! Thank you!
P.S. can you tell us about the gun and leather in the photo? Please?
******
Here are some different online cigar vendors. You will find they not only carry different brands and different lines from those brands, but also varying selections of vitolas (sizes/shapes) of given lines. It's good to have options, especially if you're looking for a specific cigar.
Cigarsinternational.com
Cigarpage.com
Famous-smoke.com
Cigarsdaily.com
Neptunecigar.com
Smallbatchcigar.com
Bobalu Cigar Company
Cigarbid.com
A note about sources. The brick & mortar/online divide exists with cigars, as with guns, and most consumer products, with respect to price. As with guns - since both are "persecuted industries", basically - I make a conscious effort to source at least some of my cigars from my local store(s). It's a small thing, but the brick & mortar segment for both guns and tobacco are precious, and worth supporting where you can. And if you're lucky enough to have a good cigar store/lounge available, they're often a good social event with many dangerous people of the sort who own scary gunz, or read smart military blogs like this one. -rhomboid
Anyone have others to include? Perhaps a small local roller who makes a cigar you like? Send me your recommendation and a link to the site!
******
Ammo Link-O-Rama
I'm really very seriously not kidding around anymore. Buy Ammo
AmmoSeek - online ammo search tool
GunBot - online ammo search tool
SG Ammo
Palmetto State Armory
Georgia Arms
AmmoMan
Target Sports USA
Bud's Gun Shop
American Elite Ammo
***Mail Bag***
This week's mailbag entry is from our pal CBD. Hilarious!!
******
Please note the new and improved protonmail account gunthread at protonmail dot com. An informal Gun Thread archive can be found HERE. Future expansion plans are in the works for the site Weasel Gun Thread. If you have a question you would like to ask Gun Thread Staff offline, just send us a note and we'll do our best to answer. If you care to share the story of your favorite firearm, send a picture with your nic and tell us what you sadly lost in the tragic canoe accident. If you would like to remain completely anonymous, just say so. Lurkers are always welcome!
That's it for this week - have you been to the range?


posted by Weasel at
07:00 PM
|
Access Comments