« First-World Problems...
|
Main
|
Gun Thread: End of April and 2023 NoVAMoMe Registration Edition! »
April 30, 2023
Food Thread: Are Crawfish Actually Aliens?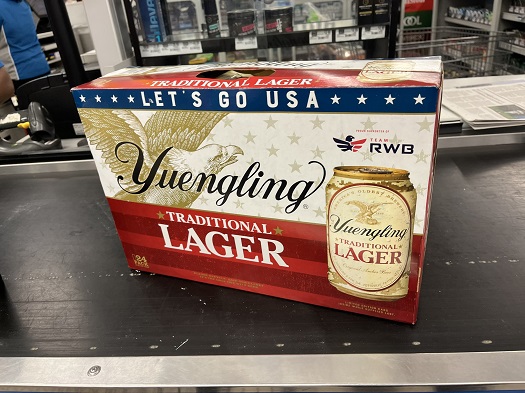 We attended a crawfish boil yesterday, courtesy of our delightful sort-of-new neighbors. What a hoot! It was raining the entire time, but everyone was game, especially because our hosts got a big tent and lots of propane heaters.
And damn! The crawfish were great.
There was plenty of drink to be had, but let's face it, it's a backyard party at which we eat with our hands and suck the heads of hundreds of crawfish. How seriously should we take the booze?
Well, I chose Yuengling. There was no Bud Light, because not only are my neighbors good folk, they are on the conservative side of the spectrum.
It was fine for the occasion. A solid beer that went down easily, and matched well with the spicy food. That it is also an American company that doesn't go out of its way to piss in my face and tell my it's raining is a delightful bonus that I will be looking for more and more in my purchases.
Hell, I even tried a hard seltzer. Lemon flavored. Yeah...no thanks. Too sweet. I guess I could have tuned it up with a shot of vodka, but all I wanted to do was finish it and get back to the crawfish and Yuengling Lager!
******
I was wandering through the meat department of my local supermarket, hoping for inspiration, when I came upon some nice looking pork tenderloins. Now, I am as big a fan of fat as anyone, and tenderloin is lean, lean, LEAN! But fat can be added. In fact, fat from other parts of the pig can be added for delicious symmetry! So off to the deli I went, and emerged with some thick-cut Prosciutto.
I seared the tenderloin, sprinkled some fresh thyme and some cracked pepper on it, then wrapped it with three slices of prosciutto. Into a 375 degree oven for I have no idea how long!
Yup...that's why temperature probes are invaluable. I set the target temperature for 130 degrees because I was unsure of how much carryover there would be. Carryover is simply the heat being distributed through the meat after it is removed from the oven, and physics tells us that Nature hates temperature gradients. Obviously it's going to be hotter on the exterior than the interior, and the cooking vessel itself has a bit of excess heat that it will transfer to the meat as it cools.
By the time I got into the kitchen the temperature was already 132 degrees. Wow! I took it out of the oven and turned on the graphing utility of my BlueDot so I could see what was happening.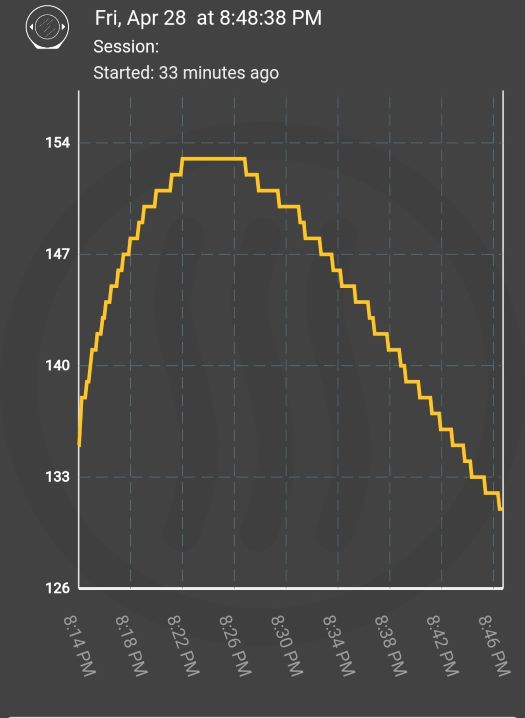 That graph is amazing. In the eight minutes after I removed the tenderloin from the oven the internal temperatures climbed 20 degrees. The food turned out great, so I am not particularly worried about my timing, although I wonder whether a lower temperature would have given me a more consistent temperature throughout the pork. But then the Prosciutto wouldn't have been a bit brown and crispy, so....

******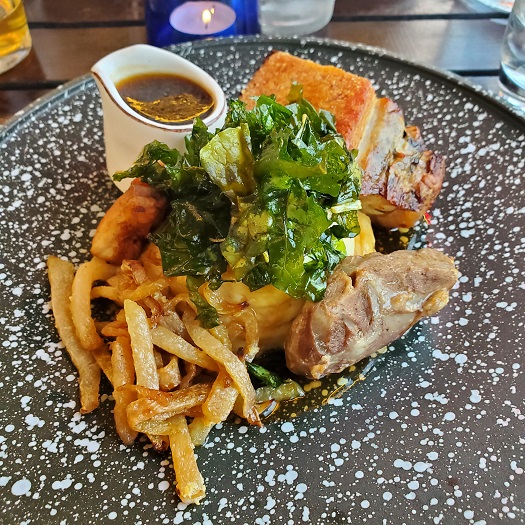 That's pork belly and pork cheeks with some tasty green stuff and some even tastier fried potatoes (chips in English English). Fantastic. The Brits know how to cook pork belly.

***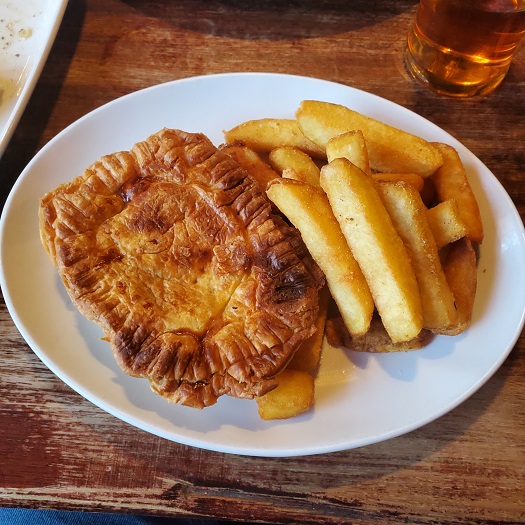 A three meat pepper pie in a 450 year old London pub. Delicious, and really peppery! But it was in balance, although right on the edge. And yes, those are chips. And they were delicious. I can quit them any time I want!

***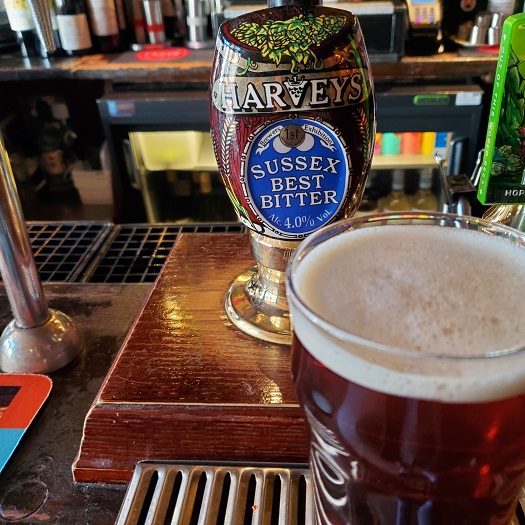 The best pint of the visit, served by a knowledgeable bartender (Aletender?) who was genuinely enthusiastic about the beers he was serving. The pub is my favorite in London, at least for cask ales. They don't serve food, other than bags of crisps. Yes, they take drinking seriously!

***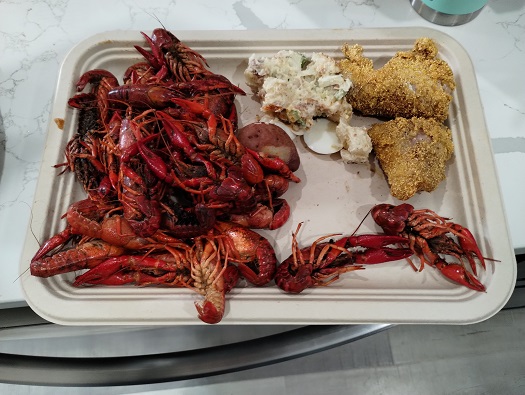 That is a crawfish and catfish feed, courtesy of commenter "RedChief." Yeah...it does look tasty!

******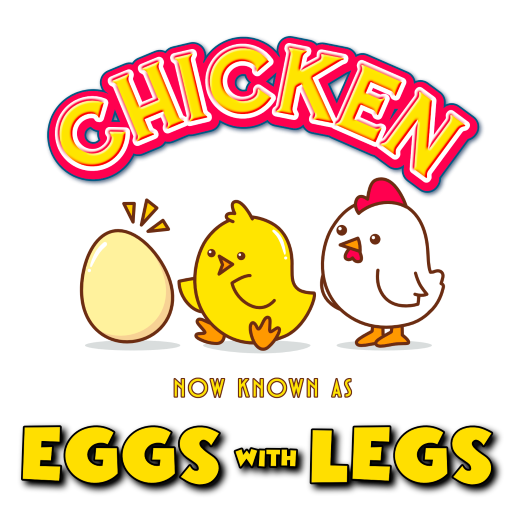 [Courtesy of "Dr_No"]

******
Just send me oysters. Lots of oysters, and I will provide special dispensation for those without taste who insist upon maple syrup with their French Toast. And pork rib roasts from the front end of the pig where all the good and fatty meat lives, carrots that don't taste like stalky chalk, spare bottles of Van Winkle Special Reserve 12 Year Old Bourbon, an herb garden that actually produces herbs (but no basil!), well-marbled NY strip steaks and elk backstrap to:
cbd dot aoshq at gmail dot com.
And don't think that the rest of you are off the hook with maple syrup and French Toast: I'm still watching you! And I am watching you perverts who shake Manhattans and keeping a list for the Burning Times.

posted by CBD at
04:03 PM
|
Access Comments