« Gun Thread: End of April and 2023 NoVAMoMe Registration Edition!
|
Main
|
Daily Tech News 1 May 2023 »
April 30, 2023
Sunday Overnight Open Thread (4/30/23)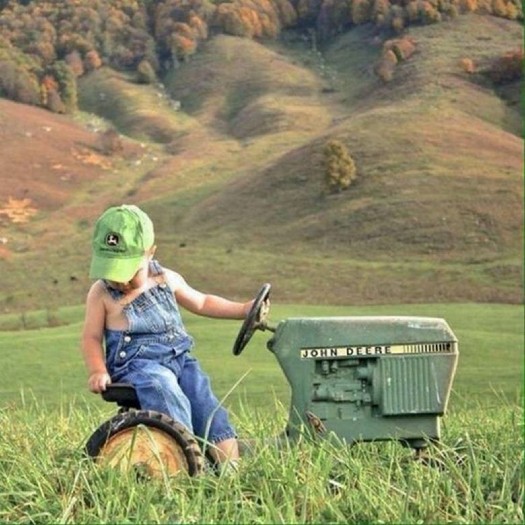 ***
The Comments of The Day
Quote I

"When top executives feel financial stress, the classic 'threat-rigidity' effect kicks in, and beyond possible benefits for communication, collaboration and creativity, they feel compelled to increase their own illusion of control," Bob Sutton, an organizational psychologist and a professor at Stanford
Quote II

"If Amazon is able to get away with ignoring the workers' decision and hiding behind the subcontractor relationships, then I'm afraid we'll have yet another story of the failure of American labor law,"
Benjamin Sachs, a labor professor at Harvard Law School
Quote III

"For those who would advocate censorship, just remember at some point that will be turned on you." Elon Musk
***
The Comments of The Week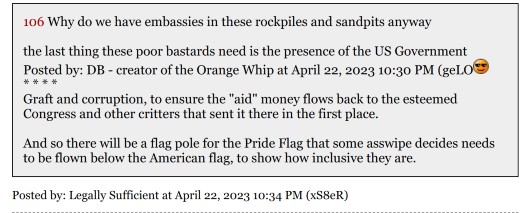 ***

I found the following definition from Oxford Languages:

les·bi·an
adjective
denoting or relating to women who are sexually or romantically attracted exclusively to other women, or to sexual attraction or activity between women.
"a lesbian relationship"

Some stories are simply too good to pass up and this is one of those. I had never heard of the dating app called HER, but it's apparently been around for at least ten years. It's a community app exclusively designed for lesbians and is reportedly quite popular in that community, both in the United States and abroad. (No pun intended.) Or at least it used to be "for lesbians." As of this past week, it's apparently "for some lesbians." And those would be the lesbians who are interested in dating men. (Stay with me. This will make something approximating sense in a minute.) As Matt Margolis explains at PJ Media, the CEO of the company has been blasting out instructions for all users of the app in no uncertain terms. If you're not willing to date "trans women" (i.e. "women with penises" or just dudes), delete the app from your phone.

Chicks with dicks rulz!
***

As many of you know I reside in the great white north frozen tundra of Wisconsin. I don't expect any sympathy from anyone. I understand the draw of geography. I know what it is like to have family, friends and an occupation. I get it.
And I know there are a fair number of Californians here as commenters and lurkers. But you will not receive any more sympathy from me. Once again California's rulers who live on theory, Fairy dust and Unicorn farts hurt the economy and residents of the state.

California approves banning diesel truck sales by 2036
American Trucking Associations call California diesel truck sales ban 'unrealistic'

California air regulators approved regulation Friday to ban the sale of traditional combustion trucks – that run of diesel – by 2036 in the state.

The rule must now be approved or denied by President Biden's U.S. Environmental Protection Agency. California's vehicle emissions standards are regularly followed by other states.

Known as Advanced Clean Fleets, this action puts the Golden State on the path toward fully transitioning medium and heavy-duty trucks there to zero-emissions technology by 2045.
The State of New York says to the State of California, here hold my Chablis.

Get ready to start simmering with rage.

Gas stoves will soon become toast in New York, under a controversial new handshake deal between Democratic Gov. Kathy Hochul and Albany lawmakers that would make that state the first in the US to ban natural gas.

The pending budget deal mandates all new buildings under seven stories be fully electric by 2026 with larger structures following three years later.

While Hochul hailed the plan as a way to fight climate change, average New Yorkers said it was not so hot of an idea.

Silly right-wingers, electricity comes from that thingy you plug the other thingy into.
***

Those with newer vehicles, do you like your touchscreen components? Or do you prefer the "old-fashioned" buttons? If you say buttons, they are making a comeback.

Touchscreens? Who needs 'em.

As Slate reports, car companies are finally beginning to take notice that touchscreen infotainment systems are a road safety hazard — and above all, that their customers absolutely hate using them.

Case in point, Porsche has phased out its all-touchscreen design of the Cayenne luxury SUV, Slate notes, adding some much-needed buttons back. The new 2024 design still features a central touchscreen, but at least now new owners will no longer have to suffer the ordeal of infotainment-based climate controls.
***

You have to fight for your right to eat donuts that are to be tossed out.

A former Waitrose employee has been left 'frustrated' after finding himself at the centre of a doughnut row.

David Graham claims he was sacked for eating the dough-based delight that was destined to be thrown in the bin.

He said he needed a 'sugar hit' during his shift and thought there was no harm in eating it as it was being chucked away.

The 28-year-old worked nights at a Waitrose store in Poole, Dorset, stacking shelves and picking orders.
***
The ONT Musical Interlude & Snow Shovel Emporium
April 29, 1993 - Mick Ronson
Guitarist, producer, Mick Ronson died of liver cancer aged 46. Ronson recorded and toured with David Bowie from 1970 to 1973. Released the 1974 solo album 'Slaughter On Tenth Avenue'. Ronson co-produced Lou Reed's album Transformer, also part of Hunter Ronson Band with Ian Hunter. And worked with Morrissey, Slaughter & The Dogs, The Wildhearts, The Rich Kids, Elton John, Johnny Cougar, T-Bone Burnett. via thisdayinmusic.com
&&&
Born on this day: April 30, 1934 - Otis Rush
American blues guitarist and singer-songwriter Otis Rush. His first single, 'I Can't Quit You Baby', in 1956 reached No.6 on the Billboard R&B chart. Two of his other best-known songs, are 'Double Trouble' and 'All Your Love (I Miss Loving).' He died on 29 September 2018 from complications of a stroke aged 84. via thisdayinmusic.com
***

The Johnson bone is connected to the Asshole Bone connected to the Genius Award Winner.

Man Gives Police Worst Explanation Ever For Why He Has To Pleasure

A Florida Man charged with indecent exposure offered cops a bizarre explanation as to why he was pleasuring himself in public, according to court records.

Officers were dispatched Sunday morning to a Speedway convenience store in Vero Beach after a 911 caller "advised there was a naked white male screaming at a white female on the side of the road."

Upon arriving at the scene, officers encountered Jason Roach, with whom they were already familiar. The 40-year-old Roach, cops reported, had been questioned twice the prior evening in connection with alleged masturbation incidents at an Arby's restaurant and a Wawa convenience store.
To tame for you? How about this for a Genius Award Recipient.
April 29 (UPI) -- An Australian tourist facing possible flogging after being accused of going on a drunken nude rampage in the Indonesian province of Ache says he felt "almost possessed" at the time.

Bodhi Mani Risby-Jones, 23, of Noosa, Australia, was arrested Thursday on the Island of Simeulue off the coast of Sumatra in Indonesia.

Sentences under the Sharia-based laws in Ache can involve public floggings for offenses like drinking or adultery.

Risby-Jones is expected to appear in court next week and could face up to five years of incarceration and 40 lashes if he is convicted.
***

I have a soft spot in my cold cruel heart for bears. Tonight's Feel Good Story of The Day.
A bear that climbed a neighborhood tree got stuck and fell – to the safety of a tarp held but a crew of firefighters.

The bear went up a tree in the Mount Rose area near Reno, Nevada, prompting neighbors to call for help.

'Today, Engine 12 and Truck 3 went to a bear-y interesting call!' wrote the Reno Fire Department on Facebook on Wednesday. 'Our crews assisted NDOW in getting a bear out of a tree using a ladder and salvage cover!'
Well done Basement Savers.
***

Tonight's ONT has been brought to you by Accidents Waiting To Happen.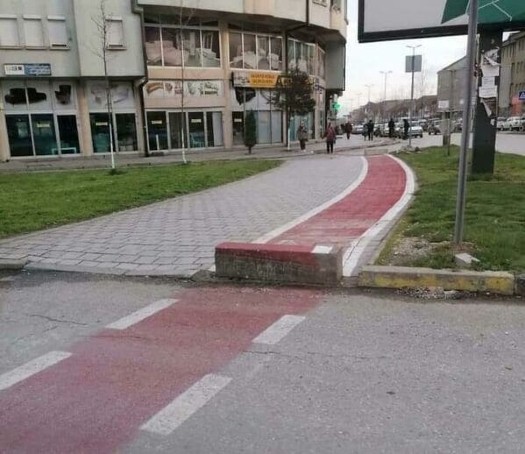 Notice: Posted with permission by the Ace Media Empire & AceCorp, LLC. ONT Tips, loose change, drink tokens and burner phones to petmorons at gmail dot com. Complaints, pissing, moaning to someone who cares.

posted by Misanthropic Humanitarian at
09:43 PM
|
Access Comments