« Food Thread: Bah Bah Grilled
Sheep
! |
Main
|
Sunday Overnight Open Thread (4/23/23) »
April 23, 2023
Gun Thread: More on the Secret Mission Edition!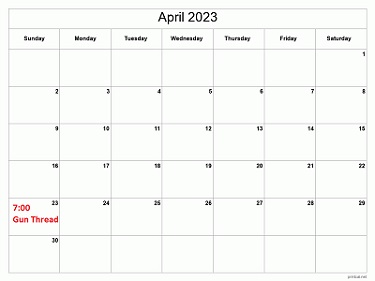 Howdy, Y'all! Welcome to the wondrously fabulous Gun Thread! As always, I want to thank all of our regulars for being here week in and week out, and also offer a bigly Gun Thread welcome to any newcomers who may be joining us tonight. Howdy and thank you for stopping by! I hope you find our wacky conversation on the subject of guns 'n shooting both enjoyable and informative. You are always welcome to lurk in the shadows of shame, but I'd like to invite you to jump into the conversation, say howdy, and tell us what kind of shooting you like to do!
Quiet week here, just catching up on some work after being gone on the secret mission for a few days. Planning to head to the farm hopefully this week to work on the sickle bar mower that broke for no reason now that the $500 of parts have arrived. The 2023 NoVAMoMe stuff is still down below and although there aren't any updates, keep your eyes peeled for the registration to open - SOON.
With that, step into the dojo and let's get to the gun stuff below, shall we?

******
Thoughts and Impressions of the 2023 NRA Convention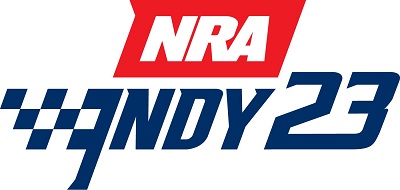 Last week, during the eagerly anticipated reveal of the secret mission details, I mentioned I'd have my thoughts and impressions ready to share this week. Before I get to that however, it'd probably be a little helpful to understand how I look at some things for perspective. The WeaselPerspective, if you will.
First, my thoughts on the NRA itself. I think characterizing my opinion of the NRA as ambivalent is generally pretty accurate. Up until this point, my only real experience has been with the Competitive Shooting Programs Division, which I think has always done a really good job. I have also met and even shot extensively with some of the members of the NRA Board of Directors, and found them to be generally decent people committed to shooting sports and protecting our 2nd Amendment rights. So far, so good.
Next, the 'other' leadership. The few individuals mentioned previously notwithstanding, here's where the road gets bumpy. To say that Wayne LaPierre, the NRA CEO and EVP is polarizing is something of an understatement. I don't mind at all that he pisses off the left, but I do have a problem with the fact that he is such a distraction within the NRA itself. I am not going to dwell on the details which give rise to all the static; believe the stories or don't believe the stories - to me it's really beside the point, but I find it highly problematic that there are such wildly differing views of the leadership of such a vitally important organization. The amount of energy wasted on defending/attacking this one guy from the inside the organization means there is just that much less available for defending our 2nd Amendment rights outside the organization. For no other reason than that, I think LaPierre needs to go.
Lastly, I understand the NRA needs to raise money to support and continue their mission. I have been a NRA Life Member for years, and they have apparantly finally given up on gettting any more money from me, but the incessant fundraising was highly annoying, although I'm sure they wouldn't do it if it wasn't effective. OK, that about sums up my thoughts on the NRA.
Now, on to my opinion on Gun Shows. Frankly, I'm not a fan. There is an especially ginormous event calling itself the Nation's Gun Show which takes place several times per year not far from where I live but I haven't been to it in many years. I do not have a particularly vivid interest in the latest BlastMaster 5000 from Deviant Industries, or whatever the hot item is this year, so I don't feel a need to fight the crowds and pay for admission to go see one in person.
Q: Weasel, are you saying you don't like gun shows? Are you a homo?
A: Yes I am, and no I am not.
I don't particularly like crowds of people, and I especially do not like the gun show markup on the gear offered for sale. Combine the two and I am really not enjoying myself, at all. Maybe all y'all are better at finding those Singer 1911A1's offered for sale for $500 by some sadly uninformed seller, but I sure never seem to find them. I do see a lot of overpiced crap offered by grouchy and jaded sellers who have been riding the gun show circuit for far too long. I'd willingly pay a premium to just not have to deal with them. The particular show I mentioned is particularly obnoxious in there are about five times too many people admitted at a given time to permit walking around and looking at stuff. At best, people are stacked three deep at the tables in a vigorous mob reminiscent of Black Friday at a discount store. No thank you very much.
Okay - I think that about covers my innermost thoughts on the NRA and Gun Shows.
***
Q: Weasel, considering your thoughtful and cleverly-presented remarks on the NRA and Gun Shows, what in the ever-loving hell posessed you to drive neary 600 miles to attend an NRA Gun Show?
A: Well that's a good question. I'm not really sure.
I keed! I keed! Weasel is always up for a good road trip, and has always been curious regarding what an NRA Convention was really all about. So at the risk of having an awful time, I tossed some clean socks and a change of underwear into the WeaselMobile and headed to Indianapolis.
Although it may be a delightfully wonderful mid-western city, I planned my hotel arrangements to spend as little time actually inside the city limits as possible. However, getting into and out of the area of the convention center proved to be surprisingly simple with ample parking all around. As a matter of fact, I was able to find a garage right across from the front doors on three consecutive days. Already I am liking it!
The Indianapolis Convention Center is big. Bigly big. The NRA literature claimed 14 acres of exhibition space and I believe it. Enormous is another good word to describe it. Vastly Bigly Enormous with a hint of Cavernous is perhaps even better yet. The best way to think about an NRA convention is to imagine two parts; a vastly bigly enourmously cavernous exhibition space showcasing more than 600 vendors, and then also three days of seminars, lectures and presentations on every imaginable gun-related topic and issue, almost 70 of these in total, known to mankind. There is simply no way to see and do it all. And it's completely free if you are a NRA member. There is also a bunch of legislative and NRA business going on, which I will leave to other serious credentialed members of the media to report on.
Can I get a Holy Shitballs? I mean, that's a whole bunch of guns 'n shooting content right there under one roof! So let's see if I can answer some basic questions.
Q&A on The Big Show
Q: Was it fun?
A: Absolutely YES. It was completely fun and interesting and well worth a day's drive there and back. No question.
Q: Weasel, we know you're slightly retarded, but didn't you just blabber on about the NRA and not liking Gun Shows?
A: I did. However, I was able to see the NRA as an organization do something besides the competitive shooting thing, very well. I mean really very well. I absolutely enjoyed the experience. Everyone there representing the NRA, staff and volunteers alike, were extremely helpful and cheerfully went about their duties.
Q: But, but, wasn't there big crowds and grouchy gun show people?
A: Yes and not really. There were crowds, but due to the space it never felt over-crowded. Nearly everyone seemed happy to be there, vendors and attendees alike.
Q: But, but... Gun Show!!
A: Truth be told, it was more of a trade show than a gun show. No guns, and in fact little else, was actually for sale at the event, which made it a lot less hectic and therefore more enjoyable.
Q: Did you see the She Equips Herself gal?
A: Sadly, no. I even went as far, in the name of exhaustive journalistic research, to briefly scan the list of famous people and didn't see her listed.
Q: Did you see President Trump speak?
A. No. I really would have liked to, but after being there all day I just didn't have it in me to spend several more hours getting inside and then listening to all the other speakers before him, when I could go back to the hotel and have a cigar and watch him on RSBN with my feet up.
Every single manufacturer imaginable, with a couple of notable absences (Vortex Optics?), were there and ready to answer product questions. In only a couple of instances did I seem to get the part-time summer junior assistant marketing intern instead of someone actually well-versed in product knowledge. There was some very high-end stuff, but even more for the general shooting public. There were a lot of very small manufacturers and vendors represented trying to have their products get some visibility. I really liked this aspect the most, and despite the dubious utility of some of the products I saw, these people were out there pursuing their dream. Kind of representative of the old America I remember so fondly, and I am happy to see it still exists somewhere.
Biggest takeaway from the event? The fun of being among like-minded people, both in the crowd and behind the displays, for a few days. Everbody was having a really very good time as far as I could tell. I made it a point to speak with as many of them as I could and they came from all over the U.S., from all walks of life, and were eager to chat about their experiences at the convention which were all very positive.
Protests? Yes, a couple. A friendly policeman mentioned on Saturday there were 30 or 40 "trouble makers" outside, but as I was leaving, I saw a grand total of two people, so not a factor. Would I go again? You bet. Next year is in Dallas and should be a real doozy. I'm not sure if this will be an annual thing for your ol' pal Weasel, but who knows. I am very happy I went to this one. If you have never been, I highly recommend that you do so at least once. Plan on spending a couple of days on your feet and having a great time in the process!
How about you? Thoughts on the NRA and Gun Shows? Have you been to an NRA Convention, and if so what did you think? Would you go again?
******
Range Time!
Who has been to the range? Why, none other than our pal and fellow gun nut
Sharon(willow's apprentice)
has been to the range with our other pal
SRABlaster
and her a Kimber Aegis 1911!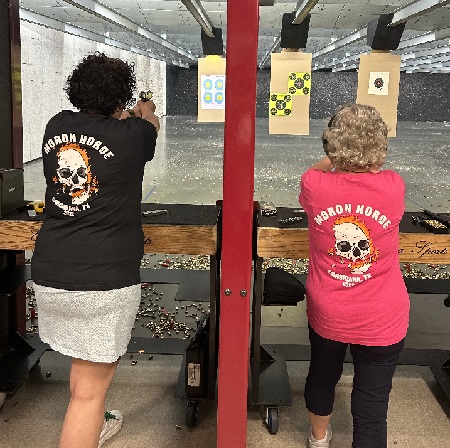 SRABlaster (L) and Swa (R) at the range making targets look stupid
I finally had an opportunity to start off a session of the DMV MGC with the repaired Kimber Aegis 1911 with Venom Vortex red dot.

The middle target is the first 3 mags, 5 rounds each at 5 yds. Thrilled with the performance. The lower left target was two mags of 5 each. 8 on target, 1 in the middle and 1 unknown. I always am more accurate aiming at the center target. Next time I want to try the Kimber with a moving target. The new range has a zombie game where the target starts far away and moves towards you.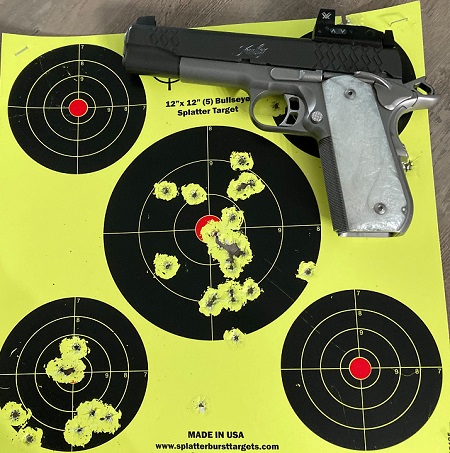 One issue was the sight got dirty almost right off the bat. Ed L suggested going with a cleaner ammo, Syntech, but it is a lot more expensive. So, question: Is it worth it? The gun is covering someone else's rounds so that is not my missing shot under the trigger. This target was definitely a keeper.
Somebody has been practicing! Very nicely done Swa, and thanks for sending this in. You're keeping your thumbs down, aren't you? I'm thinking I'd better start practicing for the next time we're shooting together!
******
Next up, we have a very nice range report from our pal lurker.
After pinching pennies for the better part of the past year, I finally got to the point where I could buy a M18. One, the M18 was available at last, and two, the price fell below MSRP, so I wound up hitting a nearby gun store to get one. They had to order it, so no heading home with one on my birthday as I had planned. But 10 days later, it arrived, and with that, it became the latest addition to my modest collection.

The reason for insisting on a M18 was simple: being in the AF, I needed the standard issue handgun to train with. Years ago I made the M9 my first gun for that very reason so it made sense to buy the M18 to train with so that I could eventually get my coveted "shot expert" ribbon. I can't tell you the last time I was sent to the range in the AF so training on my own time is essential.

Out of the box I was already impressed. The handle has a feel that I can best describe as sandpaper. It's not uncomfortable and it allows you to get a firm grip. The size has me thinking that I could carry concealed with it. Oddly, it comes with one 17 round magazine and two 21 round magazines. If I wish to carry it concealed, I will stick to the 17 round magazines. Unfortunately if I wish to purchase any additional magazines of any size for the M18, they will set me back quite a ways. They are quite expensive these days, and my guess is this is because the DoD is getting most of the production of the magazines as they switch over to the M18.

As most of us know, Sig won the handgun competition that the Army ran, as they picked it over the Glock 19. First, the USMC opted for the M18, for, as it was explained to me, it was better optimized for concealed carry for Marines that required such an option. Then the other services jumped aboard. The Army still had M17s but by and large those are for issue to General Officers, though other soldiers do use them.

Anyways, now that I got my own copy, what did I think of it? Time to hit the range and find out!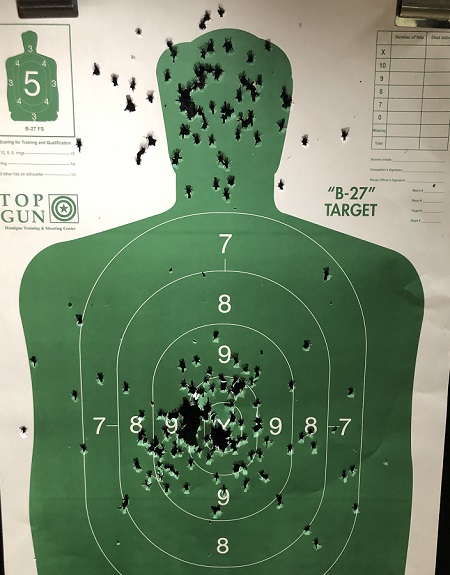 When I finally had some time to myself over Spring Break, I headed over to Top Gun Range in Houston to put the M18 to action. But I decided to bring along the M9 for comparison. As an aside, I have never had a bad thing to say about the M9. My fellow Airmen can be heard griping to this day about the military ditching the 1911 in favor of the 9mm M9, but I never had an issue with it. I am perfectly OK with the M9. In any event, I put 105 rounds through the M9 and 119 through the M18. My thoughts? The M18 is a damn good handgun. The trigger was smooth and it felt good in my hands, like other Sigs I have fired. I own a P226 Tacops which, if you forced me to decide, I would call my favorite gun in the collection and it alone turned me into a Sig fanboy. But far and away my favorite part of the M18 is the sights. I picked them up immediately. I would dare say the sights practically drew my eyes to them.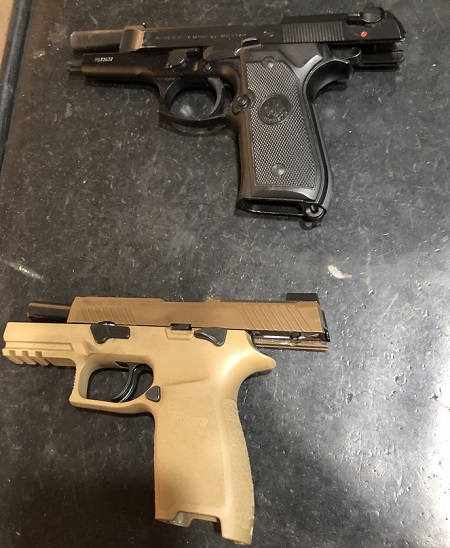 Later in the summer I will bring them to the range again and give them some more ammo. But for now I have other things to do, sadly.

My apologies in advance for the use of a single target; this was one of those things where I wondered to myself "What did I forget today?", only to realize once I got done with the M9 I should have bought another target for comparison. No matter, I will forward this along anyways. I more or less do a series of Mozambique drills and various settings (one eye open, both eyes open, two handed grip, one handed grip, weak hand grip - in my case, the left hand). This way I get used to the idea of using the gun at points where everything is not perfectly ideal.
The bad guys are not going to give me time to assume the Weaver stance for honor's sake.
Bigly Gun Thread *fistbump* to Mr. or Ms. lurker and fellow Sig fan! Very nice report, thank you very much. Please keep them coming!
******
Al Capone's Guns!
Our pal
OrangeEnt
found the following video on Al Capone. Great find!
******
Need to field strip your 1911? Here's how to do it without having
too many
leftover parts.
******
NoVAMoMe 2023
Not so fast on the gun stuff, buckaroos! We have a little bit more on the NoVAMoMe to discuss. In fact, this will be the first of a long and seemingly endless series of reminders to get yo' big butt off the couch and come out and meet some of your online friends. Let's kick things off with a few NoVAMoMe FAQ.
Q: Is it fun?
A: Yes. Just ask anyone who has been to one. You will have fun, or else.
Q: When is it again? Did you say June?
A: Yes. A thousand times yes! June 10th, from 1pm til 6pm or so.
Q: I'm sort of a dork. Can I just slink-in, watch for a bit and then slink out without having to actually speak with anyone?
A: Yes. In fact, we have strategically placed large potted ferns for lurkers to hide behind.
Q: Will bluebell be there? I really want to meet bluebell.
A: Of course! Well, assuming things go well at the parole hearing.
Q: Is there food and drink?
A: Yes! $30 for a bigly buffet, and a cash bar. We had to bump up the food price a bit to cover costs this year.
Q: Can I make references, even veiled references to the secret MoMe location on the blog?
A: NO! Seriously, please don't.
Q: Sounds great, Weasel! How do I sign up?
A: We will again have an online page with registration and payment specifics, however, it's not yet live as we're still working out a few of the details. Keep an eye out here on the ol' Gun Thread or the main page sidebar for more info in the coming weeks.
OK, I'm talking to YOU Mr. or Ms. I'll Go Next Time. Guess what? The next time is here. It's a really fun event and we would love to have you join us. Hopefully some NoVAMoMe veterans will speak up in the comments and encourage the introverts to stop being big baby chickens and make this the year to come out of the shadows!
******
Musical Interlude
Here is The Hollies and
Long Cool Woman
******
Gun Basics 101
No new video from the She Equips Herself gal, so here is something from the archives. This week's video is on non-lethal self defense options.
******
Cigar of the Week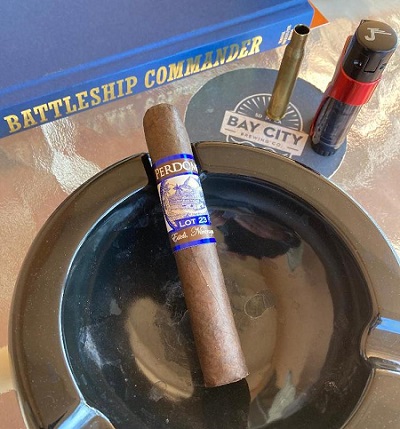 This week our pal rhomboid scores again with this excellent review of the Perdomo Lot 23 Maduro
Perdomo is one of the more prominent smaller cigar brands, offering a wide variety of choices with high quality and reasonable prices. Perdomo is much larger and more established than "boutique" companies, but not a giant. Their Lot 23 line is named for the field in Nicaragua where all of the tobacco for these cigars is sourced. Sort of the equivalent of "estate" wines from small producers, or "designated vineyard", where all the natural inputs for the product come from one plot. I tried the original (habano wrapper) release a while back and remember enjoying it; the connecticut wrapper version I have yet to burn.

Their Lot 23 maduro was, for me, the classic maduro experience. Overall a mellow profile, though with some earthiness and strength. Definite cocoa and wood notes in this one. Lots of smoke volume. The burn line was a bit wavy but only required a few touch-ups. A solid choice for those who like maduros in the medium to full category, and like the price level - the robusto pictured here is available for $5 and up online.
Excellent, rhomboid! Thank you! I have to say you do a great job with these reviews - more better than I could do. Appreciate it!
******
Here are some different online cigar vendors. You will find they not only carry different brands and different lines from those brands, but also varying selections of vitolas (sizes/shapes) of given lines. It's good to have options, especially if you're looking for a specific cigar.
Cigarsinternational.com
Cigarpage.com
Famous-smoke.com
Cigarsdaily.com
Neptunecigar.com
Smallbatchcigar.com
Bobalu Cigar Company
Cigarbid.com
A note about sources. The brick & mortar/online divide exists with cigars, as with guns, and most consumer products, with respect to price. As with guns - since both are "persecuted industries", basically - I make a conscious effort to source at least some of my cigars from my local store(s). It's a small thing, but the brick & mortar segment for both guns and tobacco are precious, and worth supporting where you can. And if you're lucky enough to have a good cigar store/lounge available, they're often a good social event with many dangerous people of the sort who own scary gunz, or read smart military blogs like this one. -rhomboid
Anyone have others to include? Perhaps a small local roller who makes a cigar you like? Send me your recommendation and a link to the site!
******
Ammo Link-O-Rama
I'm really very seriously not kidding around anymore. Buy Ammo
AmmoSeek - online ammo search tool
GunBot - online ammo search tool
SG Ammo
Palmetto State Armory
Georgia Arms
AmmoMan
Target Sports USA
Bud's Gun Shop
American Elite Ammo NEW!
***Mail Bag***
This week's mailbag entry is from our pal Weasel showing WeaselDog firmly in command of the coveted Cozy Cave while Fun Size Joe looks all pitiful and unloved.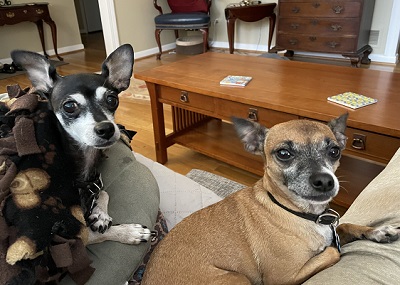 ******
Please note the new and improved protonmail account gunthread at protonmail dot com. An informal Gun Thread archive can be found HERE. Future expansion plans are in the works for the site Weasel Gun Thread. If you have a question you would like to ask Gun Thread Staff offline, just send us a note and we'll do our best to answer. If you care to share the story of your favorite firearm, send a picture with your nic and tell us what you sadly lost in the tragic canoe accident. If you would like to remain completely anonymous, just say so. Lurkers are always welcome!
That's it for this week - have you been to the range?


posted by Weasel at
07:00 PM
|
Access Comments