« First World Problems
|
Main
|
Gun Thread: More on the Secret Mission Edition! »
April 23, 2023
Food Thread: Bah Bah Grilled Sheep!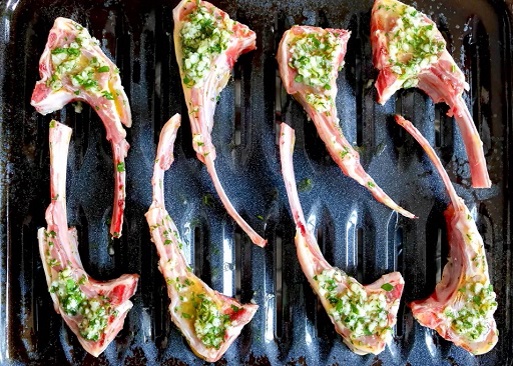 With apologies to Shari Lewis, lamb chops are delicious! The classic spicing is some combination of garlic and thyme and rosemary and parsley, and I add a splash of olive oil just for authenticity. Grilled or roasted, and they are done!
But what to do if the food gods have conspired to steal all of the rosemary and fresh garlic from the kitchen? Well, commenter "Ben Had" tried garlic powder and...Herbes de Provence? My response was immediate and puzzled. It's a strong-flavored mixture of herbs, and it often includes lavender and savory, which I think are quite powerful and distinctive, and are more appropriate for that weird aunt's bathroom potpourri than actual food meant for consumption.
But Ben Had said it worked well, so the fabric of the lamb universe is torn! I will have to try it and get back to you, but in the meantime, all of you lamb lovers out there should consider it as an option. Unless I am woefully behind the times and you all are snickering about what a lamb neophyte I am.
Seriously, depending on the kind of lamb you can get, it is delicate or powerful and almost gamey, so the spicing should be dependent on that. I have had wonderful and delicate lamb with just a bit of salt and pepper, and I have had glorious thick gamey whole legs with all sorts of stuff...tons of garlic and balsamic vinegar and oregano and on and on. It's just delicious meat!
Oh...Ben Had assures me that the paucity of rosemary in her back yard is a result of the bad freeze two years ago, and that it will be remedied soon.
Oh again...don't forget to go to western Kentucky for smoked lamb. It's regional, it's mostly unknown in America, and it is fantastic!
******
It's the same old same old. Biological studies are famously imprecise, with correlation substituting for causation in most of them. And with technological improvements in chemical detection, what was impossible to find in foods just a generation ago is now easily detected...at levels that are ridiculously low. Parts/billion? Hah! How about parts/ trillion, or sometimes parts/quadrillion (10
-15
)!
Food chemicals ban moves forward in California Assembly
The chemicals included in the bill are:

Red No. 3, a dye linked to cancer and behavioral problems

Brominated vegetable oil, an additive that has been linked to several health harms, including to the nervous system

Potassium bromate, an additive that's been linked to cancer

Propylparaben, an additive that's been linked to harm to the hormone and reproductive systems

Titanium dioxide, a colorant linked to damage to DNA and harm to the immune system
There are health issues among the people of the state of California that dwarf the theoretical dangers of these chemicals. Should we be aware of them? Sure...why not? But obesity, drug abuse, diabetes, exercise (or lack thereof) and probably a dozen more are more important. But they are decidedly unsexy, so the idiots in the California legislature are going to go after the rounding errors in the causes of deaths among Californians. Because that is what they do! That is who they are!
******
Long-time commenter and pita-pusher "Moki" made this a few nights ago.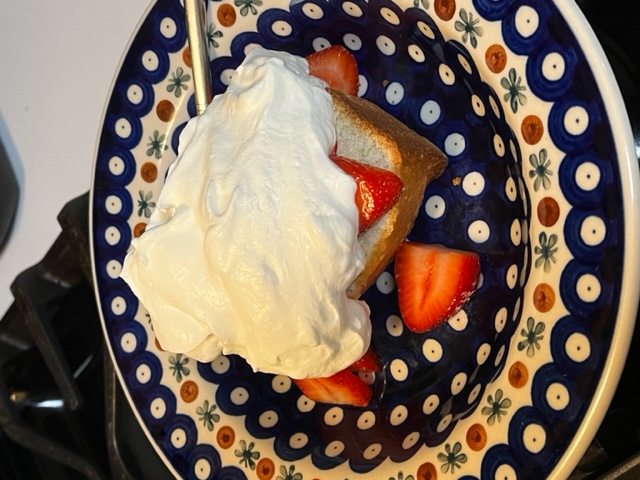 An old pound cake recipe from southern living circa 1992, on my Boleswawicz. Life is good!
There's nothing wrong with that dessert. Hell, even if you don't like pound cake and strawberries, you must like fresh whipped cream. It's one of the glories of dessert. And if you don't like it you are clearly a commie.
Oh..."Boleslawiec" Pottery is hand made in Poland. I took a look at an American distributor, and they have some really nice patterns.

******
Paella again?
Yup, because it is a great dish! Easy enough and scalable enough to make for 100 (Just ask Pete Bog), and malleable enough to make it with whatever makes sense. Shrimp, rabbit, chicken fish, clams, sausage, pork ribs, burnt ends (I made that up, but I think it would be spectacular!)...pretty much whatever you can get.
Here is commenter "WeeCreekFarmGirl's" entry into the "What did Dildo do wrong that he didn't get an invitation to dinner" sweepstakes: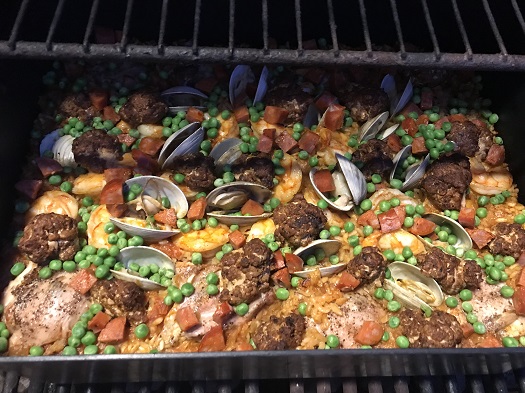 Yup! That's homemade chorizo! And linguica, because she is no slouch!

******
Don't Knock the Parmesan Espresso Martini Before You Try It
Too late!

To the average doom-scroller on social media, though, considerations about flavor aren't usually top of mind. Instead, sprinkling cheese atop the caffeinated, classic cocktail has yielded a knee-jerk reaction from the majority of drinks lovers on Instagram, resulting in the viral drinks trend that's just starting to pick up steam: the Parmesan Espresso Martini.
Oh...shut the fvck up.
******
A few weeks ago i tried a jar of
Peninsula Premium Cocktail Cherries
for cocktails, mostly because my banker wouldn't give me a second mortgage to buy another few jars of Luxardo cocktail cherries. Well, that and they are grown in America.
Wow...they are good, but significantly more tart than the Luxardos I am used to. They also taste a lot more like cherries, which is sort of the point! I split the difference though...I transferred the Peninsula cherries into a jar of the Luxardo syrup, and that seems to satisfy my palate...lots of cherry flavor with a pop of sweetness. Obviously that is just a matter of taste, and I would be quite happy with either cherry in my cocktails!

******
Easy and delicious kibbeh
Huh? What's that? I was exposed to all sorts of weird stuff, courtesy of my parents' willingness to try anything and an eclectic assortment of relatives from various parts of the world. This dish was sort of scary to me as a kid...what the hell is a "kibbeh?" But it was small and mostly round and looked fried, so my curiosity and gluttony overcame my suspicion that kibbeh was something disgusting, like tripe or brains.
It wasn't nearly that bad, but it was just sort of meh. I'll eat it if it offered, but I don't seek it out.

******
Just send me oysters. Lots of oysters, and I will provide special dispensation for those without taste who insist upon maple syrup with their French Toast. And pork rib roasts from the front end of the pig where all the good and fatty meat lives, carrots that don't taste like stalky chalk, spare bottles of Van Winkle Special Reserve 12 Year Old Bourbon, an herb garden that actually produces herbs (but no basil!), well-marbled NY strip steaks and elk backstrap to:
cbd dot aoshq at gmail dot com.
And don't think that the rest of you are off the hook with maple syrup and French Toast: I'm still watching you! And I am watching you perverts who shake Manhattans and keeping a list for the Burning Times.
Sheep!&bodytext=

&topic=world_news">

posted by CBD at
03:47 PM
|
Access Comments