« Paul Sperry: Hillary's Hatchet-Man David Brock Peddled "The Dossier" to the Media; Confesses He Always Knew the Dossier Contained "Clear Errors" Where It Could be Fact-Checked
And: Buzzfeeed "News," Which Published the Scam Dossier, is Shut Down
|
Main
|
Ex-Acting-CIA-Director Michael Morrell Admits That the "51 Intelligence Officers" Letter Was a Lie Intended to Interfere With the 2020 Election, Concocted at the Direct Demand of the Biden Campaign »
April 20, 2023
All Charges Dropped Against the Movie Set Active Shooter, Alec Baldwin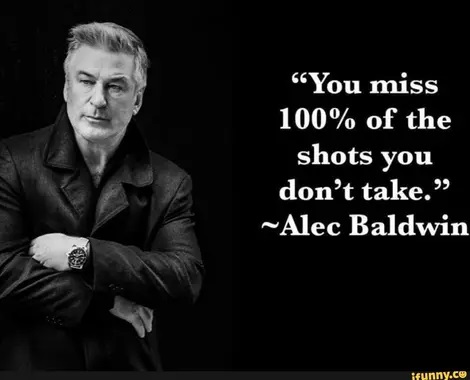 Breaking911 @Breaking911

13 minutes

BREAKING: Charges dropped against Alec Baldwin in fatal on-set 'Rust' shooting - ABC

Posted by: andycanuck
They'll never catch Alec "Johnny Ringo" Baldwin, fastest gun in the West.

Posted by: Archer
In a statement to The Post, Baldwin's lawyers Luke Nikas and Alex Spiro said, "We are pleased with the decision to dismiss the case against Alec Baldwin and we encourage a proper investigation into the facts and circumstances of this tragic accident."

"Rust" director Joel Souza was also wounded in the on-set shooting.
Scumbags. Coming soon: A movie produced from an original concept submitted by... one of the prosecutors who dropped this case. (I bet.)

Obviously this isn't enough for a post, but I happen to have an incomplete "Is This Something?" handy, so I'll post that.

The Midnight's Edge guys say the new Renfield movie, starring Nick Cage as Dracula, is dumb, gory fun. It also flopped, making only $7.7 million in its opening.
Speaking of movies that bombed, they're making another Godzilla vs. Kong movie. That's just a teaser with no footage from the film, which I guess isn't even in production yet. The first Godzilla vs. Kong didn't make money but it was released during covid with simultaneous release (IIRC) on HBO so, it was pretty hobbled. It didn't make any sense and the humans were a stupid waste of times but the monster stuff was all aces.
Hollywood Executive: Hey, I know a hot IP we could reboot! White Men Can't Jump! Now give me a fifty-gram cocaine bonus!
The only thing that could make a White Men Can't Jump reboot even better would be if it were produced by Kathleen Kennedy, and the white man is played by Phoebe Waller-Bridge.
Speaking of segueways, notice the Star Wars Celebration crowd cheers for a director barely anyone knows (Tony Gilroy) and then gets very quiet when Kathleen Kennedy is announced.
That Austrian, Hitler-admiring sexual assaulter Arnold Schwarzenegger has a new series on Netflix. Guess who the badass hero is? That's right, his 20-something 100 pound daughter.
Plot twist: This Princess saves herself!!! (finger-snap!)
It's like True Lies, except Gay and Woke. I'm so glad that old white men are being replaced everywhere by black or brown women, preferably if they're trans.
I still don't know if I'm in the mood for a Dracula spoof, but who knows, maybe I'll give it a shot. I am a big fan of Nick Cage. Even the movies other people wrongly say are bad.
The Wicker Man? Good movie. Give it a chance! As goes the title of Garrett's favorite album of all time, Listen Without Prejudice.
All those croc and Vespa jokes don't seem as funny as they used to, do they, Garrett?
Here's that Space Ice guy praising Nic Cage in Mandy. It's a good movie. I'm not sure if I'd watch this if you haven't seen it, as it spoils every plot point.

Japanese TV -- you can barely evaluate it, except to say "WTF," in an ambiguous could-be-good, could-be-bad sort of way.

See if you can guess who directed this within the first five seconds:

Alec Baldwin made a horror film. It's called Dust. It features a real on-film murder. So it's a snuff film.
Speaking of Wes Anderson and Alec Baldwin...

posted by Ace at
04:45 PM
|
Access Comments