« Gun Thread: Secret Mission Edition!
|
Main
|
Daily Tech News 17 April 2023 »
April 16, 2023
Sunday Overnight Open Thread (4/16/23)
(If you don't like The Mystery Click, There Is No Hope For You)
***
The Quotes of The Day
Quote I

"All of my friends are at least 75, and I wouldn't let half of them drive me anywhere,"
Terry Kinigstein
Quote II

"I don't think we knew what to say at that point so I just, I walked over there, and we started the whole process of getting a hold of the police and hung out in the lobby for a couple hours just waiting for a police officer to show up,"
Dan Miller, drummer for I Imagine Murder
Quote III

"Though its generally underrecognized, boys have body ideals just like girls do. The idealized masculine body type is big and muscular, and because of that, many boys are trying to get bigger and more muscular." Jason Nagata, a pediatrician at the University of California at San Francisco who specializes in adolescent eating disorders.
***
The Comments of The Week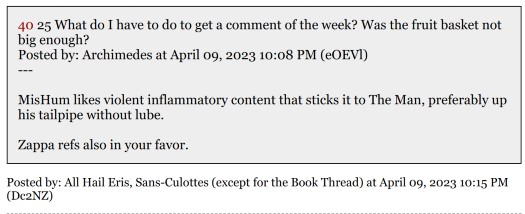 ***

Reason #167 to flee California.

"We all may soon have to get used to income-based electricity bills," a reporter for KGO San Francisco announced on air. He was referring to the Guilded State's three biggest utility companies' new proposal to add $85 per month to the electricity bills of those making more than $185,000 a year."
***

Here is the address. Here is the door. Here is your objective.

A former Planned Parenthood director recently committed suicide as police investigated him in a child pornography case.

Tim Yergeau, 35, was found dead in his New Haven, Connecticut, apartment Tuesday, five days after police botched a raid that was supposed to target his apartment, but they breached the wrong door, The Middletown Press reported.
***

The First 100 Day Report Card of Speaker of The House Kevin McCarthy, always room for improvement.


"So far, McCarthy has logged surprise successes in the new Congress: The Republican House has passed dozens of bills, many of them bipartisan, including politically potent efforts targeting crime and the COVID-19 pandemic that left President Joe Biden almost no choice but to sign the bills into law," The Associated Press noted in an analysis published on Saturday.

"McCarthy has opened the Capitol more fully to visitors, relishing the onlookers who stop to snap selfies during his impromptu hallway news conferences. He hosted his first foreign leader, President Tsai Ing-wen of Taiwan, with a diplomatic flourish, leading a bipartisan coalition of lawmakers standing up to China," the analysis continued.
***
***

Our youngest was into Build-A-Bear when she was a youngster. I can't imagine taking a youngster into a store with this crap.

Children's toy store Build-a-Bear is selling RuPaul-themed drag queen teddies in a supposedly adults-only section of its website dubbed the 'Bear Cave'.
***
The ONT Musical Interlude & Lackadaisical Emporium
&&&
***
Glad we missed this shit last night.

Hundreds of unruly teenagers descended into downtown Chicago late Saturday and essentially rioted, reportedly because they weren't allowed into Millennium Park, which, according to reports, is only open to those over 21 after 6:00 pm on Thursdays, Fridays, Saturdays, and Sundays.

Meanwhile, as the teens jumped on cars and smashed their windows, two other teens nearby were shot non-fatally and taken to a hospital for treatment.
***

Quite frankly I wish it was December 2024. I'm tired of the Trumps.
***

Fight club = Genius Award Winner.

A substitute teacher at a Texas middle school encouraged students to fight, going so far as to create rules and post a guard at the door, district officials said. NBC 5 reports that the sub has been fired and police are now investigating the incident at Kimbrough Middle School, which was caught on video by one of the students. "I had to stop it multiple times because I didn't think it was real," that student's mother, Beatriz Martinez, said of the video. "I was like, this must be a prank. This is not real." Her daughter said some of the kids left class bloody—and that she is now getting death threats for reporting it.
***

Sounds sciencey to me and perhaps Tonight's Feel Good Story of The Day.

Scientists discover that fungi can effectively break down plastic
***

Tonight's ONT has been brought to you by Family Activites.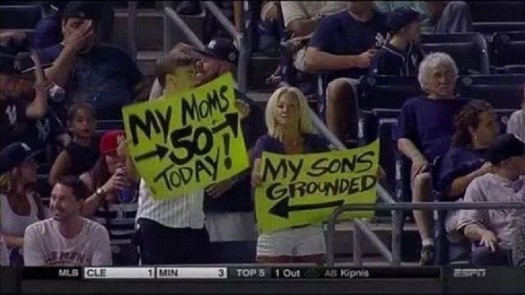 Notice: Posted with permission by the Ace Media Empire, AceCorp, LLC & the wonderful folks at NOAA.


posted by Misanthropic Humanitarian at
10:01 PM
|
Access Comments