« Food Thread: It's A Fruit! Really! Just Don't Call It "Aubergine!"
|
Main
|
Sunday Overnight Open Thread (4/16/23) »
April 16, 2023
Gun Thread: Secret Mission Edition!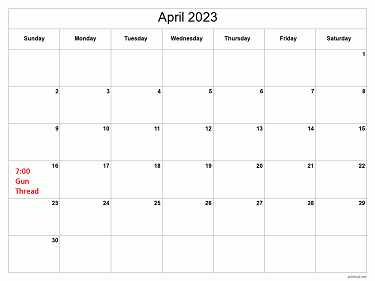 Howdy, Y'all! Welcome to the wondrously fabulous Gun Thread! As always, I want to thank all of our regulars for being here week in and week out, and also offer a bigly Gun Thread welcome to any newcomers who may be joining us tonight. Howdy and thank you for stopping by! I hope you find our wacky conversation on the subject of guns 'n shooting both enjoyable and informative. You are always welcome to lurk in the shadows of shame, but I'd like to invite you to jump into the conversation, say howdy, and tell us what kind of shooting you like to do!
Holy Shitballs! How in the ever-loving Hell did it get to be April 16th?! Have you filed your taxes? Well if you haven't, remember your return must be postmarked by Tuesday April 18th, which is also the Q1 due date for those of you making estimated payments. Don't forget! Also, if you are paying taxes this year, be sure to reflect on the great value you are receiving for your federal tax dollars.
With that, step into the dojo and let's get to the gun stuff below, shall we?
******
Secret Mission Revealed!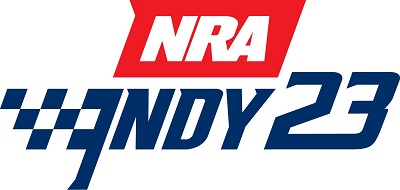 You may recall last week I mentioned I'd be going on a secret mission, and since I am sometimes a man of my word when its convenient, the secret mission is underway! As I write this I just wrapped up Day Numbero Dos at the Indianapolis Convention Center and the 2023 NRA Convention. That's right, I hopped into the WeaselMobile on Wednesday morning, pointed it west, and arrived in Indianapolis about 10 hours later.
But wait! There's more!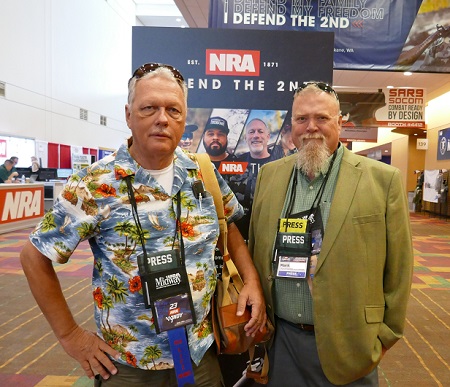 Mainstream Media, Baby!
If you examine the photo closely, you will note not one wacky conventioneer, but two! Yep, our pal Jim SND not only joined me, but was instrumental in getting us Press Credentials for the convention through his contacts at the NRA. A bigly Gun Thread thank you to Jim for pulling some strings and coming along on the trip! To be honest, I'm still more than a little amused the Gun Thread has been officially recognized by the NRA with press credentials. So legit! Legit as shit!
So I am going to have more to share on this trip in the coming weeks. Mostly thoughts and impressions of the event in general and the perspectives of many of the attendees and vendors I spoke with, in particular. Jim will also have some things to say, so stay tuned!!
******
Since I was at the convention when I'd normally be writing the Gun Thread and driving home like a maniacal lunatic today you all are going to get re-runs tonight, so apologies in advance. Also, I am probably going to have just arrived home at the time this thread goes up, so I may be in and out of the comments tonight.
With that, let's get started. Here's something from the August 2, 2020 GT, which is every bit as relevant today as it was then.
***
WeaselLesson 1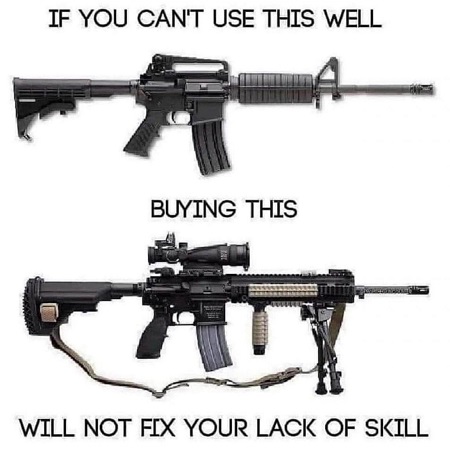 Second only to buying ammo, one of my favorite topics for nagging you guys and gals is about practice, and no, I'm not going to stop. By now you may have noticed a recurring theme on the ol' Gun Thread is going to a range and practicing your skills, and a very large part of the buy ammo business is so you will have something to shoot when you get there. Another is practicing with a purpose and an objective.
You may also have noticed that I am not a big proponent of going to the range and then only plinking at a static target It's fine to do that on occasion to practice fundamentals, but unless your ultimate goal is to convert money to small groups at a fixed distance on a stationary target you might not be accomplishing as much as you think you are, and it's likely not going to prepare you for using a weapon for self-defense. It's not to say that it isn't fun, but it shouldn't represent your entire training program. You need to start with good fundamentals and then practice with practical applications in mind. You need to practice whatever you want to be able to do with a weapon, and plinking does not equal the stress and movement likely to occur in a self-defense situation. Again, if your goal is to earn a spot on the U.S. Plinking Team then you're well on your way. If your goal is to have both a hobby and to acquire the skills necessary to protect yourself and your family and your stuff, then a little bit more is needed.
Our pal MikeCLT recently sent in some thoughts and I since it illustrates what I'm talking about perfectly, I'm including it here:
I started shooting about 2-1/2 years ago. It is something I do with my son, now 15. We both greatly enjoy shooting and hunting. My son started a sporting clays club at his HS this year. Today, we spent the day doing chores at the hunt club we joined two years ago. Shooting is something that brings my son and I together. The responsibility of handling a gun also greatly aids maturity.

I don't claim to be an expert but the following is based on my experience learning to shoot.

If you are a new shooter go take instruction from a good range. My son and I took the NSSF First Shots course. Safety must be a priority. We actually had safety competitions when we were shooting. If either of us violated a safety rule, i. e., trigger discipline or pointing gun down range at all times, we forfeited a turn to the other. As you can imagine, my son was happy to catch his old man and take his turn. But more importantly it made us cognizant of safety at all times and helped us develop good range and gun habits.

I also strongly suggest new shooters take lessons. It really helps you to figure out what you are doing wrong. Take a course that gives you a practice routine for a few months. Never be afraid or embarrassed to ask questions. People at the range are happy to answer your questions and to help you become a better and safer shooter.

As you tell your readers, Practice Practice Practice. And practice with a purpose.
Thank you MikeCLT! It's great to know people are listening!
So, training and practice. MikeCLT has addressed both. He sought out training opportunities and practiced what he learned, all while having fun and spending quality time with his son. Training doesn't need to be a huge time or economic commitment, either. There is almost no limit to the classes you can find, from beginner to advanced, in cities around the country. Virtually every gun range, and certainly all those I'm aware of, offer some level of shooting instruction. Are you in a shooting rut? Do you feel like you have reached a plateau and are no longer improving? Why not take advantage of local training opportunities and sharpen your skills? I will tell you the reason I began match shooting at the club level in the first place was because I was getting lazy and complacent with shooting at long range. I'd barely nick a target at 500 yards and tell myself that was good enough. Bullshit. You cannot hide from a poorly executed shot when the scored target comes up.
When I was coaching I often worked with promising shooters either new to competitive sports, and sometimes those just beginning to compete at the national level. Many had a fair amount of previous experience and were ready to up their game. Almost without exception, they seemed to think I was going to give them some secret formula, or magic beans, or my lucky rabbit's foot and transform them overnight into a world-class competitor. Most were disappointed to learn that although there were some things we could work on together, or gear they might think about upgrading, it really came down to solid fundamentals and practice. It's never a popular message, but if you want to be good at anything, you must be willing to devote your time and energy to pursuing it. Reading gun blogs (this one is OK) and stopping by the range semi-annually for a half hour and 50 rounds isn't going to get it.
Getting started on the right foot is key. The best money you will ever spend is in not acquiring bad shooting habits in the first place. After your fundamentals are solid, start training to a standard and with a purpose. Set goals and keep track of your progress. Score your own targets and record the results. Review your previous scores at each range session and try to beat your personal best. Never stop practicing.
I am not advocating shaving your head and dressing in robes and devoting your whole life becoming the world's greatest shooter. I am, however, suggesting you practice and to practice with a purpose. Figure out what it is you want to do with your shooting hobby, and then practice that. If you want to be a competent shooter and be able to defend yourself with a gun, then you need to practice moving and shooting.
******
Have I Said Enough on Practicing With a Purpose? No.
Last week we talked about ways to practice more dynamic shooting skills, and the International Defensive Pistol Association, or IDPA, and the United States Practical Shooting Association, or USPSA, were mentioned. Again, I am not repeating this to turn everyone into a competitive shooting nut, but I think this is an excellent way to accomplish much of what I am talking about with very little investment other than some time, and to have a little fun in the process.
Don't just believe me, here we have our very own pal blake demonstrating what an IDPA match is all about.
Beginning to see the difference? Moving, shooting, reloading, all with an audience and a timer. It incorporates many of the self-defense elements in which you need to demonstrate proficiency.
A company I use from time to time for reloading supplies is Widener's Reloading and Shooting Supply and they have a good article on the basics of IDPA and USPSA programs.
Again, I realize not everyone has a place to shoot on their own and are at the mercy of what's allowed at a public or private shooting range. These places are businesses and by the very nature of the service they offer, must protect themselves from the inherent risk and liability associated with shooting sports. It's no wonder many do not allow even drawing from a holster by the general public. The very same places, however, will often host IDPA and USPSA matches with the appropriate additional liability releases and range supervision. If you want to improve your skills, then I strongly encourage you to add practical instruction and training to your range time. If you can simply get past the initial performance anxiety, I can almost guarantee your shooting will improve. And once you get started, you will find it's fun!
******
Machine Gun Madness!
Our pal
CBD
sent this in for us all to enjoy.
******
Reading Micrometers
If you're going to reload you're going to need to know how to read a micrometer.
******
Dr. Frank Baxter and the Strange Case of Cosmic Rays!
If I get one request for a video on The Strange Case of Cosmic Rays per week, I get a dozen. Pay attention to the opening credits for some familiar names. I think Bell Laboratories sponsored a whole series of these educational films on science with Dr. B and Eddie Albert.
******
Is your online shopping getting out of hand?
******
NoVAMoMe 2023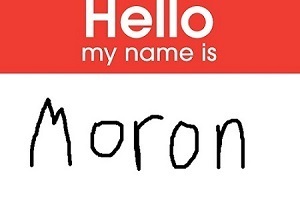 Not so fast on the gun stuff, buckaroos! We have a little bit more on the NoVAMoMe to discuss. In fact, this will be the first of a long and seemingly endless series of reminders to get yo' big butt off the couch and come out and meet some of your online friends. Let's kick things off with a few NoVAMoMe FAQ.
Q: Is it fun?
A: Yes. Just ask anyone who has been to one. You will have fun, or else.
Q: When is it again? Did you say June?
A: Yes. A thousand times yes! June 10th, from 1pm til 6pm or so.
Q: I'm sort of a dork. Can I just slink-in, watch for a bit and then slink out without having to actually speak with anyone?
A: Yes. In fact, we have strategically placed large potted ferns for lurkers to hide behind.
Q: Will bluebell be there? I really want to meet bluebell.
A: Of course! Well, assuming things go well at the parole hearing.
Q: Is there food and drink?
A: Yes! $30 for a bigly buffet, and a cash bar. We had to bump up the food price a bit to cover costs this year.
Q: Can I make references, even veiled references to the secret MoMe location on the blog?
A: NO! Seriously, please don't.
Q: Sounds great, Weasel! How do I sign up?
A: We will again have an online page with registration and payment specifics, however, it's not yet live as we're still working out a few of the details. Keep an eye out here on the ol' Gun Thread or the main page sidebar for more info in the coming weeks.
OK, I'm talking to YOU Mr. or Ms. I'll Go Next Time. Guess what? The next time is here. It's a really fun event and we would love to have you join us. Hopefully some NoVAMoMe veterans will speak up in the comments and encourage the introverts to stop being big baby chickens and make this the year to come out of the shadows!
******
Musical Interlude
Here is the Allman Brothers Band and
Statesboro Blues
Live from 1970.
******
Gun Basics 101
No new video from the She Equips Herself gal this week, so into the archives we go with a video covering the truth about carrying. NOTE: I'd hoped the SEH gal would be at the NRA Convention, but she's not listed in the official program. Dangit!
******
Cigar of the Week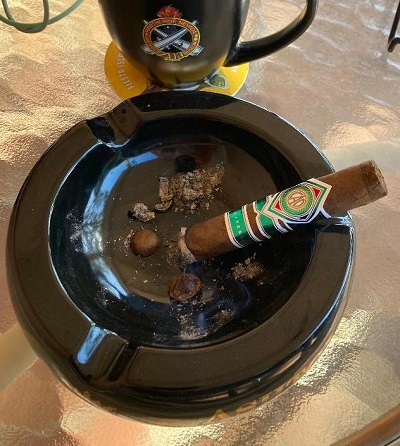 This week our pal rhomboid scores again with this excellent review of the CAO L'Anniversaire Cameroon
The CAO L'Anniversaire Cameroon is a nice-looking dark brown box-pressed cigar, with a typically eye-catching and colorful CAO band. Picking this up and smelling it prior to lighting, it reminded me instantly of one of my early favorites, the Oliva Serie G (reviewed here a while back). No surprise - the stick has Nicaraguan long fillers and the distinctive Cameroon leaf as a wrapper. When smoking it, to my fairly unsophisticated palate it was a dead-ringer (flavor-wise) for the Serie G. Specifically, mellow, slight hint of sweetness, definite notes of cocoa throughout. So if you like the Serie G, this cigar is a perfect substitute (though the Serie G would be you cheaper alternative). Have yet to try a Cameroon wrapper cigar that I didn't like. They deliver medium strength, with pleasant subtle flavor any palate will pick up. The CAO L'Anniversaire Cameroon can be found online for around $7 and up
Excellent, rhomboid! Thank you!
******
Here are some different online cigar vendors. You will find they not only carry different brands and different lines from those brands, but also varying selections of vitolas (sizes/shapes) of given lines. It's good to have options, especially if you're looking for a specific cigar.
Cigarsinternational.com
Cigarpage.com
Famous-smoke.com
Cigarsdaily.com
Neptunecigar.com
Smallbatchcigar.com
Bobalu Cigar Company
Cigarbid.com
A note about sources. The brick & mortar/online divide exists with cigars, as with guns, and most consumer products, with respect to price. As with guns - since both are "persecuted industries", basically - I make a conscious effort to source at least some of my cigars from my local store(s). It's a small thing, but the brick & mortar segment for both guns and tobacco are precious, and worth supporting where you can. And if you're lucky enough to have a good cigar store/lounge available, they're often a good social event with many dangerous people of the sort who own scary gunz, or read smart military blogs like this one. -rhomboid
Anyone have others to include? Perhaps a small local roller who makes a cigar you like? Send me your recommendation and a link to the site!
******
Ammo Link-O-Rama
I'm really very seriously not kidding around anymore. Buy Ammo
AmmoSeek - online ammo search tool
GunBot - online ammo search tool
SG Ammo
Palmetto State Armory
Georgia Arms
AmmoMan
Target Sports USA
Bud's Gun Shop
American Elite Ammo NEW!
***Mail Bag***
This week's mailbag entry is from our pal Dr. No. Great one!

******
Please note the new and improved protonmail account gunthread at protonmail dot com. An informal Gun Thread archive can be found HERE. Future expansion plans are in the works for the site Weasel Gun Thread. If you have a question you would like to ask Gun Thread Staff offline, just send us a note and we'll do our best to answer. If you care to share the story of your favorite firearm, send a picture with your nic and tell us what you sadly lost in the tragic canoe accident. If you would like to remain completely anonymous, just say so. Lurkers are always welcome!
That's it for this week - have you been to the range?


posted by Weasel at
07:00 PM
|
Access Comments