« Food Thread: Dumplings! Racialist Foodies!
One Of These Things Is Not A Good Thing
|
Main
|
Sunday Overnight Open Thread (4/2/23) »
April 02, 2023
Gun Thread: Day After April Fools Day Edition!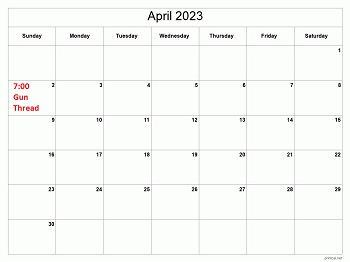 Howdy, Y'all! Welcome to the wondrously fabulous Gun Thread! As always, I want to thank all of our regulars for being here week in and week out, and also offer a bigly Gun Thread welcome to any newcomers who may be joining us tonight. Howdy and thank you for stopping by! I hope you find our wacky conversation on the subject of guns 'n shooting both enjoyable and informative. You are always welcome to lurk in the shadows of shame, but I'd like to invite you to jump into the conversation, say howdy, and tell us what kind of shooting you like to do!
How in the ever-loving Hell did it get to be The Day After April Fools Day?! I'm not really sure, but the calendar says that it is and who am I to argue with the calendar? Anyhow, hope all y'all weren't the victims of too many April Fools jokes!
NoVAMoMe stuff still down below, and updates are coming soon. Promise!
With that, step into the dojo and let's get to the gun stuff below, shall we?
******
F-Class World Championships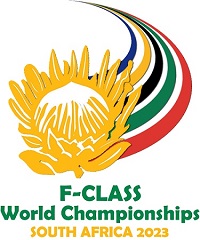 The 2023 F-Class World Championships have just wrapped up in Bloemfontein, South Africa and the competitors are headed home. Here's an excerpt from last week's Gun Thread on the event and F-Class shooting in general.
F-Class Shooting and Scoring

There are two styles or classes of F-Class shooting. F-Open and F-T/R. The differences are allowable rifle weight and calibers, as well as the mechanism supporting the front of the rifle. Open class rifles can be slightly heavier, are usually firing a 6.0 to 7.0mm cartridge and use a mechanical front rest. F-T/R rifles are lighter, usually .308 Win caliber (.223 Rem is allowable but few use it), and use a bipod as a front rest. Both are fired on the same targets, and really boil down to shooter preference. For example, I was an F-Open shooter but coached an F-T/R team. For various reasons, most shooters typically choose one style and stick with it for the duration of their shooting careers due to the specialized gear required for each. A good overview of F-Class shooting can be found in this article originally published in Guns & Ammo in October 2007.

International F-Class shooting is governed by the International Confederation of Fullbore Rifle Associations (ICFRA), and the targets used vary somewhat from the standard F-Class targets used in the United States. The center is a "V" rather than an "X", and the outer rings are scored 5, 4, 3, 2 rather than 10, 9, 8, 7. The size of the rings are the same at 5", 10", 20", 32" and 44", respectively. Long range matches are fired at 700m, 800m and 900m on the same style target for each, with 15 rounds plus two convertible sighters for score. A convertible sighter simply means the first two sighting rounds can be converted for score at the shooter's discretion. Shots in the 'V' or 'X' ring are tallied separately, receiving the highest score (5pts or 10pts) and the V or X count is used to break ties. This differs from U.S. matches in that 20 rounds are fired for score. With me so far?

So in an international match, such as those being held now in South Africa, a perfect score would be 75-15V (15x5 plus the V count) where a shooter placed all 15 rounds in the V ring, and would beat a score of 75-14V where a shooter had one shot outside the V ring but still inside or touching the 5 ring. Remember, there are usually three matches per day beginning at 700m (766 yd.), then moving back to 800m (875 yd.) and ending the day at 900m (984 yd.). Thus, a perfect day's shooting for all three matches would be 225-45V.

To say the level of performance in competitive F-Class shooting is high is probably the understatement of the year. Let me just sum it up by saying a 5" circle at 900 meters is a very small target. The skill required to be competitive requires discipline, years of preparation, practice and the execution of every shot flawlessly. Next time you're shooting for groups, think about that. Diligent practice and application of good solid fundamentals can be rewarded with amazing results, and every single one of these guys and gals competing was a new shooter at some point. All it takes is a bunch of practice and dedication!
Before we take a look at the aggregate scores, remember for the individual program, a total of 8 matches were held over three days at distances between 700 and 900 meters; six with 15 rounds for score and the final two with 20 rounds for score for a total of 130 rounds and a maximum potential aggregate of 650-130V. So how did it all go? What are the results of the World Championships now that it's over?
World Champions
F-Open Class
Gold: BJ Engelbrecht - 633-58V
Silver: JHC Louw - 625-59V
Bronze: R Davies - 625-47V
Scores: 2023 F-Class Individual Aggregate F-Open
F-T/R Class
Gold: H Rolfes - 613-41V
Silver: JD Chillers - 609-44V
Bronze: DR Labuschagne - 603-37V
Scores: 2023 F-Class Individual Aggregate F-T/R
Think about those individual scores. Mr Engelbrecht and Mr. Rolfes must've been eating their Wheaties, that's for damn sure! Talk about wearing out the center of the target - these guys spent a lot of time in the 10-ring.
Q: Weasel, how about the team matches?
A: Why, I'm glad you asked!
F-Class Team Matches
World Championship Team Matches for both Open and T/R Classes consist of eight shooters and are fired over two days on targets ranging fron 700-900M. Thus, a perfect team score in this format would be 3600-720V. Here are the aggregate team scores:
World Champions
F-Open Class
Gold: USA - 3540-366V
Silver: South Africa - 3535-374V
Bronze: Australia - 3512-338V
Scores: 2023 FCWC Team Aggregate F-Open
F-T/R Class
Gold: South Africa - 3518-307V
Silver: USA - 3462-284V
Bronze: Great Britain - 3376-222V
Scores: 2023 FCWC Team Aggregate F-T/R
Finally, there are team matches in a 4-shooter format called the Rutland Cup. A perfect team score would be 1800-360V, and the results were:
Rutland Cup
Gold: South Africa - 1755-165V
Silver: USA - 1741-150V
Bronze: Kirkwood CC - 1719-122V
Scores: 2023 FCWC Rutland Cup Team Aggregate
I invite you to look over the aggregate individual and team scores. There was some amazing shooting! Congratulations to all of the competitors!
P.S. The 2017 FCWC 700m Rutland Cup score of 300-36V remains unbroken!
******
Last Sunday in relation to the discussion of competitive shooting and the Biathlon, someone asked about breathing and heart rate control. I was an F-Class shooter and as such, all of my matches were fired from the prone position using a mechanical rest to support the rifle, and with range babes fanning me and feeding me grapes. As a result. I am not as attuned to breathing and heart rate influencing target alignment as some of the other long-range disciplines, namely Palma. A good explanation of the Palma style of shooting can be found here.
I can say that my personal practice has been to time my trigger squeeze in the last third (but not the bottom) of an exhale and cannot honestly say if I was instructed to do so or if it's simply a habit I acquired. Anyway, it turns out we have an experienced Palma competitor among us, iron308. I posed the breathing question to him and here's what he had to say:
To be honest I have not thought about breathing while shooting in years. It is so foundational to executing a good shot that it has become an automatic, subconscious act. I think that is part of a bigger lesson in shooting success- the more you can offload to your subconscious, the better. This happens by repetition. As you first start shooting, everything is discrete and you are actively directing it. Proper grip/hold, bringing the sights to your eye, aligning the sights, activating only the muscles necessary to squeeze the trigger straight back. follow through. The more you perform each of those acts, the less you have to direct them, eventually they will begin to happen without thought as you make the decision to shoot.

In long range competition, executing the shot comes after making a decision about the wind conditions. The correction is dialed on and you roll onto the rifle and into the sights. As I do that, I take a deep breath and exhale slowly while my sights settle. I exhale mostly, but not fully. My diaphragm and ribs are relaxed. At this point I will have 6-8 seconds to execute the shot before I should take another breath.

'Should' is the key word. Ideally I will have the shot off in a few seconds, but sometimes, it takes a little longer to resolve the sight picture. Your vision, your ability to see, to process and act based on what you see is directly related to how much oxygen is reaching your brain. As you hold your breath, the oxygen available is depleted.

There is a second vision limitation also working against you while you are on aim. The image is being 'burned' into your eye. Not literally of course, but if you stare at the sights long enough, they will begin to fade. At a certain point, you are no longer seeing what you think you are seeing.

If the shot doesn't break, take another breath and start over. Some of you are probably thinking that starting over is terrible advice for a self-defense situation or combat. I agree, re-read my first paragraph. Don't wait until the moment of truth to develop/automate the skills you need to survive.
This. I have harped on practice and repitition for 236 weeks now, and this is precisely what I am harping about. You want the elements of basic marksmanship to become so ingrained, such second nature and muscle memory, that you don't really think about them, at least consciously. You want to be 100 percent focused on the things actually requiring your attention like the wind conditions and not shooting the wrong target. Think I'm kidding? I'm not.
When I shoot, and I think iron308 will agree, I get into a zone or a little bubble where my concentration becomes extremely focused on the very few items I really need to keep track of. These items change or rotate throughout the evolution of each shot, and become a pattern or a rythym to your shooting. Setup, wind, target, trigger squeeze, score, wind, reload, wind, target, trigger squeeze and so forth. Breathing and point of natural aim setup become sort of involuntary responses and just happen without much if any conscious thought. None of this comes without a lot of time behind the gun, and one of the reasons why I say that competition is such an excellent training tool. Nothing will focus your attention like shooting for score
Thanks for your thoughts on the matter, iron308!! Appreciate it. Anyone else have a different approach or experience?
******
Guns of the Horde
First up, we have another excellent submission from our pal
EdL
.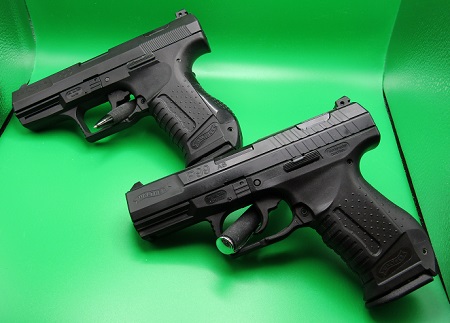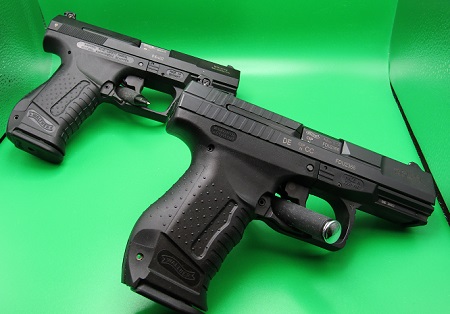 A brand new 2022 Walther P99 AS followed me home from the last Chantilly gun show. The 2022 Walther P99 AS is shown in front of its 1998 sibling in the pictures. The 2022 Walther P99 AS has some cosmetic changes from its 1998 older sibling, but the trigger and firing system is still the same. Notable changes from the original include more serrations at the rear of the slide, longer paddles for the magazine release, a 15 shot magazine in 2022 vice a 16 shot magazine in 1998, and a slot on the underside of the frame near the muzzle.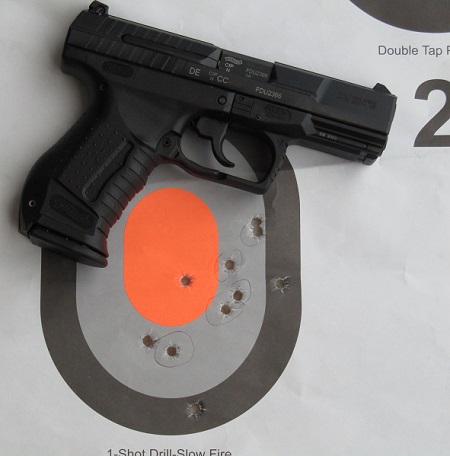 The P99 AS trigger in single action is a very light (4-5 pounds?) one that lends itself well to accuracy, as shown in the shot groups on the 10 yard target. The biggest criticism of the trigger is the long take-up when firing the pistol immediately after loading and chambering a round. There's no resistance, but this is not normal compared to other DA/SA pistols such as the SIG P226 or Beretta M9. The double action pull is a bit heavier at around 9 pounds, but that's not excessive compared to the P226 or M9. The adjustable backstraps on the grip help the gun's ergonomics. For most, this pistol should feel quite comfortable in the hand.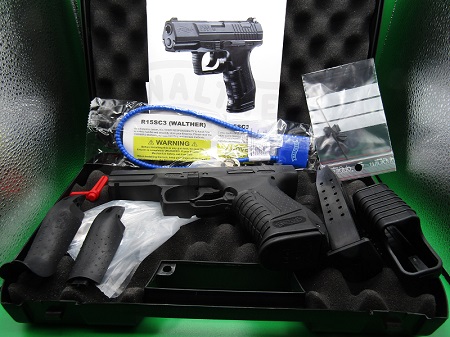 For $700 MSRP, you get in addition to the pistol itself and its case, two magazines, two spare backstraps, a magazine loader, a gun lock, four front sight dots (to adjust elevation), a chamber flag, and the instruction manual. Although the P99 is in use as a military and/or police sidearm around the world, it's not as well-known as the Glocks or other contemporaries like the HK VP9. On screen, it's best known as the sidearm of James Bond in the Pierce Brosnan era and Daniel Craig's first 007 film, "Casino Royale." If you're looking to get in touch with your inner 007 or own a piece of movie history, you need to do it soon. Walther announced at SHOT Show 2023 that P99 production will end in 2023 after 26 years. The "Final Edition" Walther P99 AS for 2023 will be marked "Final Edition" on the left side of the slide and have an MSRP of $849.
Excellent as always, EdL! For those who read the Saturday prayer list, you will have seen that Ed L's Mom passed recently, so please join me in offering condolences to the family.
******
Next up, our pal Dr. Fred shares a real beauty!

An absolutely gorgeous Model 1894 in 38-55. Ammo is not easy to find and cast bullets of the proper size are even harder. Which leads me to some questions; Any interest in a column on casting bullets? Recommended smelters, techniques, lubes, etc.? Do you have any recommendations for a book on the subject?
Holy Shitballs! Holy Atomic Shitballs! Dr. Fred that is a super-deluxe extra fine quality bigly beautiful rifle! How about it, y'all? I know we have some readers here who cast their own bullets - any help for the Doc?
******
We talked recently about inspecting and buying used and collectable firearms, and I mentioned purchasing many of the guns in the WeaselCollection online. Although I have never used
Gunbroker
, I know it's a popular site used by many. Here's a video on bidding using the auction site.
******
Have I featured this video before? For some reason I think I have featured this video before. If I have, then here is another look at 22LR ammunition production at CCI and Speer.
******
Ask Weasel
Q: Weasel, when are you going to tackle the thorny issue of Special Relativity?
A: Well how about this 11+ hour lecture series with Brian Greene, professor of mathematics and physics at Columbia University.
Note: There will be a test on the material next week.
******
NoVAMoMe 2023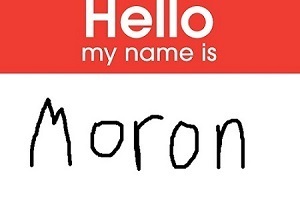 Not so fast on the gun stuff, buckaroos! We have a little bit more on the NoVAMoMe to discuss. In fact, this will be the first of a long and seemingly endless series of reminders to get yo' big butt off the couch and come out and meet some of your online friends. Let's kick things off with a few NoVAMoMe FAQ.
Q: Is it fun?
A: Yes. Just ask anyone who has been to one. You will have fun, or else.
Q: When is it again? Did you say June?
A: Yes. A thousand times yes! June 10th, from 1pm til 6pm or so.
Q: I'm sort of a dork. Can I just slink-in, watch for a bit and then slink out without having to actually speak with anyone?
A: Yes. In fact, we have strategically placed large potted ferns for lurkers to hide behind.
Q: Will bluebell be there? I really want to meet bluebell.
A: Of course! Well, assuming things go well at the parole hearing.
Q: Is there food and drink?
A: Yes! $30 for a bigly buffet, and a cash bar. We had to bump up the food price a bit to cover costs this year.
Q: Can I make references, even veiled references to the secret MoMe location on the blog?
A: NO! Seriously, please don't.
Q: Sounds great, Weasel! How do I sign up?
A: We will again have an online page with registration and payment specifics, however, it's not yet live as we're still working out a few of the details. Keep an eye out here on the ol' Gun Thread or the main page sidebar for more info in the coming weeks.
OK, I'm talking to YOU Mr. or Ms. I'll Go Next Time. Guess what? The next time is here. It's a really fun event and we would love to have you join us. Hopefully some NoVAMoMe veterans will speak up in the comments and encourage the introverts to stop being big baby chickens and make this the year to come out of the shadows!
******
Musical Interlude
Here is the Atlanta Rhythm Section with
Spooky
.
******
Gun Basics 101
No new video from the She Equips Herself gal, so here is one from the archives on gun cleaning must-haves.
******
Cigar of the Week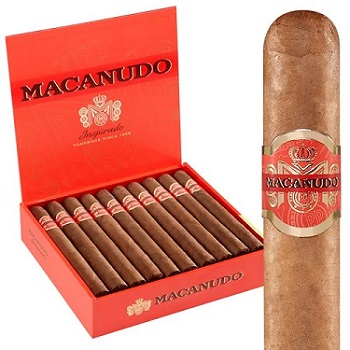 This week our pal Diogenes scores again with this excellent review of the Macanudo Inspirado Orange
It is fun to sample different cigars. Not really different than sampling different whiskeys or different mixed drinks. Come on 'Rons, who among you haven't tried a Velvet Hammer or an Appletini? Anyway, in doing so, one can often find a true treasure. Macanudo is a famous, long-standing name among cigars and I have to say I am not a fan. Years ago I had several of them and they were ghastly. I have actively avoided them since. But yesterday, in the spirit of inclusiveness for all the brands in my sampler pack, I gave one a shot. The Macanudo Inspirado Orange.

I am glad I did.

Once set to the match, there was an immediate rich tobacco flavor with a strong background of cinnamon and coffee. That mellowed after a few minutes into one of the better smokes I have enjoyed in a while. Smooth, medium-bodied without overwhelming the tastebuds (or my whiskey) and a very pleasant aroma. Honduran made, it contains Dominican, Nicaraguan, and Honduran long-fillers within a dark wrapper.

I give it 4 matchsticks! I will be buying this one again.
Excellent, Diogenes! Thank you!
***
Here are some different online cigar vendors. You will find they not only carry different brands and different lines from those brands, but also varying selections of vitolas (sizes/shapes) of given lines. It's good to have options, especially if you're looking for a specific cigar.
Cigarsinternational.com
Cigarpage.com
Famous-smoke.com
Cigarsdaily.com
Neptunecigar.com
Smallbatchcigar.com
Bobalu Cigar Company
Cigarbid.com
A note about sources. The brick & mortar/online divide exists with cigars, as with guns, and most consumer products, with respect to price. As with guns - since both are "persecuted industries", basically - I make a conscious effort to source at least some of my cigars from my local store(s). It's a small thing, but the brick & mortar segment for both guns and tobacco are precious, and worth supporting where you can. And if you're lucky enough to have a good cigar store/lounge available, they're often a good social event with many dangerous people of the sort who own scary gunz, or read smart military blogs like this one. -rhomboid
Anyone have others to include? Perhaps a small local roller who makes a cigar you like? Send me your recommendation and a link to the site!
******
Ammo Link-O-Rama
I'm really very seriously not kidding around anymore. Buy Ammo
AmmoSeek - online ammo search tool
GunBot - online ammo search tool
SG Ammo
Palmetto State Armory
Georgia Arms
AmmoMan
Target Sports USA
Bud's Gun Shop
American Elite Ammo NEW!
***Mail Bag***
This week's mailbag entry is from our pal WTM. Great one!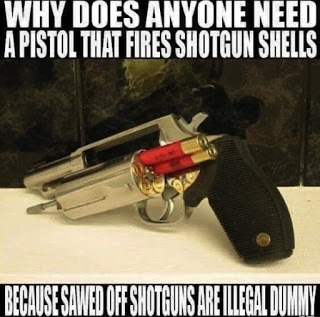 ******
Please note the new and improved protonmail account gunthread at protonmail dot com. An informal Gun Thread archive can be found HERE. Future expansion plans are in the works for the site Weasel Gun Thread. If you have a question you would like to ask Gun Thread Staff offline, just send us a note and we'll do our best to answer. If you care to share the story of your favorite firearm, send a picture with your nic and tell us what you sadly lost in the tragic canoe accident. If you would like to remain completely anonymous, just say so. Lurkers are always welcome!
That's it for this week - have you been to the range?


posted by Weasel at
07:00 PM
|
Access Comments