« First-World Problems...
|
Main
|
Gun Thread: Day After April Fools Day Edition! »
April 02, 2023
Food Thread: Dumplings! Racialist Foodies!
One Of These Things Is Not A Good Thing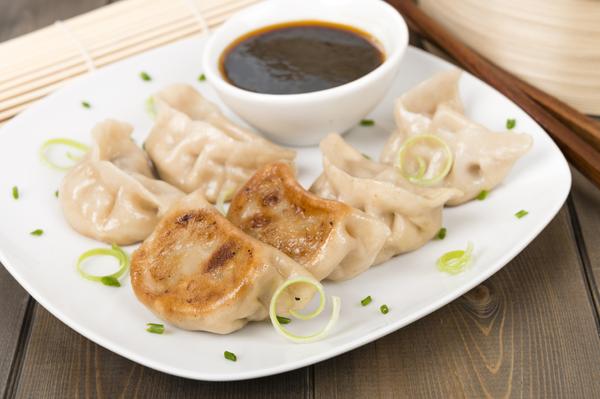 Ever make them? It's not worth the trouble, because anyone near a decently sized Chinatown can get good ones that are probably cheaper than homemade! But they sure are easy to cook, and undeniably delicious.
I had an empty house for a few days and decided to clean out the freezers. That included tossing the unidentifiable stuff, the stuff that was obviously over-the-hill, and then cooking what was on the cusp. Or just looked good.
Thus the dumplings! Sauteed with some oil, then steamed with some water until cooked through. I served them with some chili crisp, which is a hot sauce made with chilies and maybe shallots. It's sort of crunchy and goes perfectly with dumplings.
Why yes, I ate all nine dumplings in about five minutes, and chased them with a spoonful of chili crisp for good measure.
And yes...dumplings with chili crisp goes very well with bourbon.
******
Get Woke; Go Broke. I think that is coming for the restaurant industry, as cooking skill becomes secondary to membership in the protected group of the day.
But the idea that race has any bearing on cooking is nonsense. It is cultural, and to lump 6th generation northeast blacks running a soul food restaurant in NYC with a black family of Texas barbecuers is just nuts. Are Caribbean blacks running Island restaurants in Miami the same as Kansas City blacks making great sweet sauce 'Q?
Of course not, but race trumps all, so they will be lumped together by melanin, not by cooking style or skill.
That sounds sort of racist to me...
Here Are the 2023 James Beard Awards Restaurant and Chef Finalists

This is the second awards season to reflect changes made in the wake of an extensive 2021 audit to address the longstanding biases baked into the awards process. New awards categories include an emerging chef award without an age cutoff, as well as regional best chef categories that now include separate awards for California, Texas, and New York in hopes of recognizing a broader geographic range of winners. Voting is also different than it was before the 2020 hiatus, with prior winners (a group that skews white, and male) no longer being automatically included in the voting body that determined who moved from the semifinalist to the finalist list below (and from there, who wins). The voting body has also expanded beyond traditional food media. The stated goal in the 2021 audit was also to have at least 50 percent of committee members and judges be people of color for the 2023 awards.
So they are mandating a 50% quota! Good to know, because I will ignore the James Beard Award winners from now on. And that's too bad, because it used to be a good organization that recognized interesting chefs making innovative food.
******
No, I am not going to turn into one of those lunatic proselytizers for instant pots and slow cookers and pressure cookers, but I do read some of them just to get ideas for other recipes. You know...normal recipes that don't require counter-hogging equipment.
So why did i notice this recipe from Dad Cooks Dinner? Because he uses 2 inch chunks of beef in his chili, and I like that! Sure, it's easy to use ground meat for a quick chili, and you can even find coarse grinds that they make specifically for chili. But I think larger chunks make a better and more toothsome dish. Two inches might be a bit too toothsome, but I think I'll give it a shot. 1/2 inch is probably perfect, but it's also a pain in the ass!

Pressure Cooker Texas Red Chili

******
We have had some interesting and tasty looking stuff from commenter "Marty" in the past. But this one is just weird! Pickles and olives in soup?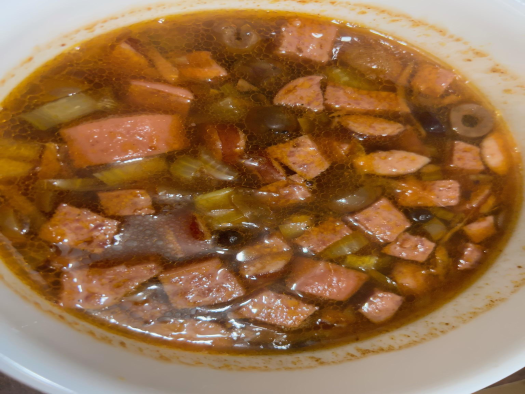 Eastern European Solyanka soup, sometimes called "hangover soup" or "everything but the kitchen sink" soup.

Yes, those are olives and dill pickles. Super simple to make. Most time was spent dicing the meat and shredding the carrot. Seriously good.

Tip: When you think you've diced the meat small enough, cut it again. Ideally about the size of a pea.
Hell...I'll try anything once!
Here's the recipe.
******
I have talked about beef carpaccio in the past, and while most recipes use tenderloin, I wonder whether there are other cuts that will work as well without being quite so ridiculously expensive?
Here is Alton Brown's recipe, which is a pretty standard and simple one. I prefer a drizzle of olive oil on the beef, but that is up to you and your palate. Beef Carpaccio is easy to make, and worth trying. The next time I make it I am going to look for a small piece of chuck roast from which I can slice some lean meat. After all, it is getting pounded and is served extremely thin, so tenderness shouldn't be a huge issue. And maybe a piece of NY strip? I'll be that would be good too!

******
I have whined and bitched and moaned, most recently last week, about the recent trend in chicken production toward larger chickens, presumably because of the economics. Commenter "Dino58" promptly said "hold my beer!"
On tender chicken...I used to agree with you on the desirability of a 3 lb. chicken. However, in my suburban backyard, which is admittedly extra large, I keep laying hens & last fall ventured into pasture raising my own meat birds. Being the first time I tried it, the birds turned out a bit larger than what I was shooting for at an average weight of 6 lbs. I was a bit concerned about tenderness until I cooked the first one. OMG, the best ever chicken. Super tender and each bird delivers quite a bit of meat. I have 21 on the grass right now.

Posted by: Dino58 at March 26, 2023 06:02 PM (LVPff)
This is one of those 6 pounders brined & roasted over a bed of root veggies. The most succulent, tender chicken you have ever had. I think good feed & grass, the green kind, makes the difference. It was just as good, if not better, than any 3 lb chicken I have ever had.
As impressive as commercial agriculture is, there is nothing like small producers taking excellent care of their animals. It's simply better. And I imagine that Dino58's cost for that chicken is significantly more than commodity chicken from the supermarket, especially if we factor in his labor.
******
This sounds fantastic, and because tenderloin is expensive and usually reserved for festive occasions, making sure it is cooked perfectly is a big deal.
Simple, Perfect Roast Beef Tenderloin
But...a 95 minute cook? There is no way I am going to make this for the Passover Seder! I can't time it carefully enough. It would most probably be ready too early or way too late, and it just isn't worth the angst...'tsuris" in Yiddish!

******
Just send me oysters. Lots of oysters, and I will provide special dispensation for those without taste who insist upon maple syrup with their French Toast. And pork rib roasts from the front end of the pig where all the good and fatty meat lives, carrots that don't taste like stalky chalk, spare bottles of Van Winkle Special Reserve 12 Year Old Bourbon, an herb garden that actually produces herbs (but no basil!), well-marbled NY strip steaks and elk backstrap to:
cbd dot aoshq at gmail dot com.
And don't think that the rest of you are off the hook with maple syrup and French Toast: I'm still watching you! And I am watching you perverts who shake Manhattans and keeping a list for the Burning Times.

posted by CBD at
04:00 PM
|
Access Comments