« Alvin Bragg Isn't Just A Hyper-Partisan Political Hack Doing The Dirty Work Of The Democrat Junta...He's Stupid And A Lousy Lawyer Too!
|
Main
|
Food Thread: Dumplings! Racialist Foodies!
One Of These Things Is Not A Good Thing »
April 02, 2023
First-World Problems...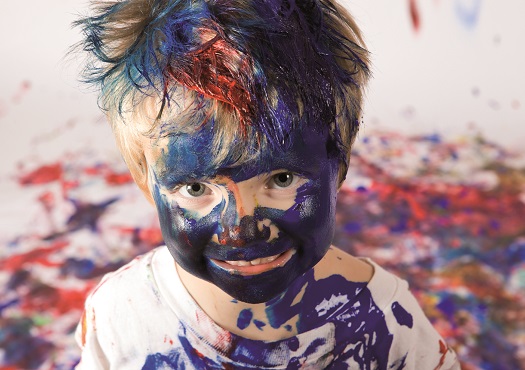 That's pretty much what I look like after I attempt to paint...only not as cute and I am not smiling.
I recently refinished my bare concrete garage floor, leaving it to professionals instead of making a horrid mess of it. They did an incredible job...I was really impressed with pretty much everything except for their choice of music. New Country just doesn't cut it at Chez Dildo!
The margin between the floor (and the concrete ledge) and the garage walls had some narrow gaps, so I installed some simple baseboard, which obviously needed to be painted.
The bad news is that I am the painter, and I consider it a successful day if I don't knock over the paint can. I just don't have the patience to paint! Or the skill. Hell, even taping is problematic for me. And it is a necessity. The one foot of baseboard I tried to paint freehand is a mess.
The good news is that the trim paint was superb. I don't know whether the Benjamin Moore store salesman felt sorry for me and gave me his best can, or if paint is getting better, but the damned stuff is thick and covers wonderfully without drips and other assorted problems. And the even gooderer news is that the color I chose doesn't look stupid! It actually looks sort of good!
Rest assured I will revert to the mean and have some catastrophe the next time I try to paint.
It is inevitable.

posted by CBD at
02:00 PM
|
Access Comments