« Gardening, Puttering and Adventure Thread, Jan. 28
|
Main
|
Weekend Hobby, Craft and Bodging Thread »
January 28, 2023
Ace of Spades Pet Thread, January 28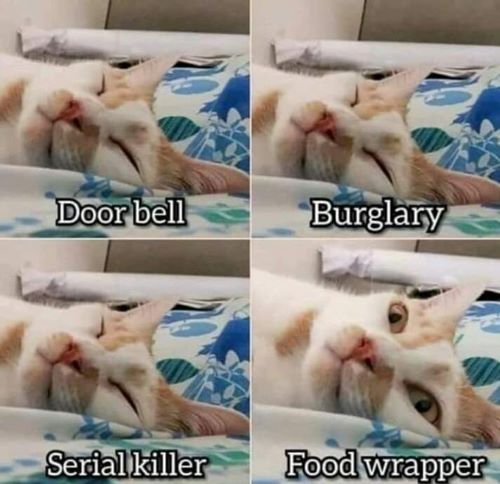 * * *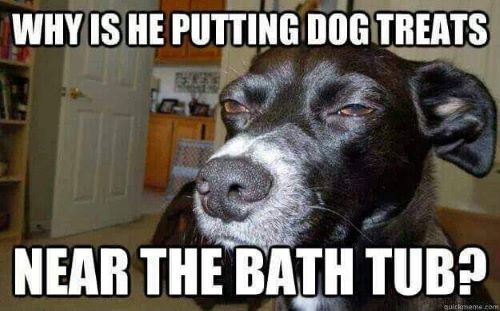 * * *
Good afternoon and welcome to the almost world famous Ace of Spades Pet Thread. Thanks for stopping by. Kick back and enjoy the world of animals.
Would you like a treat?
Let's enjoy the animals and leave the world of politics and current events outside.

* * *
Do dogs really miss us when they are left alone? Science-y
* * *
Hello,

This is a photo of a mummified cat. I took it at the Ramses II exhibit. There were several of these. Didn't see any dogs. There were also lots of Egyptian art featuring cats, even a cat seated under the throne of queen Nefertiti.
You don't have to post it if you think it is macabre. I think it shows a certain reverence for cats.

Thanks for the pet thread!

gourmand du jour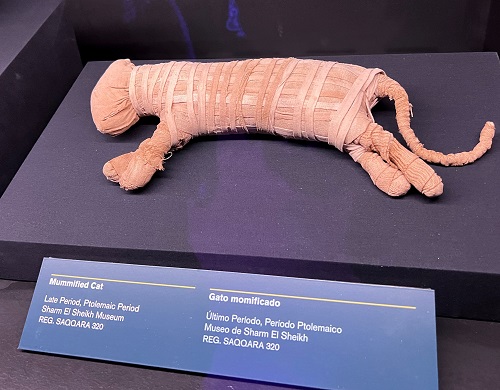 Here's an interesting theory:
Egyptians esteemed cats from at least 5,000 years ago, says Jstor. Felines, believed to be domesticated first in Egypt, were held in such high regard that anyone who killed a cat, even by accident, was in turn sentenced to death, according to National Geographic. In a time long before scientifically-based agricultural techniques, anything that could be done to preserve the food supply was very important indeed. Cats, of course, are natural hunters who would have been protecting grain stores by eliminating rodents. There is further evidence, however, that the Egyptians recognized cats' value as protectors of households -- against rodents, yes, but also against venomous snakes. .

Theologically, the goddess Bast (sometimes called Bastet) was depicted as a cat, but Antonietta Catanzariti, curatorial fellow of the Smithsonian's Arthur M. Sackler Gallery, says it's incorrect to say the Egyptians worshiped cats. "What they were [actually] doing was associating cats to specific deities because of their attitude, how they were behaving in the natural world," . .

Though trying to convince a modern cat that it isn't actually divine might be daunting.
Cats have quick reflexes:
There is a snake encounter with an ordinary kitty in the thread. Plus, kitties take on sweet potatoes and printers, etc.!
Meet The PetMorons
From Jewells:
This is Rita a 10 year old beagle mix. She's an owner surrender. We don't know the circumstances. She looks like a real sweetheart. I will meet her next week.
She certainly does look like a sweetie.
* * *
This is one of our dear, departed pups, Lucky. We found him hiding on the streets and lured him home with treats. His front gums overgrew his teeth when he was young, but the vet cut them back and they stayed put.
We are still attached to some towels, sheets and pajamas that he chewed up.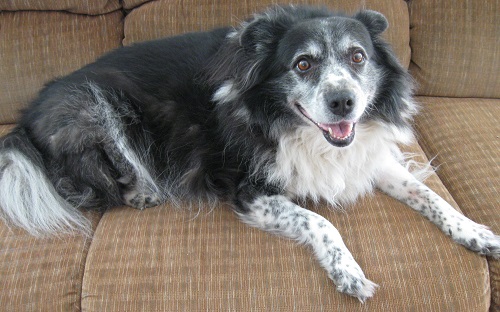 * * *
Kindltot sent in a magnificent cat calendar from the Portland District U.S. Army Corps of Engineers!
They really love cats!
Update: Here's an article about it which might have an easier link for downloading.

Thanks for sending in such interesting content for today's Pet Thread!
If you would like to send pet and/or animal stories, links, etc. for the Ace of Spades Pet Thread, the address is:

petmorons at protonmail dot com

Remember to include the nic by which you wish to be known when you comment at AoSHQ, or let us know if you want to remain a lurker.
Until next Saturday, have a great week!
* * *

If you start feeling nostalgic, here a link to last week's Pet Thread, the Ace of Spades Pet Thread, January 21 Some special PetMoron stories and photos there.
I closed the comments on this post so you wouldn't get banned for commenting on a week-old post, but don't try it anyway.

posted by K.T. at
03:22 PM
|
Access Comments