« The Weekend Hobby Thread
|
Main
|
Saturday Overnight Open Thread (1/21/23) »
January 21, 2023
Saturday Evening Movie Thread: Broker [moviegique]
The anti-Japanese animus is so prevalent in Korean pop cinema, I sometimes forget to take note when I leave the theater of all the Koreans walking out of the Daiso store with their "Hello, Kitty" merchandise. And so I was a little surprised to discover the great Japanese director Hirokazu Kore-eda directing an all-star Korean cast in a movie about baby brokers and abandoned children.
If you've followed along with my Korean pop cinema journey, you might recall Ma Dong-Seok's homage to Over The Top called Champion, where I discovered that Koreans call the orphans that adopted by Americans and Europeans "the Abandoned". Since orphans are routinely referred to as "abandoned" in this movie, that term may not be specific to children adopted by foreigners. It's a real issue and sore point for Koreans, as is the topic of baby drop boxes, which apparently first started in 2014 and the focus of some negative attention. (They make it easier to abandon a baby on the one hand, and they prevent abandoned babies from dying on the other.)
That, however, is a topic for a documentary, and this move is the sort of exploration of family we have come to expect from Kore-eda, who first came to our attention with Like Father, Like Son (where two families discover their six-year-old sons were switched at birth), and followed up with Our Little Sister, After The Storm and Shoplifters, all of which deal with unusual families. His movies avoid melodrama, relying on empathy and provocative situations rather than big acting and splashy events.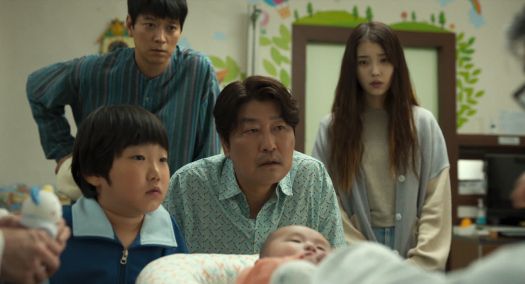 No one could ever love a baby with such scrawny eyebrows.
As such, Broker has that best quality of Asian cinema: that of being able to tackle serious, even dark subjects while actually being a fun watch. We liked it so much we felt like we needed a Kore-eda film festival to re-watch all his movies. They seem like they'd get better over time.
The story is simple: Our two brokers, a middle-aged man, Sang-hyeon, has his accomplice Dong-soo working the Sunday overnight shift at the orphanage. When a girl (named So-Young, heh) drops off her baby, Dong-soo grabs it, erases the tape and hands the baby off to Sang-hyeon, with the idea that they're going to sell it. The wrinkle is that So-Young comes back to the orphanage the next day to get the baby and of course there's no record of it. Rather than risk police involvement, Dong-soo cuts her in on the deal. But when they meet the potential parents, they try to haggle over the price (by insulting the baby's eyebrows!) and So-Young refuses to sell.
Now, all of a sudden, the movie is a road picture, with our protagonists traveling all over Korea to find a good price for the baby to whom, of course, they're increasingly attached. At one point, they end up with an older orphan boy who is "too old" (eight?) to be adopted, and the five of them engage in various hijinks and impromptu acting as they spontaneously create cover stories for their situation. In essence, they're forced to imagine the family they would like to be.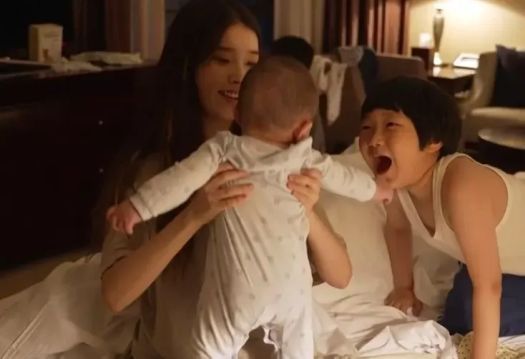 I remember when my mother would hold me up for my brother to laugh at my eyebrows.
And now you have a mom in the car with the men her baby could become as a result of her choices. Dong-soo, for example, was himself an orphan, but he claims to have liked it and he's kind of a celebrity at his former orphanage. Sang-hyeon is divorced (and pining for his ex) and alienated from his daughter, while also in serious debt to a local gangster. The young boy, Hae-Jin, is high-spirited but how long can he withstand being rejected?
They can't escape the darker parts of life forever: So-young is a prostitute. The events leading to her abandoning her baby are not pretty. Sang-hyeon owes money to the same gang that pimps out So-young—and the connection goes further than that, which I won't spoil, but N.B. that the gang is a traditional family. Our thugs do not come from a broken home, ironically.
Adding another dimension to the proceedings are two lady detectives who, tired of being relegated to checking plates on potentially stolen cars, stake out the orphanage with an eye toward catching baby brokers. They form an extension of our dysfunctional family—the role usually taken on by spinster aunts. They want the bust, but it gets harder and harder for them to see their way clear to playing everything by-the-book.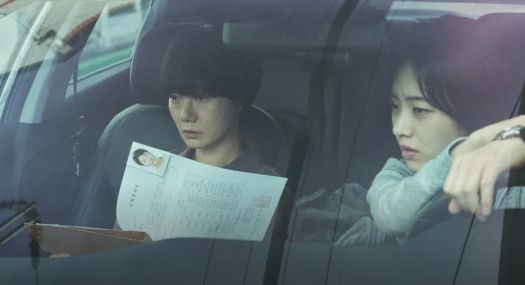 Our unmarried, childless Inspectors Javert.
An earlier Hollywood could've done this story, sort of, with a ridiculous (but wonderful) happy ending. Kore-eda is a little more grounded in reality. There's a hopeful ending. He's not going to tie up everything with a nice little bow, but he's also not going to bury you in ennui and despair.
From a movie-viewing perspective, the punchline to me was that this is a very Japanese film. Korean movies make Korea look beautiful: The hills are lush and green, and the homes are picturesque and rich with tradition. Kore-eda makes it look like just another place. That's very appropriate to the movie. There is a discussion of regional pride (the way people in America might talk about being from New York or from The South), but as always Kore-eda's characters are meant to appeal to our shared humanity.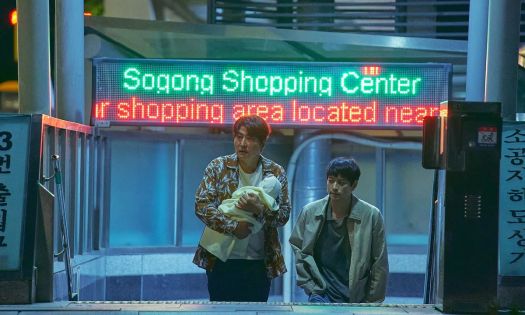 It's a mystery how babies can simultaneously be sold for tons of money but not given away.
The acting is top-notch. Song Kang-ho (as Sang-hyeon) was in this year's Emergency Declaration as well as (the underrated) The King's Letters, (the overrated) Parasite, Snowpiercer, Lady Vengeance, The Host, Sympathy for Mr. Vengeance, Memories of Murder—a fair percentage of modern and influential Korean classics. Despite being one of the biggest actors in Korea, he always seems to disappear into the role. Similarly with Bae Doon, playing the dogged female detective, who co-starred with Song in Lady Vengeance and played his shrewish, melodramatic sister in The Host.
Gang Dong-won (Peninsula, 1987: When The Day Comes) and Ji Eun-Li (a K-Pop teen mega-idol who goes by "IU") also just vanish into their roles (the younger baby broker and the mother, respectively), which in some ways are more challenging. Dong-won has some aspects of the "comic relief sidekick", but he does that without becoming clownish or unappealing. This is important, or the feelings he develops for Eun-li would just seem pathetic. For her part, Eun-li has to dance on the edge of audience sympathy. She convinces us she's capable of bad stuff, but then also convinces us she's capable of good as well.
A particularly poignant scene between Ji (as the mother) and Bae (as the female detective) has them arguing over the fact that it's more "respectable" to have an abortion than to give your child up for adoption, a sentiment Ji's character rejects and Bae's character has seemingly never considered. Although it was perfectly natural and not at all political, it made me pretty sure Broker wasn't going to win any Oscars. (The movie also won the "ecumenical prize" at Cannes, which probably works against it winning awards from heathens.)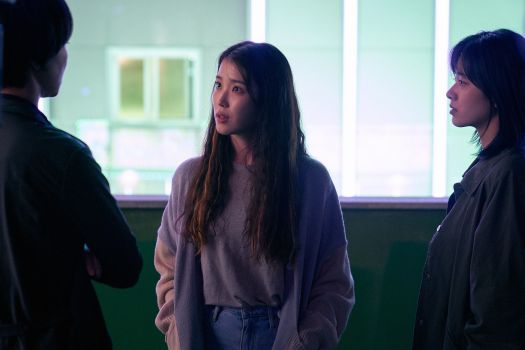 The mother is scrutinized when society's preferred option (killing the baby) is not taken.
QUICK HITS
Skinamarink
: Run, don't walk, as fast you can away from this. A 10-minute idea padded into a 100-minute film.
The Old Way: Nic Cage as Clint Eastwood in the surprisingly solid story of a retired gunfighter who takes his daughter on a quest for revenge. Nic Searcy as the lawman trying to hold him back.
The French Brigade: A "very French film" where "very French" doesn't mean "sexually weird". A lovely little bit of pro-refugee propaganda about a snooty woman who finds herself making genuine chefs out of (mostly sub-Saharan) immigrants.
Babylon: The worst thing to happen to Singin' In The Rain since A Clockwork Orange! A very fine 3+ hour film about silent movie stars and their inability to transition to sound from the director of Whiplash and La La Land.
The Whale: Brendan Fraser shows he still has his chops in this confused, bombastic melodrama from the guy who brought you Black Swan and Requiem for a Dream.
The Runner: Cool slice-of-life story about an Iranian orphan boy after the revolution who lives in a rusted out boat and hustles refundable bottles and shoe shines.
No Bears: Your reminder that there are brave filmmakers in the world, in this case Jafar Panahi who pokes the Iranian Revolutionary lunatics and is currently in jail. I'll be watching that while you're reading this!

posted by Open Blogger at
08:00 PM
|
Access Comments