« Ace of Spades Pet Thread, January 21
|
Main
|
Saturday Evening Movie Thread: Broker [moviegique] »
January 21, 2023
The Weekend Hobby Thread
(Mystery Click)
Good afternoon and welcome to the almost world famous Weekend Hobby Thread. So you say, I don't have a hobby but I do enjoy stopping by this thread.

If you don't have a hobby but want one. This is the link for you.

101 HOBBIES TO START IN 2023 - LISTED BY TYPES OF HOBBIES

We also got swept up in the busyness of NYC. One day we made it a goal to put an end to our workaholism and take the evening off. After realizing we didn't know how else to fill our time, we went right back to work.

Let's leave politics and current events outside the front door.
***

Some people garden. Some people paint. Some people knit. And some people travel. If I was the traveling type I would enjoy seeing this museum.

A Wonderful Life — Visiting Jimmy Stewart's Life and Museum
It's good to be reminded that George Bailey and Jimmy Stewart and all they represent stand in sharp contrast to the coarseness, animosity, profaneness, and hostility of our rapidly degenerating modern American culture.

ndiana, Pennsylvania — This magazine in the past few weeks has paid homage to Frank Capra's Christmas classic, It's a Wonderful Life, starring the great Jimmy Stewart. I've seen the movie plenty of times. So why did it leave me crying again this year?

Yet it did, from the moment a desperate George Bailey cried out to his shop-worn guardian angel that he wanted to live again, all the way through "Auld Lang Syne." Stirred by that experience and curious as to what prompted it, I decided to do something I had wanted to do for years. I made the trip to the Jimmy Stewart Museum in the small central Pennsylvania town he grew up in — Indiana, Pennsylvania. (H/T CBD)
***

Eating is a necessity. Cooking can be a hobby. If you enjoy cooking as a hobby may I suggest the following. It is tasty. And there are no calories.
***
A reader by the name of Charles submitted the following: "Just starting to build my own knives- metal to forge to files. The wood work is where I lose patience."
Patience is a virtue. Just starting out on a hobby can be overwhelming. I think your knife looks good. I bet it's handy in the kitchen.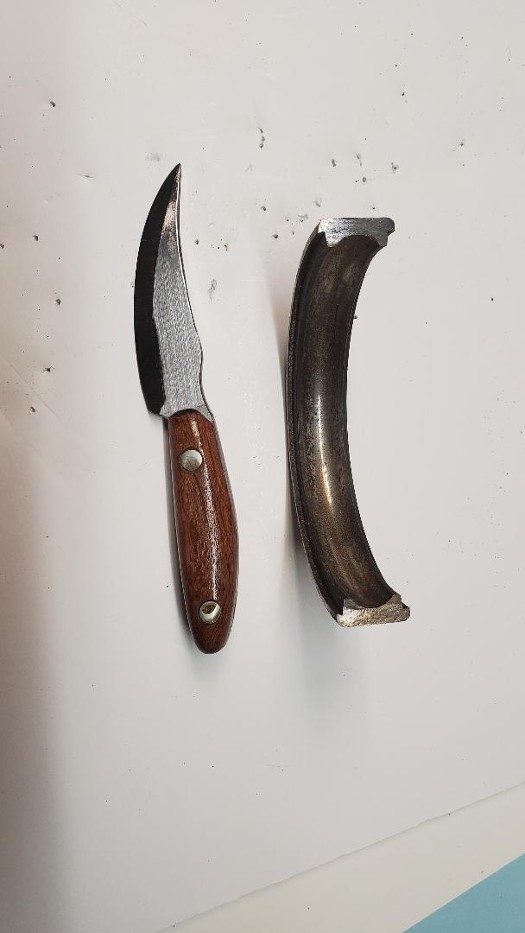 ***

Living in the upper midwest I do ice-fish. I find it enjoyable. It's challenging and usually a quiet sport. However, first and last ice can be dangerous as seen here.

Talk about a cool hobby project........
***

Jenkins Green, 20/0 fan brushes and other hobby stories, photos and links to petmorons at da gmail dot com.


posted by Misanthropic Humanitarian at
05:28 PM
|
Access Comments