« Saturday Morning Coffee Break & Prayer Revival
|
Main
|
Saturday Gardening, Puttering and Adventure Thread, Jan. 21 »
January 21, 2023
How much should we be focusing on the almost extraterrestrial meetings in Davos?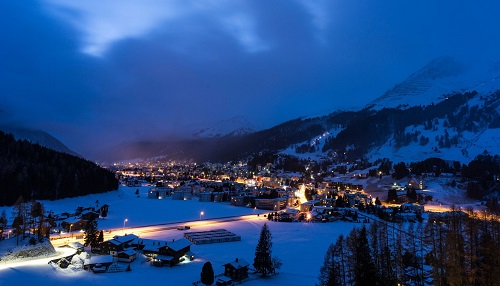 Davos, Switzerland
When you start to think about it, it's pretty extraordinary that we — select group of human beings because of whatever touched us at some point in our lives — are able to sit in a room and come together and actually talk about saving the planet. I mean, it's so almost extraterrestrial to think about 'saving the planet'.
Misanthropic Humanitarian included the quote above in the Wednesday ONT, but I think it's too representative of Davos to use only once. J.J. Sefton's opening graphic for yesterday's Morning Report was inspired by this quote. And I think it fits nicely with this observation:
What strikes me most about the WEF is how little disagreement there is. The largest matters on earth are at stake (supposedly) yet the conferees don't argue. They don't debate. All points seem smugly settled. It's an ego orgy, a great self-satisfied mutual grope.
There are some interesting comments from responders in Kirn's Twitter thread, too.
* * * * *
St. Greta
There has traditionally been one special person who has been allowed to challenge the narrative at the WEF. Allowed to scold the participants at the WEF, even. And the participants just take their rebukes, hanging their heads, and carry on with their expensive ("money,money, money, money, money" - John Kerry) too-slow plans to achieve utopia.
This year, someone challenged HER narrative. Somehow, the Swiss police didn't stop this interchange in time. . .
Greta Thunberg is asked if she will be eating bugs for lunch to help save the planet: "I'll see."
* * * * *
Leftists can't disagree WHILE AT MEETINGS in Davos, but conservatives and others can disagree ABOUT Davos
Unpopular opinion: the obsession with Klaus Schwab, Davos, and the WEF is misguided, as they have little real power over life in America. It's also enervating, as it shifts the locus of control to far-away figures, while constructive action can be taken at home. Stay focused. . . .
I want the political Right to be effective and the focus on the WEF is a distraction and an inferiority complex. If, instead of the WEF, we focused on civil service reform, institutional governance, anti-ESG legislation, and higher education reform, we'd be much better off.

The big problems in the U.S. -- declining labor-force participation, family breakdown, social atomization, drug overdoses, institutional capture, racialist and gender ideologies, collapse of social trust--are not because of Klaus Schwab. They're our problems and need our solutions.

One of my goals this year is to highlight actions that we can all take in our communities to start reversing some of these trends. A positive conservative project.

Some of my initial thoughts here: [YouTube video, 22 min., including The Quiet Right (Chris Rufo is not quiet.)]

*
Downplaying the role of the WEF, which is roughly the arm of the UN Agenda that creates and maintains the public-private partnership cartel that's running this racket on the world, misunderstands our situation badly.
Huge interests, corporate, Communist, and both at once have co-opted the Marxist crackpot faith because they know it opens the door to totalitarianism and psychological totalism (cult adherence). These include the UN, WEF, CCP, and many huge and shady associated foundations.
They want your whole life. Replacing religions of the world with "spirituality": here's the Lady in the Hat. Check your local school district's SEL programs:
So, do we pay attention to the Lady in the Hat or not?
*
MD Shellenberger has done some excellent reporting on Davos. They are now deleting some of their history as several of their programs are falling apart.
Davos Is A Grift And A Cult But It's Also A Bid For Global Domination
*
CDR Salamander looks forward to a post-Davos world:
The whole World Economic Forum/Davos experience is one part Bond villain parody, one part clout seeking billionaires, one part megalomania, a heaping cup of greed, and a dash of rent seeking.

In 2023 things have reached the point where any association with Davos should put an individual or organization under notice of suspicion. Amazing to see people who claim to be American conservatives or lovers of liberty attending in an non-ironic, non-protesting capacity.

This wannabee gaggle of quasi-oligarchs and autocrat throne sniffers represents everything that is wrong with the human desire for control, power, and to crush the individual for fun and profit.
This piece could make some nice weekend reading.
* * * * *
Music
* * * * *
Hope you have something nice planned for this weekend.
This is the Thread before the Gardening Thread.
Serving your mid-day open thread needs
* * * * *
Last week's thread, January 14, The Long March against Gramsci, Step 2
Comments are closed so you won't ban yourself by trying to comment on a week-old thread. But don't try it anyway.
New developments:
Designer of stealth CRT curricula for schools calls himself an "evil salesman"
Judge rules that DeSantis is permitted to gather data on DEI.
All public University of Florida presidents pledge to rein in DEI statements, etc.
Plan for red state legislatures to reverse DEI takeovers

posted by K.T. at
11:04 AM
|
Access Comments