« How much should we be focusing on the almost extraterrestrial meetings in Davos?
|
Main
|
Ace of Spades Pet Thread, January 21 »
January 21, 2023
Saturday Gardening, Puttering and Adventure Thread, Jan. 21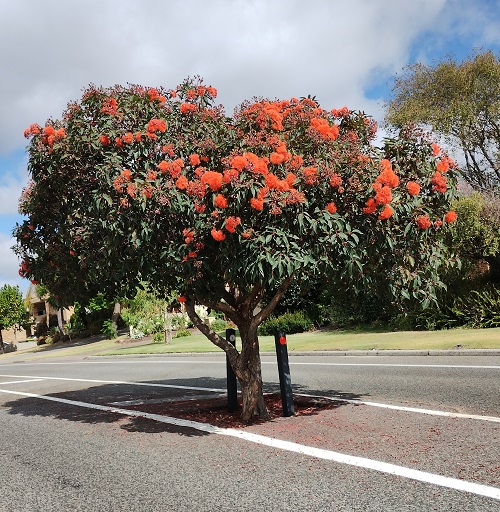 It's summer here in Oz, the street trees are in bloom, and here's proof.

The attached picture, taken in a street near home, is of an Australian Red Flowering Gum (Eucalyptus ficifolia).

Note that it is NOT an Australian Red Gum (Eucalyptus camaldulensis). They have red gum and white flowers - obviously.

These are so typically West Australian, but we won't comment on the IQ of the idiot who decided that they should be planted IN the roadway.

Though this isn't strictly gardening related, I thought you might be able to use it.

Regards,

Sendarius
Great to see a report from Oz! Especially when there aren't a lot of gardening activities going on in the USA and Canada. Or even blooming plants. At least outdoors!
The Red Flowering Gum is also grown here in California, where it is known for drought resistance, salt tolerance, ornamental seed capsules and attractiveness to hummingbirds.
*
Here are some other trees which attract hummingbirds. Nice information. Crab apples are first on the list. They are a lot hardier than red-flowering gums.
*
There is apparently an attempt to breed red-flowering gums to survive in Dublin, Ireland. And the botanists seem to have changed the name.
There are birds that feed on the blossoms in Australia, too. Like the Little Wattlebird.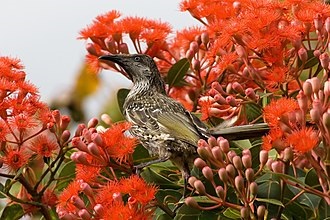 There are some winter-blooming eucalyptus that also attract birds. If you decide to plant one, look into soil requirements, flammability, climate requirements and eventual size. And insect susceptibility. A big eucalyptus tree fell on a freeway near here in the recent storms and killed one person in a pickup and another on a motorcycle. The ground was saturated and the wind came up.
Tree choice (and planting location) is important.
*
Edible Gardening/Putting Things By
A while ago, Ronster asked "What makes cucumbers bitter"?
Well, here is the scientific answer.
A tip:
Start peeling at the blossom end of the fruit. Slice away one strip of the green peel toward the stem end and stop about one inch from the stem. Then wash off the knife blade and repeat peeling from blossom to stem end until the fruit is peeled. Rinse the knife again and cut up the cucumber as needed.

Bitterness seems to vary with the type of cucumber grown. But you can expect some degree of bitterness from time to time in most any variety of cucumber commonly grown, Myers said.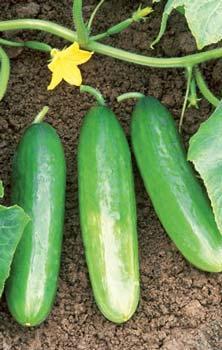 If you are ordering seeds, I still like Summer Dance for our climate. Grown on a trellis, with regular water. But look for a "bitter-free" type if you want less bitterness. And check for climate adaptation in the description of the variety.
*
*

We have a few grafting enthusiasts in The Horde. Any plans?
*
Less common forms of grafting
*

Ah, Nature
*

Gardens of The Horde
Don in Kansas has some interesting information if you are ordering flowers for next summer:
Possibly of interest to gardeners with an interest in metafictional anime: There exists a "Princess Tutu" daylily.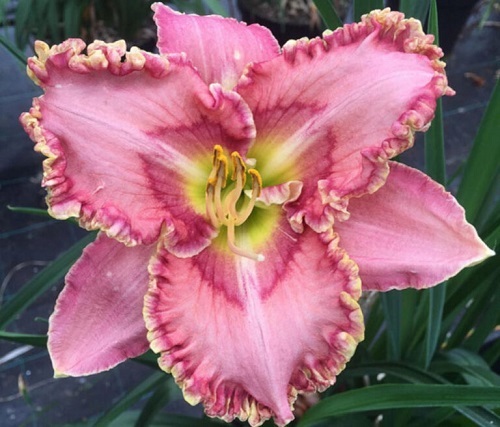 It's a frilly one.
Hope everyone has a nice weekend.

If you would like to send photos, stories, links, etc. for the Saturday Gardening, Puttering and Adventure Thread, the address is:
ktinthegarden at g mail dot com
Remember to include the nic or name by which you wish to be known at AoSHQ, or let us know if you want to remain a lurker.

Week in Review
What has changed since last week's thread? Gardening, Puttering and Adventure Thread, Jan. 14
Any thoughts or questions?
I closed the comments on this post so you wouldn't get banned for commenting on a week-old post, but don't try it anyway.

posted by K.T. at
01:16 PM
|
Access Comments