« Woke Pakistani-American Actor Complains That Hollywood Won't Cast Him as a Villain, Because They're Afraid to Cast Anyone As a Villain Except for White Men
|
Main
|
New York Times: Let's Face It, DeSantis Is Worse Than Trump »
January 13, 2023
Quick Hits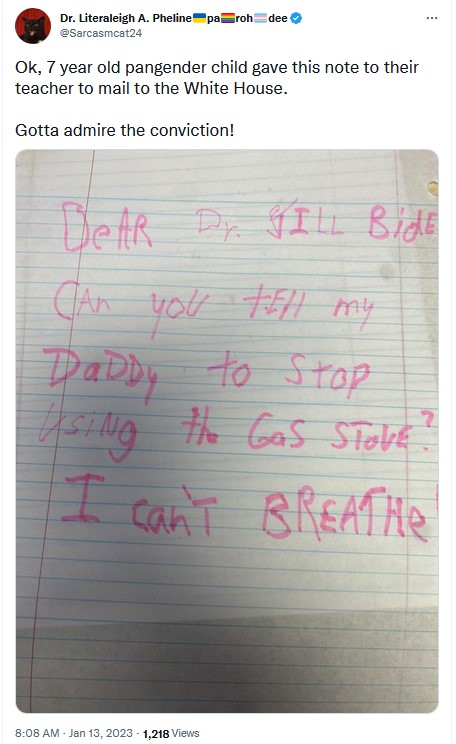 So I'm pretty sure that Doctor Literally a Feline there is a parody account.
Pretty sure.
But you never can be fully sure. We are living in ClownWorld (TM), after all.
Accused Idaho College Killer Brian Kohberger reportedly recorded a rap track 11 years ago under the name "Exarr," Internet sleuths claim. In the rap, he says "I am the devil."
Here's the thinnish evidence for this being Kohberger:
Bryan Kohberger posted this track on Soundcloud 11 years ago. https://soundcloud.com/exarr He is from Effort, Pennsylvania. He says "Exarr music" in the track. One of his email's is exarr1337@yahoo.com.
The video description also says the voice sounds like Kohberger's. I wouldn't know, I've never heard him.
Here's a link to this amateurish, literally halting effort. CONTENT WARNING : This is bad content.
I don't know that a single invented word, "exarr," proves much. It's an easily-invented word.
At Hot Air, Sexton notes Kohberger's writings when he was 16:
"I feel like an organic sack of meat with no self worth," he wrote in 2011, when he was 16, adding later, in the same post: "As I hug my family, I look into their faces, I see nothing, it is like I am looking at a video game, but less."...

"Nothing I do is enjoyable," Mr. Kohberger wrote. "I am blank, I have no opinion, I have no emotion, I have nothing. Can you relate?"
In fairness, a lot of 16-year-olds write in that morose, goth way.
But I think in Kohberger's case it was probably legit and not just a pose.
In fact, seeing people as pixels in a videogame was probably very literal:
Kohberger complained about having a neurological problem/disease called visual snow which causes people to see floating dots like an overlay on their vision. The Times spoke to an expert on the problem who said its causes are not well understood.

Investigators have narrowed list of suspects in Supreme Court abortion case leak inquiry to just a handful, reports the Wall Street Journal, in a non-paywalled article.
Supreme Court investigators probing the May leak of Justice Samuel Alito's draft opinion overruling Roe v. Wade have narrowed their inquiry to a small number of suspects including law clerks, but officials have yet to conclusively identify the alleged culprit, people familiar with the matter said.

A day after the draft opinion was published last year by Politico, Chief Justice John Roberts assigned the Supreme Court's marshal, Gail Curley, to investigate the leak. The court has released no information regarding the investigation since then. Little has emerged elsewhere, apart from a demand from investigators in June that justices' law clerks sit for interviews and surrender their cellphones, prompting several of the three-dozen clerks serving in May to seek legal counsel.

A Supreme Court spokeswoman didn't respond to requests for comment.

Congressional Republicans have complained about the lack of information regarding the source of the leak.

"For some reason this individual has certainly been sheltered and there is absolutely evidence that there are specific people who know who this person is," Rep. Scott Fitzgerald (R., Wis.) said at a House Judiciary Committee hearing in December, when Democrats controlled the chamber now under Republican leadership.

At the same hearing, Rep. Jim Jordan (R., Ohio), now the House Judiciary Committee chairman, said the committee should itself investigate the leak.

The fear was always that these "investigators" would not really investigate the matter, would not really use investigatory tools like demanding access to suspects emails or making them swear under oath to statements (making false claims perjury).
That is, unfortunately, exactly what these "investigators" have done:
The interviews were sometimes short and superficial, a person familiar with the matter said, consisting of a handful of questions such as "Did you do it? Do you know anyone who had a reason to do it?" Investigators relied in part on publicly available information about court employees to develop theories, the person said.
"Publicly available information" is a fine thing for an investigator to look at but... they're obviously treating everyone, including their best suspects, with kid gloves. They haven't demanded to see anyone's phone or email records.
This is... as non-investigatory an investigation as you could conduct. Basically, they don't want to discover the leaker. It would be too "uncollegial" to find her.
Democrats are offering disgracefully bad-faith arguments against the Republicans' born-alive protection act. Gerry Nadler says he doesn't want to mandate that born-alive infants be taken to the hospital, because the trip to the hospital could endanger the lives of aborted infants.
Yes he really claims this:
"The problem with this bill is that it endangers some infants [born alive] by stating that that infant must immediately be brought to the hospital."
This gross c*nt decides that she's an Anti-Government Freedom-Oriented Tea Patier all of a sudden:
Rep. Hillary Scholten (D-MI): "As a pro-choice Christian who chose life, this issue is personal to me... When I read scripture, I turn to Jeremiah 1:5 which states 'I knew you before I formed you and placed you in your mother's womb.' It doesn't say the government's womb."
Does the Bible say Planned Parenthood's womb, hag?
Klaus Schwab is holding his Blofeldian Retreat in Davos again, and police are closing off the roads to prevent Commoners from spying on the Festival of World Domination.
Three more Virginia high schools, these in leftwing Loudoun County (the district that covered up the transgender sexual assaults), hid National Merit Awards from students in the name of "racial equity."
If you're just joining the story, this began with one high school being caught hiding National Merit Awards from students so that they couldn't list this accolade on college applications and gain an advantage over students who didn't win it -- and make other students "feel bad" about not winning it. Then two more high schools in Fairfax County (another leftwing northern Virginia enclave) admitted they practiced the same Retributive Racial Justice practice.
John Sexton quotes one angry father: "School district officials are deliberately sabotaging our kids' lives in the name of 'equity.'"
Equity, for those of you not up-to-date on Marxist euphemisms, is not "equality." Equity means ensuring equal outcomes, by artificially advantaging some races or artificially disadvantaging other races. Whatever it takes to get an "equitable" outcome.
And now three more high schools are deliberately hiding accolades from students so that they do not have advantages over other students in college applications.
When will it stop?
It will not stop until Virginia makes these people subject to personal lawsuit or even criminal prosecution.
Sexton quotes this article from the Fairfax Times about Fairfax school superintendent Michele Reid's apology tour-- which is filled with obvious lies (like the claim that the three principals who withheld National Merit awards all did so "accidentally") and evasions about the purpose of a consulting firm being paid to bring even more "equity" to the schools.
At the meeting, which Michael Albin, a board member of the Fairfax County Taxpayers Alliance, dubbed Reid's "apology tour," the word -- "equity" -- ricocheted around the room as skeptical parents, some of them immigrants from India, China and Lebanon, methodically raised questions about the edicts of a California-based contractor, Performance Fact Inc., hired by Reid this fall to direct the school district's strategic planning at a price tag of $455,000 over about nine months. This fall, the company's founder, Mutiu Fagbayi, preached "equal outcomes for every student without exception."
Without exception? Even if one kid's a genius and the other kid's a dummy?
Even if one kid comes to class and does his homework, and the other is a habitual truant?
You're saying you will guarantee "equal outcomes" in both cases?
Local mother Norma Margulies, an immigrant from Peru, told Fairfax County Times she filed a complaint this week with the school district's Office of the Auditor General over Reid hiring the company without opening the contract to bids.

When a father raised a question about the impact of the "equal outcomes" strategy on academics, Reid said, "The contract you are referring to is not about equity work. It's about strategic planning work."

But in fact strategic planning documents are filled with details about "equity."
The Halton District School Board in Canada -- which employs that male fetishist teacher, who parades around children with ridiculously huge fake breasts with huge protruding nipples -- is thinking about passing a dress code for teachers.
A Canadian school board has demanded a new "professional" dress code for teachers following months of backlash over a trans teacher with "clownish" giant prosthetic breasts.

Trustees on the Halton District School Board unanimously passed a motion on Jan. 3 ordering the director of education to develop a policy to ensure "appropriate and professional standards of dress and decorum in the classroom," Fox News reported.

The district's Director of Education Curtis Ennis will have until March 1 to create the policy.

"The HDSB's commitment to human rights remains rooted in our core values and commitment to each and every student and staff who identifies as a member of an underserved and underrepresented group, and our approach is informed by opinions from leading employment law firms with human rights and equity advisors," Ennis said.
You should click on the article to see the new Fake Fetish Sweater Zeppelins this pervert is sporting. He makes Stormy Daniels look like a Stormtrooper. I don't even know what that means.
I predict the new "dress code" will strain to balance a "professional dress code" with this pervert's "right" to "feel safe within 'her' preferred modality of sexual self expression" and will descend into gibberish as and "balancing factors" as it attempts to create some kind of "rational guide" to how large outrageously fake rubber breasts can be, and how protuberant fake nipples can be.
Steve Inman posted this:
Steve Inman @SteveInmanUIC


Is it wrong that it makes me happy to see Jimmy Kimmel and Jimmy Fallon's page bots disappear and their engagement drop dramatically? Good for wannabe comedians like myself. Thanks for making this page way busier than theirs

I appreciate you.
Huh, Kimmel and Fallon were paying someone for bots to make it appear as if people liked their Twitter posts? And now that Musk is purging bots, their Twitter posts aren't getting much engagement? Gee, you'd think that someone in the media -- and the media sits on Twitter all day long, and considers Twitter "their beat" -- would be interested in that kind of a story.
Except that they're all corrupt.
Even CNN is accusing Biden of lying about the classified documents. Specifically, they accuse him of lying about the second set of documents. The second set of documents was known about since December 20th, but when the Biden Administration, and Biden himself, spoke about the classified documents, they only spoke about the documents in the office.
They only admitted the existence of the second set of documents when their existence was leaked to reporters, possibly by people in the DOJ.
Karine Jean-Pierre tries to explain why lying to the press is "by the book" and "transparent" and a standard "part of the process."
Not even CNN is buying that.
Karine Jean-Pierre insists that Biden was being "transparent" by keeping this secret.
Lauren Boebert @laurenboebert

The White House refused to release visitor logs from Biden's Delaware residence.

Now that same residence was found to contain classified documents that shouldn't have been there.

This scandal is just getting started.
That's a good point. The residence is now a national security crime scene. Biden must no longer be permitted to hide his visitor logs.
But Karine won't answer:
Is Biden in trouble? Well, Tucker thinks this was a calculated hit to take Biden out, and the leak against Biden about the second set of documents is evidence of that.
Part of his evidentiary presentation was that Kamala Harris sure seems to be in high spirits, imagining she's going to be the nominee in 2024. She's giggling like a mental defective about Venn diagrams and electric schoolbuses again.

Is she on drugs? Seriously, is she using?
I have long had a theory that if women don't have children, some of them will begin treating the world as their children, "mothering" adult strangers, "gifting" us all with their dubious learning and wisdom.

posted by Ace at
05:20 PM
|
Access Comments