« Wednesday Morning Rant [Joe Mannix]
|
Main
|
Rasmussen: 50% of Likely Voters Think the $1.7 Trillion Omnibus Spending Bill that Mitch the Bitch and 17 Other Republican Senators Voted to Ram Through Congress In December Is a "Disaster" for the Country »
January 11, 2023
Idiocracy: Another Day, Another Collapse of a Foundational System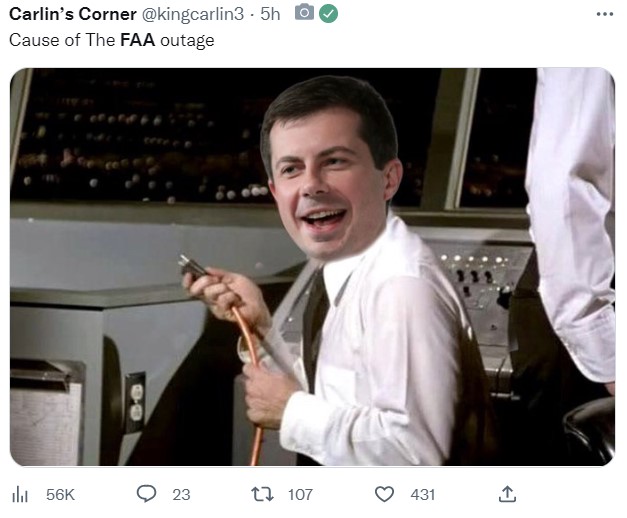 And another Bootyjudge triumph.
Where do you think he was on vacation this time?
And how many more systems can collapse before it all comes down?
Essentially the nation is only running due to systems created in the 50s, 60s, and 70s and maintained through the 80s and 90s. They have been left to fallow since then.
And now it's all gone to rot. And the "Educated Class" just sits in DEI meetings and debates pronouns and drag show etiquette all day.
And the systems and tech from the 50s and 60s and 70s is breaking down, as 40-70 tech does.
And our "Educated Class" continues debating pronouns.
The U.S. Federal Aviation Administration lifted its ground stop order Wednesday morning after suffering a nationwide technical outage causing mass cancellations and delays.

The travel chaos was caused by the failure of the FAA's Notice to Air Missions (NOTAM) system, which alerts pilots and other personnel about airborne issues and other delays at airports across the country. More than 1,000 flights were canceled in the U.S., and more than 6,700 more flights in the U.S. were delayed, as of 11:30 a.m. ET.

FAA investigators are continuing to search for the cause of the outage.
Secretary Pete Buttigieg @SecretaryPete

FAA has determined that the safety system affected by the overnight outage is fully restored, and the nationwide ground stop will be lifted effective immediately. I have directed an after-action process to determine root causes and recommend next steps.

Don Wolt
@tlowdon

Replying to @SecretaryPete

I suspect "after-action processes" are initiated automatically following a major outage like the one from last night, and don't require specific direction from the Secretary, but putting this out can give the impression of leadership.
I suspect that too. It didn't reassure me that Mayor Pete's tweet included a picture of a mojito beading water in the Cabo sun.
Both Democrats and Republicans pointed out Bootyjudge's nigh-interrupted string of failures as Secretary of Vacays.
Buttigieg's tenure has been plagued by multiple crises from supply chain snarls to widespread commercial airline delays and he has been criticized for his handling of the issues.

Amid the many crises Buttigieg has faced, the former presidential candidate and mayor of South Bend, Indiana -- who President Biden selected to lead the Transportation Department in January 2021 -- has been hit with criticism from Democrats and Republicans alike.

The transportation secretary recently came under fire after it was revealed he vacationed in Porto, Portugal, while his agency and the White House were locked in tense negotiations with rail worker unions to avert a strike that could have had a dire impact on the U.S. economy. The Department of Transportation said the vacation was a "long-planned personal trip."

Buttigieg was also slammed for his handling of the supply chain crisis in 2021. Throughout the second half of the year, ships were forced to wait off the coast of California due to onshore logjams, as a trucker shortage slowed transportation and rail yards faced massive clogs.

Fox News has reached out to Secretary Buttigieg for comment.
Don't worry, though: Congress -- including Mitch McConnell's 12 Heroes of Conservative Budgeting -- have directed 2023's spending to fix the Real Problems at the FAA.
Jimmy Failla
@jimmyfailla

Every commercial airline in America is grounded by a computer outage. It's a great day to be a climate change activist so you can fly private.

posted by Ace at
12:03 PM
|
Access Comments