« The Weekend Hobby Thread
|
Main
|
Saturday Overnight Open Thread (1/7/23) »
January 07, 2023
Saturday Evening Movie Thread - 1/7/2023 [TheJamesMadison]
A Quick Shoutout

To my brother-in-law whom I just discovered, over Christmas, to be a reader of the HQ and me in particular, without him knowing who I am. Hello, brother to Dolley!

Fifty Shades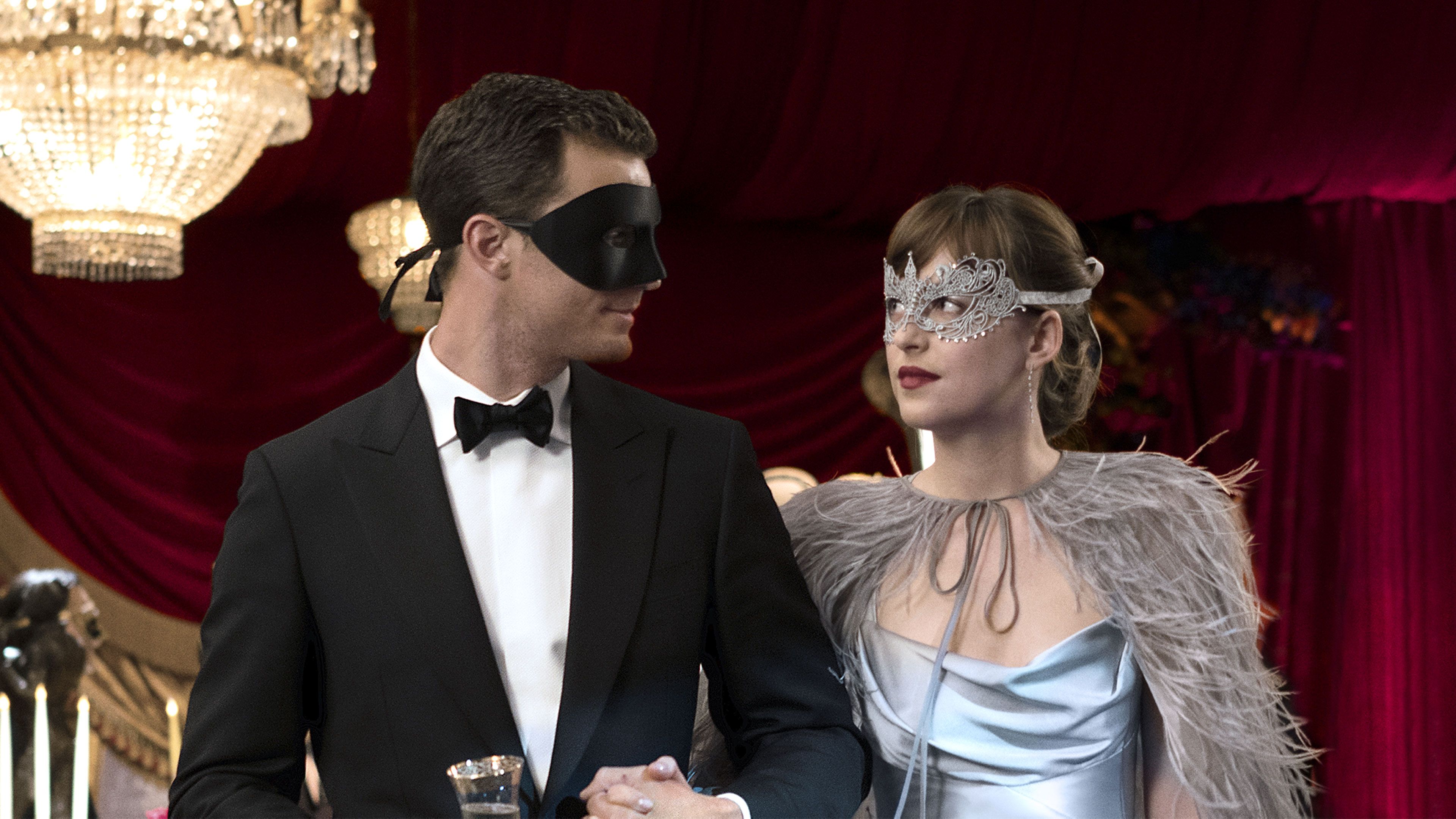 A common topic of conversation I see is, "What movie would you never watch?" I like to imagine myself open to anything that comes along, but the one exception I always managed to find myself putting forward was the
Fifty Shades of Grey
movies. Based on the novels by E.L. James, they started as fan-fiction for the
Twilight
books that put the two main characters from that series into more explicit BDSM situations. Well, the woman got a book contract, published three novels, and Hollywood ate up the idea of cashing in on a small zeitgeist to make some movie with Michael De Luca pushing out three relatively cheap adaptations in quick order starring Jamie Dornan and Dakota Johnson.
These movies were obviously not meant for me, but it annoyed me that I refused to watch them, to give them even a chance. Well, I found myself alone in a hotel room for a few days on a business trip, and I decided that it was the perfect time to try all three.
Let me say this: it was not the perfect time. There is no perfect time. The
Fifty Shades
movies might be the worst things called movies I've ever seen, and the idea of writing anything about them seemed to vanish from my head. They were too trashy, unredeemable, and just outright bad to write about at all. I was explaining this predicament to my mother (who was flabbergasted that I would even try this experiment to begin with), and I said the key phrase to her, "fantasy fulfillment." Suddenly, I remembered another movie I'd rewatched recently, and I realized that I had a comparison that provided me some meat to actually write about. So, instead of focusing only in a trilogy of awful trash, I was going to compare
Fifty Shades
to, of all things,
City Slickers
.
Fantasy Fulfillment


Fantasy fulfillment has been a regular part of storytelling since storytelling began. The hunter who could get any animal was always the hunter we wanted to be. The secret agent James Bond, led the dangerous, sexy life we all secretly wanted on some level. The issue in terms of drama is that while fantasy fulfillment isn't invalid as a dramatic starting point there also needs to be some kind of dramatic structure and stakes around that fantasy for it to be compelling.
The chief of many problems the
Fifty Shades
films have is that they are dramatically inert. There is the facade of dramatics in the forms of imposing music and longing looks, but the actual conflict is missing. The basic premise is that Anastasia Steele is a mousy college student who takes the college newspaper interview scheduled by her roommate to speak with the twenty-seven year old billionaire Christian Grey. Her mousiness is apparently the most compelling thing Gray has ever seen, and he decides that he must possess her, that she should be his newest sexual conquest, a process that involves her signing a contract that gives him explicit permission to do whatever he wants to her as the dominant in a BDSM relationship. What's the conflict? The single, unremarkable journalism student must learn to accept the love of an attractive billionaire who wants to help her explore her sexuality? Just the concept is so completely without conflict that it's an amazing thing that there's actually an audience for this garbage.
By contrast is
City Slickers
.
City Slickers
is all about fantasy fulfillment, but the approach is wildly different. Billy Crystal's Mitch is a middle-aged ad executive at a radio station who goes with his two friends to adventures around the world in search for experiences that give his life meaning. Running the bulls in Pamplona does nothing, but the effort and challenge of guiding a herd of cows through the American southwest, especially as things get increasingly challenging and he has to rely on only himself and his pair of friends, leads him to find what the modern world had been denying him: his manhood. He does this by doing difficult things like fording a river with the cattle in the rain or helping to birth a calf during the drive. He's challenged, and he rises to meet those challenges. The fantasy is to be a cowboy, and he works hard to achieve it.
Dramatic Structure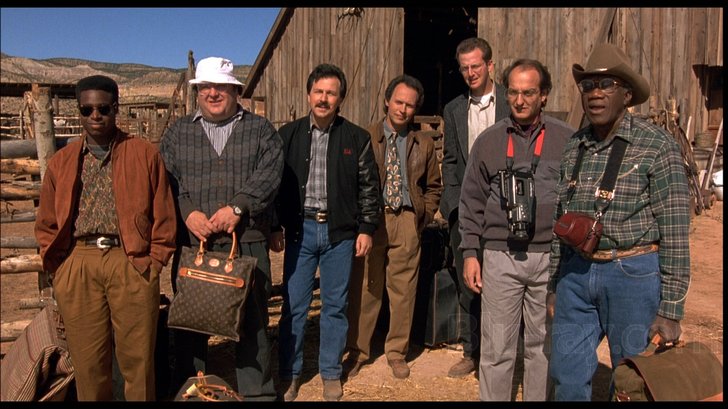 As I ended the third of the
Grey
films,
Fifty Shades Freed
(what does that even mean?), I was struck by how little story actually played out. Over the course of three movies, Anastasia deals with her contract with Christian, they break up for a bit, she gets a job at a publishing house which Christian purchases and fires her boss, she has to sit in a meeting where she gives the best advice ever heard in a publishing house ever, and she gets her editing job. She and Christian make up, get married, have to deal with a couple of his previous exes, including the older woman who turned him into a BDSM freak, and everything gets resolved and they get their happily ever after. All because she was so mousy that Christian just couldn't resist her. It's meager stuff, barely the stuff of six hours of screentime especially when characterization is threadbare.
And I have to take note of the whole publishing house thing. It's designed to show Anastasia as independent of Christian, able to make a success of herself, but she becomes the unwanted target of her boss and can't extricate herself from the situation. Christian (without telling her) saves her from it, and that move is what gives her the opportunity to walk into the editors' meeting and declare that the firm should focus on both new and established authors. What an amazing idea! It's the sort of thing a teenage girl comes up with to solve all the world's problems that...publishing houses already do. But, because the book was written by someone who seems to have no real experience in any kind of business, it's presented in this sort of awed way like Anastasia is pulling pearls from the sea. It's evident of the entire childishness of the whole story at play.
But how does this all move? How does one event feed into the next to create a story? Well, it doesn't. It's essentially a series of random events where almost nothing ever feels like its at stake because conflicts and obstacles get introduced one minute and are resolved the next. There's no real overriding plot that drives any of the films individually or the three films as whole. When the woman who abused Christian as a child (Kim Bassinger) shows up, does she drive anything? No, there are a couple of scenes where Anastasia frets about the situation, but the drama goes away with Christian giving her assurances that all is well. I guess that's over. It's such a staccato three films where things come up and then go away, all while Anastasia is held up as this ideal of a woman that gets it all on her own even though her ideas are pedestrian and her actual advancement is because of her boyfriend's wealth and power.
Contrast this with
City Slickers
where Mitch and his two buddies start in one place and the whole film is about them evolving into a new place. Everything they do, from the opening bull race in Pamplona to Mitch getting reprimanded by his boss to the meeting of fellow tourists on the trail to Mitch's interactions with Jack Palance's Curly to having to deal with Curly's death and taking the cattle on their own to finish the journey,
City Slickers
is a journey of growth for Mitch and his two friends. It's all about a series of events that feed into each other with an eye towards character growth. It's about a fantasy fulfillment where Mitch has to earn his change in character, to become a better man through effort and trials. There is an actual journey to be had, and it's satisfying.
Satisfaction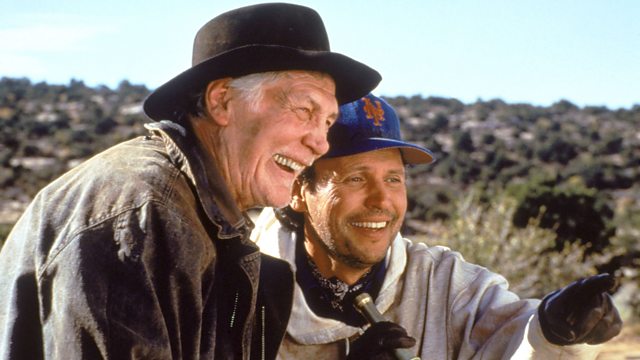 I occasionally come upon a comment about how not very good movies are actually fine because they entertain. I have no problem with that sentiment, and I love a good film that has the modest ambitions just to get me to forget about the world and laugh or thrill for 90 minutes. I question the longevity of a film's appeal, though, when the fun stuff is few and far between and most of the running time is boring nonsense.
Fifty Shades
(all three) remind me of that. I see the pieces that would appeal to people who love trashy, erotic romances, but nothing is built up, no characters feel real, and all of the "emotion" of the film is manipulative on its face. I wonder how anyone can sit there and watch it and get any real enjoyment out of it.
Granted, these movies have IMDB ratings in the 4s. They're not widely loved, but there is
a
fanbase, albeit a small one. There's no accounting for taste, but I seriously don't get it. There's nothing satisfying about anything in these films. They're complete drudgery, and then I come back to fantasy fulfillment. That's all it was for the writer, E.L. James, and that's all it is for the audience. They project themselves onto Anastasia and none of the staccato storytelling, thin characterization, or bad plotting matter. Just as long as their projection wins in the end, how they get there doesn't matter. This vastly limits the appeal of the work to those who share the exact same fantasy.
Contrasting it again to
City Slickers
, do you need to have the same fantasy of becoming a cowboy to go on the emotional journey with Mitch? It'll certainly help, but if the characters are well written, relatable, and likeable, then the journey can be shared by more people than just those who wish to go on a cattle drive. This is why basic story construction ends up so important. It's not about following rules just because they are rules. The "rules" of storytelling can get broken all the time, but they've become accepted over time simply because they work on our strange, little, lizard brains. Abandoning those rules may not bother certain audiences, but I really believe it limits your reach both in terms of a broader audience but also in terms of time. Time is not going to be kind to the
Fifty Shades
films as their most ardent fans forget about it and move on, but time has been quite kind to
City Slickers
. It's not considered one of the great movies or anything, but it's largely well regarded even if it seems to be designed for a specific audience. That's the power of basic storytelling mechanics.
Experiment Complete
Well, I watched a film I swore I'd never watch. Three of 'em, in fact, and I hated every second of it. Now I can say that I don't have another movie like this.
Except, maybe,
A Serbian Film
...
Movies of Today
Opening in Theaters:
M3GAN
Movies I Saw This Fortnight:
Unforgiven
(Rating 4/4)
Full Review
"This is the complete package of a film. This is easily Eastwood's best work as director up to this point in his career. If he had retired after this, I would have understood. It's hard to imagine topping this." [Personal Collection]
A Perfect World
(Rating 3.5/4)
Full Review
"This is a very good film, a worthy follow up to the rather staggering achievement that was Unforgiven, showing that Eastwood wasn't done producing quality films and that he was going to keep working at his own pace for as long as he wanted." [Library]
Absolute Power
(Rating 3/4)
Full Review
"It has modest goals, and it achieves those modest goals well enough without too much stumbling along the way." [Personal Collection]
True Crime
(Rating 2/4)
Full Review
The film's reality around the investigation feels artificial. Frank's scenes are all mawkish. It's not an outright failure of a film, there's too much solid and even entertaining stuff sprinkled throughout, but the whole feels malformed." [HBOMax]
Mystic River
(Rating 4/4)
Full Review
"This is really a triumph of Eastwood's career. It takes a great script, pulls out great performances from his actors, and he keeps the action on a slow burn that really plays well into the film's narrative drive." [Personal Collection]
Million Dollar Baby
(Rating 4/4)
Full Review
"This is one of the triumphs of Eastwood's career. This is a hard-hitting film that perfectly matches with Eastwood's directing style. It's some of the finest acting in an Eastwood movie, all laid on top of a foundation written by Haggis that understands its structure and characters incredibly well." [Personal Collection]
Letters from Iwo Jima
(Rating 3/4)
Full Review
"Never budging from its point of view of the Japanese during World War II, it's an engrossing look at the other side of the war that seems to stack the deck in its own favor while going so whole hog in the direction of sympathy that it really does feel like it goes too far in that direction." [Personal Collection]
Changeling
(Rating 4/4)
Full Review
"This is one of those scripts that perfectly matches Eastwood's thematic concerns as well as his directing style. It's a film that, if you were to bring it back into Academy ratio and use black and white film stock, you wouldn't have to change much else to make it look and feel like it belonged in the 30s or 40s, something that Otto Preminger or Fritz Lang might have made." [Library]
Contact
Email any suggestions or questions to thejamesmadison.aos at symbol gmail dot com.
I've also archived all the old posts
here
, by request. I'll add new posts a week after they originally post at the HQ.
My next post will be on 1/28, and it will cover the directing career of Clint Eastwood.

posted by Open Blogger at
07:35 PM
|
Access Comments