« Not So Quick Hits
|
Main
|
Happy Fun Thread! »
January 05, 2023
"Perfessor" Squirrel Speaks Out!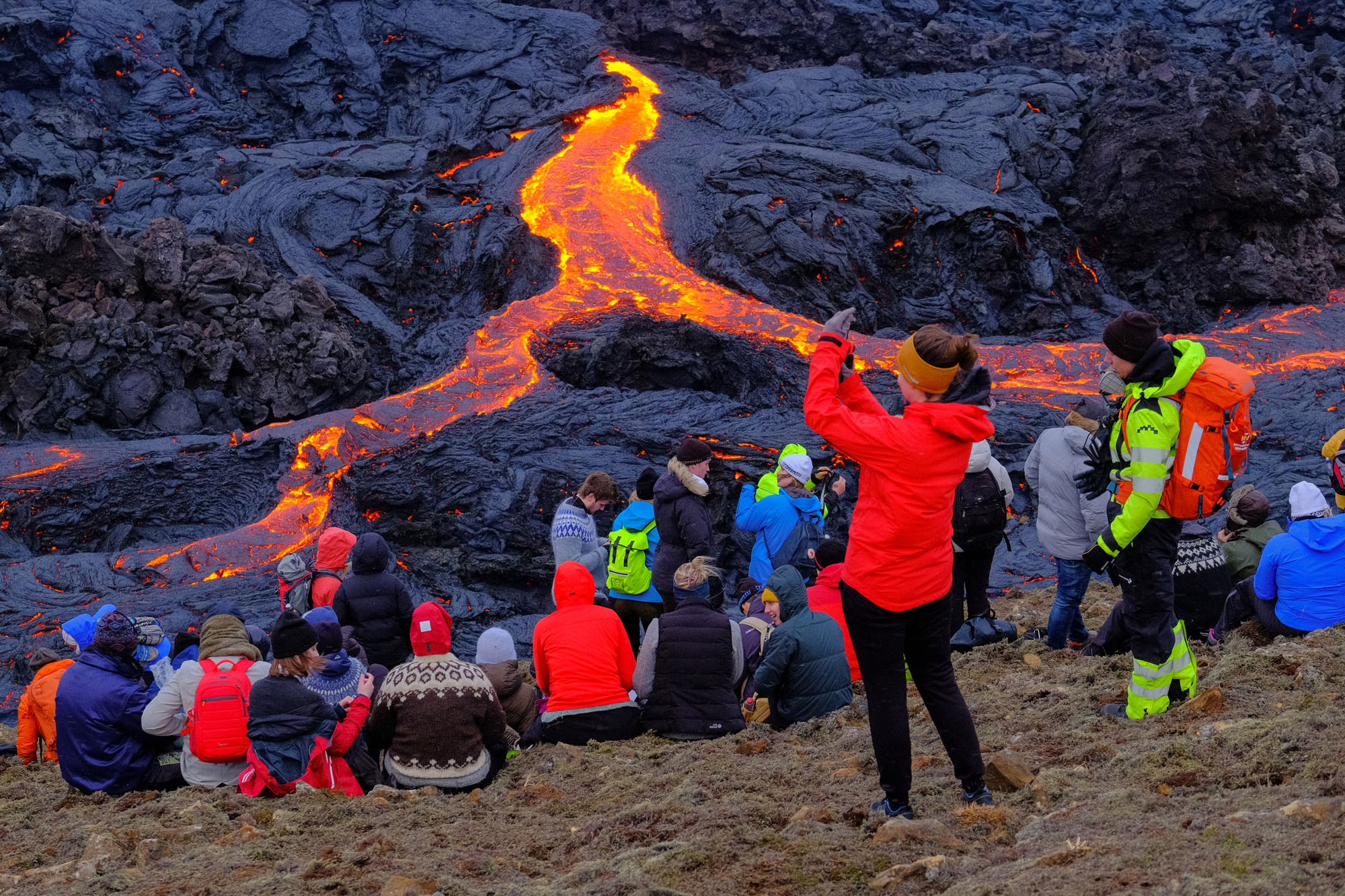 Up close and personal with Iceland's Fagradalsfjall volcano.
ON THE SAFEST COUNTRY ON EARTH
The Moron Horde had a glorious time eviscerating a lunatic Leftist who wrote the article on the future of charging stations for EV. So let's do that again! Honestly, we do that all day every day and I never get tired of reading your comments or posting snarky comments of my own...And now Ace is letting the COBs run wild this week...Bet he never goes on vacation again...or at least locks down the liquor cabinet. Set sarcasm for STUN! FUN!
Anyway, today's entry is:
The safest place in the world to live is across the ocean: This country ranks most peaceful by Clare Mulroy
At the time of this writing, the story has 374 likes and 317 dislikes, a much more even split between groups than the article on EV charging stations. There are 436 comments and there seems to be a distinct split among ideological lines between those who hate America/conservatives and those who hate Leftists who have allowed America to become a hellhole.
Choosing a place to live is a carefully crafted, and often difficult decision. Prospective residents take school districts, affordability and weather into consideration for a new city or state. One of the most important factors, particularly for those living alone or with young children, is how safe a certain place is.
"Safe" is a subjective and relative term. Furthermore, no place on Earth is 100% safe. Mother nature can kill you in a heartbeat.
As news of mass shootings, climate disasters and outbreaks of war dominate headlines, safety is a priority and a privilege that many take for granted.
So safety is now a "privilege," enjoyed by the few, the proud, the elite. I would hazard a guess that Clare Mulroy would say that all of these issues (mass shooting, climate disasters, and outbreaks of war) are caused by man, though one of them could easily just be the Earth going through a naturally turbulent period. Oh wait, mass shooting are caused by evil guns, not people.
What is the safest place to live in the world?

The safest place in the world is Iceland, which ranks number one on the 2022 Global Peace Index. Iceland, with a score of 1.107, has held this position on the GPI for over a decade.

The GPI scores countries based on level of societal safety and security, ongoing domestic and international conflict and degree of militarization.

Iceland is the world's most gender equal country, the only country to have close 90% of its gender gap, according to the World Economic Forum's 2022 Global Gender Gap Report. It is also the third happiest country in the world, ranking just behind Finland and Denmark on the 2022 World Happiness Report. The country also has the lowest poverty rate of the countries belonging to the Organisation for Economic Co-operation and Development. OECD includes 38 member countries, including the U.S., the United Kingdom, Canada, Japan, Korea, France and Spain.

What does gender equality have to do with "safety?" Why does that result in a "safer" country? Clare doesn't seem to want to answer that question. Let's take a look at Iceland and see if we can identify some factors that might lend itself to being a "safe" country:
Geographically isolated from the rest of the world.
Ethnically homogenous (86% Icelandic) meaning it's also culturally homogenous.
Religiously homogenous for the most part (72% Christian and 25% no religion).
Very low population (376,000 with a population density of 9.5/mi2).
Relatively prosperous (per capita GDP of $66,467) which is on par with much of Europe.
Clare's list of "safest" nations is taken from the Global Peace Index, which uses a number of factors to calculate how peaceful each country is in the world. Note that "peace" is different from "safe." Iceland can be plenty exciting and dangerous if you enjoy getting up close and personal with Mother Nature, even if the native population is friendly and peaceful.
According to the GPI, the most dangerous place to live is (drumroll please)...AFGHANISTAN. Take a bow! You've been at the bottom of the list for 5 years running! Hmmm. Are there any factors that may contribute to Afghanistan being an unstable basket case? I'm struggling to think of anything that could affect Afghanistan's rankings as being "unsafe." Somehow nothing is mentioned in the article as to *why* Afghanistan is unsafe. Nor is there any conjecture on why Iceland is "safe."
The United States ranks at 129th with a score of 2.44, marking the country's score "low." Just above the U.S. is Azerbaijan, and just below is Brazil. [NOTE: Rankings are from 1 (safe) to 5 (unsafe) - PS]

Civil unrest continues to be the primary driver of the deterioration," the GPI report says about the U.S., noting rises in the political terror and political instability categories. "However, there were also significant improvements in indicators across all three domains, with largest being in the UN peacekeeping funding indicator."

Azerbaijan is considered "safer" than the United States of America. Think about that for a moment. The GPI doesn't ever ask questions about who or what may be driving political terror and instability in the United States, though I'd guess they'd blame it on Trump, Republicans, and deplorable conservatives before turning to Antifa, BLM, Democrats, or Biden.
I poked around the GPI website, looking for more information about how they calculate their numbers. It's an interesting exercise in statistics, I suppose, though the site doesn't ever seem to ask *why* some areas of the world are "unsafe" and others are "safe." All they do is rank a country's relative safety according to their calculated values.
What is the safest place to live in the United States?

At the end of the day, "the safest place" is subjective. Those who grew up in small towns may think cities are dangerous, but those who were raised in large cities have a different scale of what safety means to them.

As with the article I posted on Tuesday, the author waits until near the end to reveal she doesn't know what she's talking about. She admits that "safety" is subjective and that people who live in different regions may have conflicting perspectives on what constitutes a "safe" environment. I'd rank the town I live in (20K residents, middle of the country) as pretty safe compared to St. Louis, which is just up the road from me.
And then for some strange reason Clare wants us to know that the cheapest place to live in the country is Fort Wayne, Indiana. What does that have to do with safety and peace? No idea.
So once again, we have an article written by someone who is simply not interested in exploring *WHY* things are the way they are in another part of the world. She proclaims that Iceland is the safest country in the world and therefore it's self-evident that you should move there if you value safety as your highest priority in life.
Fortunately, I know a guy who is fluent in Icelandic and an expert on Icelandic and Scandinavian lore/culture, so maybe he can put in a good word for me!
Ég kveð þig!

posted by Open Blogger at
05:15 PM
|
Access Comments