« Taipei Personalities, Or War Pigs' Gonna Pig
|
Main
|
"Perfessor" Squirrel Speaks Out! »
January 05, 2023
Not So Quick Hits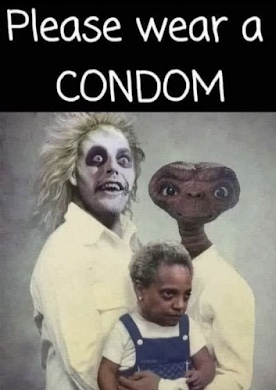 [Hat Tip: dhmosquito...I think]
New IRS tax brackets take effect in 2023, meaning your paycheck could be bigger
Sounds great, except that a 7% shift in brackets doesn't nearly cover the increase in the cost of living, so the net change is negative, even assuming that people's paycheck are going up by 7%...which they aren't.

***
With Schools Ditching Merit for Diversity, Families of High Achievers Head for the Door
Brilliant! The deep blue cities are hell-bent on destroying the lives of the very people who pay the bills. Allow crime to grow out of control, destroy the few excellent schools available to them, and then tax the shit out of the ones who remain.
***
Soros Doubles Funding to Group Aiming to Pack Supreme Court
Well, he is 92, so this anti-American, Nazi-collaborating scumbag won't be around for too much longer.
***
Palestinian Gov't Daily Charges Israel with 'Training and Recruiting' Spy Cows
I get the training, but how does Israel "recruit" cows?
***
Hulu to Release Docuseries Based on Debunked, Historically Inaccurate NYT '1619 Project'
Ah yes...Western Culture is the root of all evil. Curiously left out of this blockbuster will be the source of 99% of the scientific, medical, technological, social, literary and artistic advances that have allowed this sort of drivel to be produced.
***
US Manufacturing Falls Deeper Into Recession, Factory Data Show
The S&P's manufacturing index fell to 46.2 in December from 47.7 in November, for its lowest reading since May 2020, when most of the country was in lockdown and remains unchanged from the preliminary reading.

Meanwhile, ISM's report saw factory activity drop from 49.0 in November to 48.4 last month. Any reading below 50.0 indicates a contraction in that sector.
This is particularly bad news since there is pent-up demand from the plandemic lockdowns. The economy could have been on solid ground were it not for the anti-growth policies of the Biden junta, in particular the destruction of our petroleum industry. Domestic production of fossil fuels is an incredible and direct injection of value into the economy. Petroleum is fungible, and is essentially cash backed by tangible assets, unlike the money printed by the government.
***
And below the fold is a palate cleanser...really!
Oh...Ace sent some video of his vacation. Hang-gliding!

posted by CBD at
03:50 PM
|
Access Comments