« Merry Christmas!
|
Main
|
Sunday Overnight Open Thread (12/25/22) »
December 25, 2022
Gun Thread: Merry Christmas Edition!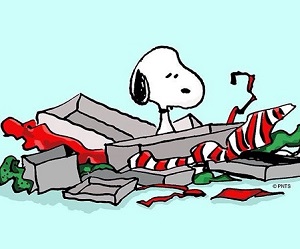 Howdy, Y'all! Welcome to the wondrously fabulous Gun Thread! As always, I want to thank all of our regulars for being here week in and week out, and also offer a bigly Gun Thread welcome to any newcomers who may be joining us tonight. Howdy and thank you for stopping by! I hope you find our wacky conversation on the subject of guns 'n shooting both enjoyable and informative. You are always welcome to lurk in the shadows of shame, but I'd like to invite you to jump into the conversation, say howdy, and tell us what kind of shooting you like to do!
Holy Shitballs and Sweet Jumping Jesus! It's Christmas Day!! We didn't quite get the white Christmas we were dreaming of, but it did snow for about 2 minutes on Friday, and I suppose that counts for something. What we lack in snow, we more than made up for with chilly temperatures. As I write this Saturday it's a whole 12 degrees Fahrenheit outside. Looking at the bright side, the humidity is low and it's keeping the mosquitos and gnats down. Is it cold where you are?
The Gun Thread has a long tradition of loosening the rules a wee tad on Christmas Day and since I suspect this will be a slow evening as most of you have other things besides guns n' shooting on your minds, so the content is a little lighter, too. Please consider this an open thread to discuss your Christmas holiday in general. I'll be in and out of the comments throughout the evening to say howdy!
With that, step into the dojo and let's get to the gun stuff below, shall we?
******
Christmas Loot
Last week we discussed how Christmas is the season for receiving gifts. How did you make out this year? Was Santa good to you? I have to admit to being sort of hard person to buy gifts for. I have a lot of hobbies and interests besides shooting which
should
make it easy, but a) I'm picky about size/shape/color/features, and 2) if I realize there is something I want or need, I probably already have it. As a result, I ask family gift-givers to make a donation to the local animal shelter instead of going freestyle with their gift ideas for me. Win-Win! That probably sounds terrible and ungrateful, but I really am very happy to see all of the furry little citizens getting the help they need.
Do you make a Christmas list? Do people follow it? Any gun and shooting stuff under the tree this morning? However, wherever and whatever you celebrate, wishing you all a very Merry Christmas, from WeaselWorld to yours!
******
Guns of the Horde
Christmas rules or not, the ol' Gun Thread needs at least one nice gun and range report to admire. This week, our pal and COB
CBD
shares a look at his new CZ TS2!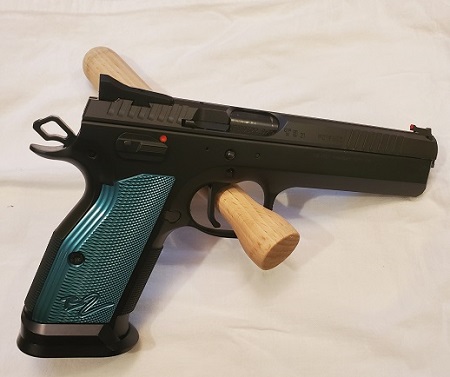 It's a disease! There is no reason at all to buy one of these pistols unless one is shooting IDPA or other combat shooting discipline. It's big, it's heavy, it's probably too long and thick to conceal...

But damn! It sure is fun to shoot. It's a 5.25 inch single action pistol that weighs 48 ounces, has an absolute gem of a trigger (less than two pounds), and is stupidly accurate. The weight makes recoil negligible, and the long sight radius helps that accuracy. Hell, even the mag well works nicely...not only does it make reloads easy, it provides a nice solid, tight base so it feels like there is only one way to grip the pistol.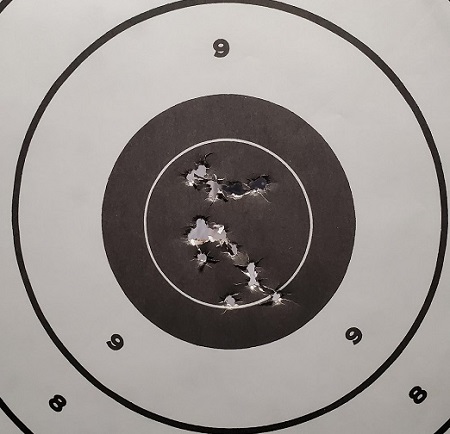 That target is my first two magazines at 10 yards. The stock mags are 20 rounds, but because I live in communist controlled NJ, I had to have them modified before I could take possession of them from my local FFL. I wasn't trying to do anything other than feel how the pistol shot, so I am very pleased with the results. There is barely any muzzle flip, and I was shooting 115 grain rounds, which supposedly are not the best stuff for this pistol! Next time I'll shoot something heavier and see how it does.

One minor complaint is that it has a fiber optic front sight, and my gun club has a couple of ports that do not have overhead lighting (like today!), so the front sight is a bit difficult to see. I guess I could swap it for a white dot, but I'll bet it is great outside, so I'll hold off. Oh, it has a monstrous mag release, and because it is built for right-handed shooters I will need to move it to the other side. And probably install an ambidextrous safety too.

My gun club requires six supervised shoots before new members can shoot on their own, and this morning I supervised a young man shooting a Sig P320 with a red dot. He was safe (that's what the supervision is intended to ensure), but was having trouble with the trigger. I let him fire the CZ, and the simplicity of a light single action trigger made a huge difference!

I know the trend is striker-fired pistols, but there is a reason single action has survived for so long!
Well somebody has been spending quality time at the range! Very nice pistol, CBD, and excellent shooting. Congratulations!!
******
Memory Lane
Here's a fun look back at the guns of Christmas from yester-year featured on the 12/2/2018 Gun Thread.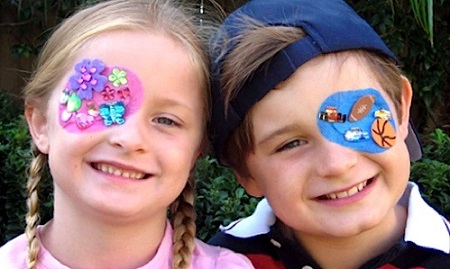 Thanks Santa!!


Daisy Red Ryder BB Gun
Introduced in 1940, the Daisy Red Ryder BB gun quickly captured the imagination of red-blooded American boys and girls across the country. Developed and marketed in conjunction with Dell Comics and the Western hero by the same name, the Red Ryder fires a .177 cal BB at 350 fps with a maximum range of approximately 195 yards. Careful! You'll put an eye out!
In the era before electronic distractions and overly protective parents raising impossibly overprogrammed children, the Red Ryder was often at the very top of a young person's Christmas wish list. A mainstay of backyard ranges, the BB gun was frequently their first introduction to shooting; teaching responsibility, safety and marksmanship. These were the days when stay-at-home moms told their kids to go outside and play in the morning and to be home before dark, never worrying about life-changing social injustices suffered on the playground, or worse. The fact that the Daisy Red Ryder is still in production today is frankly a little surprising, having somehow not yet succumbed to the rabidly hysterical anti-gun mob and toy fun-police.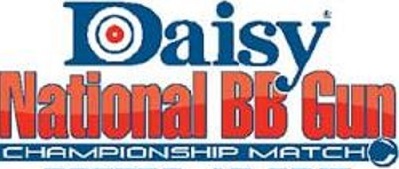 For nearly 140 years, the company now known as Daisy Outdoor Products has been manufacturing air guns. Originally a steel windmill manufacturer, the company began making air guns in 1880 as a premium offered to farmers purchasing a windmill. Eventually the rifles were in such demand the company discontinued its main product line to concentrate on the air gun business. Today, the company actively promotes gun safety through a series of online programs and printed material and has an extensive competitive shooting program holding matches since 1966.
Daisy is but one of many manufacturers offering these types of programs. Do you know a young person who might benefit or otherwise enjoy participating?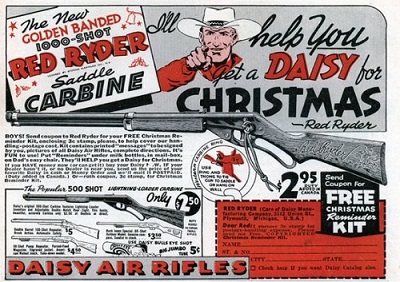 Did you have an air gun, and was it a Daisy Red Ryder? Was it a surprise from Santa, or did you have to beg Mom and Dad for it? Were you allowed to roam with it at will, or were you more closely supervised?
Do you still have both eyes?
***
From: Santa, To: ???
Speaking of gifts, here is one from under the tree that didn't have a tag. Can anyone think of an 'ette who it might be for?
******
Back by Popular Demand
Speaking of furry little friends, as many of you know, we have three; WeaselCatv2, WeaselDog, and Fun Size Joe. Here is a video of the scene I come home to each day and as you can see, despite my thumb over the lens, it's a little bit of a circus. WeaselCat is off camera due to a contract dispute, but you get the idea. I really wouldn't trade this daily reception for the world.
And here is a clip from a few years back with WD in some actual snow. Since the snow was deeper than WD is tall, I shoveled out a little path for her bathroom trips. You'll notice my sophisticated cinematic technique of dropping the camera at the end.
What crazy things do you do to keep your little pals happy and healthy?
******
Instructional Skeet Shooting
Don't say that Weasel doesn't have the skeet shooters covered!
******
Flying Guns
F-35 demonstration flight. Pretty sure I need one of these. Guess I'm not hard to buy for, after all!
******
Musical Interlude
A Christmas classic.
******
Gun Basics 101
The She Equips Herself gal has a 12 Days of Carry series and this week's video is Day 2.
******
Cigar of the Week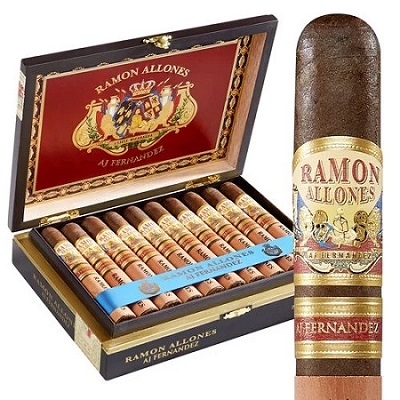 Last week we featured the Habanos version of a Ramon Allones offering, and this week we take a look at the Nicaraguan Ramon Allones Robusto by AJ Fernandez At $11 each, these are a little pricier than my daily smoke, but are a perfect accompaniment to the Gun Thread on Sunday evening!
******
Here are some different online cigar vendors. You will find they not only carry different brands and different lines from those brands, but also varying selections of vitolas (sizes/shapes) of given lines. It's good to have options, especially if you're looking for a specific cigar.
Cigarsinternational.com
Cigarpage.com
Famous-smoke.com
Cigarsdaily.com
Neptunecigar.com
Smallbatchcigar.com
Bobalu Cigar Company
Cigarbid.com
A note about sources. The brick & mortar/online divide exists with cigars, as with guns, and most consumer products, with respect to price. As with guns - since both are "persecuted industries", basically - I make a conscious effort to source at least some of my cigars from my local store(s). It's a small thing, but the brick & mortar segment for both guns and tobacco are precious, and worth supporting where you can. And if you're lucky enough to have a good cigar store/lounge available, they're often a good social event with many dangerous people of the sort who own scary gunz, or read smart military blogs like this one. -rhomboid
Anyone have others to include? Perhaps a small local roller who makes a cigar you like? Send me your recommendation and a link to the site!
******
Ammo Link-O-Rama
I'm really very seriously not kidding around anymore. Buy Ammo
AmmoSeek - online ammo search tool
GunBot - online ammo search tool
SG Ammo
Palmetto State Armory
Georgia Arms
AmmoMan
Target Sports USA
Bud's Gun Shop
***Mail Bag***
This week's mailbag entry is from our pal JT. Santa knows!!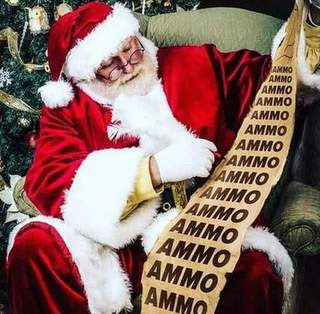 ******
Please note the new and improved protonmail account gunthread at protonmail dot com. An informal Gun Thread archive can be found HERE. Future expansion plans are in the works for the site Weasel Gun Thread. If you have a question you would like to ask Gun Thread Staff offline, just send us a note and we'll do our best to answer. If you care to share the story of your favorite firearm, send a picture with your nic and tell us what you sadly lost in the tragic canoe accident. If you would like to remain completely anonymous, just say so. Lurkers are always welcome!
That's it for this week - have you been to the range?


posted by Weasel at
07:00 PM
|
Access Comments