« First-World Problems...
|
Main
|
Merry Christmas! »
December 25, 2022
Food Thread: Pudding? Biscuits? Kir? Maple Syrup Bagels?
[One of These Thngs Does Not Belong!]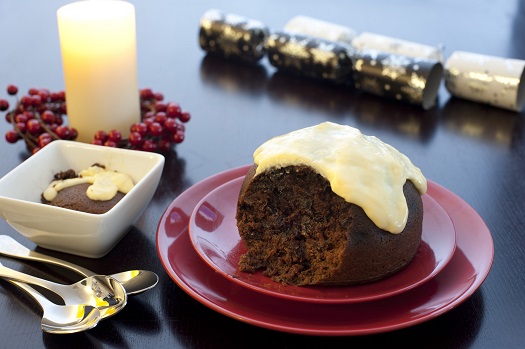 [Courtesy of ChristmasStockImages]
That looks like a cake to me, but the Brits have their own peculiar language, and if I am to be the beneficiary of their delicious desserts, I am not going to cast aspersions on their odd use of our language. As Oscar Wilde said:
We have really everything in common with America nowadays except, of course, language
Or was it George Bernard Shaw?
England and America are two countries separated by a common language
Either way, we are also separated by dessert nomenclature. But an English pudding, in particular a sticky toffee pudding is a grand and glorious thing, and I for one am going to embrace our former ruler's taste in sweets even if I categorically reject their constitutional monarchy as an appropriate governmental structure.
And why do I have pudding on the brain? Because Chez Dildo's Sunday Roast is fast approaching and it will not...CANNOT...be complete without a pudding!
The best one I have ever had was at a Gordon Ramsey restaurant in London, but my guess is that there are dozens of wonderful recipes available that are loyal renditions of the classic British dessert. I think that is probably the way to go...
Oh...it isn't really old...supposedly it became popular in the 1960s, but that's okay. It's classic for my purposes.
******
I am second to most when it comes to baking, so I approach these kitchen projects with a jaundiced eye and profound suspicion of people who send me baking recipes with the comment..."it's easy!"
Yeah...maybe for you. But most doughs and I do not get along, except for bread dough, and even that has its limits. Baguettes anyone?
Biscuits are easier, but really good bakers know how to minimize the handling of the dough so they turn out wonderful and tender and flaky. I am ham-handed when it comes to that sort of skill, so I figured I need all the help I can get.
Which is why I was delighted when a friend sent me a jar of the biscuit baker's best kept secret...leaf lard! That is rendered fat from a particular location in the pig. I was pleased to discover that it handled much better in the biscuit dough than anything I had ever used before...butter and shortening melt quicker and make the biscuit dough more difficult to handle. By that I mean it is more difficult to cut the fat into the flour so that it becomes like sand or gravel. This stuff was easy!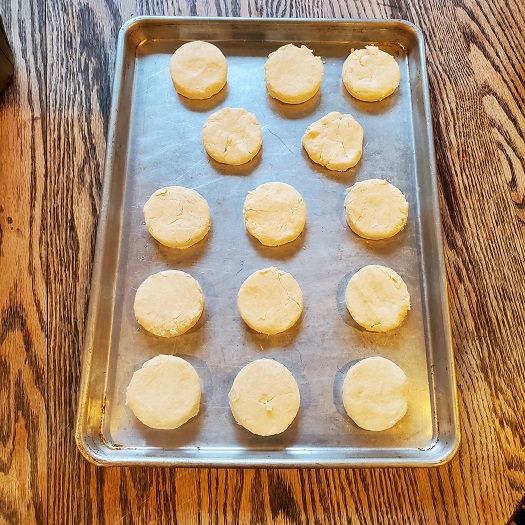 See what I mean? That is absolutely my most successful biscuit beginning. The dough was just a joy to handle and cut.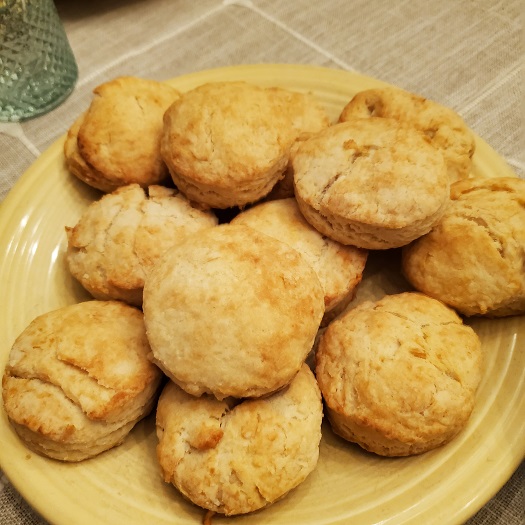 And they sure did turn out well! I used a new recipe, one that produced a more crumbly biscuit. I was not perfectly content with the texture, but the taste was wonderful. I'll play around with another recipe that makes a more layered biscuit...I think that's where the leaf lard will really shine, but I have no complaints with this effort!

******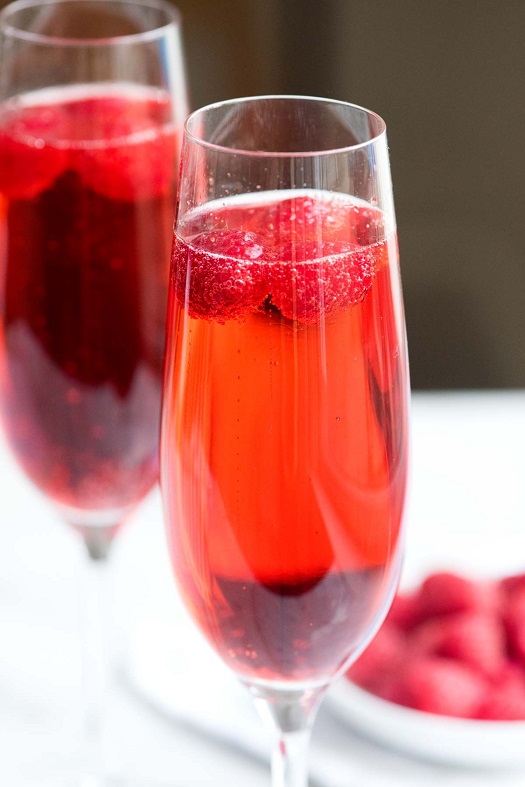 There is a delicious aperitif called a "kir," which is nothing more than white wine with a couple of tablespoons of Crème de Cassis. That's blackcurrent liquor, but any fruit liquor will work, as long as it isn't really, really sweet. I have found that rounder, fuller wines work better, but it's all personal preference.
And for a festive version, use a sparkling wine, drop a berry in it, and call it a Kir Royale! But don't use anything expensive! Something reasonable like a $9 bottle of Prosecco is just perfect.

******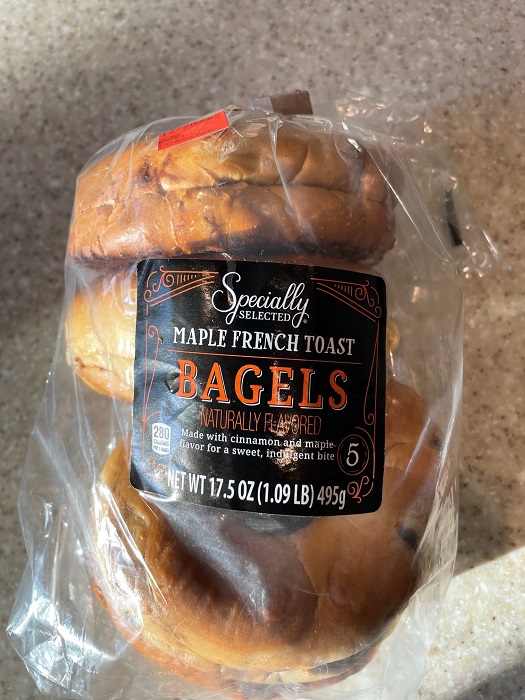 They exist! And I thought commenter "andycanuck" was just funnin' with us.
[Hat Tip: Weasel]

******
Before you click on the link, you must understand that it might be the stupidest thing ever written about food, and maybe the stupidest thing ever written, about anything! It also elucidates the miserable attitude toward life that the lunatic, angry, separatist, vile left holds. How shitty a world-view must one have before one ruins the simple pleasure of eating with conflation with sexuality and politics? The answer is below the link.
My First Time Eating an Oyster Was an Act of Queer Intimacy
Pretty shitty indeed.
To wash the taste of this idiot out of your mouth, try "Sippican Cottage" instead. Here is a man who knows how to write; knows how to observe; and understands the real world just a bit better than the nitwit who ruined oysters!

******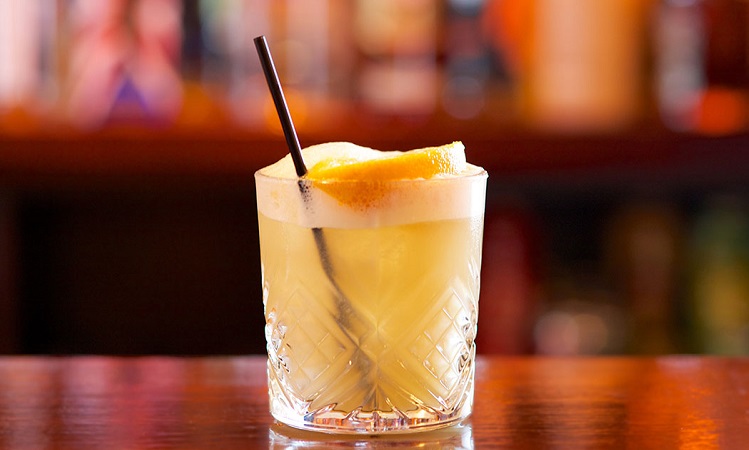 My experience with Whiskey Sours was as a neophyte drinker, and they were usually made with sour mix and way too much sweet. But a well-made one is delicious, and not the cloying, barely drinkable alcohol dosing mechanism of our youth. Try this version of a Whiskey Sour, and you might just be convinced!

******

[Hat Tip: Misanthropic Humanitarian]

******
Just send me oysters. Lots of oysters,
[No oysters today! Yuck!] and I will provide special dispensation for those without taste who insist upon maple syrup with their French Toast. And pork rib roasts from the front end of the pig where all the good and fatty meat lives, carrots that don't taste like stalky chalk, spare bottles of Van Winkle Special Reserve 12 Year Old Bourbon, an herb garden that actually produces herbs (but no basil!), well-marbled NY strip steaks and elk backstrap to:
cbd dot aoshq at gmail dot com.
And don't think that the rest of you are off the hook with maple syrup and French Toast: I'm still watching you! And I am watching you perverts who shake Manhattans and keeping a list for the Burning Times.

posted by CBD at
04:00 PM
|
Access Comments