« Food Thread: Flour, Water, Salt...How Hard Can It Be?
Very, Very Hard!
|
Main
|
Sunday Overnight Open Thread (12/11/22) »
December 11, 2022
Gun Thread: Second December Edition!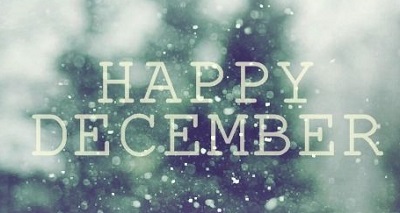 Howdy, Y'all! Welcome to the wondrously fabulous Gun Thread! As always, I want to thank all of our regulars for being here week in and week out, and also offer a bigly Gun Thread welcome to any newcomers who may be joining us tonight. Howdy and thank you for stopping by! I hope you find our wacky conversation on the subject of guns 'n shooting both enjoyable and informative. You are always welcome to lurk in the shadows of shame, but I'd like to invite you to jump into the conversation, say howdy, and tell us what kind of shooting you like to do!
So I 'Holy Shitballed' last week because it seemed like December had arrived a wee tad too quickly, and it doesn't seem to be slowing down. Here we are on the second Sunday of the month already! I am a little embarrassed to admit I haven't done any shooting since, well, I can't really remember when. We seem to be stuck in a weather pattern here where it's raining on Friday and Saturday, which are the days I typically spend at the farm. I have a bunch of projects I'd like to do there; maintenance on my equipment and building a stronger set of target frames out of heavier steel.
With that, step into the dojo and let's get to the gun stuff below, shall we?

******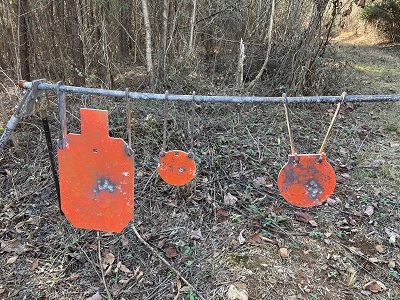 The photo above shows what I'm currently using at WeaselAcres, a rather typical setup of AR500 steel targets hanging from a sawhorse contraption made of light metal pipe. As you can see, the frame itself is getting pretty shot up, and although the design works, it's not, you know, classy. If there is one thing range babes do not like, it's tired old target frames, and if there is one single thing that'll instantly improve your shooting, it's moving to a classier setup. Trust me on this.
But what about the design? Frankly, I'm sort of at a loss to improve what I am already using, aside from perhaps upgrading the crossmember to a heavier gas pipe rather than the galvanized conduit shown in the photo. There are one or two more steel plates out of view hanging to the right and the legs are a little wobbly, not because I'm constantly crashing into it with the tractor, but the targets themselves are a little heavy.
So what I think I am going to do is A) upgrade the materials while sticking with the basic design, and 2) shorten the legs for a bottom row of smaller plates, then build another sawhorse out of stronger stuff to hang the larger plates above the smaller ones. In the world of professional target frame design, we call this a "double row". Our pal Jim - SND came up with a nifty target hanger design incorporating a hinge with protective angle iron which has been working well on the rifle range at the TXMoMe, and I may try and replicate one of those, too. I have a welder and can fabricate something with up to 5/16th inch steel which should be plenty durable.
How about all y'all? What are you using? Is there a design that you like?
******
Guns of the Horde
First up, our pal and frequent contributor
Ed L
shares a real beauty, the Colt Diamondback.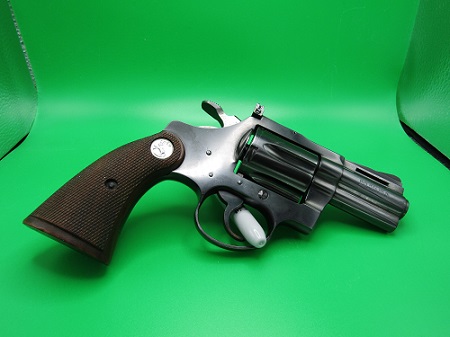 Target is from 10 yards using 130 grain Federal American Eagle in .38 Special. All rounds were in fired double action. The Colt Diamondback is a small frame Colt that added Python looks (adjustable rear sight, ventilated rib, enclosed ejector rod), but not the Python's refined trigger or Royal Blue finish. Almost completely overshadowed by its bigger Python brother in popular culture, the Diamondback's best-known appearance in film is in the classic cop action film "Bullitt." Steve McQueen's title character carries a snub-nosed Diamondback like this one in the movie. It features prominently in the climatic shootout at San Francisco airport and in the final shot of the film before the end credits roll. This particular Diamondback was made in 1970 based on the serial number.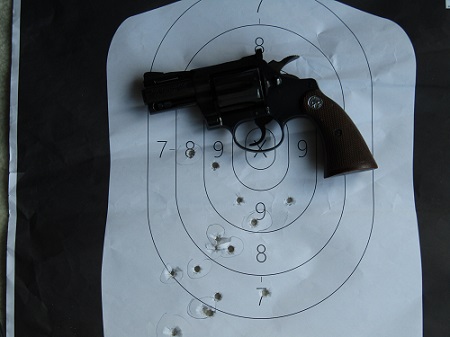 Nice shooting and beautiful gun, Ed L! Thanks for sharing!
***
Next up, our pal
Matthew Kant Cipher
files a range report with his Ruger PC carbine in 9mm, and IWI Jericho in .45 ACP.
You'll see I outfitted the carbine with an El-Cheapo optic purchased after too many drinks at a fundraiser auction some years ago. Even though my local indoor range is limited to 25 yds, I decided to compare a couple brands of ammo to see if there was any notable differences. Since it's pistol caliber ammo, I thought perhaps I'd see some drop-off in elevation. I shot one 15 rd mag per circle and tried to keep a fairly steady pace within each mag/target. I'd guess I took less than a minute per magazine.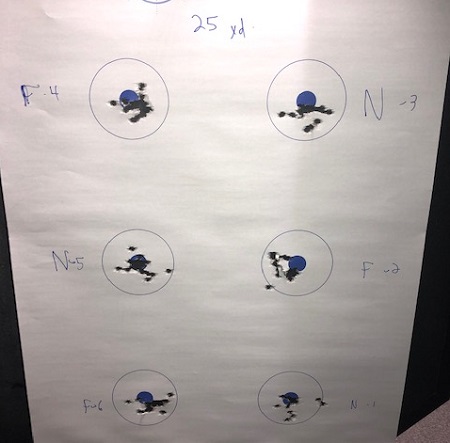 I normally use the same 6-circle target for pistol (aim small / miss small), but today I decided to salve my ego with a silhouette target. I shot one 10 rd magazine at the torso from 10 yards, and another at the head from 7 yards.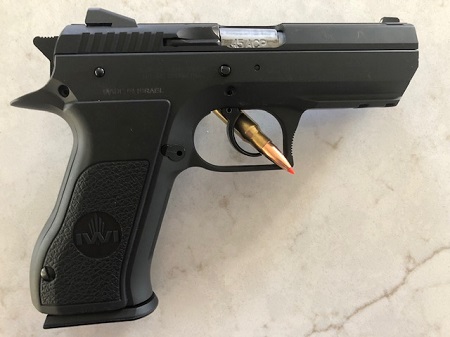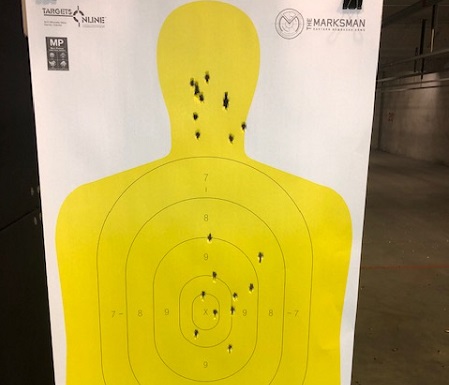 Nice shooting, MKC! The carbine ammunition results appear comparable, don't you think? Thank you for sending these in!
***
Moron Cry for Help
!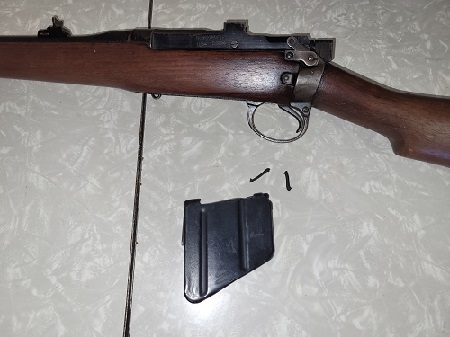 Our pal 496 needs your help sourcing parts for his Enfield No5 MK1 ROF.
This is my old rusty, trusty 303 British. My dad bought it for me when I was 13 for deer hunting. It is not a showpiece, and never will be. The markings say 'No5MK1ROF (F)' and '11/44' and 'D2994'.

I have a cry for help because I went to remove the magazine recently and when I pressed the release lever I heard a snap and the lever went limp in my hand. The magazine just flopped out, along with the 2 halves of the leaf spring. That's bad enough, but when I took it to a local gunsmith he said that part is not available and this is now a wall-hanger. If anyone knows where I can find a spring, or a parts 303 please chime in.
I'm guessing the gunsmith didn't want to be bothered spending the time to source the parts. It's annoying, but I've had the same thing happen to me with vintage weapons. I would be very surprised if you cannot find the parts you need! C'mon people, help a brother out! Anyone have a good source for Enfield parts, or know of an online Enfield Forum that might be able to help?
******
Trouble in SigLand?
Our pal ChrisP sends in this article from NPR on lawsuits involving the Sig Sauer P320. Granted, it is NPR, and with their lefty agenda notwithstanding, there appear to be a bunch of lawsuits alleging the pistols will fire without a trigger pull and Sig is providing a "voluntary upgrade" to the weapons. Weasel is no lawyer, but I can't help think a voluntary upgrade isn't going to help the defense.
What're you hearing? Anyone own a P320?
******
Springfield Armory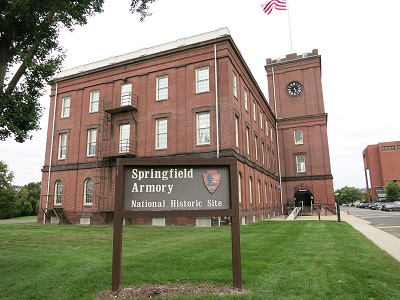 If you are ever anywhere close to Springfield, MA you owe yourself a visit to the Springfield Armory National Historic Site and Museum.
******
Hold My Beer
Don't shoot oxygen tanks at home. This was expertly done for educational purposes in a highly controlled manner by a professional wearing a lab coat.
******
Flying Guns
3 part video of Kermit Weeks starting and flying his P-51C at the Fantasy of flight Museum near Disney in Florida. What a beautiful airplane and will you just listen to the engine!
******
Musical Interlude
Woodcock gonna funk you up!
******
Gun Basics 101
No new video from the She Equips Herself gal. Why, She Equips Herself Gal? Why? Why do you shun us? This week's video is from the SEH archives on the topic of off-body carry.
******
Cigar of the Week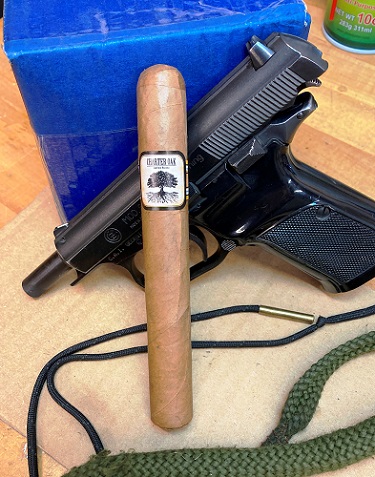 This week our pal rhomboid scores again with this excellent review of the Charter Oak Connecticut
The Charter Oak Connecticut Shade, by Foundation Cigars. Think I read that a few years back this stick was named the "value cigar of the year", and it's not hard to see why. A mild connecticut shade wrapper cigar, but with wonderful flavor notes and perfect construction and burn. I got a mild overall sweetness, wood, and nuts out of it. It produced lots of thick smoke, and the burn was excellent, requiring no touch-ups. Like many cigars these days it's a gIobal product - filler from Nicaragua, binder from Indonesia, and wrapper from Connecticut. I got a toro size at the local and that's what this review is based on, but as is my habit I will probably switch to the smaller robusto/rothschild size for future buys - and there will be future buys of this wonderful cigar. It's available online for between $5-6.
Excellent, rhomboid! Thank you!
***
If you think people are nutty over 9mm vs. .45 ACP or Glock vs. Sig Sauer, just ask a cigar smoker about humidor temperature and humidity! Below we have Ernesto Perez-Carrillo of the La Gloria Cubana brand discussing the subject.
***
No new video from Cigar Vixen, either? What the heck is going on? So into the CV archives we go with a weekly Top 5 Review.
******
Here are some different online cigar vendors. You will find they not only carry different brands and different lines from those brands, but also varying selections of vitolas (sizes/shapes) of given lines. It's good to have options, especially if you're looking for a specific cigar.
Cigarsinternational.com
Cigarpage.com
Famous-smoke.com
Cigarsdaily.com
Neptunecigar.com
Smallbatchcigar.com
Bobalu Cigar Company
Cigarbid.com
A note about sources. The brick & mortar/online divide exists with cigars, as with guns, and most consumer products, with respect to price. As with guns - since both are "persecuted industries", basically - I make a conscious effort to source at least some of my cigars from my local store(s). It's a small thing, but the brick & mortar segment for both guns and tobacco are precious, and worth supporting where you can. And if you're lucky enough to have a good cigar store/lounge available, they're often a good social event with many dangerous people of the sort who own scary gunz, or read smart military blogs like this one. -rhomboid
Anyone have others to include? Perhaps a small local roller who makes a cigar you like? Send me your recommendation and a link to the site!
******
Ammo Link-O-Rama
I'm really very seriously not kidding around anymore. Buy Ammo
AmmoSeek - online ammo search tool
GunBot - online ammo search tool
SG Ammo
Palmetto State Armory
Georgia Arms
AmmoMan
Target Sports USA
Bud's Gun Shop
***Mail Bag***
This week's mailbag entry is from our pal Hrothgar. Good one!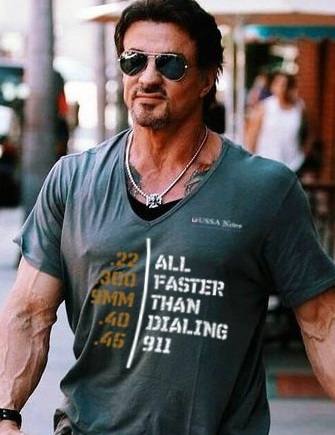 ******
Please note the new and improved protonmail account gunthread at protonmail dot com. An informal Gun Thread archive can be found HERE. Future expansion plans are in the works for the site Weasel Gun Thread. If you have a question you would like to ask Gun Thread Staff offline, just send us a note and we'll do our best to answer. If you care to share the story of your favorite firearm, send a picture with your nic and tell us what you sadly lost in the tragic canoe accident. If you would like to remain completely anonymous, just say so. Lurkers are always welcome!
That's it for this week - have you been to the range?


posted by Weasel at
07:00 PM
|
Access Comments