« First-World Problems...
|
Main
|
Gun Thread: Second December Edition! »
December 11, 2022
Food Thread: Flour, Water, Salt...How Hard Can It Be?
Very, Very Hard!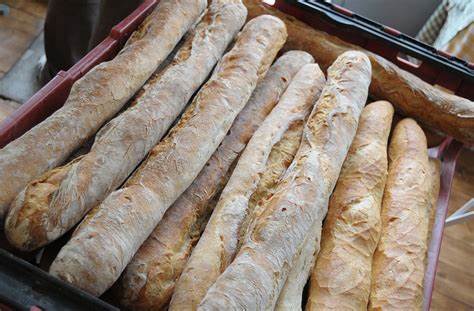 Technique, technique, technique. I can walk into the best bakery on earth, ask for a couple of pounds of their baguette dough, and make a thoroughly mediocre version of what can be an unbelievable culinary experience.
I thought that making a nice airy, crusty sourdough loaf was difficult, and it was, but my learning curve was steep, and by the time I hit 10 or 12 loaves I was purring along like a tuned and blueprinted Boss 302.
Baguettes are different, and I don't know why. Well, actually I do know why. They were created by God to test the resolve of amateur bakers.
I have made baguettes from excellent recipes, been slavish in my adherence to every silly-sounding instruction, and they turned out pretty much like a fresh version of the crappy ones you can find in the supermarket. Maybe a little bit better, but certainly not what they should be!
For you Bay Area denizens, I used to walk about two blocks to a local wine store that carried Semmifreddi baguettes. They were about a buck, and were delivered very morning. That's what I got used to, and when I started baking I figured I could get close to that. Maybe not as good, but certainly in the ballpark.
Not a chance.
Bastards.
******
I am an unabashed fan of all things to do with American food, which in its regional variety is just magnificent. We produce absolutely fantastic beef and lamb, and our pork is getting better every day. Poke around a bit and you can probably find chicken that rivals the best stuff on earth. Produce is tough because the country is just so damned big, but go to the source and you will find marvelous stuff. And seafood? Oh my...we rock! Maybe France has better oysters, but even there; I have been getting some incredible ones from Massachusetts.
And I'm not talking about just the raw materials. Our regional cuisines can be spectacular, from BBQ to Cajun to classic Southern to New England Clam Chowder to California Tri-Tip to Washington crab salad to....
But -- and you knew there was a "but" coming -- our neighborhood restaurants tend to be designed to produce adequate food...mostly as fuel...and don't draw on the glories of what can be great cuisine. Please pay attention to the word "tend," and don't take my head off because the restaurant two blocks from your house is the absolute best place on earth! Yes, most of us are aware of and enjoy those exceptions, but the typical place is pretty utilitarian.
And don't get me started on wine! The American wine industry produces great stuff, but has managed to turn wine into, if not a luxury product, something for a sort-of-special occasion. And that's just dumb. I drink wine every night, and trust me, I'm not opening great bottles for most of our meals. Simple and delicious wines that can be consumed with every meal is the norm in most wine-drinking countries, yet our wine industry has managed to screw that up.
So why am I exercised about these topics? Because I just got back from several days in Paris, and say what you will about the French,* their neighborhood restaurants serve classic French cuisine, executed well, at a fair price, and serve simple, inexpensive wines that are treated as a beverage, not as something special and delicate and oh-so-sophisticated.
That's the standard to which we should aspire, since American food and wine is as good as any in the world!
Now get off my pelouse!
*Cheese-eating surrender monkeys! Backstabbing elitists! People who would be speaking German if it weren't for America!

******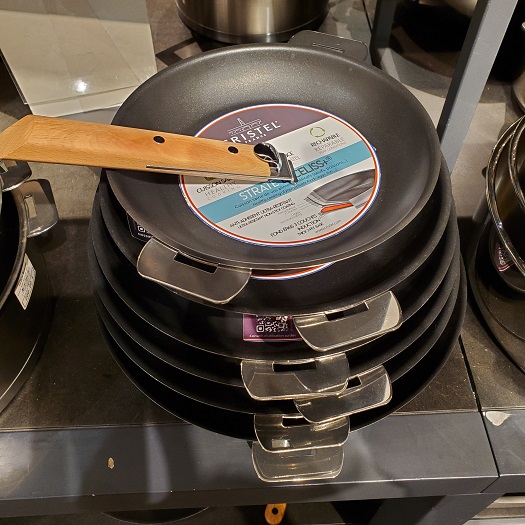 I saw those in a famous department store in Paris, and I was really intrigued. What an interesting idea! One handle for all different sizes of pan, so you can really save on storage space. And if you need more than one pan at a time (as most of us do), then have a few spare handles in a drawer. What could be easier than that?
And then I tried it.
Wobbly and uncomfortable, and while I didn't try to flip anything in the pan, it sure felt like it would be a tossup whether the food returned to the pan or ended up on the stove top.
Thanks, but I'll pass.

******

Butch, you lead a sad and miserable life, devoid of the simple pleasures of one of the glories of American cuisine.
I stand before you and proudly proclaim that I'll give you my Kraft Singles American Pasteurized Prepared Cheese Product when you pry it from my cold, dead hands.

******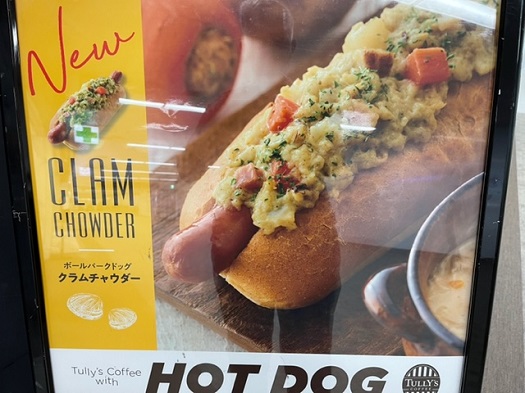 I don't know what to think about this. One one hand, it's Japanese, and very possibly a result of being nuked in 1945. On the other hand, I really like clam chowder, and I really like hot dogs, and at first glance it might not be the abomination one would expect.
[Hat Tip: naturalfake]

******
I have waxed poetic about the glories of a classic English Sunday Roast. Well, it's on the calendar at stately Chez Dildo, and it wouldn't be complete without Yorkshire pudding. Which is just puffed up batter, but if you use the correct fat (beef tallow for the win!), then they are pretty delicious and fun fun fun!
I saw a recipe that was as simple as anything I have ever seen..equal parts by volume of flour, eggs and milk, into a preheated and oiled cupcake pan, then cook at 375 degrees for I don't remember how long.
Sounds easy, but I think I am going to try Gordon Ramsay's Yorkshire Pudding recipe first.

******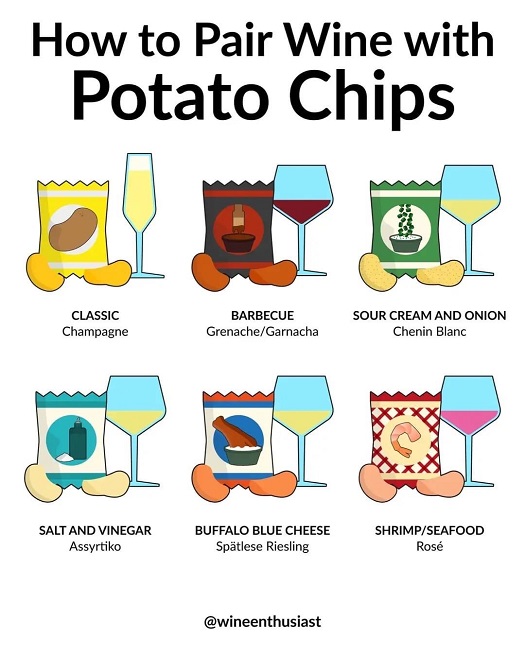 [Hat Tip: Misanthropic Humanitarian]

******
Just send me oysters. Lots of oysters, and I will provide special dispensation for those without taste who insist upon maple syrup with their French Toast. And pork rib roasts from the front end of the pig where all the good and fatty meat lives, carrots that don't taste like stalky chalk, spare bottles of Van Winkle Special Reserve 12 Year Old Bourbon, an herb garden that actually produces herbs (but no basil!), well-marbled NY strip steaks and elk backstrap to:
cbd dot aoshq at gmail dot com.
And don't think that the rest of you are off the hook with maple syrup and French Toast: I'm still watching you! And I am watching you perverts who shake Manhattans and keeping a list for the Burning Times.

posted by CBD at
04:00 PM
|
Access Comments