« Food Thread: He's On A Secret Mission & Gave Me The Keys
|
Main
|
Sunday Overnight Open Thread (12/4/22) »
December 04, 2022
Gun Thread: First December Edition!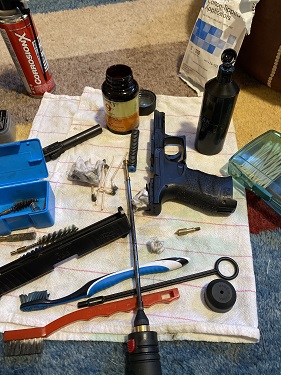 Saturday Afternoon - Nurse R
Howdy, Y'all! Welcome to the wondrously fabulous Gun Thread! As always, I want to thank all of our regulars for being here week in and week out, and also offer a bigly Gun Thread welcome to any newcomers who may be joining us tonight. Howdy and thank you for stopping by! I hope you find our wacky conversation on the subject of guns 'n shooting both enjoyable and informative. You are always welcome to lurk in the shadows of shame, but I'd like to invite you to jump into the conversation, say howdy, and tell us what kind of shooting you like to do!
How in the ever-loving Hell did it get to be December?! I mean, just the other day it was August. The weather towards the end of the week kept me from heading to the farm which is a bummer because I need to winterize a bunch of stuff before the really cold weather gets here. Plus, I want to do some shooting!
Want to experience the fame and fortune of having your firearm and target featured in the Gun Thread? Simply take a few photos, write a few words about your day, and send it in. Don't forget to include your nic!
With that, step into the dojo and let's get to the gun stuff below, shall we?
******
Range Report
First up, out pal and delightful 'ette
Screaming in Digital
sends in a range report of a recent micro-mini MoMe with 496!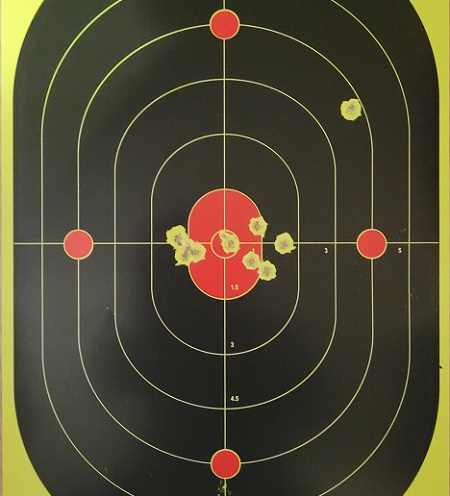 496 9mm 15 yds
496 and I met at the range in Cheyenne this morning. It was the first time at this range for both of us. They have indoor pistol/.22 lanes, plus 25, 50, and 100 yard outdoor ranges. Each of us put a bunch of rounds through our respective 1911s, then a few in my P365 and his S&W 9mm. 496 shoots pistols very well. I'm still just okay (my targets are omitted due to shame), but this was a better outing than last week.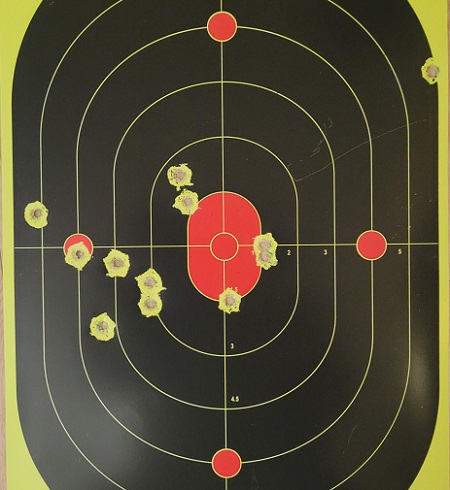 496 1911 at 15yds
It was a bit blustery today, but warm enough to hit the 50 yard range for some AR and bolt-action rifle fun. 496 had never shot an AR before. This was really only my second time shooting it, and my first time shooting it without coaching. It's a minor miracle that I remember how it works. And we're in bizarro world if I'm showing someone else how to shoot anything! Thank you WeaselBuddy Geoff and Stinky's Daddy for teaching me how to shoot it in Texas.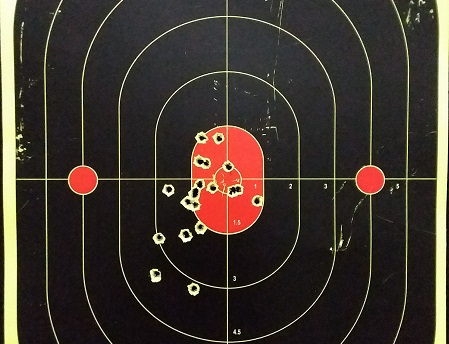 496 and SiD AR Fun
We each shot 10 rounds in the AR. I count all 20 shots on paper, which I feel smug about considering we're both beginners with ARs. Is it worthy of a Holy Shitballs? A few rounds each with 496's bolt-action .22 rounded out a great day.
Holy Shitballs! Holy Shitballs of Fire! Great report SiD and nice shooting 496, thank you very much!
******
Guns of the Horde
Next up, our pal Blake buys a 9MM 1911 and takes it to the range. Congratulations, Blake!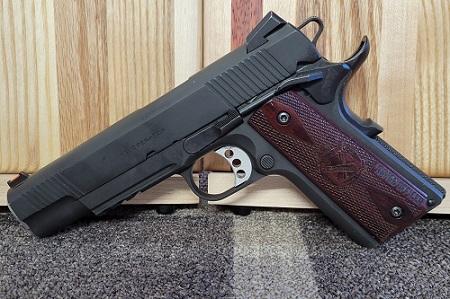 I was wandering though a local pawnshop, when this little gem waived at me and said, "Please take me home." Naturally, I tried to resist the sweet siren song of a 1911 chambered in 9 mm. but, evenutally, I gave in and brought it home. Shortly after I got my purchase home, I completely stripped down the firearm, cleaned and lubricated everything. Without a doubt, this, from a lubrication standpoint, was one of the driest 1911's I've ever come across. After cleaning, the mainspring housing and the slide stop both being an adventure to work with, I took this bad boy to 7 Mile Hill Range for a workout in the steel bay. And, by golly, this little beauty ran flawlessly!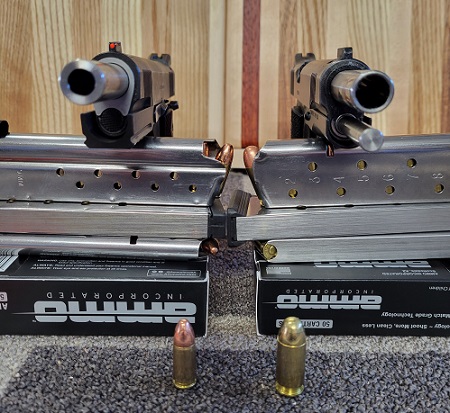 I decided to also see if there was a noticeable difference between a 1911 in 9 mm and 45 acp. Hmm, there does seem to be somewhat of a difference. But, enough about that, how does the firearm shoot? Quite well, actually, though, at 7 yards, the Springfield was shooting a bit left.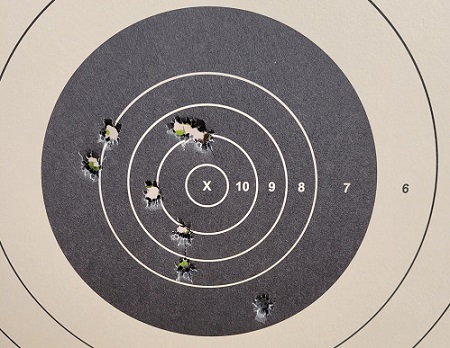 100 rounds through the Springfield general plinking.

10K rounds thru the Kimber, various competitions and plinking
By the way, these are not pistol targets, per se. I had a package of targets laying around and just used what I had to see if I could get an idea of how the gun would shoot. After shooting at 7 yards, I decided to take both guns out to 11 yards. Results confirmed the Springfield is definitely shooting left and, well, the Kimber remained good in the center, though, I was dropping shots low. Good enough for a silhouette, but, for these targets, well, they got really small at 11 yards.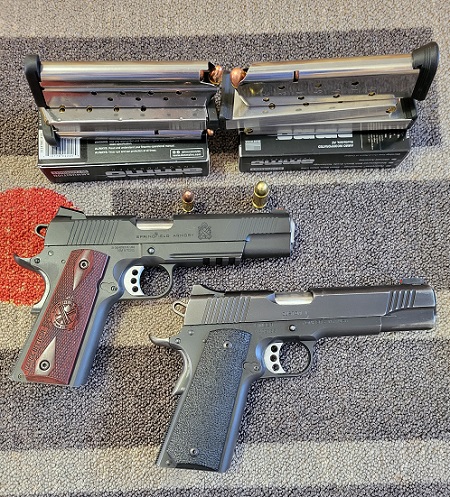 Overall, I'm quite pleased with the purchase, and, the Springfield ran flawlessly, despite the rather mixed bag of ammo I've run through it. I'd also have to say the Springfield is built like a tank, to the point it would probably handle every ounce of pressure I could get out of a 9 mil cartridge. Granted, I'd probably need to get a slightly stiffer recoil spring, but, probably not by much.
Excellent report and nice shooting, Blake, thank you!!
***
Next up our pal
Blaster
continues testing on the 3D printed frame featured in the Gun Thread a few weeks ago.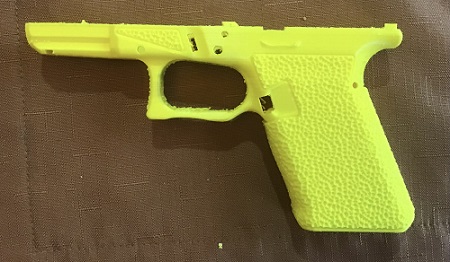 Before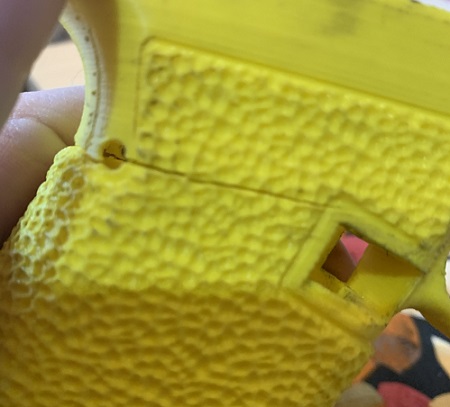 Whoops! Whoopsie-Doodle!
First iteration of blaster's blaster Model 1 is tested to failure. About 300 rounds through it and the frame cracked. It still shoots, but I won't use it again. It was having various feed issues and inspection revealed the crack. Next iteration uses a different filament and I will let you know how it goes.

I think it's the material. You can see the crack goes from a rear rail placement pin toward the hole for the mag retainer. I used a cheaper filament that has some age to it which tends to get more brittle as it is exposed to humidity which is why they sell it vacuum sealed. I am printing a new frame with a brand new roll of filament that is the brand that the "Print Shoot Repeat" guy recommends. Ultimately the printers say if you want to make one that is just as strong as OEM you should use nylon as the filament and then heat treat it in an oven.
Very interesting, blaster. Thank you for the progress report. It will be interesting to see how the different material compares initially and then at different round counts. Please keep the testing reports coming!
******
Carry Gun Tidbits
Thoughts on carrying from our pal
'Jer'
.
******
Flying Guns
This week we take a look at a real classic, the P-47 Thunderbolt.
Win the lottery and decided to get your own P-47? Here is a training video on how to fly it!
******
Musical Interlude
Earl Scruggs and Foggy Mountain Breakdown!

******
Gun Basics 101
New video from the She Equips Herself gal! New video from the She Equips Herself gal! This week SEHG discusses the proper mindset needed before you carry.
******
Cigar of the Week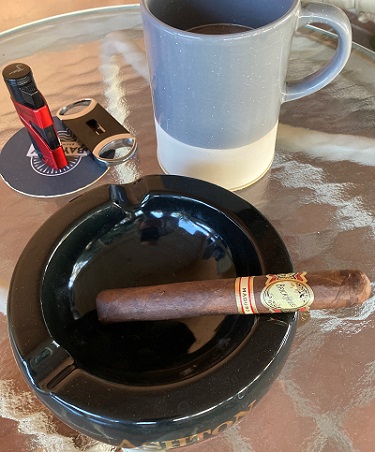 This week our pal rhomboid scores again with this excellent review of the Brick House Maduro
The Brick House Maduro, an extension of the Brick House line by the Florida-based company J.C. Newman. Nicaraguan fillers and binder, and a nice deep brown Brazilian maduro wrapper. Like most of the cigars I've liked best so far, pretty simple here: just a nice smooth flavorful smoke. Excellent construction and very even burn, heavy in the hand - densely rolled. Good smoke volume. What are for me the classic maduro notes - dark sweet wood, hint of something like cocoa. Pictured here is the vitola I tried, the toro (6 X 52). I generally stick to robustos and coronas for various reasons, but the local had only the toro. Both the robusto and toro size of this cigar are available online for around $6.
Excellent as always, rhomboid! Thank you!
Bonus Musical Interlude!
Also applies to SEH and CV videos, too!.
***
New Cigar Vixen video! New Cigar Vixen video!! This week with a review of the Punch Grand Cru.
******
Here are some different online cigar vendors. You will find they not only carry different brands and different lines from those brands, but also varying selections of vitolas (sizes/shapes) of given lines. It's good to have options, especially if you're looking for a specific cigar.
Cigarsinternational.com
Cigarpage.com
Famous-smoke.com
Cigarsdaily.com
Neptunecigar.com
Smallbatchcigar.com
Bobalu Cigar Company
Cigarbid.com
A note about sources. The brick & mortar/online divide exists with cigars, as with guns, and most consumer products, with respect to price. As with guns - since both are "persecuted industries", basically - I make a conscious effort to source at least some of my cigars from my local store(s). It's a small thing, but the brick & mortar segment for both guns and tobacco are precious, and worth supporting where you can. And if you're lucky enough to have a good cigar store/lounge available, they're often a good social event with many dangerous people of the sort who own scary gunz, or read smart military blogs like this one. -rhomboid
Anyone have others to include? Perhaps a small local roller who makes a cigar you like? Send me your recommendation and a link to the site!
******
Ammo Link-O-Rama
I'm really very seriously not kidding around anymore. Buy Ammo
AmmoSeek - online ammo search tool
GunBot - online ammo search tool
SG Ammo
Palmetto State Armory
Georgia Arms
AmmoMan
Target Sports USA
Bud's Gun Shop
***Mail Bag***
This week's mailbag entry is from our pal Fungus Boy. Great one and so true!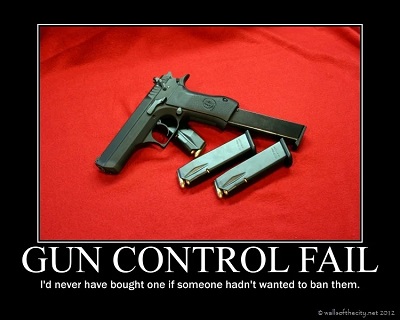 ******
Please note the new and improved protonmail account gunthread at protonmail dot com. An informal Gun Thread archive can be found HERE. Future expansion plans are in the works for the site Weasel Gun Thread. If you have a question you would like to ask Gun Thread Staff offline, just send us a note and we'll do our best to answer. If you care to share the story of your favorite firearm, send a picture with your nic and tell us what you sadly lost in the tragic canoe accident. If you would like to remain completely anonymous, just say so. Lurkers are always welcome!
That's it for this week - have you been to the range?


posted by Weasel at
07:00 PM
|
Access Comments