« First-World Problems...
|
Main
|
Gun Thread: First December Edition! »
December 04, 2022
Food Thread: He's On A Secret Mission & Gave Me The Keys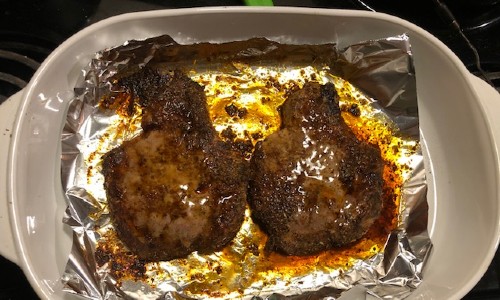 Hrothgar's Easy Baked Pork Chops - "The Deplorable Gourmet Page 284"
***

I'll be honest, there are some disadvantages with living in The Frozen Tundra. One of those is that the nearest 'Butcher Shop' is a 45 minute drive. Oh the local grocery store does an adequate job in the Pork department. However, most of the time the Pork Chops offered there are mass produced, boneless without fat.
Recently they have been featuring bone-in pork chops. And I went overboard and purchased several packages.
Now that I have tasty Pork Chops, what is a Moron to do? Well, if you have The Deplorable Gourmet Cook Book check out the recipe above.
What pairs well with those tasty Pork Chops? Well roasted brussels sprouts with bacon, white pepper and molasses.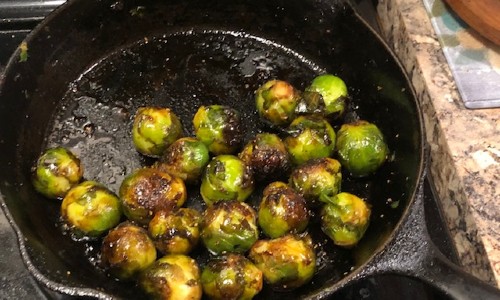 Throw in a real baked potato, butter and sour cream and you have a damn fine dinner. Prep time is pretty minimal.

***
So, I'm not sure if CBD will allow me to have the keys after I post this story.

Naughty Brits left in stitches at 'deep fried filth' fish that looks like penis
Brits have been giggling over on Twitter thanks to a piece of battered cod which looks rather similar to genitalia - many praised the classic cuisine because of its uncanny resemblance
***
Yes, Christmas is only 21 days away. Now is the time to get your shopping done. For the chef in your life who has everything, check out: Delicious Gifts for the Food-Obsessed

THE WINTER HOLIDAYS ARE A glorious time for food lovers. Not only are there wonderful things to eat, there are also wonderful gifts to open. Of course, we'd recommend wrapping up a copy of the Gastro Obscura book for the culinarily inclined. But there are plenty of other tasty gifts we're giving to foodie friends and family this year.
***

Everything. And I mean everything you wanted to know about: Cream of Tartar.


This humble ingredient reshaped the way we bake. So what is cream of tartar, anyway? And what does it do in cakes, muffins, and meringues?

A person adding a teaspoon of cream of tartar to a mixing bowl of flour.
Photo by Joseph De Leo, Food Styling by Drew Aichele
I'll admit that I once wondered whether cream of tartar was related to milk of magnesia—both have mysterious, unappetizing names that mix the mineral with the edible. Yet everyone seems to have a tin of cream of tartar, gathering dust in the back corner of a cabinet, forgotten until it's called for in some unlikely baking project.

"Cream of tartar is one of the most unappreciated ingredients in baking," says Dikla Levy Frances, blogger at One Sarcastic Baker and author of the new book Baking Science.

It also happens to be a history-making ingredient, one that reshaped the entire landscape of sweets. Do you like cake? Banana bread? Pancakes, blueberry muffins, biscuits? Without cream of tartar—and other associated chemical leaveners that made their way into bakers' cupboards in the 1800s—these would be unimaginable.
***

As a kid growing up, my Father called upon several "Mom & Pop" cheese factories as part of his job. For the most part, they are gone and have been replaced by large to huge facilities. Still there is more to cheese than just milk. The Science Behind Your Cheese - The food is not just a tasty snack—it's an ecosystem

Some cheeses are mild and soft like mozzarella, others are salty-hard like Parmesan. And some smell pungent like Époisses, a funky orange cheese from the Burgundy region in France.
There are cheeses with fuzzy rinds such as Camembert, and ones marbled with blue veins such as Cabrales, which ripens for months in mountain caves in northern Spain.

Yet almost all of the world's thousand-odd kinds of cheese start the same, as a white, rubbery lump of curd.

How do we get from that uniform blandness to this cornucopia? The answer revolves around microbes. Cheese teems with bacteria, yeasts and molds. "More than 100 different microbial species can easily be found in a single cheese type," says Baltasar Mayo, a senior researcher at the Dairy Research Institute of Asturias in Spain. In other words: Cheese isn't just a snack, it's an ecosystem. Every slice contains billions of microbes — and they are what makes cheeses distinctive and delicious.

People have made cheese since the late Stone Age, but only recently have scientists begun to study its microbial nature and learn about the deadly skirmishes, peaceful alliances and beneficial collaborations that happen between the organisms that call cheese home.

Mmmm. Colby on a freshly grilled burger......
***
So the Fabulous Mrs. Mis. Hum. & I pulled a package of frozen Northern Pike and are in the process of pickling it. It's a Holiday tradition around here.
And if you like Fruit Cake there is a delicious recipe in today's featured cook book on Pages 27-28.

Do you have any Holiday foods that you make? I bet a certain Cob would like to hear about it after his Secret Mission.
***

Duck fat, photos of maple syrup on French toast and the recipes for Manhattans shaken can be sent to cbd dot aoshq at gmail dot com.
You want the recipe for Hrothgar's Easy Baked Pork Chops?

Go to the link to purchase The Deplorable Gourmet Cook Book. I'm too lazy to type it all out.
Enjoy your time in the kitchen.

posted by Misanthropic Humanitarian at
04:00 PM
|
Access Comments