« Multiculturalism Will Be The Death Of Every Great Society
|
Main
|
Food Thread: He's On A Secret Mission & Gave Me The Keys »
December 04, 2022
First-World Problems...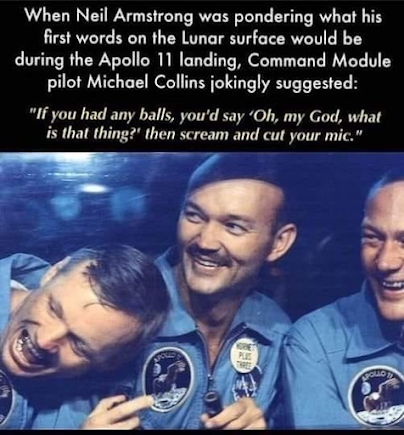 [Hat Tip: JT]
I have no idea whether that is true, but it illuminates what was and perhaps will be again about American culture. We had the ability to be deadly serious and lighthearted at the same time. But we seem to have lost the ability to laugh, while at the same time being deeply unserious.
Yes, that is a First-World Problem, since I believe the roots of it are the marvelous advances we have made in all fields, the fabulous wealth our industry and energy and genius has created, and the leisure that has afforded us.
Armstrong and Aldrin and Collins were 240,000 miles from earth, with no possibility of rescue if something went wrong. And they got there on the bleeding edge of technology...our cellular technology is more mature than their Saturn V rocket! But they did it with skill and aplomb and bravery and stoicism and humor.
Our culture has far more problems than 1969 America (and that was a troubled time too); perhaps we can take a page from the Apollo 11 crew's playbook and not take trivialities so seriously. We have enough important stuff to agonize over without expanding everything to an existential issue.
Now...about that maple syrup on your French Toast!
[I may or may not be able to hang around, so please behave...no pulling Nurse Ratched's hair or stealing Garrett's Crocs!]

posted by CBD at
02:00 PM
|
Access Comments