« Mid-Morning Art Thread
|
Main
|
China Convulsed by Anti-Lockdown Protests; Demonstrators Make Unprecedented Demand for Government to Resign »
November 28, 2022
THE MORNING RANT: FTX's Exemplary ESG Rating; Kroger Pays Settlement For Discriminating Against Christians; Why Does A Texas School District Own a Plane?
TruValue Labs is a company that is relied on by asset managers to grade the quality and commitment of companies' ESG (Environmental Social Governance.) In their own words, TruValue Labs "delivers analytics on ESG factors identified by the Sustainability Accounting Standards Board (SASB) as having a material impact on company value by industry and sector."
Professional money managers rely heavily on this nonsense, believing that companies run by executives who commit to eco-communism will prosper. These mega money managers also use their proxy voting rights to force companies to embrace ESG.
Unsurprising to those of us who understand that ESG is a complete and total scam, fraudulent cryptocurrency exchange FTX Trading was rated by TruValue as better than Exxon in its "Leadership & Governance" rating, receiving a score of 50 versus Exxon's 38.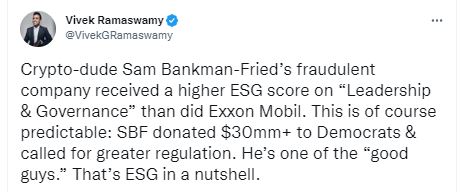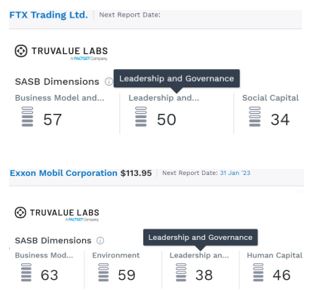 FTX was a criminal enterprise that used social justice and ESG blather to seduce the business and political power structure.
Over $3 billion is owed to FTX's creditors, but much of the media is still smitten with conman Sam Bankman-Fried, refusing to give up the dream that he was a heroic philanthropist to whom bad things happened.
Look how far the Wall Street Journal has fallen from its days of being a source of reputable journalism. It actually ran a page 1 story this past week with the headline, "FTX's Collapse Wiped Out Founder's Philanthropic Aims."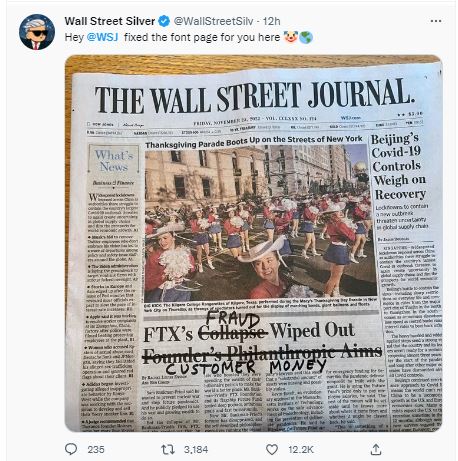 It's disturbing to ponder that the people managing most retirement money in this country are enamored with ESG, and vulnerable to hustlers like Sam Bankman-Fried.
*****
As you may have heard, the arena of the NBA's Miami Heat has been named "FTX arena" ever since FTX bought the naming rights in June 2021. It reminds me of when the baseball stadium in Houston that replaced the Astrodome was originally named "Enron Field."
The NBA allowed a confidence man to own the naming rights in Miami without doing the due diligence necessary to determine if FTX was a legitimate enterprise. So, how would the NBA react if a popular local food service company wanted to buy naming rights to an NBA arena?
When Smoothie King sought to buy naming rights to the arena for the New Orleans Pelicans, it took 8 months of due diligence before the NBA would consent.
The deal might have been completed before this season began, but because Smoothie King products contain nutritional supplements, NBA rules required that all of the company's products be tested to ensure there were no banned substances. LeBlanc said that process took about eight months.

"We couldn't have any question as to what are the contents of the products that Smoothie King actually offers,"

I pretty much assume at this point that a company providing naming rights to any sports arena is either mismanaged or going broke. I also like Smoothie King, so I'm concerned that it is the sponsor of the NBA arena in New Orleans.
*****
Woke Grocer Has To Pay For Discriminating Against Christians
The people always shrieking about tolerance and diversity aren't very good at tolerating people with different views, are they? Sadly, now that corporate America has pretty much been taken over by social justice activists, companies are getting very comfortable compelling employees to advocate for the social justice agenda as part of their jobs.
It's good to see some push back.
Kroger to pay $180K in lawsuit over workers who objected to rainbow apron [Yahoo – 10/31/2022]
Kroger is paying $180,000 to settle a religious discrimination lawsuit that was filed after two Arkansas workers were fired for refusing to wear new company aprons with a rainbow logo they believed supported the LGBTQ community.
Most people in my various social circles are Christians of some sort. Of them, I don't know a single person who is hateful toward or intolerant of homosexuals.
It's a shame that intolerance of Christians is so pervasive and accepted, especially in corporate America.
*****
Our "Underfunded" Public Schools
Public school officials are always pleading that they need more taxpayer money…for the children, of course. Uh huh.
North Texas School Official Caught Using District Plane for Family Trip
Granbury ISD residents question if the assistant superintendent violated ethics policies by using taxpayer resources for personal gain. [Texas Scorecard – 11/21/2022]
That's two scandals in one headline, and the one I can't get over is why does a Texas public school district have an airplane?!"
A North Texas school administrator was caught using a district-owned airplane for personal travel with his family, a potential violation of the state's code of ethics for educators.

The revelation has local residents calling for an investigation. They want to know who approved the use of taxpayer resources for a personal trip, why they are just now learning about it, and whether the district needs its own plane.
For those of you who don't know, Texas is not a "low tax" state. It has no income tax, but its property taxes are crushing. A regular house in an average suburban neighborhood is likely to be assessed property taxes in excess of $10,000 per year.
And why are property taxes so high? Because they support Texas public schools.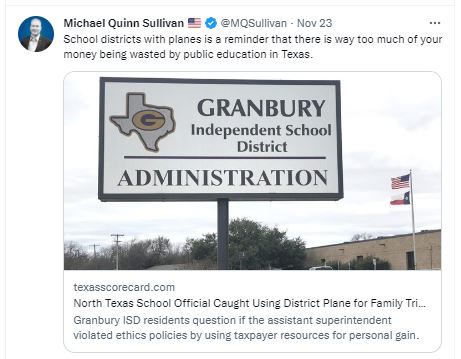 Concerned parents have been taking over school districts across the country recently in the battle to keep critical race theory and sexually inappropriate materials out of the schools. It would be wise of those concerned parents to also take a look at the finances and see where some fat can be trimmed. Any school district that can afford an airplane is in need of having its budget cut.
*****
Songs of the Season
Robert Earl Keen's Merry Christmas From The Family has become a Christmas classic because it comically captures the typical American Christmas better than any of the secular standards. How can you not love a Christmas song in which the first line is "Mom got drunk and Dad got drunk, at our Christmas Party."

Does this sound like any of your family Christmases?
Mom got drunk and Dad got drunk
At our Christmas party
We were drinking champagne punch
And homemade egg nog

Little sister brought her new boyfriend
He was a Mexican
We didn't know what to think of him
'Til he sang Feliz Navidad, Feliz Navidad

Brother Ken brought his kids with him
The three from his first wife Lynn
And the two identical twins
From his second wife Mary Nell

Of course he brought his new wife Kay
Who talks all about AA
Chain smoking while the stereo plays
Noel, Noel, The First Noel

Carve the Turkey, turn the ball game on
Mix margaritas when the egg-nog's gone
Send somebody to the Quick Pack store
We need some ice and an extension cord

A can of bean dip and some Diet Rites
A box of tampons and some Marlboro Lights
Hallelujah, everybody say, "Cheese"
Merry Christmas from the family

Have a great week.
(buck.throckmorton at protonmail dot com)


posted by Buck Throckmorton at
11:00 AM
|
Access Comments