« Surprise! Merrick Garland's Choice of Special Prosecutor Is Yet Another Angry Democrat With a Limitless Jurisdiction to Get Trump
|
Main
|
Quicker-Than-Usual Hits »
November 22, 2022
Leftist Totalitarians -- Or, as They Call Themselves, "Journalists" -- Flee the Hell of Free Speech That Is Twitter for the Leftwing Site Mastodon, and Make It Into What They Wish Twitter Always Had Been: A Site Where You Ban Anyone Who Disagrees
PhotobombingCow @PhotobombingC

Replying to
@ggreenwald and @zerohedge
I went over to check it out. Posted a couple rejoinders to Robert Reich on the causes of inflation (he says corporate America is "greedy"; I say it's the Fed). Anyway, I was booted off within hours for being a "capitalist"...
It's literally hilarious as all the censors, no long having conservatives around to censor, begin censoring each other.
Meanwhile, the old guard of Mastodon doesn't like the bad habits that the Twitter "journalist" invaders are bringing, like constant self-promotion and extreme superficiality in posting, and they're banning new arrivals as well.
EVER SINCE ELON MUSK completed his $45 billion takeover of Twitter last month, there has been a steady stream of users, including a number of journalists, signing up for Mastodon, an open-source alternative.

No one controls Mastodon--or rather, everyone controls their own version of it. There are thousands of servers running the software, and each one chooses which servers it "federates," or exchanges information with. Don't like the users who belong to a specific server? Just block them.

Unfortunately for some of the journalists who have joined the service, this mass-blocking (or "defederation") approach is now being applied to them. A server that caters specifically to journalists was set up recently by Adam Davidson, creator of NPR's Planet Money podcast. At last count, the server, called journa.host, had about thirteen hundred users, including some prominent journalists (and me). Earlier this week, a user of another network pointed out that about forty-five "instances" are blocking all content from members of journa.host.

Among the reasons given for blocking users from the server are that it is allegedly populated by "click-bait/tabloid journalists" who "can be expected to collect, search through, and misinterpret anything you say with the goal to share this publicly to an as big audience as possible, enabling hate and harassment to any one as long as it gives them clicks [sic]." Others who have blocked the server say that its members are likely to be "surveillance capitalists" or "mainstream propagandists."
That doesn't sound like the "journalists" I know.

Here's Media Matters' trans censor/deplatforming enforcer shrieking that someone has shared an article about transgenderism that he doesn't approve of and thinks should be excluded from the Purity Bubble.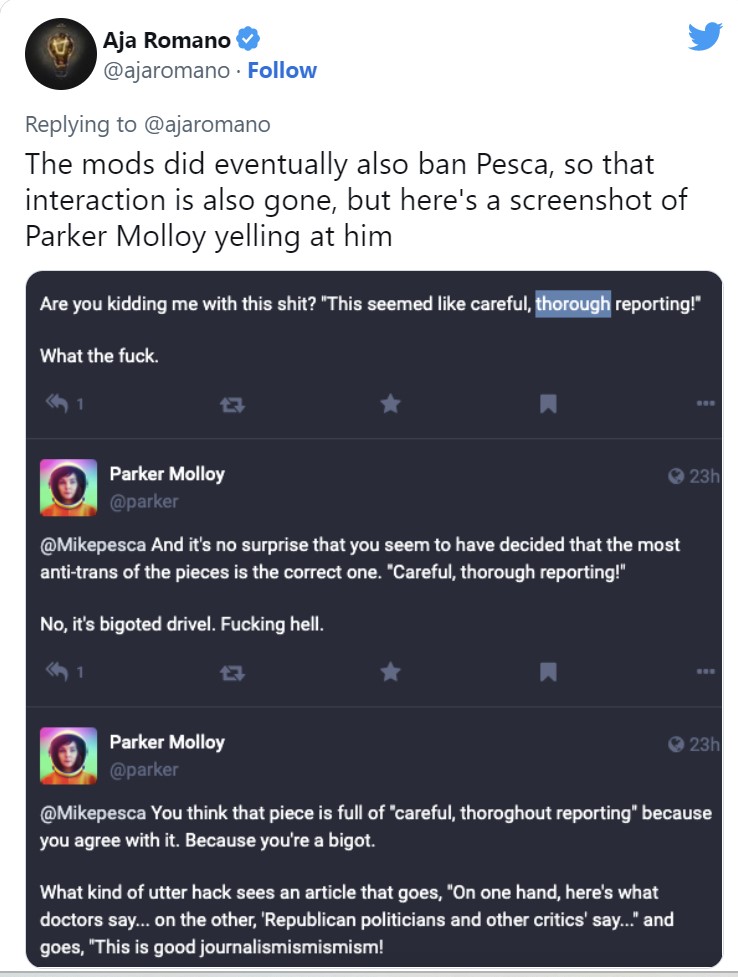 Molloy screamed until Pesca was banned because of course he did. It's what he does on Twitter, too. It's what he does for a job.

Below, some " " " journalists " " " complain about their new home. And then use the banning rules of their new home to ban other " " " journalists. " " "

posted by Ace at
05:43 PM
|
Access Comments