« Huge Democrat Donor Loses All of His Clients' Money, Media Pretends The Story Is About Crypto
|
Main
|
NBC Projects GOP Will Win the House
Surprise! FBI Official In Charge of January 6th and Whitmer Fednapping Investigations Announces Retirement »
November 14, 2022
Suspect Captured After Manhunt, But Three Dead, Two Injured After Gunman Opens Fire On Bus at the University of Virginia
The shooting happened 10:30 last night.
CHARLOTTESVILLE, Va. - Authorities say Christopher Darnell Jones Jr. has been taken into custody after he allegedly opened fire inside a bus on the University of Virginia campus late Monday night killing three members of the football team and injuring two others.

The shooting triggered a massive manhunt and paralyzed the school community overnight as police conducted a building-by-building and grounds search of the campus and put a shelter in place order in effect,

The shooting was reported around 10:30 p.m. Sunday when officers responded to shots fired near the Culbreth parking garage on campus.

At a press conference Monday morning, University President Jim Ryan said Jones Jr. opened fire on his fellow students in a charter bus as they returned from seeing a play in Washington, D.C. for a class field trip. Ryan identified the three students shot and killed as Lavel Davis Jr., Devin Chandler, and D'Sean Perry. All three were members of the UVA football team. Two other students were wounded and were taken to the UVA Medical Center. One of the injured students is in good condition and the other is in critical condition.


Authorities say Christopher Darnell Jones Jr. - the gunman suspected of opening fire inside a bus full of University of Virginia students returning from a field trip Monday night, killing three and leaving two others injured -- is in police custody.

The announcement that Jones Jr. was taken into custody came in the middle of a scheduled press conference as University of Virginia Police Chief Tim Longo was updating the media. "We just received information the suspect is in custody," Longo said. "Just need a moment to thank God and breathe a sigh of relief," he continued after a long pause.
Prayers for the victims and their families.
You may expect the Democrat Party and the media (but I repeat myself) to use this attack to launch another propaganda campaign against guns, but they probably will disappear the story; the shooter is black, and the media generally disappears stories about black crime.
Incredibly, the Washington Post actually portrayed him as a local boy done good who is now "flourishing!"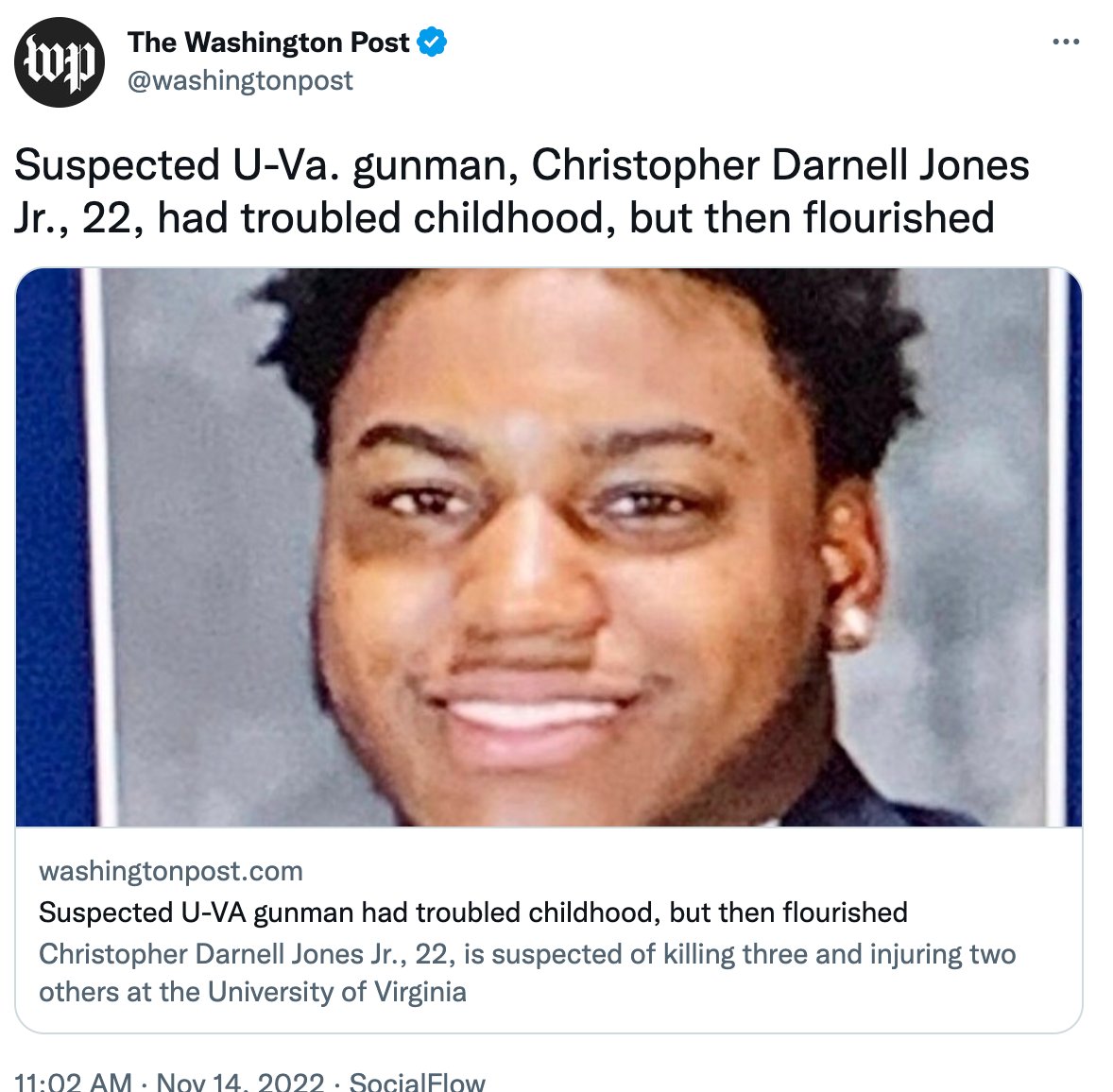 Another Gentle Giant. Except this Gentle Giant's a mass murderer.
Julio Rosas @Julio_Rosas11


WaPo deleted the tweet but it's still up on the PostLocal account:

Post Local @postlocal

Suspected U-Va. gunman had troubled childhood, but then flourished https://wapo.st/3Ewnrvk
Update: via Instapundit, the "flourished" headline as shown on the Post's local website: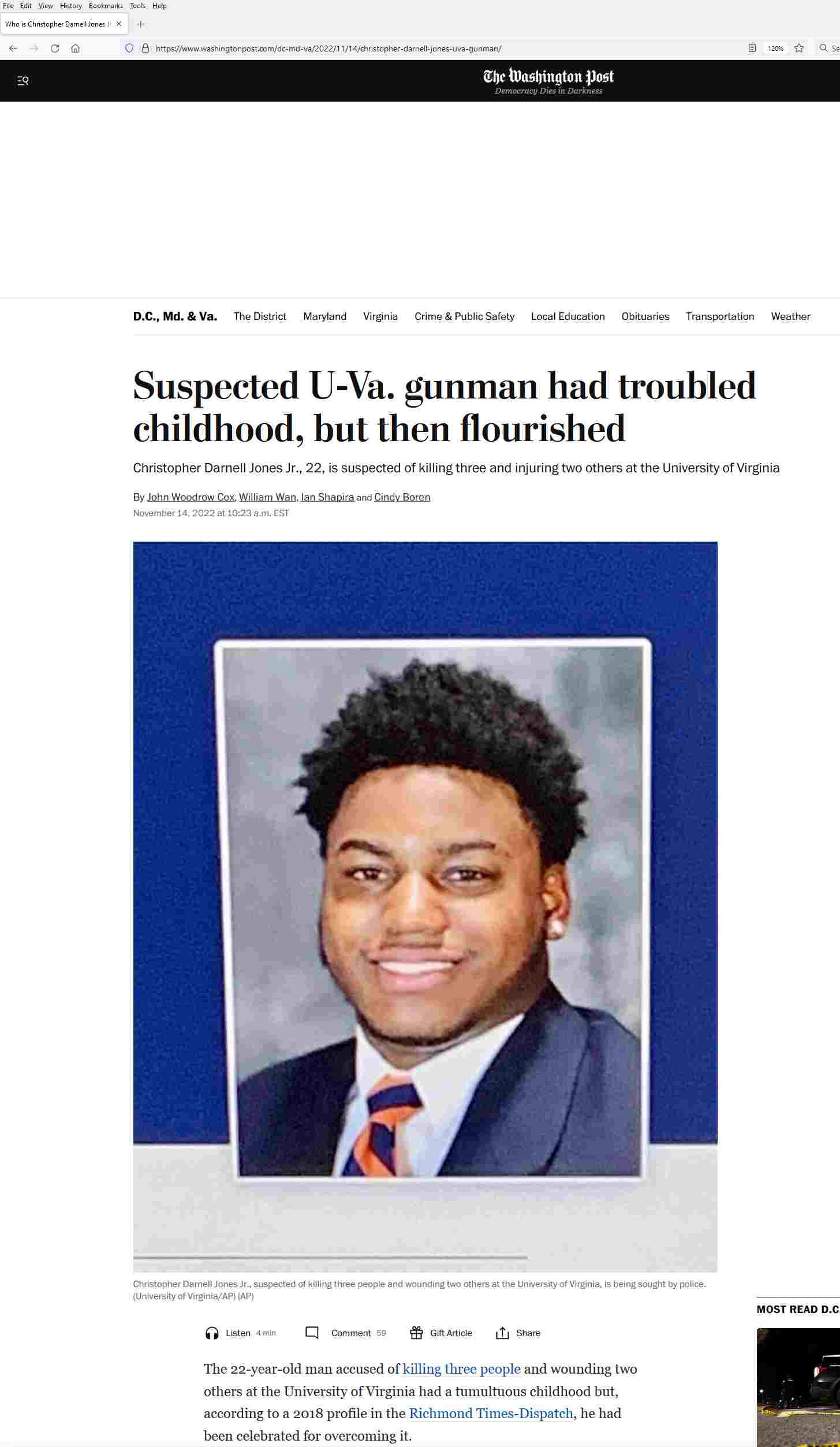 Living his best life, yo.
They're absolutely pathological. These are sick, diseased people whose first reaction to word of a mass murder is to heap praise upon the killer, just because they are so f***ed up with condescending racism that they have to praise black people for anything, including slaughter.

posted by Ace at
01:15 PM
|
Access Comments