« Food Thread: Coffee, Pecan Pie, And Shrimp! Maybe Not all together, But Still...
|
Main
|
Sunday Overnight Open Thread (11/13/22) Hopefully Enough Content Edition »
November 13, 2022
Gun Thread: Sunday Gun Day Edition!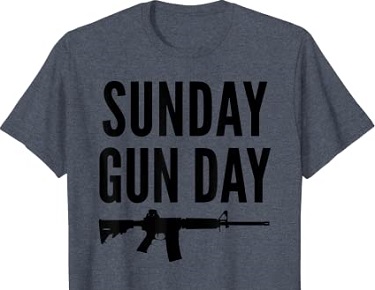 Howdy, Y'all! Welcome to the wondrously fabulous Gun Thread! As always, I want to thank all of our regulars for being here week in and week out, and also offer a bigly Gun Thread welcome to any newcomers who may be joining us tonight. Howdy and thank you for stopping by! I hope you find our wacky conversation on the subject of guns 'n shooting both enjoyable and informative. You are always welcome to lurk in the shadows of shame, but I'd like to invite you to jump into the conversation, say howdy, and tell us what kind of shooting you like to do!
Last week I mentioned planning a trip to the farm-o to shoot with our pal and delightful 'ette Julie, the 2022 NoVaMoMe winner of the Dream Date with Weasel raffle drawing. Welp, a hurricane hit Florida and rolled up the East Coast dumping a lot of rain on Friday. The farm-o got a couple inches of the wet stuff yesterday, so here I sit Saturday, not shooting with our pal and delightful 'ette Julie, but rather writing the Gun Thread and looking at the mountain of wet leaves in the front yard. Since the farm-o is no fun-o when it's wet, we've rescheduled the DDWW for this coming weekend. More details to come!
With that, step into the dojo and let's get to the gun stuff below, shall we?

******
Last Sunday I included a video on how to use something called an Israeli bandage. The video and topic of first aid at the range generated a lot of comments and I think it's worth exploring a little more. Here is what I wrote last week in case you weren't around.
First Aid

So here's something important to know, and that's how to stop bleeding. Whether you're at the range, or in the forest with a chainsaw, blood belongs on the inside of you and your pals. Should someone develop a leak, being able to stop it might very well save a life. Here is a link to the Israeli Bandage on Amazon. These things are inexpensive, folks, and there is absolutely no reason not to have one in your range bag. You don't have to go all nutty, but having the first aid basics covered with band aids, tape, and a few other odds 'n ends won't take up a lot of space and sure are great to have when you need them.
And here is the video again:
Do you have a first aid kit handy when you're shooting?
In discussing the topic, I'm not only referring to the aftermath of a gunshot wound. In my experience small cuts and scrapes aren't all that uncommon at the range. There are many different ways they can happen, whether it be from bullet splatter on steel targets (wear eye protection!), injuries from a pistol slide (slide bite) or frankly any one of a number of things. Having the ability to treat small cuts and abrasions, blisters, or God forbid, a gunshot wound on the range is important.
I have mentioned this before, but I have assembled a fairly comprehensive trauma kit which I keep at the farm. I have done so because I am in a remote location some distance from medical care, and pretty much everything I use at WeaselAcres is designed to kill me. Guns, chainsaws, the tractor and implements - the list is long and impressive. Should an accident occur, I am going to have to deal with it myself, then somehow get to a hospital or other medical facility.
Not all of you are going to have those specific circumstances to deal with and your first aid kit can be very basic to treat minor boo-boos and patch yourself (or a range babe) up. Again, some Band-Aids, antiseptic ointment (I like Neosporin), alcohol wipes, gauze bandages and wraps, small scissors and tweezers are all items to consider. I have a much smaller range kit with those items that fits in a small pouch inside my range bag. Just do an internet search or visit your local drugstore and you can pick up the basics fairly inexpensively, or simply purchase a ready-to-go kit. Whatever route you choose, know the contents and how to use them. If you purchase a kit take the stuff out and look at it so you'll know what you have and can add to it if needed.
I used to do a lot of hiking and volunteer trail work, and many years ago took an excellent 3-day Wilderness First Aid course. The objective of the course was learning to assess injuries, treat them, and keep an injured person alive in the backcountry who was more than 48 hours from definitive medical care. It may be overkill but I absolutely recommend this sort of training. I also recognize it represents an economic and time commitment not everyone is going to make, so perhaps look into a simple Red Cross First Aid class or find something on basic wound care online.
Lastly, and this is important, make sure all the participants in an activity understand what to do in an emergency. Our pal Scuba_Dude reminded me of this after the TXMoMe. It's important and more than a little embarrassing because it's something I was trained to do and keep meaning to do during the range safety briefing. You can be certain it will be included next year. Should a serious accident occur in a group setting, you want people to know what role they have and who will call for help, render first aid, tear up sheets and boil water, etc. It's also important for the participants to know their exact location in terms which emergency responders can use and not spend precious time trying to find the accident scene, and what to say when calling for help. Hysterically screaming into the phone that someone has been shot probably isn't going to be helpful, and might get the SWAT Team involved rather than paramedics. Stating there has been a training accident involving a firearm very likely better describes what is going on.
So what do all y'all think? Range first aid could arguably be a much longer discussion, but this should get the ball rolling. Anything to add?
******
Guns of the Horde
Literally, Guns of teh Horde. Here's something or pal
blaster
made his own bad self in the blaster laboratories.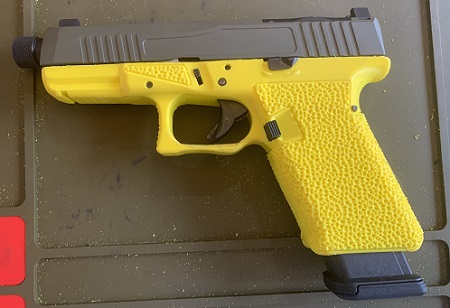 Here's one you haven't seen before: That is a blaster's blaster Model 1. I printed it. Well, some of it.

So, first and foremost - this is 100% legal to make and to own for my own use in my state. Second, this is NOT a how-to, this is a review of the process and the output. There are other places to go for tutorials.

So what are we looking at here? Is that frank, or is that beans? The part that I printed is the frame - just the part below.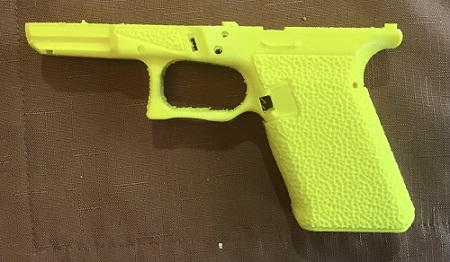 That is a FMDA (for Free Men Don't Ask) DD19.2. It is for all intents and purposes a Glock G19 Gen 3 frame. It has some design features that optimize it for printing. In a Glock, the frame is the serialized part that is "the firearm." The files to print it are available many places, you don't have to design your own. If you know anything about 3d printing, it's pretty straightforward, BUT - if you don't have the right settings, you won't get good results.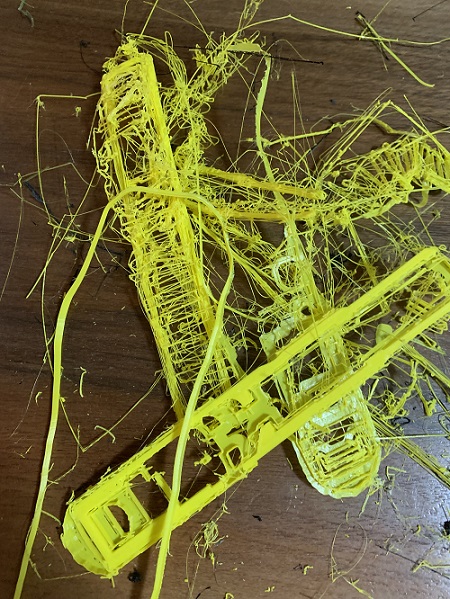 To get the printed part up to speed as a functional frame, you need to add rails, locking block, and a lower parts kit. These are easily sourced - you could get all from your favorite online auction site if you wanted. There is some amount of labor to clean up the print - sanding and filing, though a decent printer with the right settings won't take very much. A few tools are helpful - some metric drill bits, hobby files, a plastic hammer and some punches. Once assembled, you get the following
.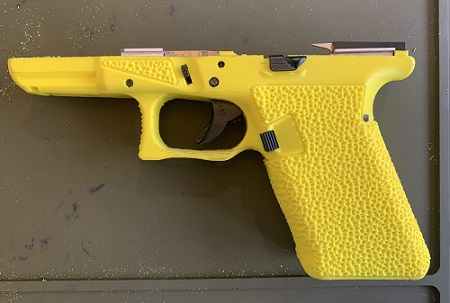 And then the slide. I chose a Palmetto State Armory Dagger slide because it was very economical. The result is that the bb Model 1 is quite the Frankenglock. And there is every bit as much metal in it as in a Glock from the factory, so only part of it is or can be printed. Then two big questions; does it shoot, and will it blow up? First, yes, it shoots. 30ish rounds at 5 yards are the ones in the center target below
.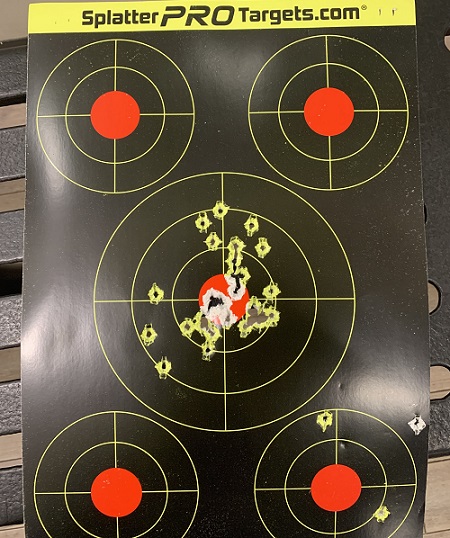 And not too badly. At 10 yards its a different story (lower target), but I blame the sights - they are 1/3 co-witness height sights and I am not used to the sight picture yet. With 40 rounds through it, no signs of any issues with the frame. No cracks, no pieces fell off, it just, well, worked.

Finally, here is a video about 3d printed guns. It's from Vice, so, yeah, not necessarily pro-gun, and the dude has no real experience and its kind of a Gorillas in the Mist thing, who are these gun people? Despite all of that, not a bad video, but its half an hour if you have the time.
So here is the video blaster included. What do you think? Are you printing our own? Thanks blaster!

***
Training Report
A while back our pal
Schnorflepuppy
attended a two-day training course,
Street Encounter Skills and Tactics
by FPF Training with instructor John Murphy (links below). Does this sound interesting? It does to me!
I attended this class over a Saturday and Sunday, both full-day sessions. Prior to the class, John assigned us to watch a YouTube playlist he has curated with lectures and real-life examples he wanted to discuss in class. John is a former Marine and DoD civilian employee whose worldview would be familiar to a lot of the Horde, and he doesn't hold back from giving his opinions as to the state of things.

Saturday included no live fire or dangerous weapons of any kind. In fact, John had us unload and show clear our carry guns on the range before placing a rope through the magazine well and barrel, which he would periodically ask to see before drills that involved drawing from the holster. We started out the class with a brief "stop the bleed" technique review, and all students were issued ankle-mounted medical kits which we were expected to carry and use throughout the weekend.

John distributed inert POM pepper-spray trainers to the class. He demonstrated methods by which to draw and make ready the hot sauce from a discreet position clipped inside a pocket, followed by a long discussion on when and how to deploy the spray for maximum effectiveness, and then plenty of opportunities to practice these tactics.

We had a lot of discussion about the legal implications of use of force, and a long and sobering discussion about post-incident actions from the 911 call to the police interview room. Alongside many other incidents, John reminded us of the fiascoes that the George Zimmerman and Kyle Rittenhouse trials became, including the unethical behavior of prosecutors who withheld evidence -- and those were high-profile news stories with the whole world watching. The message was clear -- folks on our side of the force equation should not expect fair treatment by the "justice" system. John was a big proponent of STFU -- even leading the class in several "GIMME AN S" cheers -- when dealing with the police. His takeaway phrase from that lesson was "don't volunteer for the meat grinder".

Sunday was live pew-pew day.

Instead of the usual distances in yards, John denotes range to target in more practical terms:
- 1AL - one arm's length
- 2AL - two arms' length
- 3S - three steps
- 1CL - one car length (specifically, a Toyota Corolla)
- 1TL - one truck length (specifically a Ford F150)
- 2CL - two car lengths

This was helpful in contextualizing the distances at which we were shooting into everyday measurements.

The most innovative part of John's training was the use of laser pointers and peripheral vision practice to cue when to shoot, and when not to, rather than using a timer sound or verbal cue. He rationalized that most encounters will start with a visual cue, rather than an auditory signal. His scenarios allowed us to learn and practice various responses that we might employ, ranging from verbal warnings to lethal force, based on the behavior of the adversary. Because the class was held at an outside range, we had ample opportunities to practice moving off the line of attack, shooting then moving, and other tactics that would be applicable in a real-life fight.

John also takes the time to work individually with shooters on their draw, presentation, and firing mechanics. He observed that my M&P Shield 2.0, which I sadly lost off of a bridge over a river on the way home, was too small for the size of my hands so I'll be canvassing the rental selection of my local range to start testing out bigger guns. He also noted that my speed to first shot was inhibited by my use of the Shield's thumb safety, which was engaged when I carry, and advised me to get used to carrying without it.

John carries a couple of rigs to move targets both laterally and uprange/downrange. Shooters had to deal with a target that zigged back and forth in front of "no-shoot" targets, as well as a plastic dummy charging directly at us! We only loaded one round in the chamber and an empty magazine for that drill, to avoid over-excited shooters spraying rounds in unexpected directions under stress. Even when you know it's coming, it's much tougher to deal with an advancing target like that.

It was definitely time well-spent and I would encourage anyone to train with John when he's near you. Check this link for his course calendar. Even other instructors recommend John's course, see Greg Ellifritz's review. It was in one of Greg's courses earlier this year that I learned about John's upcoming training in the area. Greg's another good trainer, and his articles are interesting and thought-provoking, especially the Weekend Knowledge Dump.
Hey! I thought the Gun Thread was the weekend knowledge dump! Seriously, great review, Schnorflepuppy! Sounds like some very good real-world training. Has anyone else taken an FPF Training course?
******
Next up, our pal
OrangeEnt
shares a great video on Colt Firearms from
The History Guy
.
Great find, OrangeEnt! Thank you!
******
American Gunmaker: John M. Browning
Well we can't look at Colt without giving equal time to
JMB
!
******
Musical Interlude
Eric Clapton at Crossroads Guitar Festival in 2010. Weasel is a
bigly
Clapton fan.
******
Gun Basics 101
No new video from the She Equips Herself gal, so into the archives we go. This week's video is on defensive shooting drills.
******
Cigar of the Week
This week our pal and Chief Gun Thread Cigar Correspondent rhomboid scores again with this excellent review of the Gilberto Olivia Reserva Blanc.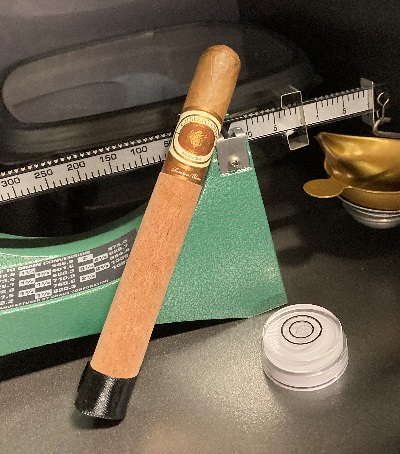 Many cigar smokers like a variety of styles and strengths, many prefer mild to medium most of the time. Anyone who fits in these two segments of the market should try the Gilberto Oliva Reserva Blanc. An Ecuadoran Connecticut wrapper, with Nicaraguan fillers, it is a smooth, mild, yet flavorful delight. Construction is flawless, burn line is uniform, smoke volume copious. My notoriously incapable palate thought it detected cocoa, sweet wood, and some toasty nutty flavors at points during the burn. I tried the corona vitola, 5 3/4 X 44.

The Gilberto Oliva Reserva line, named for the late patriarch of the Nicaraguan cigar family who are giants in the industry, features two more styles, a medium blend with an Indonesian Sumatra wrapper, and a full bodied version with a powerful Honduran wrapper. I certainly plan to try the medium (the Reserva). The Reserva Blanc is available online for as low as $3.50 but generally goes for $5 and up. In the picture, that is a thin cedar wrapper around the lower part of the cigar, a nice packaging touch.
Excellent, rhomboid! Thank you!
***
Here is a Cigar Vixen Weekly Top 5 review.
******
Here are some different online cigar vendors. You will find they not only carry different brands and different lines from those brands, but also varying selections of vitolas (sizes/shapes) of given lines. It's good to have options, especially if you're looking for a specific cigar.
Cigar-O Link-O-Rama
Cigarsinternational.com
Cigarpage.com
Famous-smoke.com
Cigarsdaily.com
Neptunecigar.com
Smallbatchcigar.com
Bobalu Cigar Company
Cigarbid.com
A note about sources. The brick & mortar/online divide exists with cigars, as with guns, and most consumer products, with respect to price. As with guns - since both are "persecuted industries", basically - I make a conscious effort to source at least some of my cigars from my local store(s). It's a small thing, but the brick & mortar segment for both guns and tobacco are precious, and worth supporting where you can. And if you're lucky enough to have a good cigar store/lounge available, they're often a good social event with many dangerous people of the sort who own scary gunz, or read smart military blogs like this one. -rhomboid
Anyone have others to include? Perhaps a small local roller who makes a cigar you like? Send me your recommendation and a link to the site!
******
Ammo Link-O-Rama
I'm really very seriously not kidding around anymore. Buy Ammo
AmmoSeek - online ammo search tool
GunBot - online ammo search tool
SG Ammo
Palmetto State Armory
Georgia Arms
AmmoMan
Target Sports USA
Bud's Gun Shop
***Mail Bag***
This week's mailbag entry is from our pal WTM.
******
Please note the new and improved protonmail account gunthread at protonmail dot com. An informal Gun Thread archive can be found HERE. Future expansion plans are in the works for the site Weasel Gun Thread. If you have a question you would like to ask Gun Thread Staff offline, just send us a note and we'll do our best to answer. If you care to share the story of your favorite firearm, send a picture with your nic and tell us what you sadly lost in the tragic canoe accident. If you would like to remain completely anonymous, just say so. Lurkers are always welcome!
That's it for this week - have you been to the range?


posted by Weasel at
07:00 PM
|
Access Comments