« AllahPundit's Favorite MSNBC Host Chris Hayes Concedes the Election, But Then Says Democracy Is Not, In Fact, Over
|
Main
|
Exit Polls Begin Dropping: 73% of Voters Either Dissatisfied or Angry at Biden Record; 66% Don't Want Him to Run Again »
November 08, 2022
Kari Lake to Media: "I'm Going to Be Your Worst Frickin' Nightmare. I'm Going to Turn You Into Reporters Again."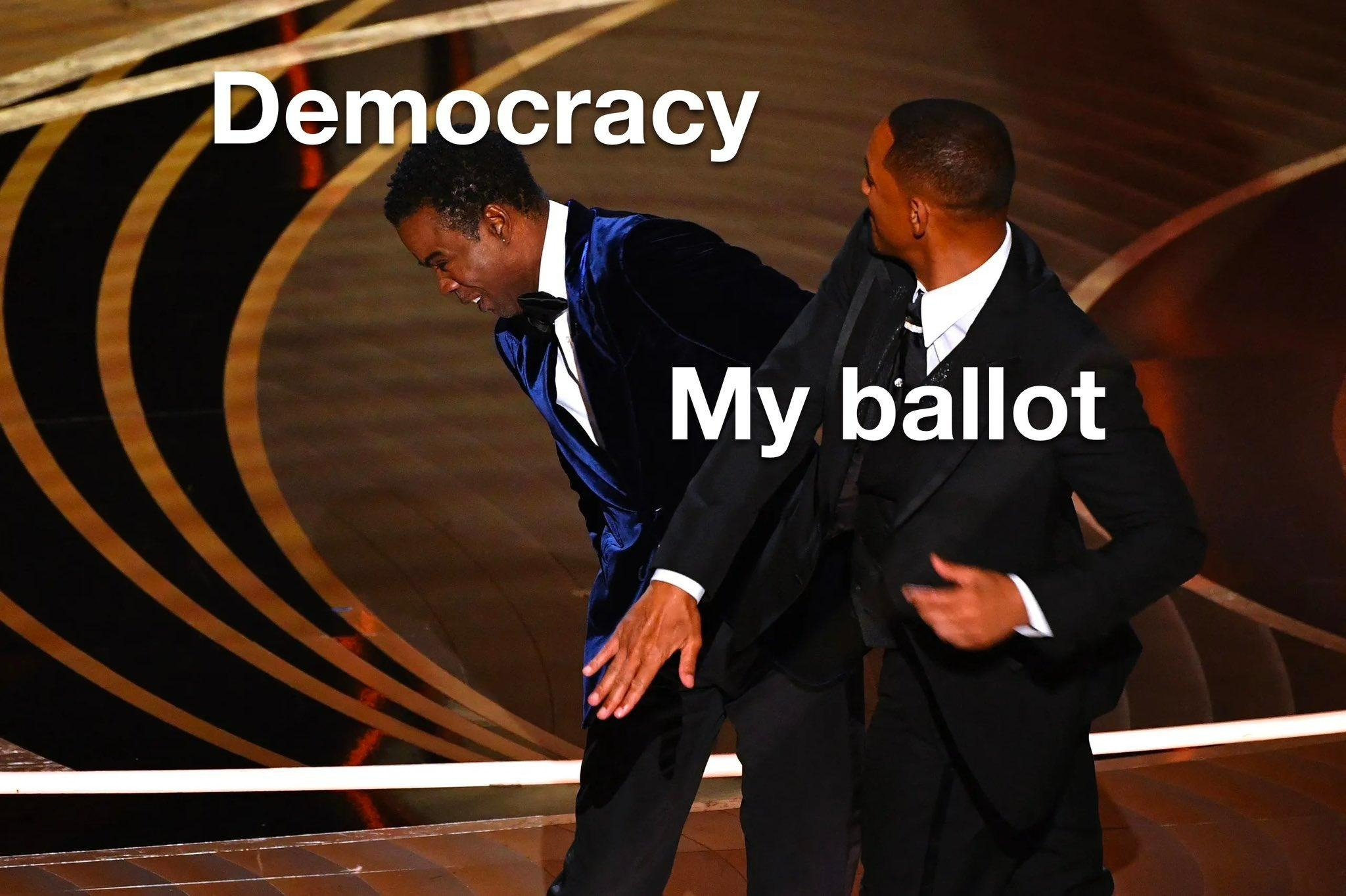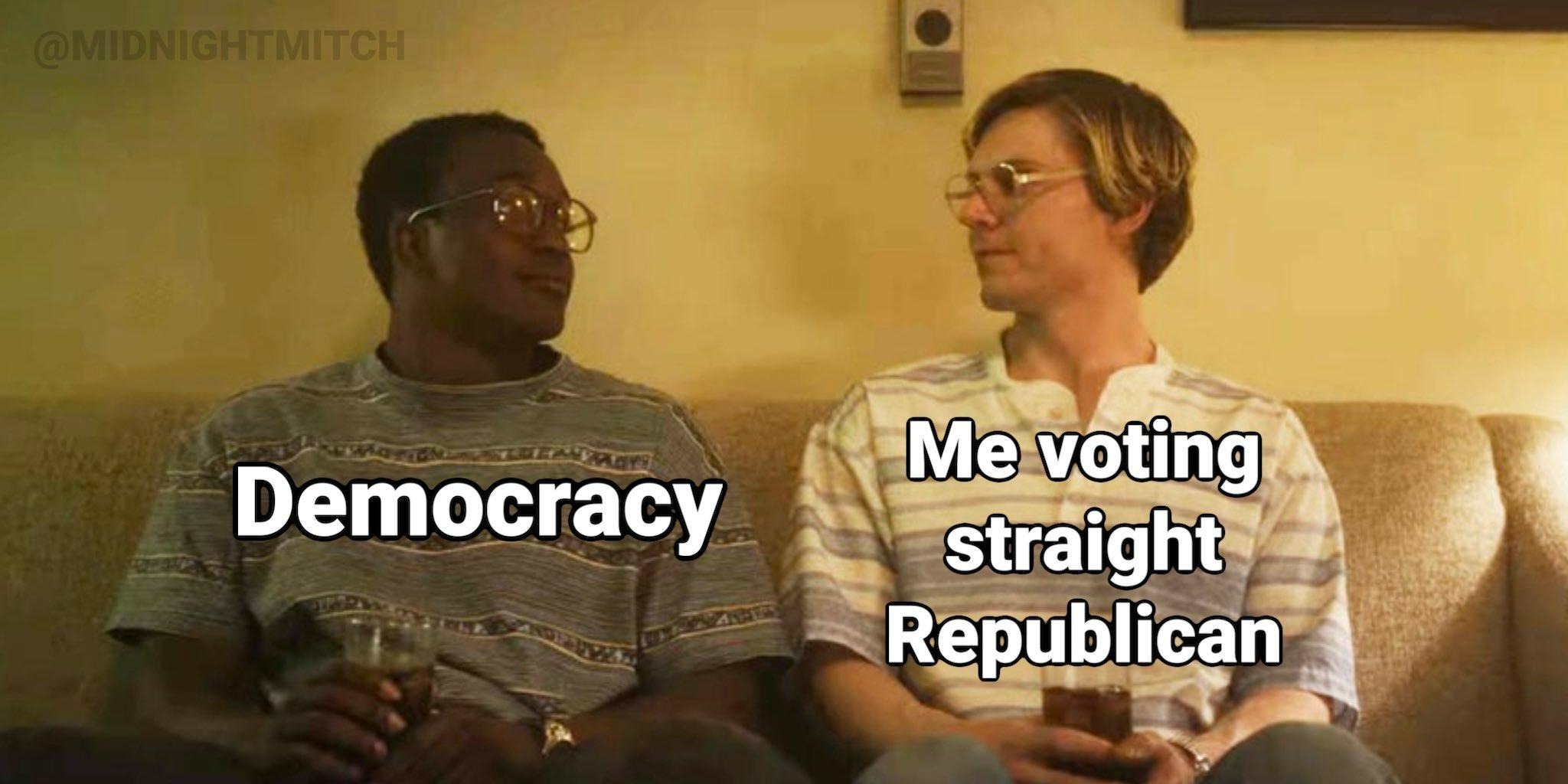 That's a scene from the Jeffrey Dahmer series, by the way.
Before that:
Rich Barris thinks that, based on the change in the political predictions markets, someone leaked the first wave of exit polls -- and the first evidence of a huge red wave.
Note I misread his tweet. I thought he attributed the rise in the stock market -- the Dow jumped about 400 points from about two thirty pm to four -- to the speculated leak of the exit polls.
Either way, that dovetails with Chris Hayes' concession of the race just after three pm.
Remember, media people have access to exit polls and shape their storytelling around what the exit polls tell them without actually revealing what the exit polls say about the outcome of the election. But you can tell what the polls say based on how they're setting up narratives about the post-election environment -- if they're talking about "future challenges for Biden" and "the dangers of Republican overreach," well, that means Republicans look like they've won both Houses of Congress.
They start writing stories like this, about the "uncertain futures" of staffers who will be blamed for the trainwreck: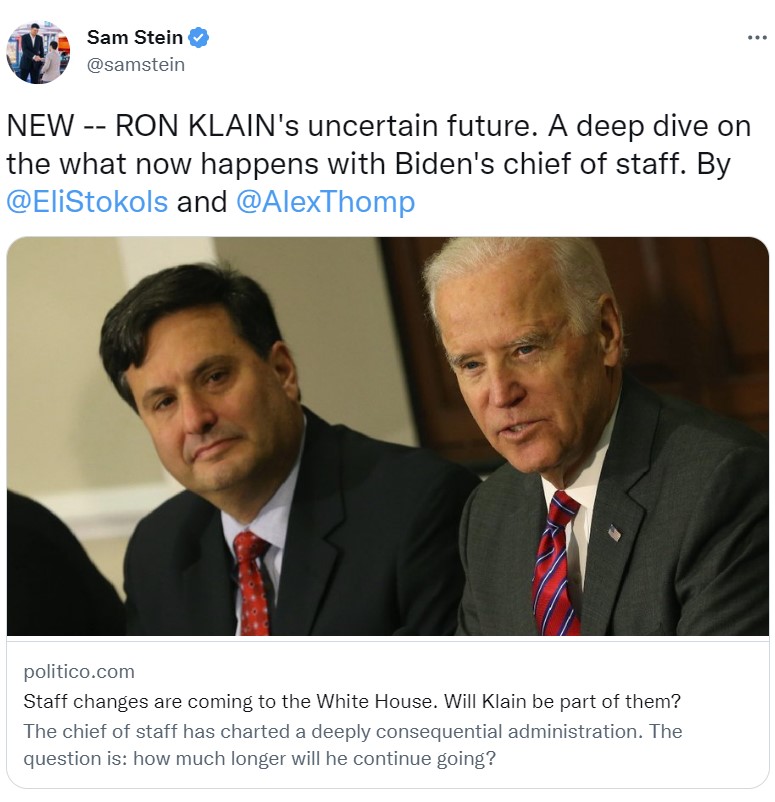 Not only have Republicans overcome the Democrats' early-vote advantage, but minor-party voters, taken together, exceed the number of Democrat voters in election day voting in Nevada.
Jon Ralston @RalstonReports

So non-major party voters are turning out in greater numbers than Dems to vote in person today in both Las Vegas and Reno. It is still early and the relative vote totals are pretty small compared to the early vote.

But unless the Dems are REALLY mailing it in, I see red people.
Jon Ralston @RalstonReports

Adding in the new urban totals, the Rs now have a 6,500-ballot lead in Nevada, and that does not include the shellacking they are surely putting on the Dems in the rurals.

It's all about the indies and mail now.

A commenter posted this, from a Robert Barnes retweet.
Dr. Benjamin Braddock
@GraduatedBen


It's increasingly looking like all three of the competitive congressional races in Virginia (all held by democrat incumbents), #VA2 [fixed typo-- ace], #VA7, and #VA10 are on their way to flipping tonight. Some signs that #VA4 (41% black district) may actually be in play.

Ekdahl tells me it is extremely unlikely that VA4 is in play. He says that VA2 is the most likely to flip D to R, followed by VA7, followed by VA10 -- that is the "high-water mark" of the Red Wave noted earlier, where the Vietnamese immigrant and Special Forces veteran Hung Cao (R) may depose charmless Karen Femcel Android Jennifer Wexton in ultrablue Northern Virginia. VA4 is not even supposed to be in play.
But let's suppose it is -- maybe we won't win it, but maybe it's close.
That's something.

Turnout is huge in New Hampshire:
RedStateIdeas @RedStateIdeas


2022 New Hampshire Election Turnout Update 2pm ET

Massive turnout happening in NH across all counties based on individual reports.

Halfway thru the day, some are at HALF of their 2020 turnout. Mid-term is equaling Presidential in some spots.
I saw a report that turnout is big in Republican-leaning swing district Bedford, but also that it's big in the college town of Keene, which went for Biden by +30. So does that mean that Republicans are coming out in droves even in blue areas, or that dull-minded lefties are buying the "Democracy Is Threatened" line and coming out in droves to defeat Bolduc? I don't know. I sure hope it's the former. I suspect it is the former, but I'm not objective on the point.
On to Kari Lake:
This little bitch is some kind of minor actor.
What did the Boomers do to raise this crop of absolute simpering tattletale pussies?
@DashDobrofsky

Arizona's GOP Candidate Kari Lake pointed her finger at an NBC journalist and told the cameras "I'm going to be your worst frickin' nightmare for eight years." This is an explicit threat against America's free press. It is also a clear-cut violation of the First Amendment.
We need a war to cart these soft-handed pussies and Heterosexuals In Name Only off to. Any war will do. It can even be a war we don't mind losing badly -- we seem to specialize in those anyway.

posted by Ace at
04:43 PM
|
Access Comments