« One Progressive Group Has Already Sent Out a Post-Mortem Explaining Why Democrats Lost This Election
First Republican Victory of the Day!
|
Main
|
Kari Lake to Media: "I'm Going to Be Your Worst Frickin' Nightmare. I'm Going to Turn You Into Reporters Again." »
November 08, 2022
AllahPundit's Favorite MSNBC Host Chris Hayes Concedes the Election, But Then Says Democracy Is Not, In Fact, Over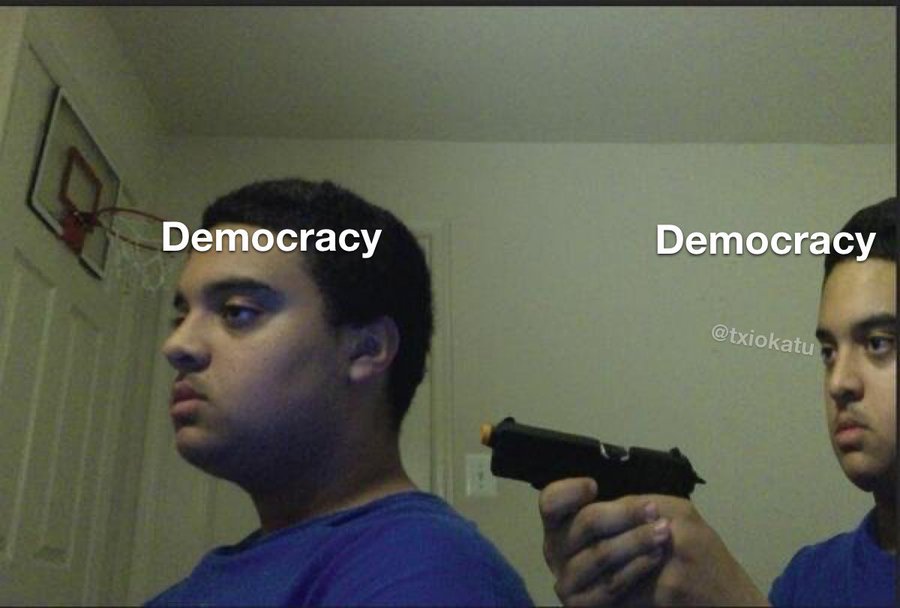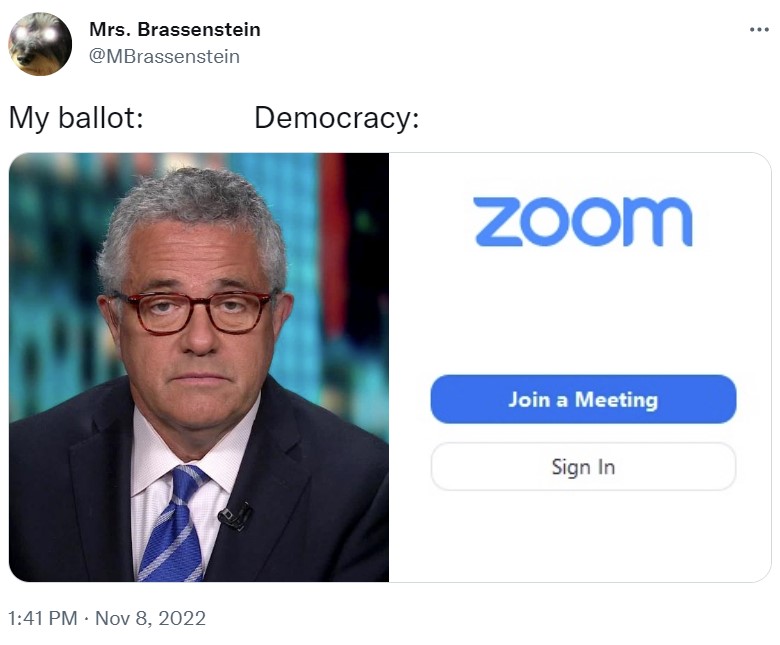 Chris Hayes concedes the election -- but now says Akshually, Democracy wasn't on the ballot after all!
Plot Twist!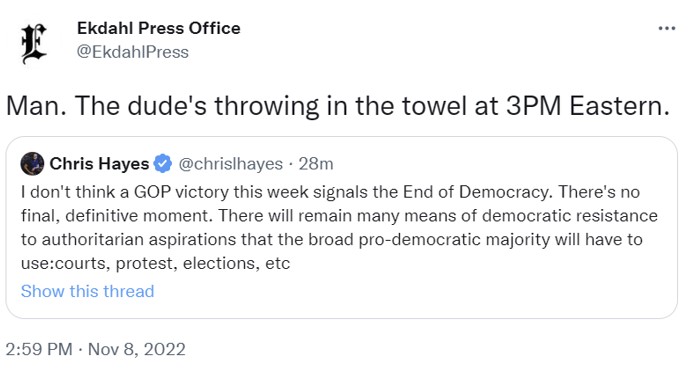 This is quite a reversal from last week, when he warned that if you didn't vote Blue, you'd lose your right to vote forever: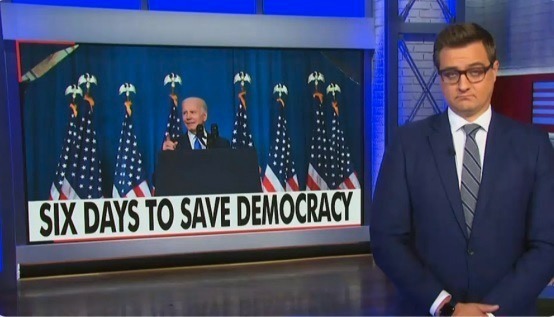 That fucking face, Bruv.
So before the vote, democracy was on the ballot.
Now that the Democrats have lost, democracy wasn't on the ballot after all, and it's time to keep on fighting. Using the courts. Of course.
He also says that what really has to happen is: The conservative movement itself must change.
No wonder AllahPundit is such a fan!
Chris Hayes @chrislhayes

While we all wait for returns, some thoughts about my expectations for today and the implications, at the broadest level, for American democracy.

First I think the Republican party poses a serious threat to American democracy and has turned away from democratic norms and towards authoritarian delusions and aspirations. That said...

I don't think a GOP victory this week signals the End of Democracy. There's no final, definitive moment. There will remain many means of democratic resistance to authoritarian aspirations that the broad pro-democratic majority will have to use:courts, protest, elections, etc

He then downplays the loss, claiming it was always baked into the cake and that the party in power always loses. (Except when it doesn't.)


And it's precisely *because* the the structural factors are so powerful and thermostatic public opinion so present that the debates about Dem messaging miss the point a bit. The definition of a functioning multi-party democracy is that different parties sometimes win!

But that doesn't work if one party wants to blow the system up. There's a sense a lot of people have that a) the GOP is a threat to democracy and ergo b) the Democratic party just has to win every election. I get why! But that's not really a solution.

Some people say: well you need to assemble a broad pro-democracy coalition, and yes that's hard and yes it will involve compromise and I agree! But there's not some obvious way in this society to just win 52%+ in every election.

Anyone who tells you there is is full of it. Ultimately, the changes have to come in the conservative movement and GOP. It has to be made into a party that can be trusted to embrace democratic rules and norms. I'm not sure how to do that, but winning elections is triage.

Which leaves us in the pro-democracy majority to just fight on and muddle through. That's not, I guess, a satisfying prescription, but it's what we've got now, I think. The only thing you can't do is give up.
The people who want to use the government in partnership with monopoly megacorporations to censor their political enemies, use the DOJ and FBI against their political enemies, pressure banks to de-bank their political enemies, and establish a socio-political caste system are, get this, the "pro-democracy movement" you guys.
I don't know why this is bad for Hochul -- I assume because Rochester is a Democrat city and turnout is low.
cinyc @cinyc9 · 1h Monroe County, NY (Rochester) 2PM Update: -Total ED Votes: 108,771, 23.3% of RVs -Rochester city only at 17.6% turnout on ED -Surrounding towns at 26.4% -Mendon leads at 33.5% -Henrietta still lowest non-ROC at 19%

Does NOT include Early Votes
cinyc
@cinyc9
Corrected 2PM Rochester City numbers from the Monroe County BoE:

-Total Rochester city: 14.2%
-Total Towns: 24.6%
-Totals: 22.3%

There should be a 5 Alarm fire for the Hochul campaign in the city of Rochester right now.
A little gloating music.

posted by Ace at
03:25 PM
|
Access Comments