« Food Thread: Ribs...America's Food?
|
Main
|
Overnight Open Thread [11/06/2022] »
November 06, 2022
Gun Thread: Sneaky Weasel Edition!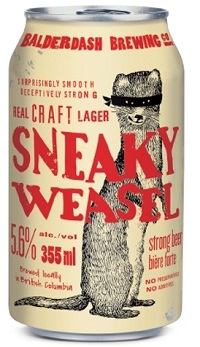 Howdy, Y'all! Welcome to the wondrously fabulous Gun Thread! As always, I want to thank all of our regulars for being here week in and week out, and also offer a bigly Gun Thread welcome to any newcomers who may be joining us tonight. Howdy and thank you for stopping by! I hope you find our wacky conversation on the subject of guns 'n shooting both enjoyable and informative. You are always welcome to lurk in the shadows of shame, but I'd like to invite you to jump into the conversation, say howdy, and tell us what kind of shooting you like to do!
Not a lot shooting wise going on this week, but that's going to change this coming weekend! That's right, the winner of the 2022 NoVAMoMe "Dream Date with Weasel" and delightful lurker 'ette Julie will be visiting WeaselAcres for a day of shooting and individualized instruction! Julie has mentioned that she would like to concentrate on rifle skills, and that can absolutely be arranged. Cigars: check. White board: check. Rifle Shootin' stuff: check! Can't wait to see you this weekend Julie!
With that, step into the dojo and let's get to the gun stuff below, shall we?
******
Last week, our pal
whig
made a great observation towards the end of the comments, and I want to highlight it this week:
One of the biggest problems I think on shooting rifles (or handguns) is that people adapt themselves to the firearm rather than adapting the firearm to them. Length of pull and distance to trigger fitting the marksman is important to shoot well and especially important as the recoil levels increase. Posted by: whig at October 30, 2022 10:04 PM (CXr4y)
Bigly, bigly, bigly THIS! In fact, it's so bigly this, I have devoted a section of the TXMoMe Rifle Clinic syllabus to it.
Natural Point of Aim (NPOA) Natural point of aim is not a difficult concept, but many overlook or disregard it altogether. You should be relaxed and comfortable, not scrunching yourself up or straining your neck to get the proper eye relief behind the scope. Adjust your gear to YOU, not the other way around, finding the point where you are naturally aligned with the target. Without looking down range, close your eyes and settle into your natural shooting position, then open your eyes. Repeat the process until you are naturally and comfortably aligned with the target. Do not strain to adapt to an awkward position or use large muscles. With practice and repetition you will condition your brain and body to assume something pretty close to natural point of aim as you assume your shooting position.
In my years of coaching and instructing, I have to say I have seen some pretty goofy setups. Some shooters were simply never shown the correct way of doing things, while others are simply in too big of a hurry to get down to bidness and pull the trigger. When you are all contorted in a pretzel behind the gun, you're probably just wasting ammunition. Anything other than settling into your natural point of aim is always nearly guaranteed to produce inconsistent results. Remember me harping on wobbily shit? Well goofy setups and wobbily shit are typically found together and are rarely coincident with repeatable rounds on target.
Q: Weasel, do I want wobbily shit and a goofy setup?
A: *SIGH*
I have been generally referring to prone shooting, and these factors (including stock fit and trigger length of pull) become especially critical when shooting from a sitting, kneeling or standing position. By trying to force yourself to fit to the gun instead of the other way around, you are almost certainly introducing asymmetric stress and movement into the equation. Not bueno.
Handguns are the same way, where fit is very important. It's one thing to pick up an ill-fitting weapon and shoot it for funsies, but for serious practice, or whenever it otherwise counts, you need to be able to reach and manipulate all of the controls comfortably and easily. That means your trigger finger reaches the trigger and your thumb can manipulate other controls in the case of a pistol. Racking the slide and clearing malfunctions should come naturally, easily and without a concerted effort.
The foregoing really only scratches the surface on the topic, and we haven't even begun to address other forms of shooting, for example shotgunning. Bottom line, if it isn't comfortable and repeatable, you're likely doing something wrong. Good habits take time to acquire and bad habits can manifest themselves all too quickly, so take the time to focus on the fit of the weapon, and make certain you are giving yourself the best possible chance to hit the target.
******
Guns of the Horde
Our pal
Ed L
wraps up his series on the guns of 007, with a look at the Walther P99.
In 1997's Tomorrow Never Dies, Bond trades in his PPK for the then brand new 9mm Walther P99. Bond continued to use the P99 until Quantum of Solace, when he goes back to using the Walther PPK, notably in the film's final scene.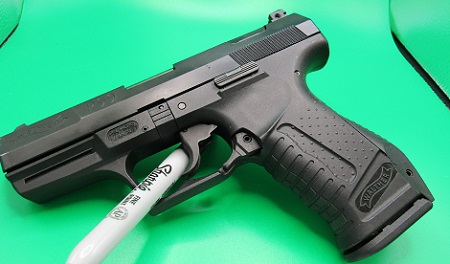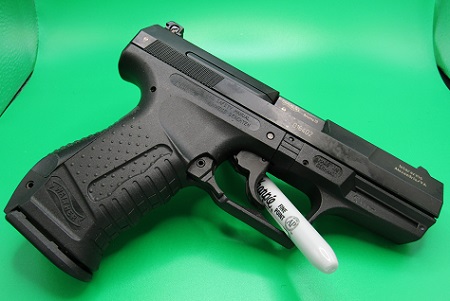 This Walther P99 still has its case, user's manual, spare magazines, and other accessories. The "Interarms, Alexandria, VA" marking on the right side of the slide shows that this is an early P99 imported by Interarms, based in Alexandria, VA. Interarms was Walther's primary US importer from 1968 until the death of its founder in 1998. Interarms ceased operations shortly thereafter. This pistol is probably one of the last guns imported by Interarms before its demise, since Walther introduced the P99 in 1997.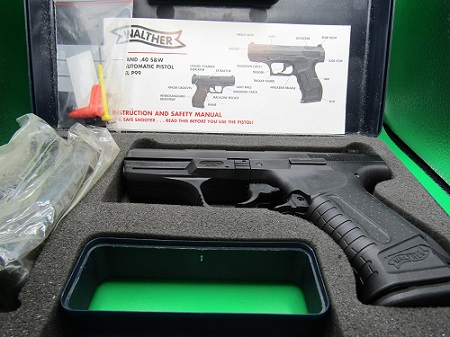 Great job and very nice pistol, EdL! I have a few guns imported by Interarms, which was located just down the road from me. Thank you!
******
Next up, our pal Faffnir Draken makes it back to the range after some time off.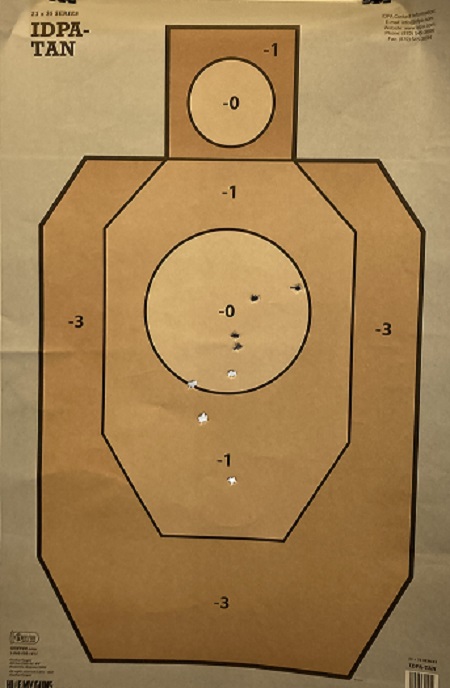 Six month layoff after eye surgery and these are the results. First is eight rounds at seven yards, the second is 24 at 15. Walther CCP 9mm. Not as good as I'd like, but the left eye is still not 100%. Don't think he went out to the bar that night in any eve... I'll keep at it.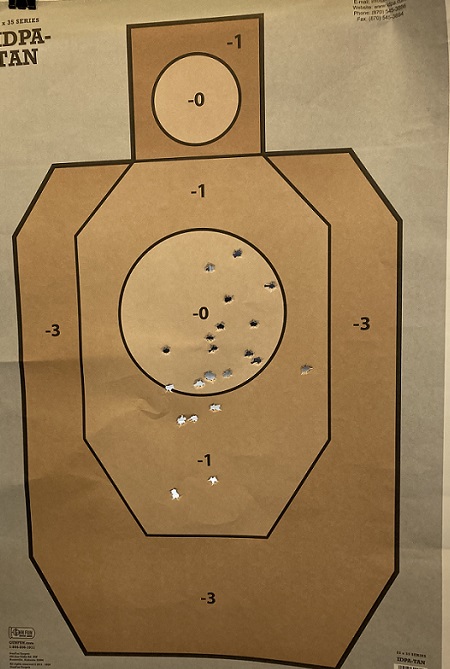 Looks pretty good to me! Nicely done. Just curious, is part of the recovery from surgery doing eye exercises like focusing on near and far objects as you do in shooting? Thanks again for sending this in!
******
Range Report
Next we have a TXMoMe range report from our pal and delightful 'ette
Sharon(willow's apprentice)
On sunny windy beautiful Saturday morning, I met Stinky's Daddy on the long-distance rifle range. He brought a rifle all the way from VA for me to try, a Barrett 98 Bravo with a Night Force MOA reticle scope.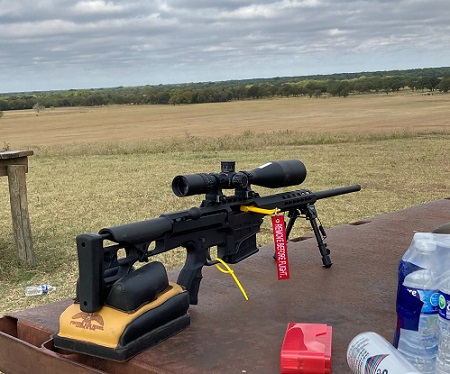 He set it up for a 100 yd target and took a shot. Hit just outside the diamond of the target. Wind definitely starting to pick up. He showed me how to put in the mag and load the round, take it off safety. Leaned in and as the wind died down, took the shot. SD looked through the scope and started yelling. He called cold range so he could go grab the target.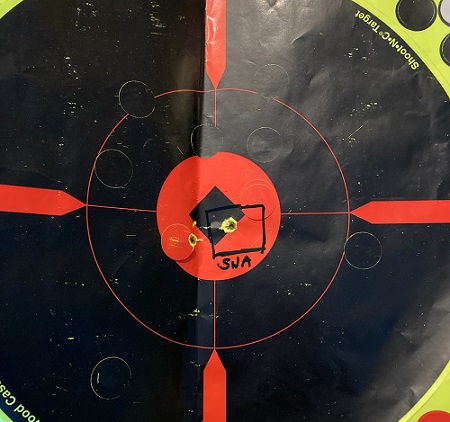 Second shot right around where Stinky Daddy's shot hit but took third shot at 200 yd steel target and knocked it off the rail. That was when Weasel said we couldn't shoot 6.5 Creedmore ammo at the 100 and 200 yd targets anymore. Definitely the highlight of my shooting experiences in Corsicana.
That Weasel guy sure is an asshole. Nice shooting, Sharon(willow's apprentice)!
******
First Aid
So here's something important to know, and that's how to stop bleeding. Whether you're at the range, or in the forest with a chainsaw, blood belongs on the
inside
of you and your pals. Should someone develop a leak, being able to stop it might very well save a life. Brought to you by
WeaselCares
Here is a link to the Israeli Bandage on Amazon. These things are inexpensive, folks, and there is absolutely no reason not to have one in your range bag. You don't have to go all nutty, but having the first aid basics covered with band aids, tape, and a few other odds 'n ends won't take up a lot of space and sure are great to have when you need them.
******
Ax Weasel
Q: Weasel, how big a crater is made by a 16-inch gun?
A: Big! Mucho large-o!
******
Musical Interlude
Doobies - Long Train Runnin'
******
Gun Basics 101
New video from the She Equips Herself gal! With a new puppy!
******
Cigar of the Week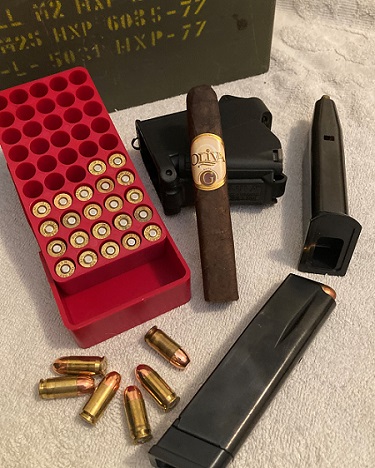 This week our pal rhomboid scores again with this excellent review of the Oliva Serie G Maduro
The Oliva Serie G Maduro, robusto vitola (size). I looked at the Oliva Serie G in an earlier review on the Gun Thread. This cigar has the same filler and binder tobacco, but a maduro wrapper, vs. a Cameroon wrapper on the regular Serie G. And the smoking experience was altered as expected due to this difference. Deeper, richer, stronger, and more earthy and dark wood flavors, with less of the sweetness or hints of cocoa found in the Cameroon version. Still a pretty mellow smoke, most would consider it medium, though if you're partial to lighter fare it can seem full bodied. Excellent construction and burn, easy draw. Box-pressed, like its sibling Serie G (rectangular instead of round). These sticks can be found for around $6 a piece and up, online.
Excellent, rhomboid! Thank you!
***
Here is a Cigar Vixen Punch Deluxe review.
******
Here are some different online cigar vendors. You will find they not only carry different brands and different lines from those brands, but also varying selections of vitolas (sizes/shapes) of given lines. It's good to have options, especially if you're looking for a specific cigar.
Cigar-O Link-O-Rama
Cigarsinternational.com
Cigarpage.com
Famous-smoke.com
Cigarsdaily.com
Neptunecigar.com
Smallbatchcigar.com
Bobalu Cigar Company
Cigarbid.com
A note about sources. The brick & mortar/online divide exists with cigars, as with guns, and most consumer products, with respect to price. As with guns - since both are "persecuted industries", basically - I make a conscious effort to source at least some of my cigars from my local store(s). It's a small thing, but the brick & mortar segment for both guns and tobacco are precious, and worth supporting where you can. And if you're lucky enough to have a good cigar store/lounge available, they're often a good social event with many dangerous people of the sort who own scary gunz, or read smart military blogs like this one. -rhomboid
Anyone have others to include? Perhaps a small local roller who makes a cigar you like? Send me your recommendation and a link to the site!
******
Ammo Link-O-Rama
I'm really very seriously not kidding around anymore. Buy Ammo
AmmoSeek - online ammo search tool
GunBot - online ammo search tool
SG Ammo
Palmetto State Armory
Georgia Arms
AmmoMan
Target Sports USA
Bud's Gun Shop
***Mail Bag***
This week's mailbag entry is from our pal WTM.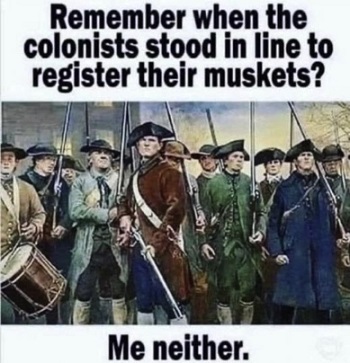 Good one! Thanks!
******
Please note the new and improved protonmail account gunthread at protonmail dot com. An informal Gun Thread archive can be found HERE. Future expansion plans are in the works for the site Weasel Gun Thread. If you have a question you would like to ask Gun Thread Staff offline, just send us a note and we'll do our best to answer. If you care to share the story of your favorite firearm, send a picture with your nic and tell us what you sadly lost in the tragic canoe accident. If you would like to remain completely anonymous, just say so. Lurkers are always welcome!
That's it for this week - have you been to the range?


posted by Weasel at
07:00 PM
|
Access Comments