« First-World Problems...
|
Main
|
Gun Thread: Sneaky Weasel Edition! »
November 06, 2022
Food Thread: Ribs...America's Food?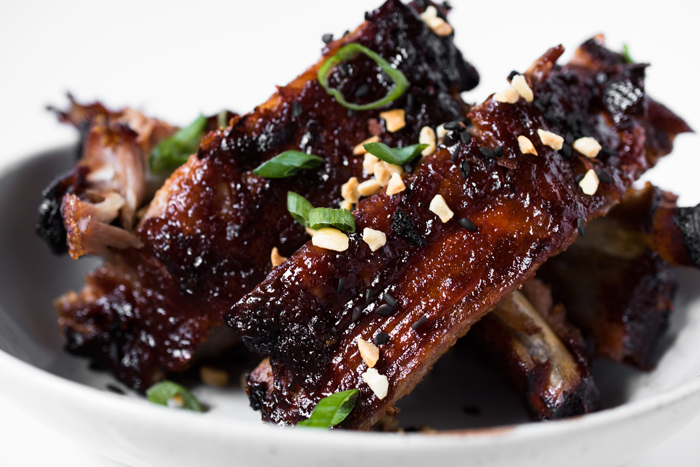 I love pork ribs, and judging by how often I see them on restaurant menus, and how many regional cuisines seemingly are based on them, I'm not the only one.
But the arc of my pork rib recipes is flat...very little variation other than in timing and other tweaks to technique. The prep is almost always the same....my own dry rub, and sauce (if any) on the side.
But today I am going to try a sweet/sticky/spicy glaze for ribs. Maybe not the maple-glazed ones I mentioned last week (I'm not sure that is a flavor that goes well with pork ribs), but something gloppy and messy and altogether fun to eat!
I have some pretty good BBQ sauce I made with some pork drippings, so the plan is to add a sweet component to that. Well...more of a sweet component. Enough to make it sticky and to caramelize pretty quickly on the grill. Maybe brown sugar...maybe honey...maybe even agave syrup.
I have no idea how it will turn out, but in my many years of eating ribs, I am hard pressed to remember any that weren't at least pleasant. So unless I make some catastrophic error, I will probably eat well, and messily tonight!
******
One of my favorite leftist writers is Michael Pollan, whose book "The Omnivore's Dilemma" is a well-written criticism of industrial food production, a paean to the way some of us used to eat, and an interesting examination of the alternatives to our current agricultural system.
Will it work? No. Not unless the population of the earth decreases... a lot. But that doesn't mean it isn't an interesting read. Unfortunately he falls into the trap that many progressives cannot avoid, and that is to extrapolate some portion of society into an all-encompassing world-view. Sure...food is important, but I don't define myself and my place in society by what I eat and how it is produced. That way lies the insanity of organic foods and the virtue signalling that has emerged out of that particular boondoggle.
And while poking around his writings I see that his newest topic is psychedelics. And as usual he extrapolates wildly...mind-bending drugs will do...everything! Just look at the title: "How to Change Your Mind: What the New Science of Psychedelics Teaches Us About Consciousness, Dying, Addiction, Depression, and Transcendence."
Yeah...I'll pass.

******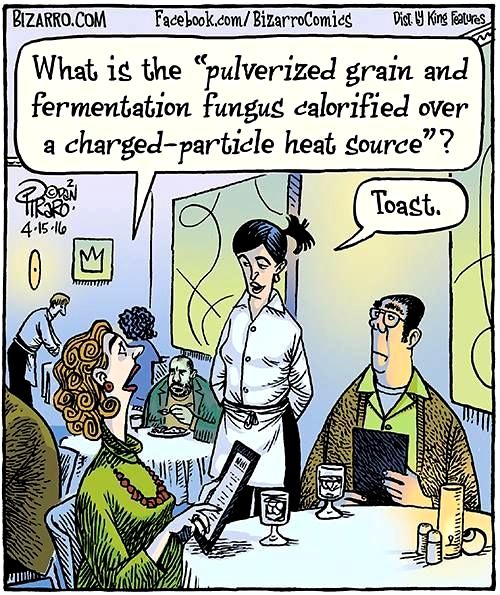 ******
When even leftist food site recognize that we have rampant and uncontrolled inflation, it is a sign that the Biden Junta's narrative is falling apart. Of course they don't ever blame economic policies, and good old CLIMATE CHANGE! figures in the article, but still...
Your Holiday Dinner Is in Trouble
is a recognition that all is not well in America. They discuss "food shortages" as if they are a thing divorced from everything else, but it's difficult not to realize what is going on. But their suggestions are just ridiculous...and sadly expected!
It's unclear how widespread the impact of these shortages — and potential shortages — will have on holiday eating. But perhaps, instead of turkey, this is the year to finally consider going vegan and roasting up a Tofurkey or giant head of cauliflower. Crab legs are much harder to substitute, but maybe everybody at your Thanksgiving table will be cool with California rolls?
Hah! Tofurkey!
******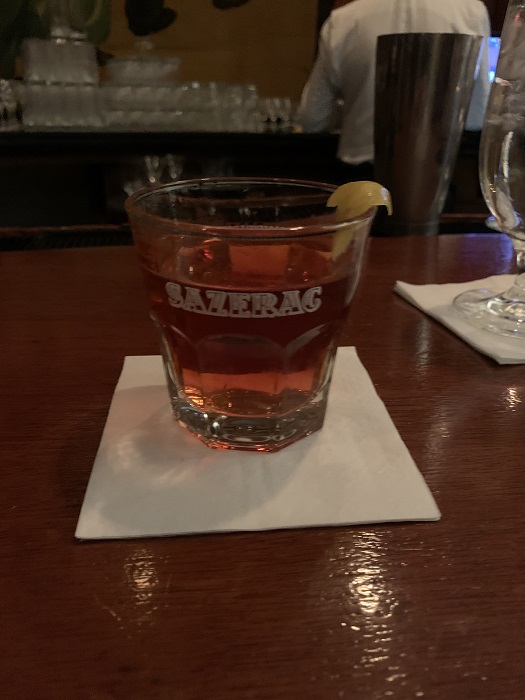 Yup...that is a Sazerac, sitting in front of commenter "Doof," who tells me it was quite delicious! And that is not a trivial thing, because making a good Sazerac cocktail can be an exercise in frustration; the flavorings are quite strongly flavored (bitters and Absinthe), so small changes in amounts result in big changes in flavor profile!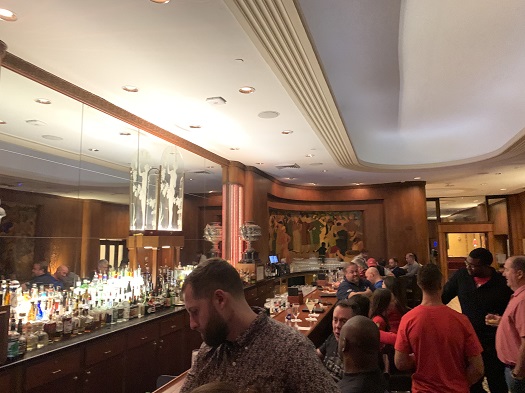 And that's the bar where "Doof" drank that Sazerac. In New Orleans...called...you guessed it...The Sazerac Bar!

******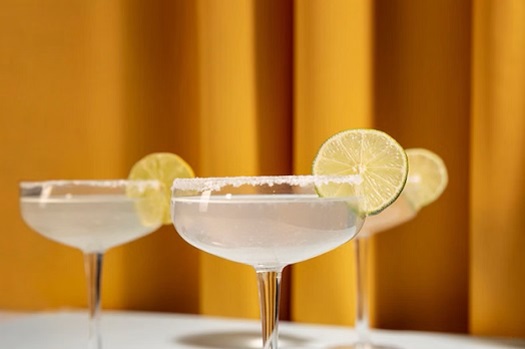 I like margaritas, and I especially like margaritas with a bit of spicy zing to them, in particular in the salted rim. In fact, I usually ask for a plain glass unless the salt is liberally dosed with something spicy.
So here is a pretty basic recipe for a with the caveat that the proportions call for more lime juice than I would normally use. My preferred ratio is 3:1:1, Tequila: lime juice: Cointreau.

******
As much as I love grilling, I am also a firm believer in sloth. So when I figured out that cast-iron and spatchcocked chicken are the ultimate in easy cooking I decided to try to improve the recipe that started me off.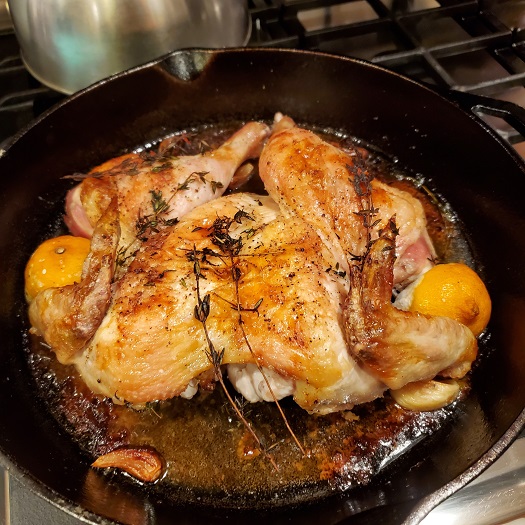 Except...it's a technique, not a recipe. So make it in whatever way floats your boat. Hell, I am sure it will work with peanut butter and kiwi as the dominant flavors!*
It really is easy....Spatchcock a chicken, then salt it generously and let it sit uncovered in the refrigerator, skin side up. I put it on a rack for maximum drying. Then dry it off, plop it in a cast iron skillet, pour some melted butter over it, add your favorite fresh herbs (I like thyme), a couple of half lemons, cut side down, as much whole garlic as your family can tolerate, then off to a 425 degree oven for about 40-50 minutes. When the breast hits 155 degrees, pull it out of the oven, let it rest for about 10 minutes, then eat!
I told you it was easy!
*No it won't. That was hyperbole. Please don't try it!

******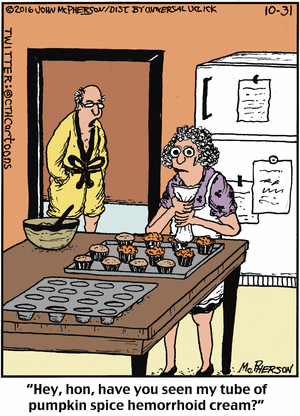 ******
Just send me oysters. Lots of oysters, and I will provide special dispensation for those without taste who insist upon maple syrup with their French Toast. And pork rib roasts from the front end of the pig where all the good and fatty meat lives, carrots that don't taste like stalky chalk, spare bottles of Van Winkle Special Reserve 12 Year Old Bourbon, an herb garden that actually produces herbs (but no basil!), well-marbled NY strip steaks and elk backstrap to:
cbd dot aoshq at gmail dot com.
And don't think that the rest of you are off the hook with maple syrup and French Toast: I'm still watching you! And I am watching you perverts who shake Manhattans and keeping a list for the Burning Times.

posted by CBD at
04:00 PM
|
Access Comments