« Food Thread: Tacos! Brownies! Rye Whiskey! A Perfect Meal
|
Main
|
Sunday Overnight Open Thread (10/30/22) »
October 30, 2022
Gun Thread: More Post TXMoMe Discussion and Analysis Edition!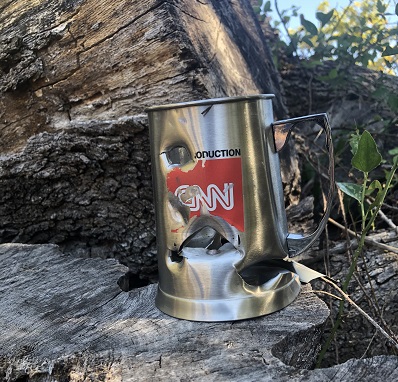 Howdy, Y'all! Welcome to the wondrously fabulous Gun Thread! As always, I want to thank all of our regulars for being here week in and week out, and also offer a bigly Gun Thread welcome to any newcomers who may be joining us tonight. Howdy and thank you for stopping by! I hope you find our wacky conversation on the subject of guns 'n shooting both enjoyable and informative. You are always welcome to lurk in the shadows of shame, but I'd like to invite you to jump into the conversation, say howdy, and tell us what kind of shooting you like to do!
Q: Weasel, what the hell is this? More TXMoMe?
A: Since many of you people didn't have an opportunity to comment last week on the TXMoMe, I thought I'd carry the fun into this week! So now that your travel and ruminations are hopefully complete, please feel free to comment on your experience below
With that, step into the dojo and let's get to the gun stuff below, shall we?
******
Bigly Fun Recap
I wrote last week's Gun Thread from one of my fav-o-rite places, the carport at the ranch where the TXMoMe is held each year. I arrive in Corsicana a day or two early to decompress from the drive and to write the upcoming thread in advance of the locust-like arrival of the Horde over the following days. Since the thread is completed
before
the shooting starts, I don't have a chance to include many details in the thread that goes up the day after TXMoMe Saturday. So let's fix that now.
I have said many times the TXMoMe is the highlight of my year, and 2022 was certainly no exception. Since we have done this a number of times, it's beginning to look like we know what we are doing! All the ranges were ready for action by Friday and we even did a little practice shooting on Thursday to make sure the plan was in order.
First, some thanks are in order. What started several years ago as a single day event with shooting as a small afterthought component has now become a program with more than two full days of shooting, and simply could not be coordinated and executed without a lot of help. So thank you to all the volunteer RSOs and instructors who helped run the rifle and handgun ranges safely and make sure that everyone had a good time and no one accidentally went home dead. Who are these people? Well I hesitate to mention names for fear of leaving someone out, but here goes; LeftCoastDawg, Scuba_Dude, CBD, Steck, Sponge, Eromero, Jim SND, NZFrank, Duncanthrax, Helena Handbasket and Nurse Ratched. These people are the ones who make it possible to run a multi-day event smoothly.
Nurse R and Ben Had recognized an opportunity to add more complex drill elements in the form of a move and shoot course. New for this year, the IDPA-style layout was conceptualized and then run by Nurse R who marshalled each shooter through the self-defense scenario. I was able to observe the course in action, and everyone I spoke with really enjoyed the addition to the usual static firing options, and commented on how different the introduction of movement made the overall experience. Thank you Nurse and Ben Had, very nicely done!
Extra big thanks to all who brought ammo to shoot and donated some share. This was an enormous help and greatly appreciated by those who were able to do some shooting as a result. Bro hug for the 'rons, and long, creepy, awkward hug for the 'ette's from Weasel.
To anyone I left out, your contributions were nevertheless greatly appreciated and if I failed to mention anyone in particular it is entirely the fault of my dried-out brain and rapidly failing memory. Thank you!
Lastly, but in no ways leastly, my bestest shooting pal WeaselBuddy Geoff set the bar bigly high for his first ever TXMoMe appearance. WBG rented a truck, loaded it up with custom steel reactive targets, tossed in some guns 'n ammo, and then drove two full days from Virginia to show a bunch of people he'd never met a great time.
Q: Weasel, what guns did WBG bring to the party?
A: Special guns. Very special guns. Very special smile-inducing high-cyclic rate 9mm guns!
Yep, WBG, brought a couple of sub-machine guns, an H&K MP5K and an Uzi, and boyz 'n girlz were they ever popular! Nothing will put a smile on your face like thumbing the selector switch from "safe" to full auto and letting it rip with a 30 round magazine dump in just a few seconds! WBG spent two days instructing and assisting on the handgun range and briefing/coaching all those interested in shooting these Class III weapons. WeaselBuddy Geoff - I cannot thank you enough. You made this a very special event for so many people and we all appreciate it very much!
P.S. Moron status: Achieved. Now you have to come back next year. Also, you need to start reading the damn blog!
And really finally lastly, I have to again mention our amazing hosts, Ben Had, CowHorse Queen and Rancher Bob. What these three pople do is nothing short of remarkable. They are my friends and I am incredibly thankful for that.
So! What did all ya'll like the best? What was your favorite TXMoMe experience? Rifles, handguns, or yes? Oh, and how about the vittles? Our pal Pete Bog, with a bunch of help from others, made each and every meal a feast!. How about the festivities in general? The TXMoMe offers so much to so many I know it's hard to focus on any one thing. Please feel free to chime in and share your personal TXMoMe story and let the group know what you liked most!
******
Guns of the Horde
First up, and just in time for Halloween, our pal
Nevada Dave
sends in a real skerry gun!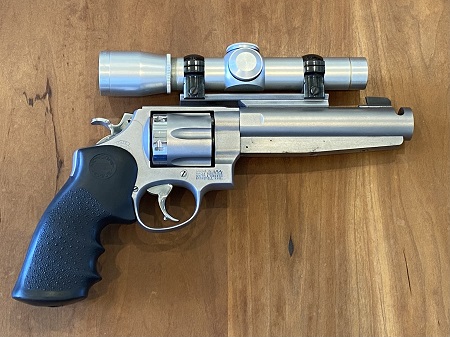 I like the mechanical intricacies of revolvers but hate cleaning them! This started life as a Smith and Wesson model 629 .44 magnum that I purchased in the early 1980's. I sent the gun to the late Andy Cannon and had him do what he did best. Andy was a very good S&W smith back in the day and Massad Ayoob was a big fan of his guns. He replaced the barrel with an Apex blank that he customized with a huge port, crowned it and added the full under barrel shroud/weight with a lock for the front of the crane. He hard chromed and polished the hammer, trigger and back of the cylinder. I assume the rear of the cylinder was plated to minimize the dreaded S&W cylinder turn line. He also added a stop on the trigger and mildly chamfered the cylinder. I have a Leupold 2 power duplex reticle scope on it.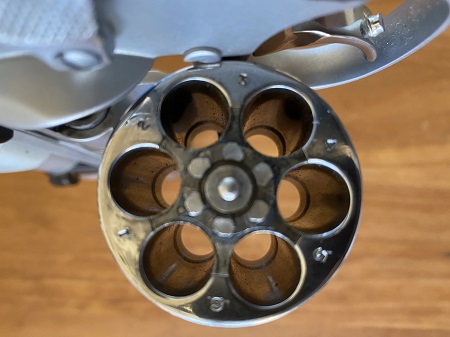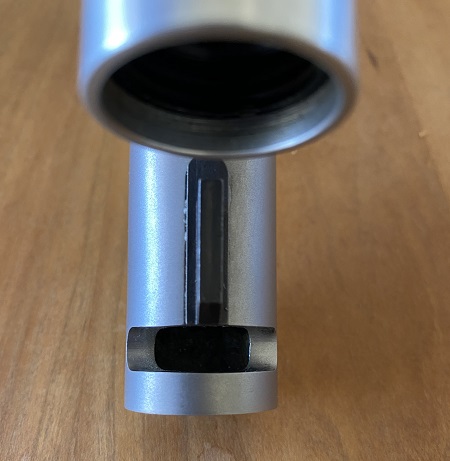 She shoots better than I can, pretty much a clover leaf when shooting of bags at 50 yards. Even with the added weight and compensator you still know when she goes off. Full house hunting loads are manageable, target loads are similar to a 38+p in a full size 686 or python.
Wow! Very nice, Nevada Dave! Thanks for sharing!
***
Next up, our pal
Ed L
is back from Texas with a write-up of the Walther PPK including some 007 background!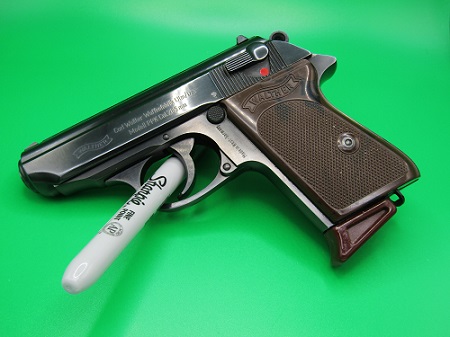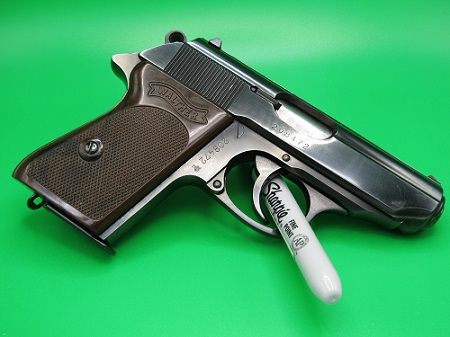 In May 1956, Geoffrey Boothroyd, a noted gun expert and writer, wrote Fleming. Boothroyd told Fleming that although he liked the Bond books, he criticized Fleming's choice of the .25 Beretta to arm Bond. Fleming accepted the criticism, and the two discussed how to arm Bond. Boothroyd suggested the Smith and Wesson Centennial Airweight, but in the end, Fleming chose the Walther PPK in .32 ACP to arm Bond. Fleming paid tribute by naming the MI-6 armorer Major Boothroyd in subsequent books. Most filmgoers know Major Boothroyd as "Q" in the films.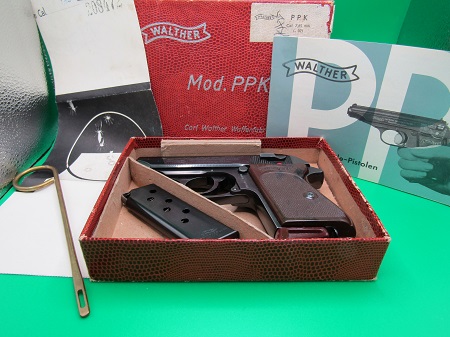 Unlike the Beretta, Bond keeps his Walther PPK mostly stock. Fleming stated that Bond used a magazine with a spur at the bottom to help grip the pistol. However, the movie Bond has never used a spurred magazine in his PPK. This 1966 Walther PPK in .32 ACP still has the original box, spare magazine, cleaning rod, user's manual, and test target dated September 9, 1966.
Holy cow! That's a beauty! Nicely done, Ed L!
******
4.4 Miles?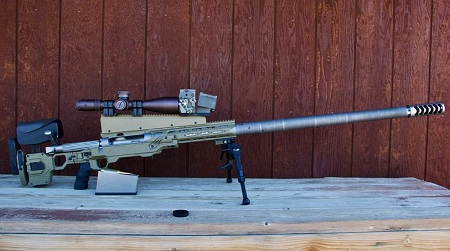 image courtesy American Rifleman Magazine
Here's a loooong range shooting story from American Rifleman Magazine sent in by a bunch of all y'all. I rant quite a bit about consistency and repeatability, but damn - over 4 miles is impressive!
******
Have a couple zillion dollars to spare? Here's a video on not one, not two, but three Singer 1911A1's!
******
Here is a bigly excellent tutorial from GunBlue490 on adjusting the front sight to zero an M1 or M1A. I know our pal
NZFrank
will like this!
******
Our pal
fd
scored at the TXMoMe prize raffle!
I got this cool hand knitted AoS branded gun case as a door prize at the Tx MoMe. Sweet!
Sweet indeed! A custom Sig Cozy!
******
Musical Interlude
Here is VooDoo Child by Kenny Wayne Shepherd.
But wait! There's more! Roy Clark and Folsom Prison Blues
******
Gun Basics 101
No new video from the She Equips Herself gal, so into the archives we go! This week's video is on home defense considerations.
******
Cigar of the Week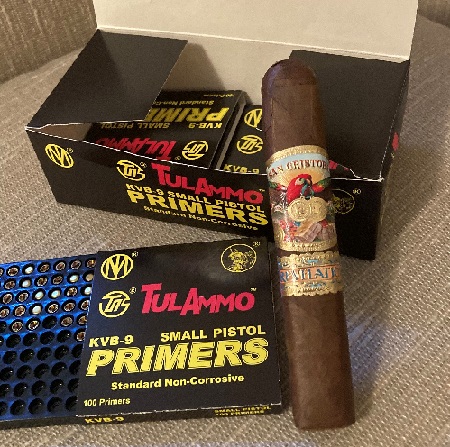 This week our pal rhomboid knocks one out of the park with this excellent review of the San Cristobal Revelation
The San Cristobal Revelation, robusto-sized, 5.25 X 54 - called the "Prophet" in this line of cigars. The Revelation is softly box-pressed, so roughly rectangular instead of round. Filler and binder are Nicaraguan, the wrapper is a beautiful chocolate brown Ecuador Sumatra leaf. It's a bit soft to the touch, with wonderful earthy aromas prior to lighting. San Cristobal is a collaboration of the big premium cigar company Ashton and one of today's premier cigar blenders, Don Jose Pepin Garcia.

This stick produces great volumes of creamy smoke. Construction is good but on the "looser" side - the burn line wandered occasionally but evened itself out without assistance. The cigar is considered "medium-full" in body, for me it is more toward the "full" end of that spectrum. I could not detect many of the flavor notes found in professional reviews, but I did find sweet tobacco, dark wood, and bitter chocolate. It is rich and fairly strong. Overall, an excellent and tasty cigar, perfect for those who prefer stronger fare, and a good option for many more as an after-dinner choice. Available online for $6 and up.

Pictured here with primers from RUSSIA!!! Obtained, of course, long before the current unpleasantness. We regret any triggering that may occur from this edgy depiction - but they were cheap and work just fine.
Excellent, rhomboid! Thank you!
***
Here is a Cigar Vixen Top 5 review.
******
Here are some different online cigar vendors. You will find they not only carry different brands and different lines from those brands, but also varying selections of vitolas (sizes/shapes) of given lines. It's good to have options, especially if you're looking for a specific cigar.
Cigarsinternational.com
Cigarpage.com
Famous-smoke.com
Cigarsdaily.com
Neptunecigar.com
Smallbatchcigar.com
Bobalu Cigar Company
Cigarbid.com
A note about sources. The brick & mortar/online divide exists with cigars, as with guns, and most consumer products, with respect to price. As with guns - since both are "persecuted industries", basically - I make a conscious effort to source at least some of my cigars from my local store(s). It's a small thing, but the brick & mortar segment for both guns and tobacco are precious, and worth supporting where you can. And if you're lucky enough to have a good cigar store/lounge available, they're often a good social event with many dangerous people of the sort who own scary gunz, or read smart military blogs like this one. -rhomboid
Anyone have others to include? Perhaps a small local roller who makes a cigar you like? Send me your recommendation and a link to the site!
******
Ammo Link-O-Rama
I'm really very seriously not kidding around anymore. Buy Ammo
AmmoSeek - online ammo search tool
GunBot - online ammo search tool
SG Ammo
Palmetto State Armory
Georgia Arms
AmmoMan
Target Sports USA
Bud's Gun Shop
***Mail Bag***
This week's mailbag entry is from our pal Coelacanth. Great one!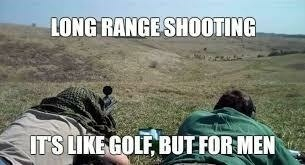 ******
Please note the new and improved protonmail account gunthread at protonmail dot com. An informal Gun Thread archive can be found HERE. Future expansion plans are in the works for the site Weasel Gun Thread. If you have a question you would like to ask Gun Thread Staff offline, just send us a note and we'll do our best to answer. If you care to share the story of your favorite firearm, send a picture with your nic and tell us what you sadly lost in the tragic canoe accident. If you would like to remain completely anonymous, just say so. Lurkers are always welcome!
That's it for this week - have you been to the range?


posted by Weasel at
07:00 PM
|
Access Comments