« First-World Problems (Stupid Homeowner Edition)...
|
Main
|
Gun Thread: More Post TXMoMe Discussion and Analysis Edition! »
October 30, 2022
Food Thread: Tacos! Brownies! Rye Whiskey! A Perfect Meal
My SiL bought some really good homemade tortillas, so I told her I would make tacos, because...duh! I bought a pork shoulder, cut it into 3"-4" chunks, and sous vided it with lots of fun stuff. Cumin, fresh chiles, orange juice, S&P, and probably lots of stuff I am forgetting. I didn't want it too spicy, just nice and toothsome.
Then all that needed to be done was prepping the toppings, which was easy. Chopped onions, some cilantro, a bit of Cotija, and some Elote on the side because I think it is absolutely delicious!
The real challenge was how to cook the tortillas, because I like them on the soft side but others like them a bit crispier and toasted. By the way, that was the rate limiting step...it takes a couple of minutes, and they were just big enough that only two fit on my little griddle. And even my big saute pan only took three. Well, I have a monster saute pan that I haul out occasionally, but I was well into my second Margarita, so I didn't feel like doing anything extra, and I don't think it would have helped anyway.
But all was fine and good and pure in the end. We finished the pork on the grill so it was nice and charred, then cut it into bite-sized pieces. No shredding...I wanted some texture.
And then everyone went to town making their own tacos. Which is as it should be...they are a deeply personal food!
And damned tasty too!
******
It's from Harvard, so I was confident that it would be a mass of pie-in-the-sky bullshit, coupled with nanny-state intrusions. And I was correct!
Bold action needed on U.S. food policies to improve health

The co-authors recommended five major policy goals:



Make nutritious foods accessible to all

Protect children from harmful food marketing

Strengthen food labeling

Commit to a sustainable food system

Improve infrastructure to support active living

"Americans deserve food and nutrition policies that make it easier for us all to live full and healthy lives," the co-authors wrote. "America's well-being depends on it."
Oh, shut the hell up. We need less government intrusion in our lives, and inserting the federal government into more personal health decisions is simply a guarantee that we will even less healthy. And that is ignoring the idiocy of a "sustainable food system," whatever that is. How does that improve my health?
The federal government is probably the entity most responsible for our current obesity and diabetes epidemic. That anyone would take its advice about anything other than how to extract the most graft from the next budget is insane.
In fact, a good diet might be to do the exact opposite of what the government reccomends.

******
I think I might try this! I have about five pounds of ribs that I just sous vided, and I was thinking about a sweet and sticky sauce for a change, since I usually serve my ribs dry with sauce on the side.
Maple Glazed BBQ Ribs
sounds good, especially since there is some hot sauce in the glaze that will temper the aggressive sweetness of the maple syrup.
******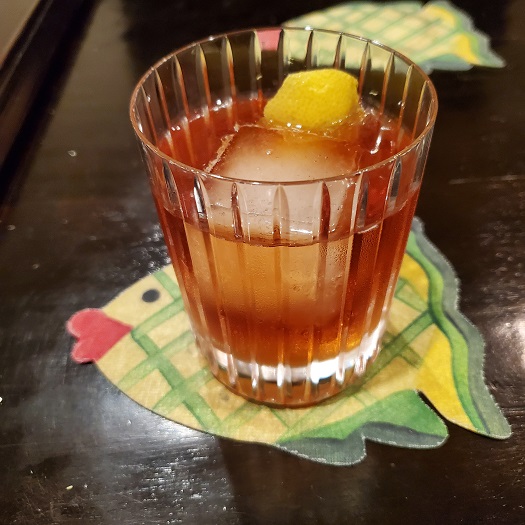 That is called an "Improved Whiskey Cocktail." Yeah...dumb name, but it has possibilities!


2 ounces Rye Whiskey

1 bar spoon Absinthe

1 bar spoon Maraschino Liqueur

1 dash Angostura Bitters

1 dash Peychauds Bitters

1 sugar cube

Lemon twist
I used a bar spoon of simple syrup instead of the sugar cube, because I think the whole sugar cube thing is an affectation. Regardless, it was a very smooth drink, and as I mentioned to naturalfake, one of our resident mixologists (I say that without condescension. What's the word for a serious home bartender?), it was perhaps too smooth! I prefer a little bite in my cocktails, and this one was missing something.
I'll play around some more, because I like all of the flavors, so I am confident that I will arrive at a pleasing recipe.

******
Here's a link to "Garden & Gun's"
Grits section.
One of their promotional emails had a recipe for Indian spice inspired grits, and after thinking a bit about that I realized that I have never had bad grits, so it is one of those forgiving ingredients that is pretty tasty no matter what.
Plain old grits with butter and salt for breakfast is delicious, as is classic shrimp and grits, with sausage and cheese and all sorts of other delicious stuff. And everything in between, including one that sounds really good...Fish and Grits! Made by the best chef in Savannah!
How do you folks prepare grits?

******
Somebody made brownies for the Texas MoMe, using one of the recipes from the
Deplorable Gourmet.
I apologize that I don't know who made them, but they were great! Moist and chocolaty with some extra chips tossed in. Whether that is in the recipe I don't know (I'll check later), but that recipe is a keeper!
[Addendum] I have been reliably informed that Helena Handbasket made the brownies, and I am eternally in her debt. They really were delicious!

******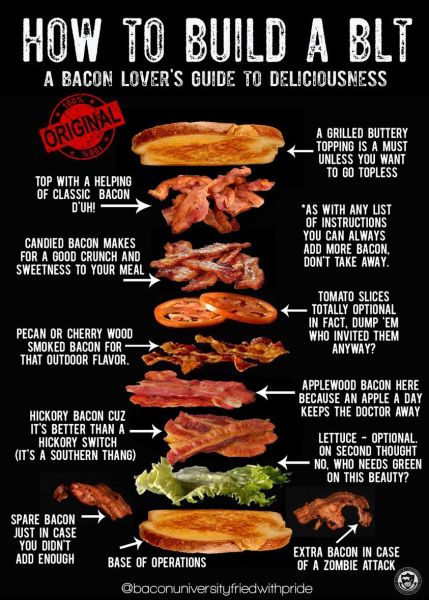 [Hat Tip: Creeper]

******
Just send me oysters. Lots of oysters, and I will provide special dispensation for those without taste who insist upon maple syrup with their French Toast. And pork rib roasts from the front end of the pig where all the good and fatty meat lives, carrots that don't taste like stalky chalk, spare bottles of Van Winkle Special Reserve 12 Year Old Bourbon, an herb garden that actually produces herbs (but no basil!), well-marbled NY strip steaks and elk backstrap to:
cbd dot aoshq at gmail dot com.
And don't think that the rest of you are off the hook with maple syrup and French Toast: I'm still watching you! And I am watching you perverts who shake Manhattans and keeping a list for the Burning Times.

posted by CBD at
04:00 PM
|
Access Comments