« Biden Administration Sneaks Out News in a Friday Night News Dump -- Illegal Border Crossings Hit All-Time Record Last Month
|
Main
|
DebateS Thread: Zeldin vs. Hochul at 7 pm, Dixon vs. Whitmer Also at 7pm, Oz Vs. John Fetterman & His Morbid Growth at 8pm
Zeldin/Hochul Debate Link Added »
October 25, 2022
Gen X Is Still Rebelling, and It's Mostly Rebelling Against Democrat Totalitarians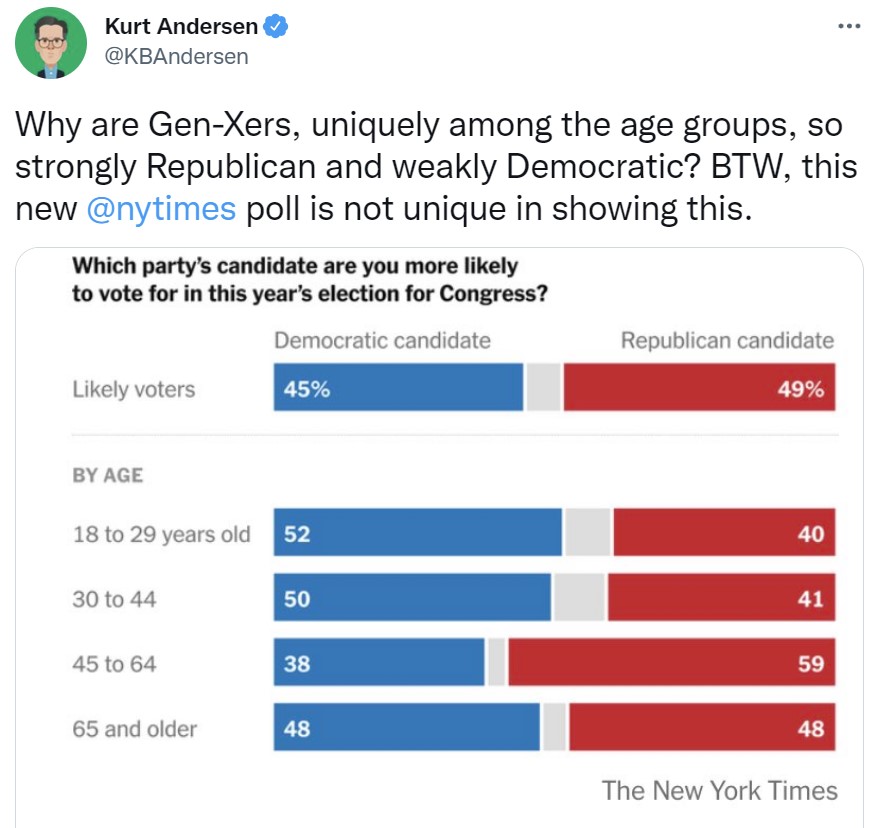 Julie Kelly at American Greatness:
Some social media blue checks had a bit of a temper tantrum this week following the release of a New York Times poll that showed overwhelming support for Republicans among Gen X voters.

The poll broke down the results by the respondents' ages, and while the category encompassing Gen X also technically included some younger Baby Boomers, it captured most of the so-called slacker generation. According to the survey, Gen Xers, those born between 1965 and 1980, now prefer a Republican candidate to a Democratic candidate 59 percent to 38 percent, a huge gap unmatched by the other age groups. (Boomers, the next closest group, split at 48 percent for each.)

That wasn't the only bad news for Democrats. Fifty-six percent of Gen Xers "strongly disapprove" of Joe Biden's job performance--a percentage nine points higher than the disapproval of Baby Boomers and 20 points higher than that of Millennials. Donald Trump has the highest approval rating and lowest unfavorable rating among Gen X voters. Forty-two percent of my generation describe Democrats as a threat to democracy; 50 percent say the same about Biden.

The Times poll isn't an outlier. A whopping 64 percent of Gen Xers disapprove of Biden, eight points higher than the next closest age group, the Boomers, according to a Morning Consult survey conducted earlier this month. Gen Xers are most likely to believe the country is on the wrong track; plan to vote Republican next month; think coronavirus hysteria is a bigger threat to the economy than to public health; disapprove of House Speaker Nancy Pelosi; and approve of Trump.

A new CBS News poll shows Biden with a 51 percent "strongly disapprove" rating and Republicans with a seven-point advantage over Democrats among Gen Xers. Fifty-six percent describe the Democratic Party as "extreme."

In other words, we are millions of Johnny Benders living in a world run by Richard Vernons. And we have a message for the Biden regime:

Eat. My. Shorts.

Read the whole thing.
Unrelated: I'm not sure "Beto" is the right model to emulate after all.

posted by Ace at
06:20 PM
|
Access Comments