« Food Thread: Sealed With A Kiss From Grandma!
|
Main
|
Sunday Overnight Open Thread (10/16/22) »
October 16, 2022
Gun Thread: Holy Shitballs Edition!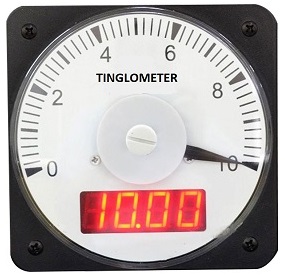 Howdy, Y'all! Welcome to the wondrously fabulous Gun Thread! As always, I want to thank all of our regulars for being here week in and week out, and also offer a bigly Gun Thread welcome to any newcomers who may be joining us tonight. Howdy and thank you for stopping by! I hope you find our wacky conversation on the subject of guns 'n shooting both enjoyable and informative. You are always welcome to lurk in the shadows of shame, but I'd like to invite you to jump into the conversation, say howdy, and tell us what kind of shooting you like to do!
Holy Shitballs! The tinglometer is redlined! The tinglometer is redlined!!
Q: Weasel, is the tinglometer redlined?
A: Yes! Yes, you fool! TEN! The Tinglometer is pegged at TEN!!!
OK, people. It's getting serious. Early this morning I hopped into the WeaselMobile and hit the road for Texas! If all goes according to plan, I'll be posting this tonight from Nashville, TN, which is about the half-way point in the drive from Northern Virginia. If all really, really goes according to plan, I'll be at the ranch tomorrow afternoon where I'll peel myself out of the car, say "Howdy Y'all!" to our amazing hosts, then collapse into a twitching heap. A day of recuperation and writing next Sunday's Gun Thread later, and it will be time to start welcoming the early helper-monkey arrivals to the Texas MoMe - 2022 Edition. Please have a safe trip however you are traveling because I cannot wait to see you all!
Sunday Update: Made it halfway, and it only took 11 1/2 hours. Weasel are 'tard!
I may be in and out of the comments tonight as I finish a couple of work items I wasn't able to complete before I left. Also, I'm again way, way, way behind on my email correspondence, so thank you for your continued patience!
With that, step into the dojo and let's get to the gun stuff below, shall we?
******
Corsicana Texas, The MoMe, The Weather, and You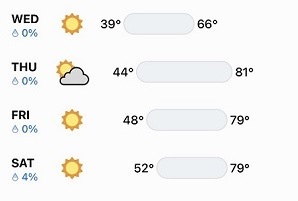 The weather can certainly be variable in Texas this time of year. During past MoMe's, we've had blistering heat and high humidity and chilly temps with monsoonal rain which left the Horde scrambling for cover and cold weather gear. Check the Corsicana, TX weather forecast and plan for anything. As of now, the forecast is just about perfect. Sunny with highs around 80F and cool evenings. Doesn't get much better than this, folks!
******
Guns of the Horde
First up, our pal and professional Gun Thread content contributor
Ed L
, shares a muy bigly excellent report on the Colt 1911!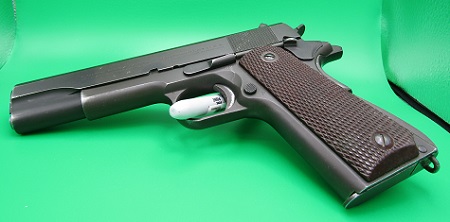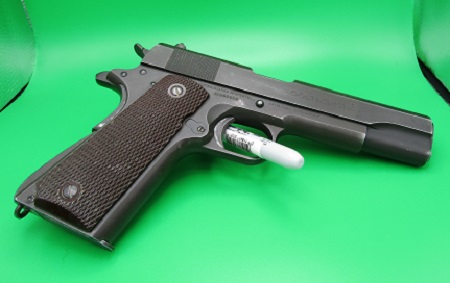 In February 1942, US Army Ordinance decided that the US Army needed 876,387 M1911 pistols for its greatly expanded force. The US Army had some 400,000 M1911 pistols from WWI on hand, plus about 55,000 M1911A1 pistols produced in 1924 and 1937-41. US Army Ordinance counted on using M1911 tooling from WWI to make up the difference in 1942. That was not to be. Wear, incompatibility with M1911A1 design drawings and specs, and skilled labor shortages meant contractor pistol production came to fruition only in 1943. Only one contractor (Singer) successfully delivered new M1911A1s (500 total). But the US Army cancelled Singer's pistol contract in favor of artillery fire control systems, a higher Army priority than pistols. This left Colt as the only manufacturer to deliver meaningful numbers of M1911A1 pistols in 1942, totaling 107,790 for the year.

By mid-1942, everyone knew that M1911A1 production would not meet requirements. Colt decided to transfer its entire remaining inventory of .45 ACP Government Model pistols (6,575) to boost M1911A1 production.
In 1937, Colt Government Model pistols added the Schwartz safety. This was a "drop safe" trigger that locked the firing pin in place unless the pistol was gripped properly, similar to today's Series 80 in modern Colts. Since the M1911A1 did not have the Schwartz safety, Colt removed these parts to convert Government Model pistols to M1911A1 standard. The hole for the Schwartz safety is clearly visible next to the sear. Commercial features (walnut grips, hammer, sear, other small parts) were replaced with GI standard parts. Colt removed the commercial bright brush blue finish in favor of the military standard "Parkerized" finish for M1911A1s.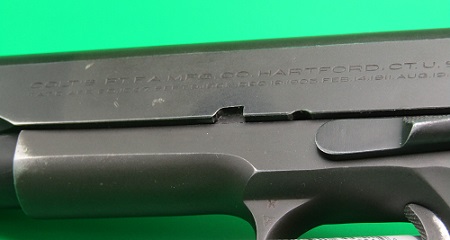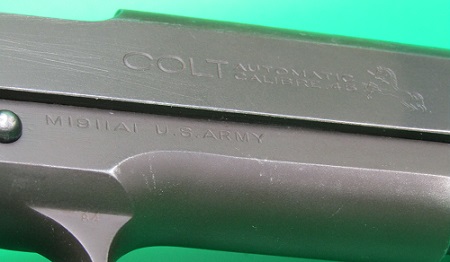 The slide retained its original commercial markings on both sides. The "M1911A1 US ARMY" roll mark was added to the right side of the frame beneath the commercial slide markings.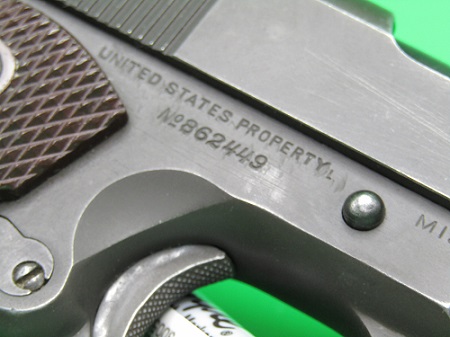 Colt removed the original "GOVERNMENT MODEL" roll mark and commercial serial number by crudely pounding them flat with a peen before stamping "UNITED STATES PROPERTY" and the new military serial number on top of the old markings. In this example, there's evidence that the work was hurried. The peen markings are clearly visible. Traces of the former "GOVERNMENT MODEL" roll mark are visible beneath the "UNITED STATES PROPERTY" stamp, with the final "L" in "GOVERNMENT MODEL" clearly visible. Traces of the former commercial serial number can be made out beneath the military serial number.

Colt delivered this pistol to Springfield Armory sometime in December 1942 or early January 1943. Unfinished parts from commercial Colt Government Model pistols would continue to appear on M1911A1s delivered to Springfield Armory throughout 1943.
Holy crap! Great report, Ed L! Thank you!
******
Next up, our pal
Dave in Fla
shares a report on a range trip with his son.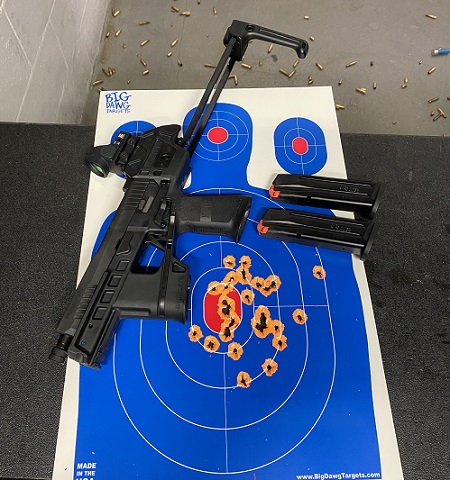 My son managed to score a second Flux pistol system, so I bought it off him. A new Sig P320, threaded barrel, and a red dot went into the build the last few days. So about 2 grand into this thing right now, before even looking at suppressors.

It shoots like a dream. Picture is 32 rounds at 15 meters. I tried it at 10 and 25 meters as well and it is super accurate. I'm considering an optical zoom sight as well.
Very nice, Dave in Fla! Congratulations and nice shooting!
******
Gun Thread Quiz Part Dos
Last week our pal CBD shared this skerry photo from the range of some bargain range ammo, proving not all bargains are a good deal.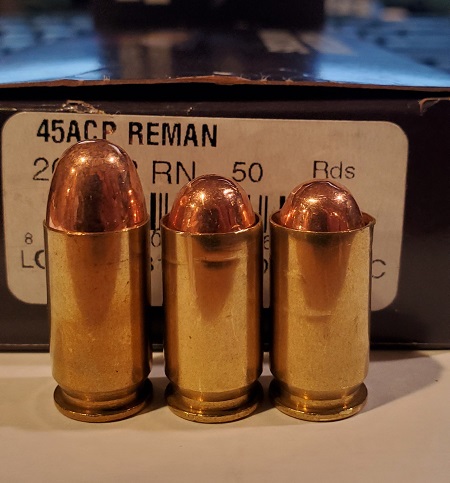 Here is what CBD had to say:
Those are Freedom Ammunition reloads. I was shooting 200 grain round nose in my Kimber and this happened. Not sure whether it is an ammo issue or a pistol issue, but I am not happy!
The consensus from the thread last week seemed to be some combination of insufficient neck tension on the cartridge, and also possibly some dragging on the chamber feed ramp. It's difficult to tell, but some of both with emphasis on the former, makes sense to Weasel.
Anyhoo, CBD sent the company an email with a photo and production info from the packaging, essentially saying WTF?
And here is the response he received from the manufacturer, Freedom Ammunition.
Kash Ca Inc. bought the assets from HMT free and clear of any debt or liabilities. I apologize but we are not liable or covering any issues from the previous owners manufacturing.
Well isn't that nice. Isn't that special? Way to act like a corporate turd, Freedom Ammunition! Looks like CBD will be exercising his freedom not to buy your products anymore!
***
After last Sunday's thread with CBD's problem ammo, our pal Doug Pratt, an NRA instructor and seasoned reloader, sent in the following comments on the importance of proper neck crimping when reloading.
The picture at the head of the latest Gun Thread set off my alarm bells. I do a lot of reloading, for myself and friends, mostly handgun and .223 unless it's close to hunting season. I am particularly careful to get a tight crimp on handgun rounds because having the bullet slip back and compress the powder that much can cause dangerous overpressure. Glocks are famous for problems with this because several models don't support the case all the way back. You can read overpressure by looking at the primers of fired cases, but the infamous "Glock bulge" is a sign that things aren't right. Too much not-right and you get slide separation and a potentially very dangerous failure. 10mm, .40 and .45 recoil hard enough to push bullets deeper into cartridges that are waiting in the magazine if they are not crimped properly.

Crimping has to be carefully done on cartridges that headspace on the case mouth. The round is held in place in the chamber by the case mouth touching the end of the chamber. That's not a rim at the rear, that's a groove for the extractor to pull the fired case out when the slide comes back. Too little crimp and the bullet can slide back as in the picture. Too much crimp and the case slides deeper in the chamber than it should, leading to a light firing pin strike on the primer and potential misfire.

Most reloading sets combine bullet seating and crimping into a single die, which has to be set just right. I like to use a Lee Factory Crimp die, which squeezes the case from four sides rather than rolling it at the top of the stroke that seats the bullet. It's an extra step but it is worth it. The bullet seating die is backed out a little so all it does is seat the bullet, and the Factory Crimp die makes sure it stays where it belongs. Turret presses make this easy. The Redding turret in the attached picture has been a good friend for over a decade.
Nicely done, Doug! Thank you!
******
Ax the Gun Thread
Late in the comments last week our pal
SecondCityLurker
axed the following question and it's something worth discussing this week.
Been looking to add a .45 to my carry collection, but not a 1911. Both HK and Walther have some nice options in the compact and 5" range. The HK Tactical is lovely, but I want a cary piece and I'm not willing to put that much money on my hip. I've shot the Glock and much as I like my 19X, the 21 doesn't seem to fit the bill for me.

Be interested in what people suggest and why. Could be a fun discussion ... unless, I suppose, it's been beaten to death already
Posted by: SecondCityLurker at October 09, 2022 09:00 PM (MEbkQ)
******
Cheap vs. Expensive Calipers
A couple of weeks back I included a video comparing calipers, and here is a follow-up video on cheap vs. inexpensive examples. Interesting, though I always try to buy the very best thing I can afford and then take good care of it.
******
Sulfur!
Hey! It's in gunpowder and rarely does a week go by that I don't get at least a dozen requests for a video on the Magic of Sulfur, so here 'tis.
******
5 Days!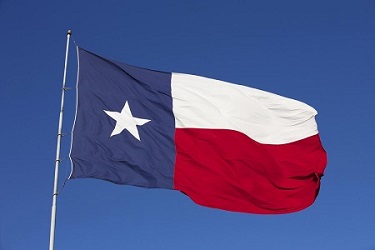 The countdown to the TXMoMe continues! That's right, boys and girls, the TXMoMe is a mere FIVE days from today, and by now you should be rushing your MoMe attendance plans to completion. There are lots of big doin's in the works and your hosts Rancher Bob, Cow Horse Queen and Ben Had are ready to welcome YOU to the festivities! Have you signed up? Are you on the exclusive guest list, or are you one of the mentally defective people who always finds a reason to make it next year?
PRO TIP: Word has it there may be some, well let's just call them "exotic" weapons, available to shoot in Texas. I don't want to go into a bunch of specifics, but if you like shooting at a high cyclic rate, plan on bringing a box of brass case 9mm ball ammo (example) with you to Texas. Please, NO reloads!
Q: Weasel, what the heck is a "high cyclic rate"?
A: Well, it's faster than a low cyclic rate such as that found on semi-automatic weapons.
Q: Weasel, why do I want to do that?
A: Because it is mucho fun-o, and an opportunity that many of you might not have often.
As long as we're on the subject, if you aren't planning to bring a firearm and ammo, but plan on shooting, please pick up a box or two of ammo in the caliber you like and bring it to Texas. Each year we have lots and lots of guns, and even more shooters, and it's nice have the cost and effort needed to source the ammunition spread around a bit. We want to make the shooting available to as many as possible, and cover those who want to shoot but for whatever reason cannot bring ammo, so every little bit helps. Thank you!
Holy Shitballs, people. Have I not implored and cajoled you enough? Do you require additional imploring and cajoling? I challenge you to find a single person who has attended a TXMoMe and not found it to be a life altering experience. Life altering for the good even! So please quit screwing around and making up reasons not to commit and start planning on getting your ass to Texas in October!
You will see this material again, so for heaven's sake, so do yourself a favor and email Ben Had for details!
******
Schedule O' TXMoMe Doin's
This seems like a good time to talk a little bit about the upcoming shooting program at the TXMoMe. What started years ago as an informal plinking session lasting a couple of hours has matured into a full program of shooting activities over two days. I have to thank Ben Had, Cow Horse Queen and RancherBob for allowing the shooting to comprise such a significant portion of the TXMoMe.
For a while I have been conducting a Rifle Clinic on Friday morning followed by range time Friday afternoon and then again well into Saturday. We have also been steadily refining the handgun portion of the program to now include an IDPA-esque move-and-shoot pistol course designed and run by Ben Had and Nurse R, as well as the usual static pistol range for those who prefer that.
Move n' Shoot - IDPA Course
This year Ben Had and Nurse R have put together an IDPA move-and-shoot feature on the pistol range. Since this is a new element, we are having a briefing during the handgun clinic and an additional repeat briefing around 2:30pm on the pistol range. If you are interested in participating, and you should be, please plan to attend one of these. Nurse R will perform both a cold walk thru and then a live fire demonstration of the course.
Nurse R also asked me to pass along the following link to the IDPA Rules.
We won't be scoring or DQ'ing anyone, well, unless they fan people or are jerks. I want to explain why we are running a cold course (see sec. 2.11.1 at the link) and why we are going to follow the IDPA rules. It's because people a whole lot smarter and experienced than I am, have created an activity where safety is paramount. They have managed to have thousands of events around the country in this manner.

The first three chapters are the most important. I hope people will take the time to review the concepts and verbiage before we explain them AGAIN during our briefing before we head out to the range. I want everyone to have fun and get to experience perhaps getting the adrenaline running and move and shoot in a way that perhaps, many have not. It will be fun, but, IT WILL BE SAFE.
Got it people? It will be safe, or Nurse R will pop a cap in yo' ass.
Non-Semiauto Shooting
On Friday around the same time as the IDPA (2:30pm) we'll have an opportunity to shoot the 'exotic' weapons I've mentioned. If you are interested, please be on the rifle range about that time for a separate briefing. Also, if you want to participate, please plan on bringing a box of 9mm brass case ammunition. There are more details on that below. If you want to do both, get in line early for one and boogie on over to the other before it all shuts down around 4pm. We will do our best to accommodate everyone, but stragglers might be disappointed.
Both the IDPA and Non-Semiauto opportunities will be available again on Saturday, so if you miss one on Friday don't despair - you will have a chance to do the other on Saturday.
Other Stuff
We have had a couple of great suggestions for new clinic content on Friday. In the morning I will go into some more detail on wind estimation and firing solutions which we will continue back on the rifle range later. Also, we are dropping some of the basic rifle material which I have repeated now for a number of years, and adding an introduction to America's Rifle, the AR15. If you haven't fired an AR15 before, or are simply AR15 curious, this will be a great opportunity! Please plan on bringing a box of standard 55gr .223/5.56mm ammunition (no green-tip, please) and if you have extra to share, it'll be greatly appreciated.
Also, at the end of the day we'll have a lesson on basic gun cleaning on the carport beginning around 4:30pm. Bring a dirty gun! If you are an experienced shooter and gun cleaner, stop by and lend a hand!
Anyhoo, here's a very rough outline of the schedule of events. Times are tentative and subject to modification/change.
Friday, 10/21
Rifle Program
8am - 11:00am: Rifle Clinic (carport)
11:30am - 1pm: Rifle Clinic, Intro to Wind Estimation (rifle range)
1pm - 4pm: Live fire (rifle range)
2:30 pm - 4pm: Briefing and MP5/Uzi live fire (rifle range)
Handgun Program
11:00am - Noon: Handgun Clinic (carport)
1pm - 2:30pm: Static live fire (pistol range)
2:30 - 4pm: Briefing and Move & Shoot live fire (pistol range)
4:30pm: Basics of Weapons Cleaning (carport)
Saturday, 10/22
Rifle Program
8:30am - 1pm: Live fire (rifle range)
Handgun Program
9am - 1pm: Live fire (pistol range)
Again, these times are approximate and may change as weather conditions and participation warrant.
******
More on Ammo for Texas
Let's talk a little more about bringing ammunition to the TXMoMe. The options are buy it at home and ship it UPS, buy it at home and ship it in your airline
checked
baggage, or just buy it once you get to Texas.
Let's begin with the easiest, first. Texas is awash in shooting and outdoor stores, and you really shouldn't have any trouble using this option. There are a lot of sporting goods stores on the south side of Dallas and in the towns all the way down I-45 to Corsicana. A quick internet search should return several options, and you might want to identify a couple before you leave home. Next, there is a store in Corsicana, Brinson PowerSports, that has a generally reliable stock of major calibers, although ammo is not listed on their website. I'd suggest calling first and asking if they have what you're looking for. The physical address and phone number is:
Brinson PowerSports
1931 Martin Luther King Blvd.
Corsicana, TX 75110
903-229-4330
Honestly, sourcing ammo locally seems like the most logical choice to me, but for those of you with special needs, it's pretty easy to fly with ammunition in your checked baggage. Here I am speaking in very general terms and it is incumbent upon YOU to check in advance with your airline, confirm the requirements, and comply with them.
Southwest Airlines is a popular option into the Dallas area, and I have found them to be gun friendly as far as these things go. Here is what I found on the Southwest Airlines Special Baggage webpage:
Packing Ammunition Small arms ammunition for personal use (provided it is properly packed) is permissible in checked baggage only.

The ammunition may be placed in the same container as the firearm and must be securely packed in cardboard (fiber), wood, or metal boxes, or other packaging specifically designed to carry small amounts of ammunition.

Ammunition Limits
When checking ammunition, Customers are limited to 11 pounds (ammunition plus container) per person. Gunpowder (black powder) and primers or percussion caps are not allowed in checked or carryon baggage.

Loose ammunition or loose loaded magazines and/or clips are not allowed. Paintballs must be packaged in a leak-proof container and will be subject to limited release.
So my read is that ammunition in its original cardboard container is all you need, and it does not have to be locked inside another container inside your bag as required for a firearm, and you are allowed up to 11 pounds carried in this fashion. Although the instructions are silent on declaring the ammunition to airline personnel, again as you must do when transporting a firearm, I think it's probably a good idea to do so. You may or may not be allowed to check your baggage curbside when traveling with ammunition, so be prepared for a little extra time at the counter. Again, this is my interpretation and as we all know I am mostly full of shit, so check for yourselves.
Every airline has a section like this on their website, usually found in the baggage section, and you may have to dig around a little to find it. I also recommend printing your specific airline's policy and bringing it with you on the trip, just in case you need to help the ticket agent understand how to do their job. I will say in all the years of flying all over the country to matches, I have never once had any problem with airline personnel and their rules and have always found them well informed and helpful.
Finally, if you are really a special needs shooter, our bestest buddy and pal and host RancherBob has offered to allow people to ship their ammunition to the ranch. I would recommend this only in very unique circumstances where very specific ammunition is required and neither of the other, simpler options will work. If this is you, then contact me for details. I have shipped ammunition via UPS in the past and it works, but there are strict packaging and labeling requirements and also necessitates you visit an actual UPS location rather than a retail shipping store. Also remember, you cannot ship ammunition via USPS.
Questions? Just ask!
******
Musical Interlude
Roadtrip tunes! Sponge (no, not our Sponge as far as I can tell) - 'Plowed'. If this doesn't get you rolling down the road, I'm not sure what will.
******
Gun Basics 101
New video from the She Equips Herself gal! This week she discusses the holsters she uses most.
******
Cigar of the Week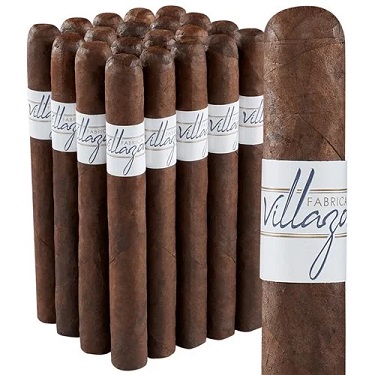 Q: What is your current daily cigar?
A: Why, it's none other than the Villazon Maduro from Cigars International.
These aren't hand rolled by fiery latinas in Havana, but at $2 each, Weasel ain't complaining about these Honduran bundles. Every once in a while you'll get a dud, but overall these ain't bad.
***
Our non-smoking canoe captain pal
Otto Zilch
shares a cigar store he found in his AO.
I don't smoke, but I do enjoy the aroma of a good cigar, just like I don't own a gun (I prefer pointy weapons) but I support the right of my neighbors to do so. So here's a link to a new cigar store in my hometown of Glenside PA Kay's Cigar Sensations.

I've chatted with some customers while out on a bike ride (usually we're talking about the wine or scotch they're enjoying along with the stogies, and they're a pretty agreeable crew. So if you're going to a show at the Keswick Theatre, there's your stop for a before or after-show smoke.
Looks like a great place, Otto Zilch! Thanks for the recommendation. If you're in the Philly suburbs, check it out!
***
Here is a Cigar Vixen review on the Quesada 1974.
******
Here are some different online cigar vendors. You will find they not only carry different brands and different lines from those brands, but also varying selections of vitolas (sizes/shapes) of given lines. It's good to have options, especially if you're looking for a specific cigar.
Cigarsinternational.com
Cigarpage.com
Famous-smoke.com
Cigarsdaily.com
Neptunecigar.com
Smallbatchcigar.com
Bobalu Cigar Company
Cigarbid.com
A note about sources. The brick & mortar/online divide exists with cigars, as with guns, and most consumer products, with respect to price. As with guns - since both are "persecuted industries", basically - I make a conscious effort to source at least some of my cigars from my local store(s). It's a small thing, but the brick & mortar segment for both guns and tobacco are precious, and worth supporting where you can. And if you're lucky enough to have a good cigar store/lounge available, they're often a good social event with many dangerous people of the sort who own scary gunz, or read smart military blogs like this one. -rhomboid
Anyone have others to include? Perhaps a small local roller who makes a cigar you like? Send me your recommendation and a link to the site!
******
Link-O-Rama
I'm really very seriously not kidding around anymore. Buy Ammo
AmmoSeek - online ammo search tool
GunBot - online ammo search tool
SG Ammo
Palmetto State Armory
Georgia Arms
AmmoMan
Target Sports USA
Bud's Gun Shop
***Mail Bag***
This week's mailbag entry is from our pal OrangeEnt. Good one! Thanks!
*
******
Please note the new and improved protonmail account gunthread at protonmail dot com. An informal Gun Thread archive can be found HERE. Future expansion plans are in the works for the site Weasel Gun Thread. If you have a question you would like to ask Gun Thread Staff offline, just send us a note and we'll do our best to answer. If you care to share the story of your favorite firearm, send a picture with your nic and tell us what you sadly lost in the tragic canoe accident. If you would like to remain completely anonymous, just say so. Lurkers are always welcome!
That's it for this week - have you been to the range?


posted by Weasel at
07:00 PM
|
Access Comments