« First-World Problems...
|
Main
|
Gun Thread: Holy Shitballs Edition! »
October 16, 2022
Food Thread: Sealed With A Kiss From Grandma!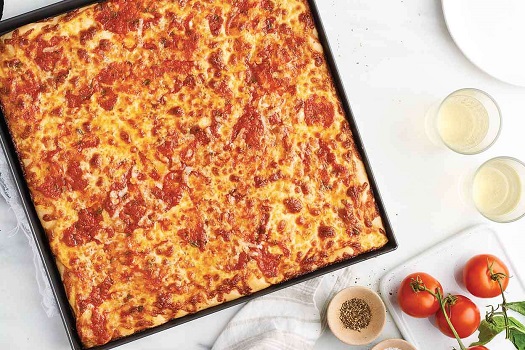 That's a Grandmother pie. Or a Grandma pie. Whatever you call it, it tastes good! The dough is a bit denser and a lot thinner than typical Sicilian pizza, and cooked at high heat it should get a little crispy, especially if you use olive oil in the ban. The best ones I have had were made with fresh mozzarella, fresh chopped tomatoes, and a fair amount of garlic, which of course is never a bad idea! But even made with a tomato sauce and drier mozzarella it should taste good if you do your part.
Here's the King Arthur Bakery recipe, which should be a solid start, although I have never made this version so I cannot vouch for it. It looks straightforward though...
It's odd that pizza is at its simplest just dough, tomato and cheese, but there are a seemingly infinite number of varieties based on small differences in the dough and other ingredients. It's tough to screw up when the baseline is a pretty good basic recipe, and the ingredients are high quality.
Or medium quality...I like a basic NY pie with commercial mutz and jarred sauce. Is it my favorite? no, but it sure does hit the spot sometimes!
******
Today and next week are going to be a bit abbreviated, since I am thoroughly awful at doing Food Threads ahead of time, and I am really busy today. And next week will be a bunch of photos of whatever food at the Texas MoMe that catches my fancy. Or lopsided photos of my feet, since I have discovered that there is a nice little Whiskey industry in Texas that makes solid stuff!
******
All I can say is: "Better RedMindBlueState than me!"
Attached are some photos from what has to be my most unusual culinary effort to date.

I've been up in Cannuckistan visiting the RMBS Sister and BIL for their Thanksgiving. They have a friend who frequently travels into far northern Cannuckistan. This friend made them a gift of a pound of canned...seal. Their challenge to me was to find something to do with it.

After consulting the interwebz and researching seal cookery (yes, it's a thing), I found the below site, and tweaked one of its recipes (seal with rice...I used egg noodles, and upped the game of the bechamel considerably). Sadly, I couldn't sous vide that shit.

https://www.chasseursdephoques.com/
en/content/recipes

Seal turns out to be, to my taste, very like wild venison. Gamey, with a hint of liver and a touch of waterfowl, with a texture of good beef. The canned meat was very well cooked and seasoned, with some veg that was probably celery. It paired well with a robust cabernet sauvignon, and was well received by all.

[...T]he moose out front gave it the, um, seal of approval.

Cheers!

RMBS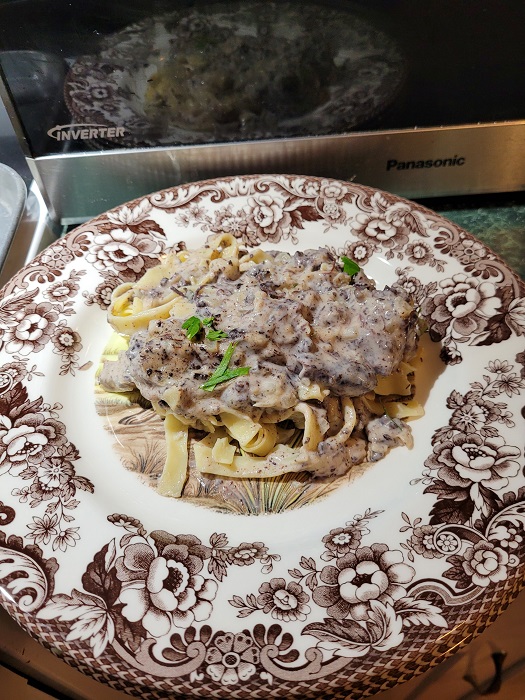 Okay...I admit it...it does look pretty damned good.

******
This is courtesy of our very own commenter "Stephen Price Blair." He seems to see cook books as chronicles of social history as well as places to find recipes, and that makes a lot of sense.
Here is an index of "The Deplorable Gourmet, " which as most of you know is the cookbook that all the cool kids use! The Deplorable Index
I wonder what he thinks of the community that produced it?
Anyway, take a look at his[oops...not his] MeWe page!
Deplorable Dining: An AoS Food Thread Fan Group
[Hat Tip: Bluebell]

******
The Biden Junta "FunFlation" is absolutely pounding food prices around here. I have watched local (PA) eggs go from $2.99/18 to $6.99/18 in less than a year. Squash and zucchini are up 50%, Red and yellow peppers have doubled, and even butter, which I imagine is a loss leader in many stores has increased by 56% at my favorite source.
I like to keep the Food Thread relatively free of politics, but obviously this will have a huge impact on some people, but I think there are still options available that can keep tasty food on the table without breaking the bank and having to sell your plasma.
We will be talking more about this in the future...

******
Commenter "RS" sent this along, and it is a wonderful example of the delights of simple food. His daughter was hiking in the alps and...well...let him explain!
My daughter, who lives in Central Europe, recently did a trek over the Alps in the southern Austrian state of Styria. On the south side of the mountains, the weather tends to be better and it's a wine growing region. Anyway, she and her friends overnighted at a "hut" which bears the protected appellation "Buschenschank," which, in Austria, means all food and beverage must be produced on site. Think "farm to table" where the farm and table are in the same place.
As I mentioned to "RS," I love the simplicity of the food, and the delight in finding delicious things in out-of-the-way places!
******
Yes, this is old, but it makes me chuckle.
Please join me in remembering a great icon of the entertainment community.

The Pillsbury Doughboy died yesterday of a yeast infection and trauma complications from repeated pokes in the belly. He was 71.

Doughboy was buried in a lightly greased coffin. Dozens of celebrities turned out to pay their respects, including Mrs. Butterworth, Hungry Jack, the California Raisins, Betty Crocker, the Hostess Twinkies, and Captain Crunch. and Little Debbie.

The grave site was piled high with flours.

Aunt Jemima delivered the eulogy and lovingly described Doughboy as a man who never knew how much he was kneaded.

Doughboy rose quickly in show business, but his later life was filled with turnovers. He was not considered a very smart cookie, wasting much of his dough on half-baked schemes. Despite being a little flaky at times he still was a crusty old man and was considered a positive roll model for millions.

Doughboy is survived by his wife Play Dough, two children, John Dough and Jane Dough, plus they had one in the oven. He is also survived by his elderly father, Pop Tart.

The funeral was held at 3:50 for about 20 minutes.
******
Just send me oysters. Lots of oysters, and I will provide special dispensation for those without taste who insist upon maple syrup with their French Toast. And pork rib roasts from the front end of the pig where all the good and fatty meat lives, carrots that don't taste like stalky chalk, spare bottles of Van Winkle Special Reserve 12 Year Old Bourbon, an herb garden that actually produces herbs (but no basil!), well-marbled NY strip steaks and elk backstrap to:
cbd dot aoshq at gmail dot com.
And don't think that the rest of you are off the hook with maple syrup and French Toast: I'm still watching you! And I am watching you perverts who shake Manhattans and keeping a list for the Burning Times.

posted by CBD at
04:00 PM
|
Access Comments