« Saturday Morning Coffee Break & Prayer Revival
|
Main
|
Gardening, Puttering and Adventure Thread, October 15 »
October 15, 2022
You don't have to be in California government to create a disaster, but it helps
From March 11, 2017, Ace of Spades HQ, a ghost train: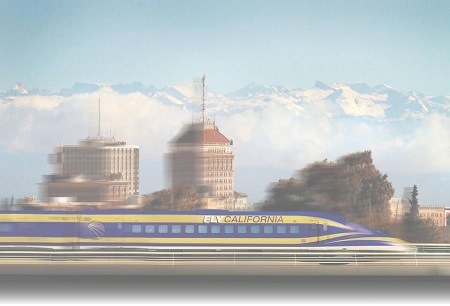 High-speed train flies through downtown Fresno
Such a beautiful dream.
In 2017, the Powers that Were had built an amazing, glistening, grand new train/bus station in San Francisco for bullet trains that were years away from arriving. The grand opening was anticipated soon.
The 3 block long, 5 story station opened briefly for bus traffic a year late, when it cracked and they had to close and fortify it. More massive expenses and delays. And those bullet trains are never coming to the station. Unlike ballplayers to that famous ballfield who were attracted by its mere presence. Gavin Newsom had to destroy the planet, along with Jerry Brown's dream, on his way to Washington D.C.
Quoting myself back in 2017:
Wait - I thought the train was supposed to STOP in downtown Fresno. Well never mind. The California high-speed rail debacle just gets bigger and stupider over time. I have a hard time keeping track, even though I see some of the construction on the project from time to time. I have friends who have already had their lives changed by it.
Well, the project isn't currently getting much bigger, but it remains extraordinarily stupid. The trains are now planned to run from Bakersfield to Merced rather than from Los Angeles to San Francisco. In other words, they are just running it through the easy, flat farmland. But it costs more than the original train was supposed to cost. And it won't be a bullet train, really.
March, 2017:
In the middle of the day, I drove past the support towers under construction for the viaduct intended to carry high speed trains over Cedar Avenue and Highway 99 in the southern part of Fresno. There were some really, really tall cranes standing near the towers, but I saw no work underway.
Now, work had proceeded to the point where there is a structure over the highway, including some golden support arches that don't look really permanent. Don't know if they ARE permanent.
The New York Times has even noticed the project. It includes a report about the frustration of a French engineering firm. A French engineering firm. There used to be jokes about how the French couldn't do engineering because they still had to say quatre-vingt-dix instead of the old, logical word nonante (except among the uneducated) because the regimental numbers of the units that stayed loyal to the king during the revolution could not be mentioned.
But apparently, this train-building French outfit, SNCF, does some good work. Steven Hayward has picked out some "fun bits" from the long feature in the NYT. Here are a couple with some of his commentary:
Actually there really isn't much question: it isn't going to be finished. And in any case, since Californians will all be driving electric cars in little more than a decade (heh), why bother finishing it, since it will not do anything to save the climate.

The tortured effort to build the country's first high-speed rail system is a case study in how ambitious public works projects can become perilously encumbered by political compromise, unrealistic cost estimates, flawed engineering and a determination to persist on projects that have become, like the crippled financial institutions of 2008, too big to fail. . . [A]ccording to projections widely used by engineers and project managers, the train could not be completed in this century.
But this passage is the best part of the whole story:

The state was warned repeatedly that its plans were too complex. SNCF, the French national railroad, was among bullet train operators from Europe and Japan that came to California in the early 2000s with hopes of getting a contract to help develop the system.

The company's recommendations for a direct route out of Los Angeles and a focus on moving people between Los Angeles and San Francisco were cast aside, said Dan McNamara, a career project manager for SNCF.

The company pulled out in 2011. "There were so many things that went wrong," Mr. McNamara said. "SNCF was very angry. They told the state they were leaving for North Africa, which was less politically dysfunctional. They went to Morocco and helped them build a rail system."

Morocco's bullet train started service in 2018.
There you have it. As far as good governance is concerned, California now ranks below North Africa.
*
Ed Driscoll adds a bit of history from the NYT piece:
The modern concept of high speed rail began in 1964, when the Japanese National Railways launched its first Shinkansen train from Tokyo to Shin Osaka, operating at 130 mph. Following passage of the High Speed Ground Transportation Act of 1965 in the U.S., the Pennsylvania Railroad (and successor Penn Central), in partnership with the Federal Railroad Administration, upgraded its Washington-to-New York corridor for new 160-mph trains. Four- and six-car trainsets were comprised of electric multiple-unit cars built by Budd, named Metroliners.
So, that was in 1965. Why don't we have bullet trains crossing the country? Where is the train to Hawaii?
*
You couldn't get to this part of the California Central Coast on a train. Headlands Harmony.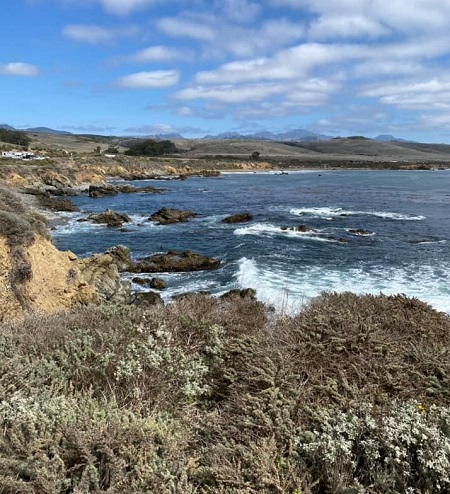 * * * * *
La estupidez continues in California government
Via J.J. Sefton's Morning Report yesterday:
California's Water Supply Falls Victim to CRT
California's agricultural production is as large as Texas and Iowa combined. The state's Mediterranean climate and fertile valleys help make it the fifth largest supplier of food and fiber in the world. It all depends on water.

Most of the state's crops rely on irrigation as opposed to rain. Irrigation is regulated by a system of water rights held by public and private parties. Notice these are "rights" and not "privileges." The exercise of these rights to bring about beneficial uses of water such as growing food is a complicated area of law and policy.
History proves that giving the government control over the food supply is usually a recipe for famine. Still, there are many environmental and so-called social justice organizations that would like to move all the privately held water rights to state control. One way to do so is by influencing state water rights agencies through Critical Race Theory.

California's State Water Resources Control Board, (AKA the State Board), has released a draft of its Racial Equity Action Plan and is soliciting public comments. The board is one of the more powerful of California's bureaucracies. Members are appointed by the governor and according to its website, "...the five-member State Water Board allocates water rights, adjudicates water right disputes, develops statewide water protection plans, establishes water quality standards, and guides the nine Regional Water Quality Control Boards."

According to Executive Director Eileen Sobeck, "There could not be a more critical challenge facing us at this time than the challenge of achieving racial equity," demonstrates the Board's priorities in this time of major drought.
This piece is quite detailed, so you may want to read the whole thing.
. . . . It gets serious when your family's food supply can be negatively impacted.

Remember freedom is worth fighting for and if you don't push back you're going to get what they give you and you won't like it. People and organizations are afraid to speak out against this obvious racist tactic of CRT for fear of being called "racist." So? Racists are calling you a racist. You don't have to be from California to speak up for food security and there are rumors someone from Sacramento wants to run for national office. Perhaps your voice can be an influence for sanity. Go to Racial Equity Action Plan and let them know your opinion.
*
Piedras Blancas Lighthouse. Needs water.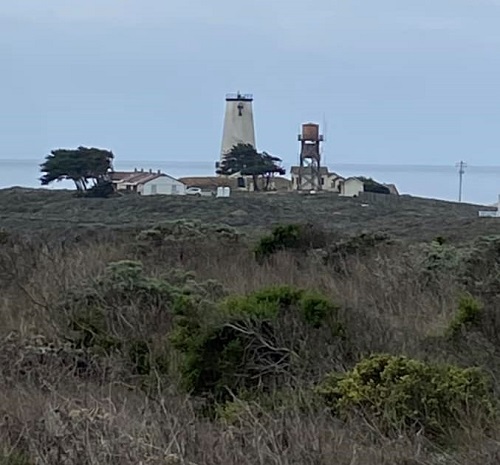 * * * * *
Meanwhile, in Minnesota
*
Scott Johnson fills in some details on the oath above, first reported by Anthony Gockowski:
Anthony's story includes links to the underlying materials. Perhaps most notable are the mindlessness, falsity, and Maoist self-abasement of the oath, although I am undoubtedly missing a few other elements that should be mentioned. How serious people can recite the shibboleths with a straight face and without gagging is a phenomenon almost beyond belief.

We do wish them well in their mission to uproot "the structural violence deeply embedded in the healthcare system" and "the gender binary" in the course of their long careers in medicine. First, do no harm, baby!
Apparently, the students (read "student committee", I think) wrote the oath with "faculty advisors". Some advisors!
Now they are getting advice on how to fend off angry reactions. Heh.
*
Johnson again. Video at the link:
Over at the University of Minnesota Medical School, one probably shouldn't be seen with books such as Arthur Koestler's novel Darkness at Noon or Fan Shen's memoir Gang of One: Memoirs of a Red Guard. It might reflect an inclination to think for yourself and other such bourgeois indulgences.

I'm thinking that they missed a few strokes at this year's white-coat ceremony for new students. The video below is a little off on the party line, but it gives you the idea. The authorities at the medical school can look to flesh out the ceremony with a little help from the Maoist struggle sessions of old.
* * * * *
Music and Dance
* * * * *
Hope you have something nice planned for this weekend.
This is the Thread before the Gardening Thread.
Serving your mid-day open thread needs
* * * * *
Last week's thread, October 8, Nobel Prize Season
Comments are closed so you won't ban yourself by trying to comment on a week-old thread. But don't try it anyway.


posted by K.T. at
11:05 AM
|
Access Comments