« Nobel Prize Season
|
Main
|
Ace of Spades Pet Thread, October 8 »
October 08, 2022
Gardening, Puttering and Adventure Thread, Oct. 8
Hi, everybody! Thinking about Halloween Yet? Are the bees doing more than you are?
The first is an old (120 ish) hard maple.
Second is a honeybee slathered in white pollen.
MKY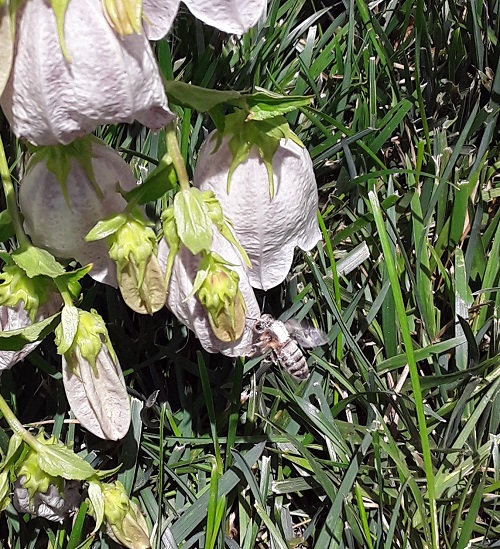 *
Adventure
From budman:
Desert Meadows Park in Green Valley, AZ is a botanical garden maintained by a local gardening club. This 4 acre garden is frequented by a variety of birds and butterflies. It's a wonderful place to wander, sit and rest, and enjoy the beauty of the Sonoran desert flora and fauna.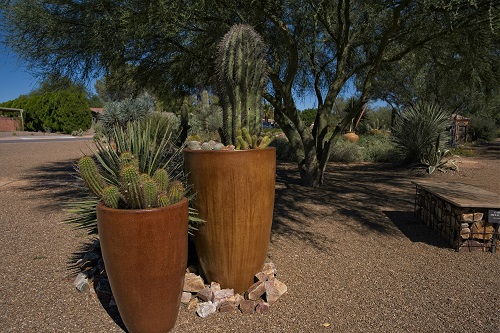 Absolutely gorgeous! What a great endeavor for a gardening club!
Great time of year to visit, too!
*
Edibles and Beautiful Cactus
From August:
KT,

My cactus decided to go whole-hog on producing blossoms this year. To bad I didn't catch it early in the morning at it's peak (with all the flowers open)...that would've been quite the sight!

Also, a close-up of the beetles...at least a dozen on flowers and buzzing around; as big as bumblebees.

Regards,

jim (in Kalifornia)
*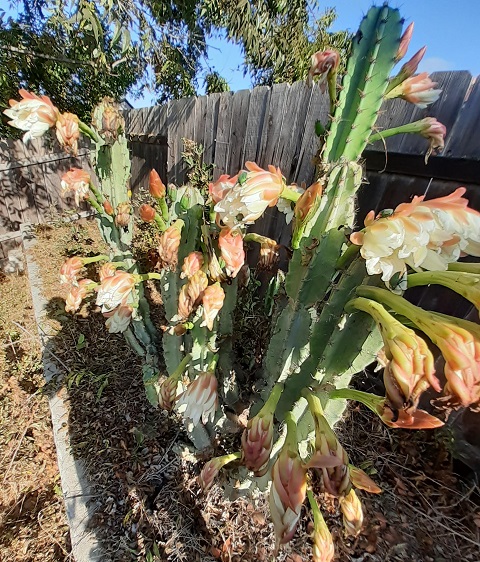 Too bad those spectacular flowers don't last longer into the day. Fascinating plants.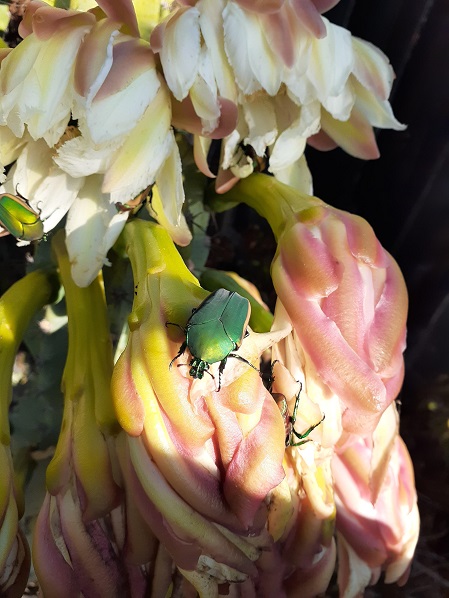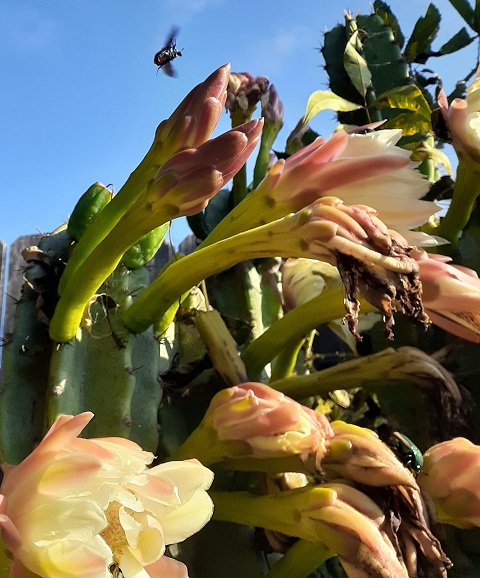 Remarkable flowers, remarkable beetles.
*
From September in the desert:
Hey KT,

The dragon fruit bloomed today. They are fairly droopy flowers, but beautiful in their casual way. Also, a picture of my goji bush. It is a fairly leggy bush, not sure if they are all like that or just mine. It is in a shady location, but it being Arizona I thought it would like a little shade, I may be wrong. I included a picture of todays harvest of the goji berries. I have to be honest, they aren't very tasty so I just throw them into my mornings smoothie. A good smoothie can hide a multitude of sins and I know they are good for you.
Hot this week again and no rain in sight but we are in September so it should get better soon.

Happy Gardening All,

WeeKreekFarmGirl
These flowers have a different look than the ones in California: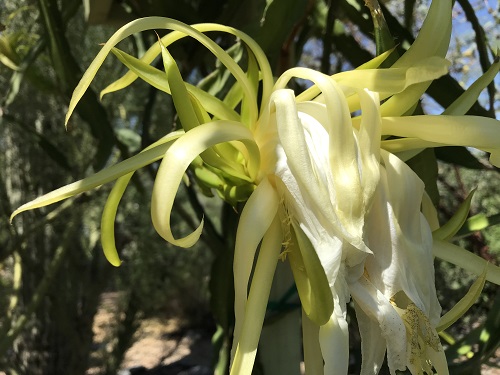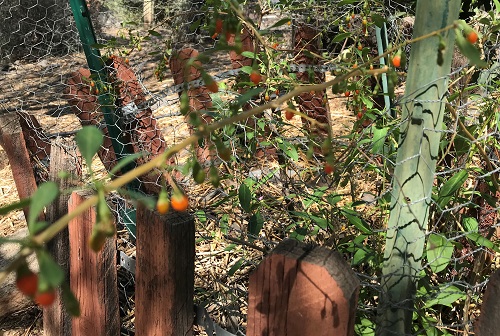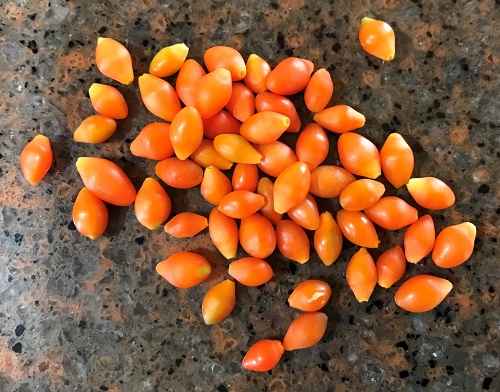 Those goji berries may not be tasty, but they are cute. Smaller than candy corn?
*
A Big Fall Project
From Mr Jimm:
Hey Katy!

As you may recall, last fall I sent you this picture of an Elephant Ear plant (Alocasia Calidora) that I had purchased in a one gallon pot in the spring of 2021, which grew so beautifully in my 3/4 acre backyard in the NW Chicago suburbs that I couldn't bear to lose it over the winter, so I had a friend help me dig it up, pot it, and move it into a spare bedroom (over Mrs. Jimm's mild objections) over the winter. (The internet tells me it can survive down to 0 degrees or so, but my gut feeling is that the tuberous root would live but the leaves would drop off and it would grow from scratch the next spring, but that's not nearly as spectacular as the entire plant surviving and adding more leaves when it gets warm. And *spectacular* is what it's all about in my book.)

Anyway, it was very happy to spend the winter indoors & it grew another leaf while inside, and we moved it back to the same semi-shaded spot in the sunken garden next to the house once the danger of frost had ended.

As you can see from the second picture, it spent a *very* happy summer outdoors and is now almost 7 feet tall and 6 feet wide!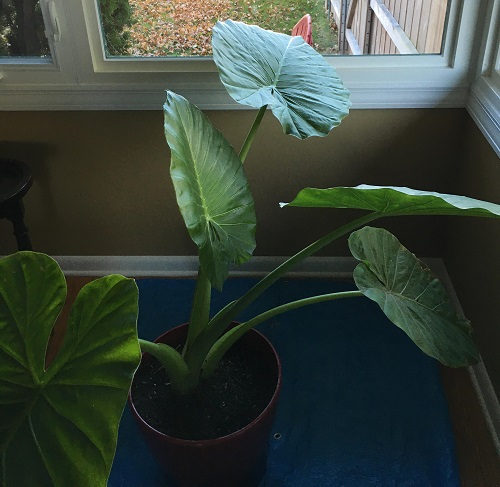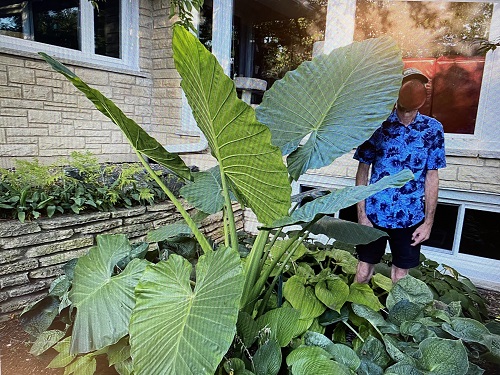 Since there's no way it will fit through any doorway into another bedroom in the house now, my plan is to move it indoors through a patio door into an 11' x 13' unheated sunroom. A friend & I built an 8 x 8 x 8 foot greenhouse out of 2 x 2's which will be covered in clear plastic sheeting. (We built it outdoors to get the design details and the construction bugs (and there were many) straightened out first, then we took it apart and rebuilt it indoors.)

I'll keep it warm with a thermostatically-controlled hundred watt light bulb or two positioned underneath a 5 gallon bucket of water to provide nice, even heat. (I used to do the light bulb/gallon jug of water bit under a cold frame in the past and it worked pretty well.) The materials for the 'greenhouse' set me back $75 & I can only guess what the electric will cost to keep this plant warm over the Chicago winter, but... what's money for but to make you happy, right?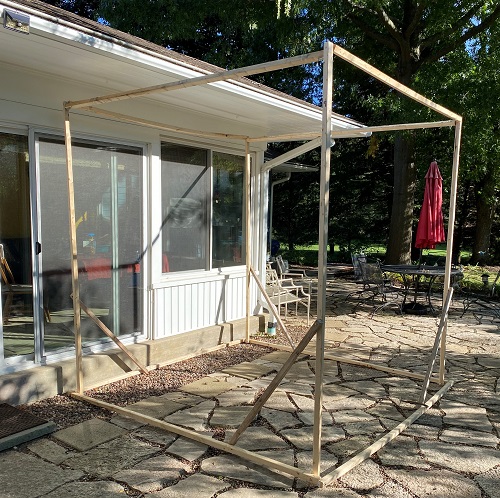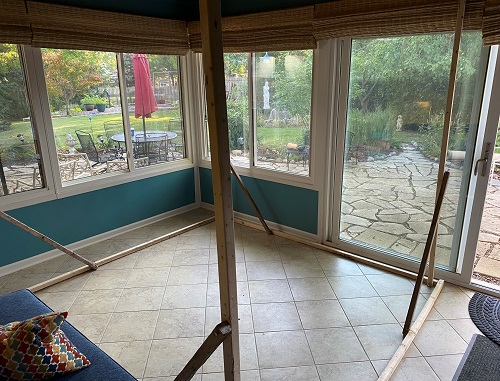 Money and work! Good you have a friend to help you! A beautiful plant. And it grew in a great setting over the summer.
*
Science
The only one of its genus.
At its best the Wrinkled Peach is a strong contender for the title 'Most Beautiful British Mushroom'. Until the major outbreak of Dutch elm disease in the second half of the 20th century, this was a rare mushroom, but then for a decade or two its food source, rotting elm wood, became commonplace and the Rhodotus palmatus population mushroomed. (Sorry!) Now there are far fewer elm trees in Britain and Europe, and the beautiful Rhodotus palmatus is becoming an even rarer sight that is was 100 years ago.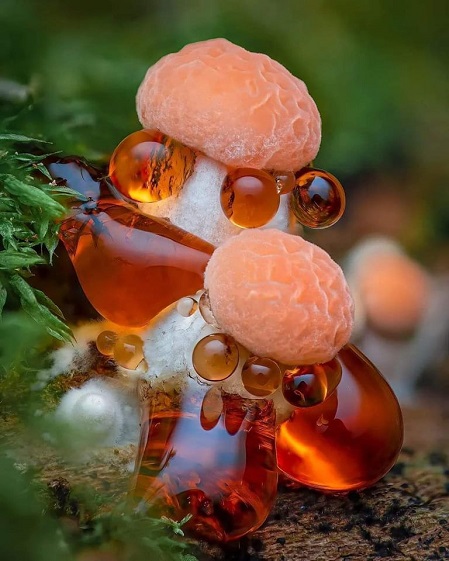 You may have to follow the link to see the "beautiful" ones. The ones above look to me like some sort of small nightmare new-age snowmen or something.
*
How to make schools better
Hope everyone has a nice weekend.

If you would like to send photos, stories, links, etc. for the Saturday Gardening, Puttering and Adventure Thread, the address is:
ktinthegarden at g mail dot com
Remember to include the nic or name by which you wish to be known at AoSHQ, or let us know if you want to remain a lurker.

Week in Review
What has changed since last week's thread? Saturday Gardening, Puttering and Adventure Thread, October 1

Any thoughts or questions?
I closed the comments on this post so you wouldn't get banned for commenting on a week-old post, but don't try it anyway.

posted by K.T. at
01:20 PM
|
Access Comments