« Saturday Morning Coffee Break & Prayer Revival
|
Main
|
Gardening, Puttering and Adventure Thread, Oct. 8 »
October 08, 2022
Nobel Prize Season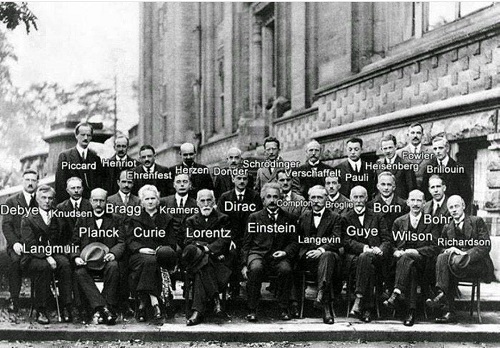 Historic Photographs:
A generation of scientists at the Solvay Conference, 1927.

17 of the 29 attendees were or became Nobel Prize winners.
All but one of this year's Nobel Prizes have been awarded. Can't say that I know what Click Chemistry is.
Any guesses about who will get the prize in Economics? Do you wonder what the winner predicted for Sri Lanka?
*
The prize in literature has gone to a leftist. Again. SURPRISE!
The Swedish Academy on Thursday gave the Nobel Prize in literature to French writer Annie Ernaux for "the courage and clinical acuity with which she uncovers the roots, estrangements and collective restraints of personal memory. Ernaux, 82, has written more than 20 books, most of them very short, chronicling events in her life and the lives of those around her. Her work paints uncompromising portraits of sexual encounters, abortion, illness and the deaths of her parents.
Plus, there's the politics!
*
Pre-Halloween Nobel Prize in Literature
Let's read some of what the people who gave her the prize included as the reasons for their choice:
The Nobel Prize in Literature 2022, Annie Ernaux
The French writer Annie Ernaux was born in 1940 and grew up in the small town of Yvetot in Normandy, where her parents had a combined grocery store and café. Her setting was poor but ambitious, with parents who had pulled themselves up from proletarian survival to a bourgeois life, where the memories of beaten earth floors never disappeared but where politics was seldom broached. In her writing, Ernaux consistently and from different angles, examines a life marked by strong disparities regarding gender, language and class. Her path to authorship was long and arduous.
Ernaux consistently and from different angles, examines . . . her own life.
You know, that kind of reminds me of the torment kids were put through in that honors English class in Morgan, Utah, where they had to examine The Great Gatsby through several leftist "lenses."
Also, even before the postmodernist deconstructionists, there was a French tradition of deeply analyzing, word by word and phrase by phrase, sections of a piece of literature. I wouldn't be surprised if, by repeatedly examining parts of her life story in detail several times, this doesn't make her seem awfully "French" to a lot of French readers.
Her memory work dealing with her rural background appeared early as a project attempting to widen the boundaries of literature beyond fiction in the narrow sense. Despite her classic, distinctive style, she declares that she is an "ethnologist of herself" rather than a writer of fiction.
"Ethnologists of the self" seem to be, ummm, popping up everywhere. Well, Okay, so this particular peer-reviewed paper was auto-ethnography, not auto-ethnology. Part of the paper is read on the video. NSFW.
As noted in the video, you have to go to seminars to learn how to speak about your auto-ethnographic experiences in an academically acceptable fashion. Heh.
Well, back to our Nobel Prize winner, who advocates "plain writing":
The concept écriture plate is related to le nouveau roman in France from the 1950s and the striving towards what Roland Barthes called a "zero degree of writing". There is however also an important political dimension in Ernaux's language. Her writing is always shadowed by a feeling of treason against the social class from which she departs. She has said that writing is a political act, opening our eyes for social inequality. And for this purpose she uses language as "a knife", as she calls it, to tear apart the veils of imagination. In this violent yet chaste ambition to reveal the truth, she is also an heir of Jean-Jacques Rousseau.
"She uses language as a knife". Sounds like a fun read.
"violent yet chaste ambition" ????
"she is also an heir of Jean-Jacques Rousseau."
Great! Do we get to do Rousseau again? This time "shifting between fiction, sociology and history"?
*
Rousseau: "what wisdom can be found that is greater than kindness"
Also Rousseau: forces his common-law wife to leave all five of his babies at orphan hospitals
Jean-Jacques Rousseau ( 1712 - 1778 ) complained bitterly in the opening of his "The Social Contract" that "Man was born free, but everywhere he is in chains." The chains comprised partly the church and partly also the morals, manners, and mores derived from church culture.

He believed liberty would be "perfectly reflected" through his idea of the "social contract" and the "general will." But, he added, "In order that the social compact may not be an empty formula . . . whoever refuses to obey the general will, will be compelled to do so . . ."

Rousseau never explained why the chains he had in mind were less onerous than anyone else's. We call this sort of thinking "Orwellian" because it is brazenly absurd. The Jacobins during the French Revolution embraced Rousseau's ideas and that particularly bloody form of the social contract progressed steadily, courtesy of Monsieur Guillotine. So much for reason. . .
* * * * *
I am not going to get into the Nobel Peace Prize or the reported closing of a news agency funded by a prize awarded to Gorbachev years ago. Too complex for me.
I'm confident that The Horde can supply some commentary based on current events.
* * * * *
But here are the winners of the 2022 Ig Nobel Prizes
Maya ritual enemas, constipated scorpions, and moose crash test dummies feature.
Literature Prize

Citation: "Eric Martinez, Francis Mollica, and Edward Gibson, for analyzing what makes legal documents unnecessarily difficult to understand."

Legal contracts of all sorts are known for their impenetrable jargon and tortured sentence structure, which might be one reason most of us rarely read the many online terms of service agreements we encounter as we navigate our online lives. Granted, there are legal theorists who insist that legal texts are difficult for the average person to understand because the law is a system of expert knowledge and by its nature deals with many technical concepts. That is, the jargon is necessary for technical precision. There are others who take issue with this idea, arguing that the law is actually built upon quite ordinary concepts like cause, consent, and best interest. So the impenetrability of legal texts is due to psycholinguistic factors. (Similar arguments might be made with regard to scientific papers.)
* * * * *
Trending Topics: Stochastic Terrorism and Marcuse
The first time I find "Stochastic" here at AoSHQ is on June 23, in a post about New York Federal Bank Models Projecting Recession. The term "Stochastic Terrorism" shows up twice on September 1, when Biden declared war on his political enemies. This term has made 8 appearances here in September and October before today.
It's fun to look up "Stochastic" in the Thesaurus. "Debatable" and "Imaginary" are only two of many synonyms.
*
The "stochastic terrorism" argument being made against players like @libsoftiktok and other just-plays-the-videos sites is genuinely fascinating - it boils down to: "Accurately reporting on certain topics will outrage many citizens and thus cannot be allowed."

You can LIKE a mainstream-right reporter like @realchrisrufo or the FOX anchors or not, as you please...but any argument they or rebel parents should be arrested for "terrorism" would end journalism if taken seriously and applied fairly.
*
* * * * *
A Few Updates: Gender Madness heats up
There is a rush of news on this front. This only scratches the surface:
Back on September 24, I wrote, "I'm really surprised that Wesley Yang went on the road with Billboard Chris. Yang seems more like an ivory tower type to me. But maybe not. Or maybe something has radicalized him."
Then yesterday I ran across this thread:
Because I am not especially courageous, I am a latecomer to the gender issue. It wasn't until Sweden reversed course on youth gender medicine after reviewing the evidence and finding effectively none that I realized it was safe. Tavistock was shuttered soon after.

Americans still don't realize what a rout this is on the merits. But they soon will.
Never underestimate the courage and perseverance that @jessesingal and @kittypurrzog showed in being correct six years before it became easy to be right
*
Billboard Chris is a remarkably mild-mannered guy considering that he has even had his arm broken while being a billboard. He usually does the billboard thing in the USA now, because he can't do it in Canada.
Slow start below, but this guy has his information together. Really interesting:
Children are never born in the wrong body.
Those who believe in gendered souls have unwittingly joined a cult.
*
Being queer does not confer deity upon you. Even if you are in the theater. There is a big fuss about this production.
*
Matt Walsh has not been gentle toward his critics.
Another approach:
* * * * *
Timely Meme
17,000 migrants. State of Emergency!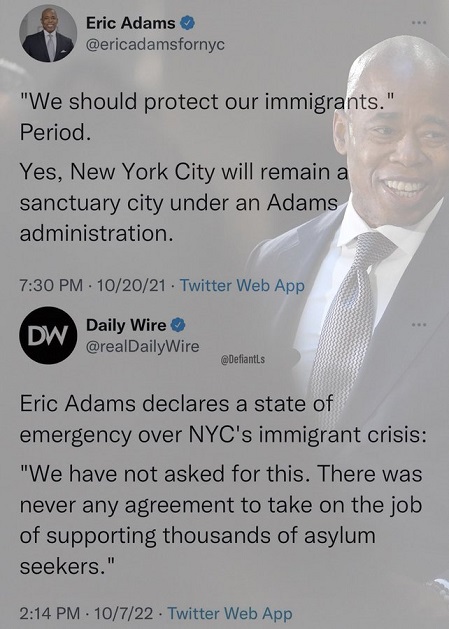 * * * * *
Music and Dance
Is this West Coast Swing?
From the West Coast:
* * * * *
Hope you have something nice planned for this weekend.
This is the Thread before the Gardening Thread.
Serving your mid-day open thread needs
* * * * *
Last week's thread, Thread before the Gardening Thread, October 1
Comments are closed so you won't ban yourself by trying to comment on a week-old thread. But don't try it anyway.


posted by K.T. at
11:06 AM
|
Access Comments