« Food Thread: Lox All Your Doors To Keep Out The Tartares!
|
Main
|
Sunday Overnight Open Thread (10/2/22) »
October 02, 2022
Gun Thread: October 2nd Edition!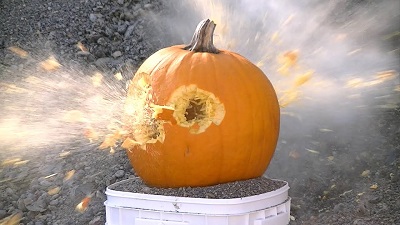 The only good pumpkin is a pumpkin pie!
Howdy, Y'all! Welcome to the wondrously fabulous Gun Thread! As always, I want to thank all of our regulars for being here week in and week out, and also offer a bigly Gun Thread welcome to any newcomers who may be joining us tonight. Howdy and thank you for stopping by! I hope you find our wacky conversation on the subject of guns 'n shooting both enjoyable and informative. You are always welcome to lurk in the shadows of shame, but I'd like to invite you to jump into the conversation, say howdy, and tell us what kind of shooting you like to do!
Ho-Lee-Krap people! Less than three weeks to the TXMoMe! Pretty soon I'll be pointing the Ol' WeaselMobile south and hitting the road. This is really the highlight of my year, and I cannot wait to get there and see all of you people again. I'm all tingly!
Q: Weasel, are you all tingly?
A: Yep! Currently reading an 8 on the Tinglometer!
Tingliness aside, Florida and parts of the Carolinas really got bitch-slapped by Hurricane Ian this past week. As I write this, the remnants are expected to stall pretty much on top of WeaselAcres in Central Virginia and then head back out to the south. Yesterday the local forecast was for, well, a lot of wind and rain, but as of now that mostly has not materialized according to my little remote weather station. If you were in the path of Ian as it came ashore in Florida, I really hope you're safe. The property damage appears nothing short of catastrophic, but stuff can be replaced. You cannot.
With that, step into the dojo and let's get to the gun stuff below, shall we?
******
Guns of the Horde
Our pal and excellent food cooker and shooter
CBD
takes a new Sig to the range!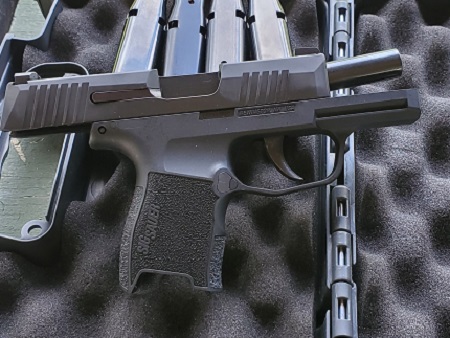 I have very little experience with compact and sub-compact and micro-compact guns, mostly because they are designed for concealed carry, and because I don't live in a free state I have been unable to exercise my rights. But with NYSRPA v. Bruen that has changed, as New Jersey is grudgingly giving carry permits without the offensive requirement that one demonstrates "need."

My primary carry pistol will be a 1911 with a 4" barrel, but I would also like something small I can carry in my pocket or a messenger bag ( ;) ). So off to the gun store I went, and after much agonizing chose a dandy little Sig Sauer P365 in 9mm. And boy, it sure is small. With the extended mag base, I can get my little finger on the pistol, but with standard magazines my grip is with two fingers, which is weird after years shooting full-sized handguns. And of course the damned thing weighs next to nothing (18 ounces), since it is a polymer frame. And that concerned me, since most of my pistols are nice and heavy and it's easy to manage the recoil. And even the light polymer-frame pistols have plenty of grip area to spread out the recoil impulse.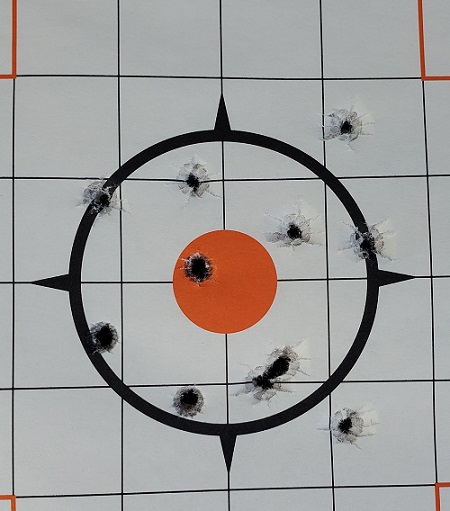 But after one magazine of 115 grain FMJ (next time I'll see how it behaves with hollow points) I realized that with a well-designed pistol it doesn't matter! That first target was my first mag fired at eight yards, and the only thing I noticed was that I felt the recoil on my trigger finger, which made no sense to me. The pistol barely moved, and the snap that I anticipated simply didn't appear. And how it can be accurate with such a short barrel is another mystery, but a welcome one. The sights are easy to acquire and the pistol points naturally, so that must be part of it. The next target was my attempt at shooting faster, and clearly I am pushing the trigger (I shoot left-handed). But the pistol is controllable even when shooting fast and, I have to admit, sort of fun!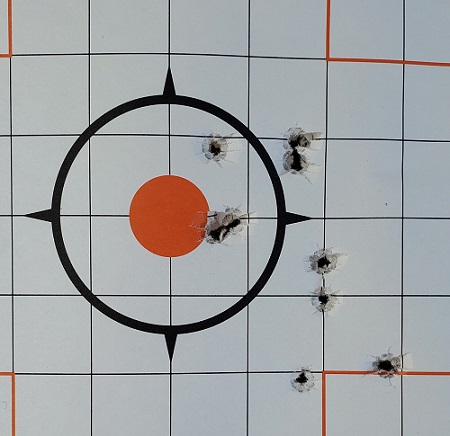 I fired another 30 or 40 rounds, and then finished with some attempts at steel targets at 25 yards. Not nearly as successful, but I managed to hit a few, which was immensely satisfying. I'll have to put in a lot more practice before I am comfortable carrying this pistol, but the first indications are positive...no malfunctions of any kind, it's comfortable, the controls are intuitive (although small), and most of all I found the sights very easy to see with my old eyes! Oh, it is also easy to field strip for cleaning, which is a nice little bonus.
Looks like you have it figured out! Well done, CBD! [Get it? well done hahahahahaha! I crack myself up.]
******
Next up, our pal
Colonel Travis
gives us a preview of the
Uberti 1847 Colt Walker
we'll see in Texas!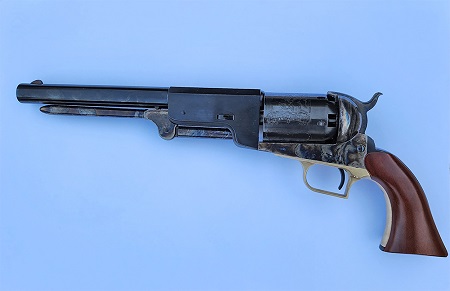 Attached is a photo of my new, unfired Uberti 1847 Colt Walker. Wanted to show it on the gun thread because I'm bringing it to the MoMe in hopes of finding some black powder people to help me not blow it up in my face. Have all my supplies, some guidance would be nice.

I have a replica 1860 Army conversion that fires 45 Colt cartridges. With 19th century pistols, that's what I'm used to. Always knew the Walker was large but couldn't remember how large until I opened the box. "Holy hell," I said.

Looking forward to meeting you and everyone else next month.
Wow! That is a real beauty! Thank you for sharing it with us and look forward to seeing you in Texas, Colonel Travis!
Here is a short video from the Uberti website with the history of the handgun.
******
Dr. Fred ain't messing around.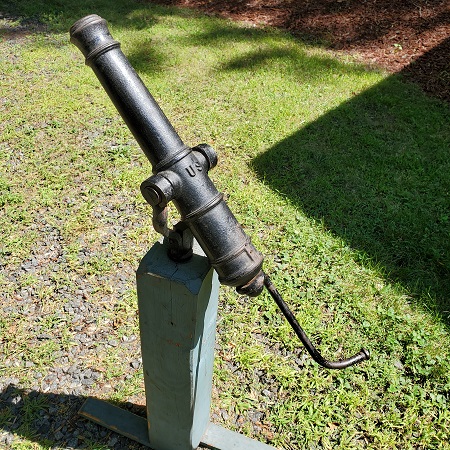 A recent score from New England. A genuine swivel gun off of an early 19th century sailing ship. Notice the two touch holes for reliable ignition when it absolutely positively has to go boom.
Holy Shitballs! A cannon! Very cool, Dr. Fred. Any plans for warning shots over the neighbor's fence?
******
Next up we have not one, but
two
guns in a single range report from our pal
scampydog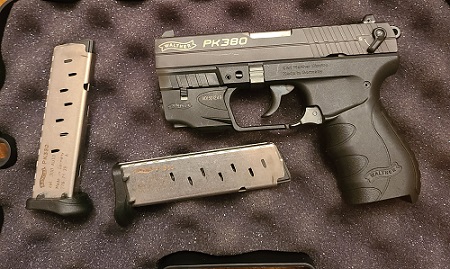 I'm mostly into old lever guns but have been meaning to get out and shoot a couple of others. Wife and I got up to the property (God's Country) on a beautiful day. After wrestling with the tractor/PTO/brush hog (wife wouldn't get off the tractor once up and running) and screwing around on the Cam Am, we settled in for some target practice.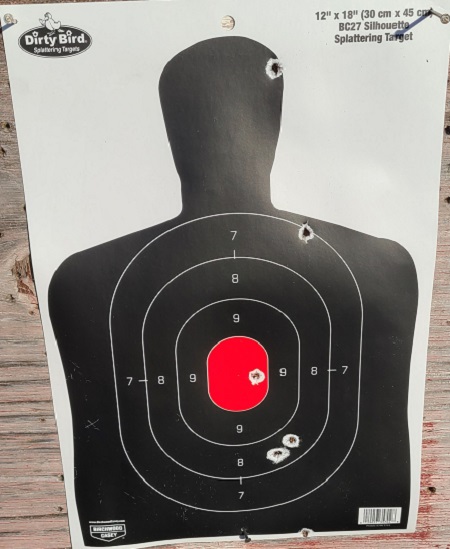 She is new to shooting and we've gone through a variety of semi-autos to find something to her likening, which adds to my collection when she doesn't like them and landed on the Walther PK380. She loves how easy the slide is to operate. We haven't yet turned on the laser, she wants to improve without it, then test it out using the red zappy light. Gotta love this gal! First pic is her first round today (only her fourth time shooting any type of pistol), pretty darned good. 6 out of 8 on paper. We're calling the one low/right on paper and laughing about the van Gogh shot. She improved as the shooting went along and burned through 100 rounds.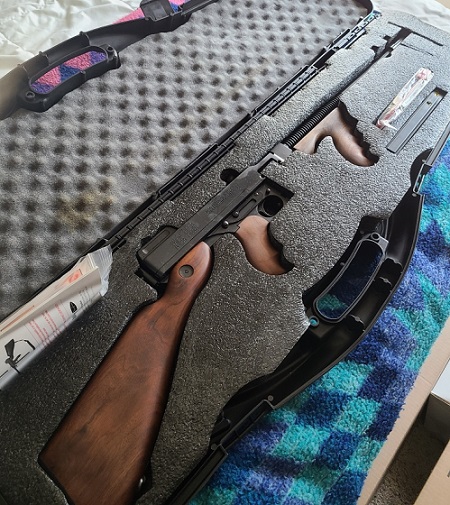 Next is an Auto ordnance model 1927 A1 semi auto. Been sitting behind a lock for quite a while. Decided today was the day for its debut (brand new, fresh out of case, never been fired). It shot incredibly smooth & accurate. I went through one stick, leaving the drum for another day. Shot a few warm ups before moving over to the silhouette target. 20 yds. Couldn't be more pleased.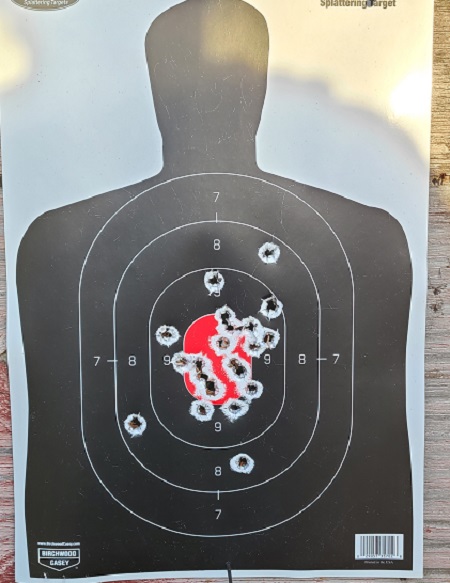 Howdy and welcome to the Gun Thread! Nicely done scampydog and Mrs. scampydog!
******
Flying, Guns, and You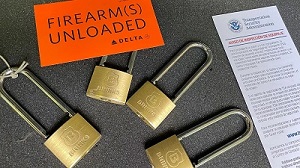 Our pal GWB sends an article with tips and hints for flying with firearms from Guns.com.
The article is focused primarily on international air travel, but I think it has some good tips and hints - not all of which have already been addressed in previous pre-TxMoMe bits on the Gun Thread. I like the "get gun socks" advice, as a way of providing an extra layer of niceness for your weapons.
With the Horde preparing to descend like locusts on Corsicana, the article is very timely. Thanks GWB!
******
19 Days!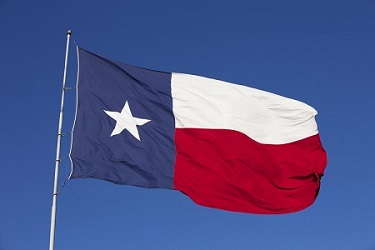 The countdown to the TXMoMe continues! That's right, boys and girls, the TXMoMe is a mere 19 days from today, and by now you should be rushing your MoMe attendance plans to completion. There are lots of big doin's in the works and your hosts Rancher Bob, Cow Horse Queen and Ben Had are ready to welcome YOU to the festivities! Have you signed up? Are you on the exclusive guest list, or are you one of the mentally defective people who always finds a reason to make it next year?
PRO TIP: Word has it there may be some, well let's just call them "exotic" weapons, available to shoot in Texas. I don't want to go into a bunch of specifics, but if you like shooting at a high cyclic rate, plan on bringing a box of brass case 9mm ball ammo (example) with you to Texas. Please, NO reloads!
Q: Weasel, what the heck is a "high cyclic rate"?
A: Well, it's faster than a low cyclic rate such as that found on semi-automatic weapons.
Q: Weasel, why do I want to do that?
A: Because it is mucho fun-o, and an opportunity that many of you might not have often.
As long as we're on the subject, if you aren't planning to bring a firearm and ammo, but plan on shooting, please pick up a box or two of ammo in the caliber you like and bring it to Texas. Each year we have lots and lots of guns, and even more shooters, and it's nice have the cost and effort needed to source the ammunition spread around a bit. We want to make the shooting available to as many as possible, and cover those who want to shoot but for whatever reason cannot bring ammo, so every little bit helps. Thank you!
Holy Shitballs, people. Have I not implored and cajoled you enough? Do you require additional imploring and cajoling? I challenge you to find a single person who has attended a TXMoMe and not found it to be a life altering experience. Life altering for the good even! So please quit screwing around and making up reasons not to commit and start planning on getting your ass to Texas in October!
You will see this material again, so for heaven's sake, so do yourself a favor and email Ben Had for details!
******
Schedule O' TXMoMe Doin's
This seems like a good time to talk a little bit about the upcoming shooting program at the TXMoMe. What started years ago as an informal plinking session lasting a couple of hours has matured into a full program of shooting activities over two days. I have to thank Ben Had, Cow Horse Queen and RancherBob for allowing the shooting to comprise such a significant portion of the TXMoMe.
For a while I have been conducting a Rifle Clinic on Friday morning followed by range time Friday afternoon and then again well into Saturday. We have also been steadily refining the handgun portion of the program to now include an IDPA-esque move-and-shoot pistol course designed and run by Ben Had and Nurse R, as well as the usual static pistol range for those who prefer that.
Anyhoo, here's a very rough outline of the schedule of events. Times are tentative and subject to modification/change.
Friday, 10/21
Rifle Program
8am - 10:30am: Rifle Clinic (carport)
11:30am - 1pm: Rifle Clinic, Intro to Wind Estimation (rifle range)
1pm - 4pm: Live fire (rifle range)
Handgun Program
10:30am - Noon: Handgun Clinic (carport)
1pm - 2:30pm: Static live fire (pistol range)
2:30 - 4pm: Briefing and Move & Shoot live fire (pistol range)
Saturday, 10/22
Rifle Program
8:30am - 1pm: Live fire (rifle range)
Handgun Program
9am - 1pm: Live fire (pistol range)
Again, these times are approximate and may change as weather conditions and participation warrant. I have been doing the same presentation on rifles for a number of years now, so if you would like me to cover new or different material, just mention it in the comments or send me an email!
******
More on Ammo for Texas
Let's talk a little more about bringing ammunition to the TXMoMe. The options are buy it at home and ship it UPS, buy it at home and ship it in your airline
checked
baggage, or just buy it once you get to Texas.
Let's begin with the easiest, first. Texas is awash in shooting and outdoor stores, and you really shouldn't have any trouble using this option. There are a lot of sporting goods stores on the south side of Dallas and in the towns all the way down I-45 to Corsicana. A quick internet search should return several options, and you might want to identify a couple before you leave home. Next, there is a store in Corsicana, Brinson PowerSports, that has a generally reliable stock of major calibers, although ammo is not listed on their website. I'd suggest calling first and asking if they have what you're looking for. The physical address and phone number is:
Brinson PowerSports
1931 Martin Luther King Blvd.
Corsicana, TX 75110
903-229-4330
Honestly, sourcing ammo locally seems like the most logical choice to me, but for those of you with special needs, it's pretty easy to fly with ammunition in your checked baggage. Here I am speaking in very general terms and it is incumbent upon YOU to check in advance with your airline, confirm the requirements, and comply with them.
Southwest Airlines is a popular option into the Dallas area, and I have found them to be gun friendly as far as these things go. Here is what I found on the Southwest Airlines Special Baggage webpage:
Packing Ammunition Small arms ammunition for personal use (provided it is properly packed) is permissible in checked baggage only.

The ammunition may be placed in the same container as the firearm and must be securely packed in cardboard (fiber), wood, or metal boxes, or other packaging specifically designed to carry small amounts of ammunition.

Ammunition Limits
When checking ammunition, Customers are limited to 11 pounds (ammunition plus container) per person. Gunpowder (black powder) and primers or percussion caps are not allowed in checked or carryon baggage.

Loose ammunition or loose loaded magazines and/or clips are not allowed. Paintballs must be packaged in a leak-proof container and will be subject to limited release.
So my read is that ammunition in its original cardboard container is all you need, and it does not have to be locked inside another container inside your bag as required for a firearm, and you are allowed up to 11 pounds carried in this fashion. Although the instructions are silent on declaring the ammunition to airline personnel, again as you must do when transporting a firearm, I think it's probably a good idea to do so. You may or may not be allowed to check your baggage curbside when traveling with ammunition, so be prepared for a little extra time at the counter. Again, this is my interpretation and as we all know I am mostly full of shit, so check for yourselves.
Every airline has a section like this on their website, usually found in the baggage section, and you may have to dig around a little to find it. I also recommend printing your specific airline's policy and bringing it with you on the trip, just in case you need to help the ticket agent understand how to do their job. I will say in all the years of flying all over the country to matches, I have never once had any problem with airline personnel and their rules and have always found them well informed and helpful.
Finally, if you are really a special needs shooter, our bestest buddy and pal and host RancherBob has offered to allow people to ship their ammunition to the ranch. I would recommend this only in very unique circumstances where very specific ammunition is required and neither of the other, simpler options will work. If this is you, then contact me for details. I have shipped ammunition via UPS in the past and it works, but there are strict packaging and labeling requirements and also necessitates you visit an actual UPS location rather than a retail shipping store. Also remember, you cannot ship ammunition via USPS.
Questions? Just ask!
******
Musical Interlude
Carlos!
House of Blues 2016.
Q: Weasel, Mr. Santana is certainly talented, but is Zamfir truly the master of the Pan flute?
A: You decide!
******
Gun Basics 101
Nothing new from the She Equips Herself gal, so into the archives we go.
******
Cigar of the Week
Tonight's cigar is a Romeo y Julieta Media Noche, a medium-strong Dominican. Very well constructed, but at around $10 each, I usually save these for a special occasion!
***
Here is a weekly top 5 list from Cigar Vixen.
******
Here are some different online cigar vendors. You will find they not only carry different brands and different lines from those brands, but also varying selections of vitolas (sizes/shapes) of given lines. It's good to have options, especially if you're looking for a specific cigar.
Cigarsinternational.com
Cigarpage.com
Famous-smoke.com
Cigarsdaily.com
Neptunecigar.com
Smallbatchcigar.com
Bobalu Cigar Company
A note about sources. The brick & mortar/online divide exists with cigars, as with guns, and most consumer products, with respect to price. As with guns - since both are "persecuted industries", basically - I make a conscious effort to source at least some of my cigars from my local store(s). It's a small thing, but the brick & mortar segment for both guns and tobacco are precious, and worth supporting where you can. And if you're lucky enough to have a good cigar store/lounge available, they're often a good social event with many dangerous people of the sort who own scary gunz, or read smart military blogs like this one.
Anyone have others to include? Perhaps a small local roller who makes a cigar you like? Send me your recommendation and a link to the site!
******
Link-O-Rama
I'm really very seriously not kidding around anymore. Buy Ammo
AmmoSeek - online ammo search tool
GunBot - online ammo search tool
SG Ammo
Palmetto State Armory
Georgia Arms
AmmoMan
Target Sports USA
Bud's Gun Shop
***Mail Bag***
This week's mailbag entry is from our pal WTM Good one!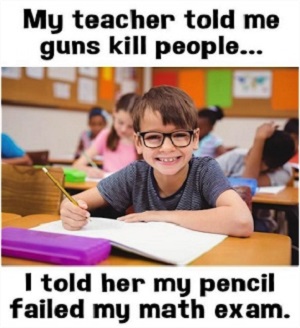 ******
Please note the new and improved protonmail account gunthread at protonmail dot com. An informal Gun Thread archive can be found HERE. Future expansion plans are in the works for the site Weasel Gun Thread. If you have a question you would like to ask Gun Thread Staff offline, just send us a note and we'll do our best to answer. If you care to share the story of your favorite firearm, send a picture with your nic and tell us what you sadly lost in the tragic canoe accident. If you would like to remain completely anonymous, just say so. Lurkers are always welcome!
That's it for this week - have you been to the range?


posted by Weasel at
07:00 PM
|
Access Comments